Is it possible to enjoy hiking in Israel in the month of August???
Most people's only experience of the Holy Land is during this summer month – a time of intense heat, dry weather, and a country-wide school holiday. For the most part, Israel's tourists spend their vacations in the areas of Jerusalem and Tel Aviv. As opposed to the Golan and the Galilee regions, there aren't any snowmelt waterfalls or streams in this part of the country. The conditions in Central Israel are not ideal for cool hiking in the summertime.
Not only that, but many who live in Israel take vacation time in August. That's because during the hot summer months, the kids have no school. For most of us who live here, this means a lot of days on end of keeping our children entertained, without trying to break the budget. Of course, outdoor experiences are always the number one choice for awesome, free entertainment (at least in my family!) But for those of us who aren't lucky enough to live in the Northern Israel, is it all possible to stay cool on outdoor adventures during the summertime in Israel?
It is possible. After many years of hiking through the summer season, I've compiled a list of tips and tricks for choosing the right warm-weather hikes. If you follow these guidelines, you'll have amazing outdoor experiences in August that you can't have at any other time of year. Let's get to it:
Water, Water, Water
What's the best way to stay cool on a hot summer day? Obviously, a dip in a cool spring, flowing stream, or white waterfall helps a lot. For most people, this is the most basic and obvious way to choose a hiking trail in the summertime, especially when hiking with kids. I hear parents ask: Is there water on the trail? If yes, then it's a go! Otherwise, they'll save it for the fall.
There's one small problem with this criterion. If you're in the Jerusalem or Central Israel area, there aren't that many water hikes nearby. So, you're going to have to get a little bit creative.
My favorite water hikes in the Jerusalem area would be any of the many sections of Prat Stream, a beautiful desert oasis between Jerusalem and Jericho. For small kids, choose one of the cute National Parks with springs and little streams, like Ein Hemed National Park, Nabi Samuel National Park, and Tel Afek. Adults can take advantage of the cool spring pools which can be found along long and difficult hiking trails – my favorite in the Jerusalem Area is the Springs Trail, which leads to pools of fresh water surrounded by trees, in caves, and in all sorts of other settings.
Stick to the Shade
The funny thing about Israel is that much of the heat is caused by intense sunshine. If you find a way to escape from the sun, you'll be a whole lot cooler.
For this reason, forested, shady hikes are of the essence for your summer repertoire. There have been times during the month of August when I've actually gotten goosebumps as I sipped iced coffee from a thermos under a canopy of shade after a long, sweaty hike.
The Jerusalem Mountains region is an excellent place to find hikes with (at least some) shade. I like Sataf Forest, which provides both shade and a little bit of water. Mount Refaim, Mount Giora, Tzora Forest, and the Ben Shemen Forest are also excellent places to escape from the hot, Mediterranean sun.
Sunrise, Sunset
This refrain from Fiddler on the Roof should be your summertime hiking mantra. If you can get to a trail at sunrise or sunset, you will have a magical, incredible, gorgeous, and much cooler experience.
Sunrise is out of reach for most people, but if you're one of the lucky few who shines really early in the morning, a sunrise hike will allow you the opportunity to have the trails to yourself, meet wildlife along the way, and stay blissfully cool during golden hour. For most people, sunset is a much easier option. At this time of day, you can go for a short hike to a magnificent lookout with picnic dinner, and watch the sky turn pink with the setting sun. Extra points if you'd like to stick around in nature until nightfall to light a bonfire and roast some marshmallows.
My favorite place to hike at sunset is the Adulam Nature Reserve. The open scenery and golden, rolling hills look simply stunning at this time of day. I also highly recommend the Masarek Park Sunset hike and the Dor Habonim Beach Trail at sunset (near Zichron Ya'akov).
Get There Early
If getting up before sunrise is completely out of your realm of possibility, you should still be able to hit the trails early in the morning, while the bright sun is still relatively low in the sky. I would recommend that you get your feet on the trail at 7 or 8 in the morning. If you hike for a few hours, you can finish up before the hottest part of the day. Then, you can return home for a relaxing, post-hike brunch.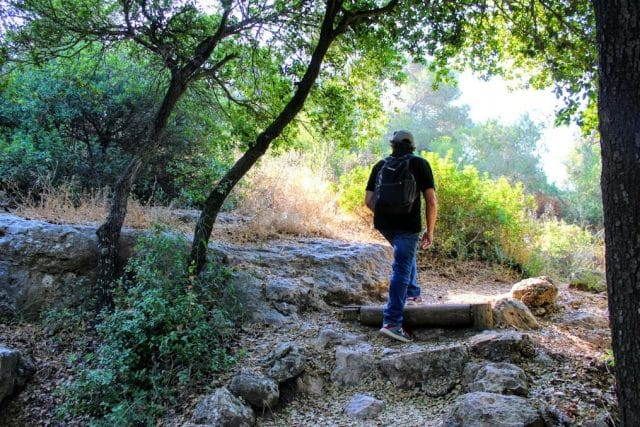 The other advantages of hiking early in the morning, especially in the summertime, are a higher chance of animal sightings and lower chance of encountering crowds. In the busy month of August, having a trail mostly to yourself is no small feat.
One of the best places in the Jerusalem area for early morning walks is Gazelle Valley, where the animals come out to feed before the sun makes it too hot. In Central Israel, I love river to beach walks like Holot Zikim and the Sorek Estuary.
Go Caving
For most people, caves are not something they think of when they think of cool, summer hiking. But they should be, especially in Israel. In Israel, there are tons of different kinds of caves that can keep you cool in the summertime. From the stalagmite and stalactite caves of the Jerusalem Lowlands, to bat caves, to bell caves, to underground tunnels that lead between secret worlds of Judean rebels, you could spend days on ends exploring Israel's underground world.
And the best part? Underground and away from the sun's harsh rays, it is a heck of a lot cooler. You'll forget that it's summertime, as you crawl through smooth tunnels, take refuge in a columbarium, or even peek into a creepy burial cave.
There are so many cave hikes in the Jerusalem area that it's hard to choose my favorites. I would recommend checking out different hikes in Adulam Nature Reserve and Beit Guvrin. Ma'arat HaTeumim (the bat cave) is a real hit with kids, and it's also located in a shady stream bed.
Hiking in Israel in the Summertime- Not a Lost Cause
Despite the fact that Israel's professional hikers consider summertime to be "off-season" for hiking, there are so many ways to enjoy Israel's nature, even during the heat (and crowds!) of the summer. Follow the five tips above, and you'll find that summertime hiking in Israel can be uniquely magical, special, and sometimes even better than other times of year…as long as you do it right.