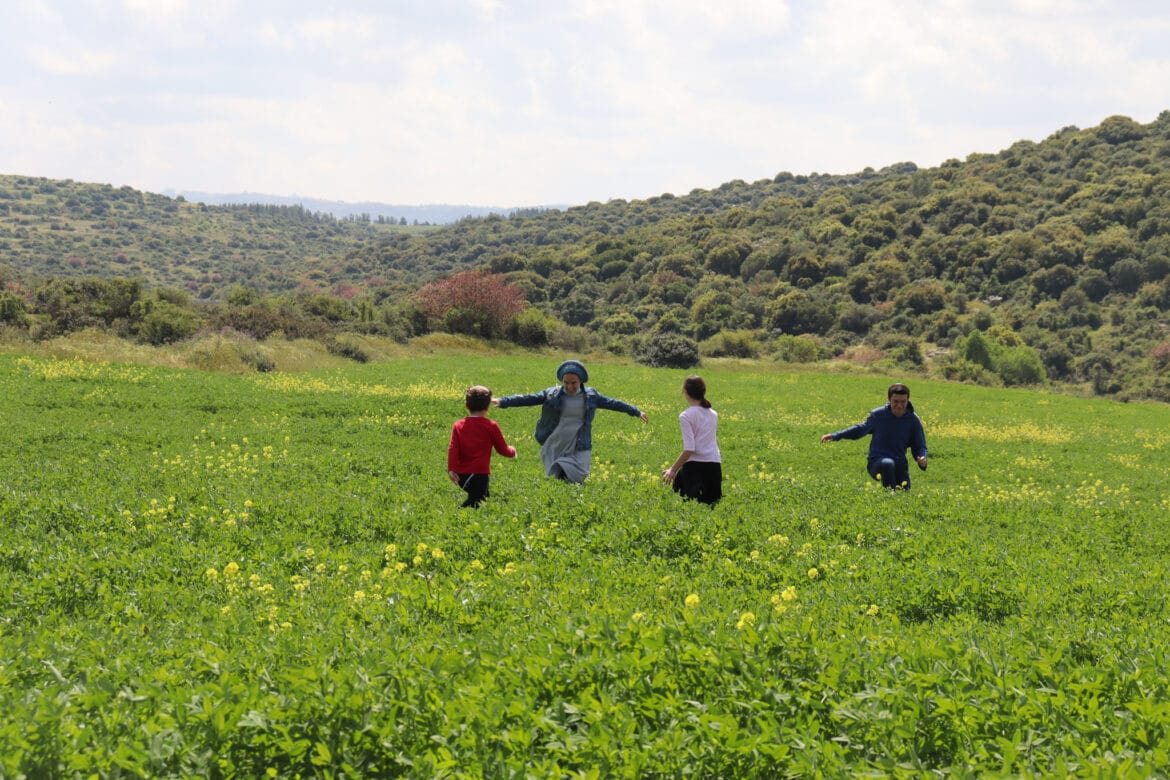 Click here to go straight to hike notes.
One of the coolest things about hiking in Israel is this: on pretty much any trail, you're bound to find some sort of remnants of the past. Often, this comes in the form of old cisterns or wells. Sometimes, it's an encounter with a plant or animal that's mentioned in the Bible. But every once in a while, you get to take a hike towards an ancient city from the time of the Second Temple, complete with walls, burial caves, underground tunnels and more.
Of course, what makes hiking through these places so spectacular is that most of them aren't just dry, historical sites. They can also be places of great natural beauty. Which turns stumbling upon these ancient ruins into an incredible experience.
This past week, we took a trail between two ancient sites in Adulam Nature Reserve: Itri Ruins and Burgin Ruins. We had been to Itri before, but never in springtime, when the lush green surroundings ands fragrant flowers make the crumbling ruins seem even more magical. After spending some time at Itri, we decided to follow a path through the Jerusalem Lowlands to reach the second point of interest for the day: the Burgin Ruins. We had never before visited this ancient city on top of a hill.
There were caves to crawl through, burial caves to peek inside of, and a whole lot more. The trail itself was just perfect in springtime.
We were there with our kids and 9 of my nieces and nephews (along with their parents) – and everyone had a blast. Here's how we hiked this trail from Itri to Burgin Ruins in the Jerusalem Lowlands:
Easily Distracted
We pulled up to the side of the road near Itri Ruins and got out of our cars. It was a beautiful spring day, particularly in Park Adulam. To one side of the road, colorful wildflowers grew, interspersed with asparagus plants and short shrubbery. To the other, a sea of tall greenery stretched out in every direction.
My kids couldn't resist jumping in for a few minutes to hide in the overgrowth. We let them play and run around while we got ourselves ready to go. After a few minutes, we gathered the troops and started up the path to Itri Ruins.
Impressive!
Climbing up the hill to Itri Ruins, it was hard not to be impressed. This Second Temple City is surprisingly well preserved. Archeologists who worked to unearth the site revealed a complete system of homes, ritual baths, tunnels and burial caves.
Our kids got straight to work climbing the walls and exploring the place. Soon, they discovered a long underground tunnel, probably left over from the time of the Bar Kochva Revolution. We strapped on our headlamps and jumped on in, ready to squeeze through the darkness on an underground journey.
The kids loved this part of the hike. Crawling along through the darkness underground, it felt like we were in a giant playground. The smell of cool earth filled our lungs as we inched along through the darkness one after the other.
About ten minutes later, we emerged into the bright sunlight. The kids scrambled off to explore the other parts of the ancient city.
We Could Stop Here, But We're Not Gonna
Itri would have been a great activity all by itself. One could spend hours climbing through the various parts of the well-preserved town. And right around the site, there were plenty of pretty places to sit and have a picnic.
But we had planned a much longer adventure that day. So rather than pause outside of Itri for a lunch break, we continued along the green trail into the beautiful world of Park Adulam.
The trail was lined with colorful flowers and tall grass. As we traipsed off into the wilderness, we left the more populated world of Itri behind us. Soon, we were all alone in a world of quiet beauty. We found a little hideaway in the trees and stopped for a picnic lunch.
Of course, for families with kids, stopping for food is often one of the highlights of the day. We shared our potato chips and matza pizza while nestled into the den of trees. The kids played with our dog and talked. And we stayed there for much longer than we should have.
Miles to Go
After a while, we got the kids back on track, walking along the pathway through pretty Park Adulam. We passed all sorts of things: butterflies and beetles, poppies and mustard blossoms. As we walked and walked (and examined everything there was to see), it began to seem like we would never reach the next stopping point at Burgin Ruins. But just as everyone was about to give up hope, Burgin Ruins appeared atop a tall hill in the distance.
We debated whether to take the short way up (blue trail) or to take the more roundabout green trail to the top of the hill. Our desire to explore won out. We decided to take the twistier route along the green trail, which would lead past old cisterns, hidden caves, and other fun discoveries.
The Burgin Ruins
At this point on our travels, it was already getting late in the day. We knew we only had a few hours of daylight left. But somehow, we just had to stop at every single cave.
There were Christian burial caves and Jewish burial caves, cisterns and ritual baths. The kids had the most fun in the carved-out interiors of the burial caves, where they could sit in the shadows and listen as their voices echoed in the darkness all around.
Slowly, slowly, we made our way up the hill until we finally reached the Burgin Ruins themselves. Can you guess what we discovered up there?
That's right! Another awesome cave/tunnel to climb through.
We strapped on our headlamps one more time and headed on down for a ten-minute squiggle through the dark tunnels underneath the ancient city. It was tons of fun.
After that, everyone headed in opposite directions. Some of us wanted to climb through more tunnels. Others wanted to explore the rest of the ancient hilltop city. Still others wanted to sit on the edge of the hill, relaxing and taking in the views. Finally, we all met up and got ready to set out on the long trek back through Park Adulam to the trailhead.
Late Afternoon Beauty
We walked back through Park Adulam, passing by Bedouin shepherds and their flocks. I wasn't sure that all of our group of 21 (including babies and pregnant people) would make it back. But somehow, everyone was in good spirits: talking, laughing, and taking in the world of wild beauty all around.
As the sun began to descend in the sky, the nature reserve took on a golden glow. Bright yellow flowers gave way to more fields of overgrown greenery. The kids stopped to suck the sweet nectar out of purple spring flowers. And after a long, long ramble through Park Adulam, we finally returned to the cars.
It had been a fantastic day: full of great natural beauty, history, and adventure. This walk between Itri Ruins and Burgin Ruins in Park Adulam was a wonderful way to experience Israel's unique natural terrain.
Hikers' Notes:
Here's what you need to know to hike this circular trail from Itri to Burgin Ruins in Park Adulam:
You can hike this trail in one of two ways. Either you can make a large loop like we did. Or, you can drive to Itri Ruins, then get back in the car, and drive to Burgin Ruins. This will make it a much shorter, more manageable adventure. And you can still spend some time in nature right around the two historical sites.
If you hike it the way we did, this trail is best suited to cooler days in late fall, winter, and spring. If you just go to visit the two sites, you can hike it in the summertime too. It won't be nearly as beautiful (Adulam Nature Reserve undergoes a dramatic change during the rainy season), but it can still be very fun.
Good for kids.
Suitable for dogs except for the part in the caves.
Wear good hiking shoes, a hat, and bring plenty of water to hike this trail! The path is mostly exposed and can get hot on sunny days.
To follow the trail, use the trail marker gallery and trail map in the table at the top. You can also use the Google Earth file to follow your location along the path we took.
Bring a headlamp or flashlights to explore the caves. The caves are not suitable for people with claustrophobia.
Trail marker colors are as follows: Follow green up and around Itri. Then follow green to black. Turn left onto black. When you reach the Burgin Ruins Scenic trail (marked green) make a left. Follow it to the top. Then follow the blue trail down to the bottom of the hill. Head straight onto green which will bring you back across Park Adulam. When you reach the black trail, make a left and follow it back to your car.
Check out the Midras Ruins Trail right nearby!
Don't forget to read my guide to the navigational features in this post before you hit the trail!
Trail map from Amud Anan.
Questios? Have you hiked to Itri and Burgin Ruins? Let's hear about it in the comments!
Hiking can be dangerous and is done entirely at your own risk. Information is provided free of charge; it is each hiker's responsibility to check it and navigate using a map and compass.