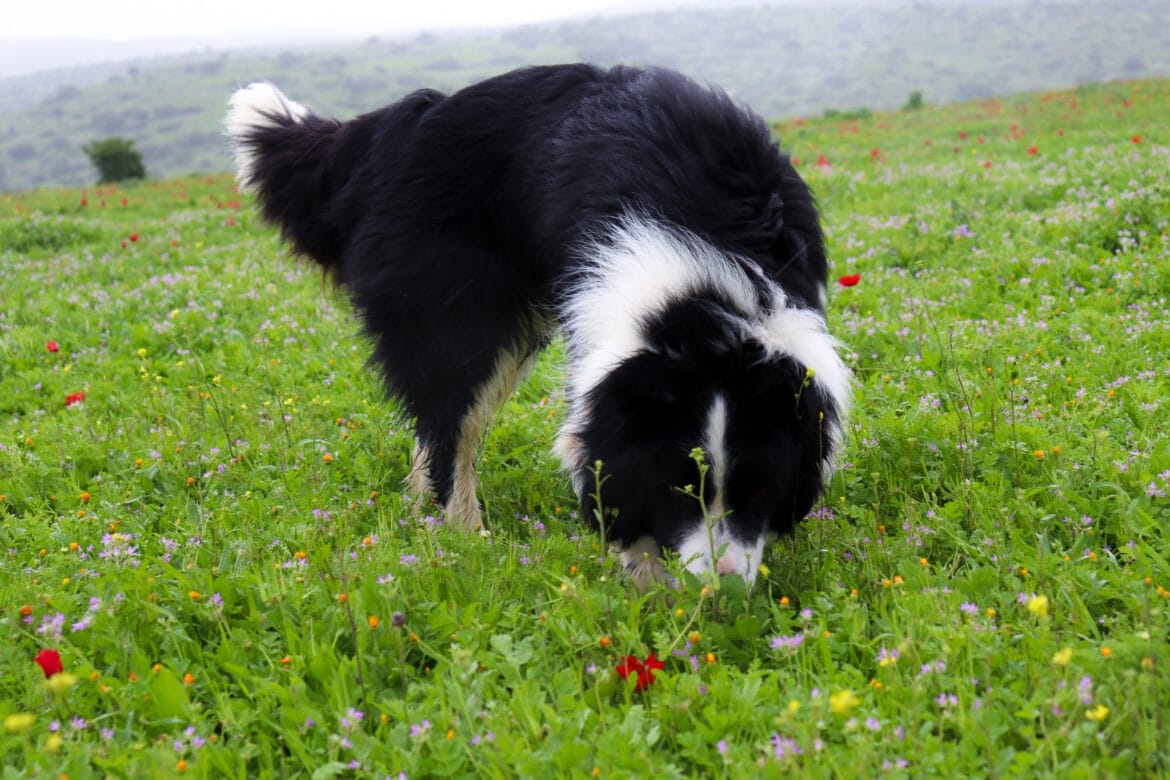 Click here to go straight to hike notes.
It would take a long time to explore all of Maresha/Beit Guvrin National Park. But that didn't stop us from getting our feet wet in all there is to discover this past Friday.
With the kids home and the weather threatening rain, Tel Maresha seemed like a good choice for that day's adventure. The Tel itself was supposed to be flower filled, beautiful, and easy for kids.
And the surrounding area is home to hundreds of caves of all different shapes and sizes. Some of them are perfect for hiding in on a rainy day.
So, we packed the kids in the car and headed to Tel Maresha. And we found exactly what we were looking for: beautiful views, flower covered landscapes, and lots of truly incredible caves to explore.
Here's how we hiked Maresha/ Beit Guvrin:
Trekking on the Tel
In Israel, there are all different kinds of Tels (ancient cities turned into little hills). Some are informative, covered with signs and explanations of their history. Others look out upon gorgeous views. And others, still, are simply pretty places to climb up and wander around on a spring day.
We had heard that Tel Maresha boasted particularly beautiful views. But since it was drizzly and rainy when we got there, we weren't going to be able to enjoy them.
Instead, we wandered through fields of red anemones, in grass so green that my kids said it felt like Ireland.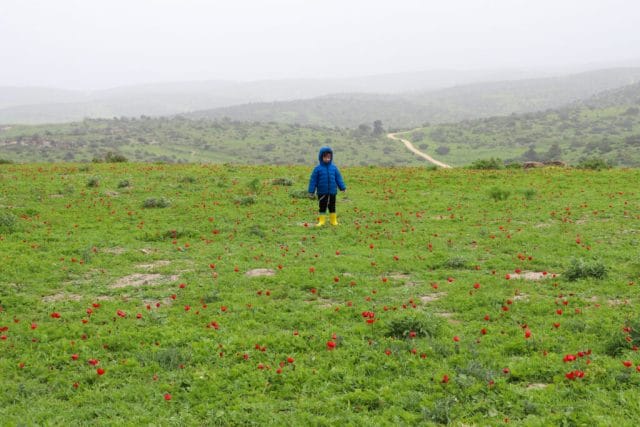 Since Tel Maresha is located in a hot and sunny part of Israel, the scenery up top varies from season to season. Luckily, we were there at one of the best times of year for the Tel, when blooming wildflowers take over the landscape.
Creepy Caves
From the top of Tel Maresha, we climbed down, then followed the path for ten minutes towards the next cluster of attractions: ancient burial caves.
At first, my kids were hesitant to enter the dark and creepy space. Especially after they heard that dead people were buried in there.
But once they overcame their fears, the little burial cave became a great place to explore.
Pictures of ancient animals decorated the wall, some true representations of living things (a giraffe, an eagle, a rhinoceros) and some mythical creatures (a three headed horse). The cave was clean and structured, containing several small nooks where bodies were lain to rest.
At the end of the cave, a giant mural marked the burial place of the tribe's leader. Our handy headlamps helped us get a closer look.
Towards the Maze Cave
After the Burial Caves, we crossed the parking lot and followed a hilly trail towards the next part of our adventure: The Maze Cave. The walk towards the cave was pleasant and pretty. The rain had faded to a very gentle mist. And clusters of tall yellow flowers lined the pathway as we climbed towards our destination.
Once we got there, it seemed like the Maze Cave would be a disappointment. We couldn't see much of anything from the entryway. It looked like a small, underground house more than a maze.
But that's because we couldn't see the giant underground castle that was hidden beneath our feet.
And Underground Mansion
We followed the steps down, down, down. And then a world of discovery was revealed before our eyes.
First, we were startled to find that the underground home just kept on going. Room after room appeared as we used our headlamps to climb up and down stairways from one chamber to the next.
We followed arrows on the walls to stay the course of the trail through the mansion. They led us towards a giant cistern, full of water, with multiple passageways leading towards it.
We saw an underground columbarium: it was one of the most intricately detailed bird houses I've seen.
The passageways led us to big rooms. And then to small ones. Little doorways appeared out of nowhere, leading us still further.
At this point, my kids were sure we had discovered the coolest thing on the planet. They were full of excitement as they searched out the next tunnel, towards the next staircase, towards the next room.
Around every corner, another surprise lay waiting.
Back Towards the Light
After much, much longer than we expected, we saw the light at the end of the tunnel. The last stop in our mansion tour was an olive and flour processing room, with all the ancient tools still in place.
From here we climbed one final staircase, and we were back in the great outdoors. Looking around, there was no evidence that anything unusual existed underground: no signs of any hidden mansions or underground castles. We could have easily walked right past the hidden maze.
We followed the pathway back through the flowers and down towards our car. It had been a day of unexpected discovery.
Only in Israel do you head towards a field of flowers and get a deep dive into history you can truly experience. At Maresha/ Beit Guvrin National Park, we explored a world of beauty and adventure on one rainy morning.
And the rest of this massive national park? We'll get back to it another day.
Hikers' Notes:
Here's what you need to know to hike at Tel Maresha/ Beit Guvrin:
This is a National Park. There is an entrance fee to get in (or use your Parks Card) and there are facilities on site.
Great for kids!
Suitable for dogs.
Bring head lamps! The caves are much more fun to explore when you can actually see your surroundings.
This hike is suitable for all seasons. Tel Maresha is most beautiful on a clear winter or spring day.
When you enter the park, you'll receive a map. Park at Parking B, then head up Tel Maresha. From here, you can walk down the road (or drive) to the burial caves (Points 8 &9). Then cross the parking lot back towards the road and follow the sign shown the trail marker gallery up top up the hill towards the Maze Cave (Point 7).
Don't forget to use my guide to the navigational features in this post before you hit the trail!
Trail map from Amud Anan.
Questions? Have you hiked at Tel Maresha/Beit Guvrin? Let's hear about it in the comments!
Hiking can be dangerous and is done entirely at your own risk. Information is provided free of charge; it is each hiker's responsibility to check it and navigate using a map and compass.