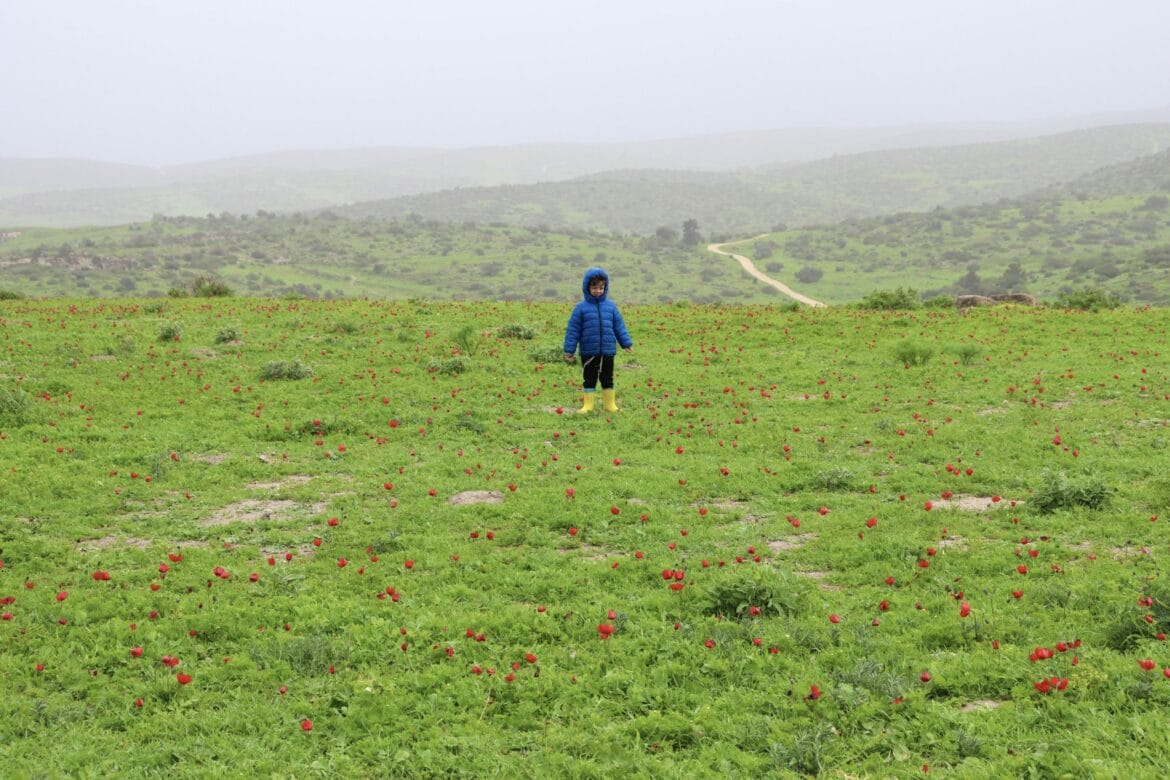 With schools closed along with almost everything else, it may feel like there aren't a lot of options for keeping kids busy and active. But on the bright side, it's a beautiful time of year to go hiking. In Israel, there are lots of quieter trails to keep your kids happy (and away from the crowds!)
Pack some sandwiches in a bag, lace up your sneakers, and get ready for some nature therapy. Even if your kids aren't avid hikers, they'll be happy to get outdoors and discover the beauty of nature with these easy to conquer trails.
Beit Itab – Jerusalem Area
I can't get enough of Beit Itab – and neither can my children. It seems that no matter what the weather, this hidden gem is the perfect place to go. There are tons of beautiful wildflowers on the Beit Itab trail, along with vineyards and quiet pathways.
On a rainy day, your kids will love hiding out and having a picnic in the caves on the trail (my teenage daughters sure did!). And if the weather is better, you'll all enjoy the beautiful views.
This trail is also relatively short and close to Gush Etzion, Beit Shemesh, and Jeruslem.
Nahal Halilim- Jerusalem Area
For an adventure that the whole family will love, head to Nahal Halilim near Mevaseret Tzion. This trail is full of wildflowers and natural beauty. But the best part is exploring the awesome caves at the end.
The trail can be a bit muddy, so either go on a sunny day or wear good hiking boots. And don't forget your flashlight for the caves!
Kedoshim Forest – Beit Shemesh Area
This unbelievable forest trail can be hiked in one of two ways. The longer version (for really intrepid kids), heads up through a pine forest, then back down through a truly awesome riverbed. In Nahal Carmila, you'll feel like you're in another world as you climb over slanted rocks under a canopy of trees.
You'll need two cars to make Kedoshim Forest a little-kid friendly hike. The shorter version starts at the top of the riverbed and ends at the bottom, avoiding the steep climb through the forest at the beginning.
Nahal Salvadora – Dead Sea Area
In the mood for a desert hike? Nahal Salvadora is the place to hike in the desert with your family. Last time we were there, we saw ibex, beautiful birds, a rock badger, and a hidden natural spring.
The climbing ladders leading down through the Nahal make this trek extra fun for kids. Since it's not a really well-known hike, you may have Nahal Salvadora all to yourselves. It's only about 2.5 kilometers, so you can take your time and enjoy the beauty along the trail.
Holot Zikim – Ashkelon Area
This river to beach hike is perfect for families looking for some quiet time in nature. At Holot Zikim, you can walk along a river towards sand dunes (great for sliding!) and a beautiful coastline. In the springtime, the trail is full of wildflowers.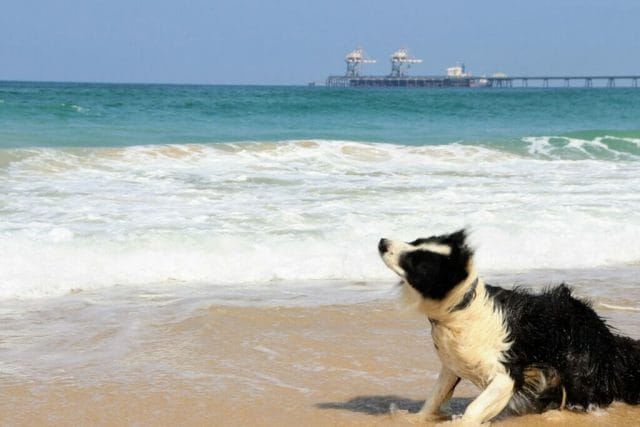 Near Ashkelon, this off-the-beaten-track 2.5 kilometer trail is one that every kid will get a kick out of. Usually, there's a lifeguarded beach at the end of the trail.
The Scenic Trail at Nahal Katlav – Nes Harim
For kids of all ages who want a real walk in nature, the Nahal Katlav Scenic Trail is the place to go. This little hike near Nes Harim has been a family favorite for years.
The Scenic Trail is quiet and beautiful, winding through a forest on a mountaintop. Your kids will love climbing over boulders and spotting hidden wildflowers along the trail. Pack a picnic and eat on a little bench under an oak tree canopy along the way.
Tel Azeka – Beit Shemesh Area
If you want to combine a nature experience with lots of learning, Tel Azeka has got it all.
Many people are familiar with the top of Tel Azeka – a historical site full of information about ancient events in the area, like the battle of David and Goliath and King Saul's war on the Philistines.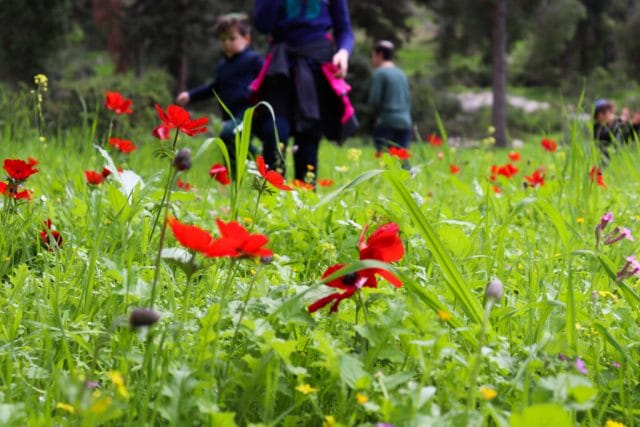 But if you take a roundabout walk up the Tel, you'll experience a whole world of natural beauty that remains largely undiscovered. Around Tel Azeka, quiet pathways wind towards the "summit." In the springtime, they are full of exotic wildflowers. You can really lose yourself in the beauty of nature along this trail.
Haruvit Forest – Beit Shemesh Area
Looking for a hike that's stroller friendly? Haruvit Forest may be your best bet.
The Boulder Trail at Haruvit Forest was specifically designed to be handicapped accessible. It's not very long (perfect for little legs!), but there's a lot of beauty hidden along the pathway under the trees.
Pack a picnic and head to Haruvit for lots of blossoms and beautiful views.
Tel Tzafit – Beit Shemesh Area
For another history/beauty combination package, try Tel Tsafit. This awesome Tel near Haruvit Forest is said to be ancient Gat, the home of Goliath.
The 3 kilometer trail around the Tel will take you through tall grasses and wildflowers, along with illustrated signs explaining the history of the area. It's also home to several archeological digs. This little hill is highly recommended.
Nahal Yitla Scenic Trail – Jerusalem Area
Here's another one that's totally off the beaten path: the Nahal Yital Scenic Trail.
This cute little trail near Jerusalem is fun for a rambling walk with kids. While you're there, you'll walk through a tall pine forest looking out over beautiful views of Nahal Yitla down below.
Don't forget to pick up a few rocks along the way to drop them into the covered well towards the end of the path. And read the full post to find out all about the memorial at the top.
Discover Something Different
These are just a few of the many places you can go to discover Israel's great natural beauty and history with your family. I'll be working to give you more ideas for mini-adventures in the coming weeks.
Don't let time at home become unmanageable or boring. Hit the trails and experience a beautiful adventure in this uncertain time. Your kids will thank you!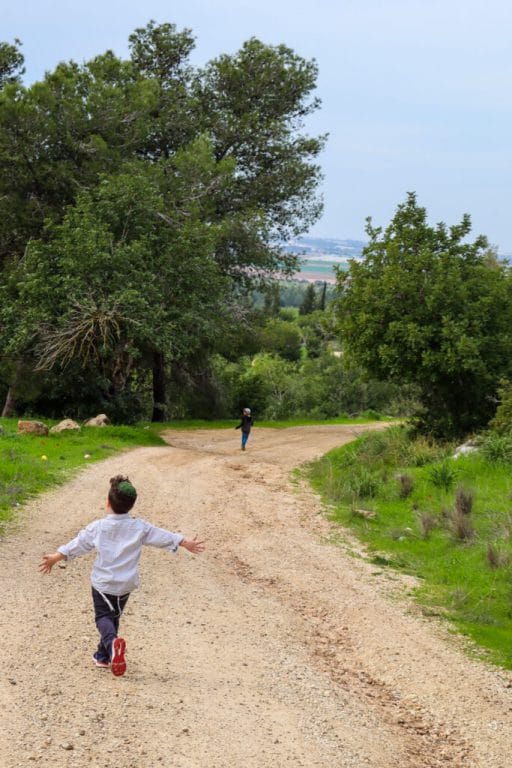 For more kid friendly hikes, check out our Kids and Family section.