We are always on the lookout for family hikes in the Jerusalem area, near our home. There are a few key components to any good family hike. We need a trail that's not too long – little legs can't trek long distances. And we also love hikes with semi rugged terrain and lots of interesting things to explore along the way.
This past Friday, we unearthed another path through nature that was perfect for our family.
Tucked away in Mevaseret Tzion, right on the outskirts of Jerusalem, is Nahal Halilim (Flutes Valley). This trail is perfectly rugged, and full of sweet-smelling wildflowers in the springtime. The best part? There are two caves on the path. The larger one is multi chambered and complete with tunnels and peepholes. My little boys could have spent hours exploring its depths.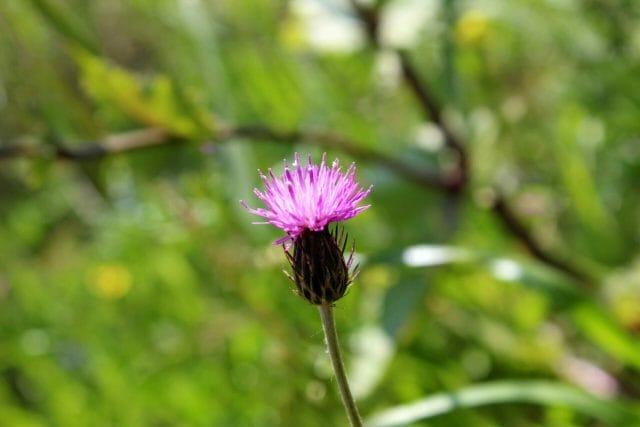 Here's how we hiked Nahal Halilim:
Time to Stop and Smell the Flowers
The hike begins right on the outskirts of Mevaseret Tzion. We parked our car in a random parking lot and headed down through a construction zone towards the trailhead.
It wasn't a very promising start to a hike, but after a short descent we found ourselves immersed in a world of fragrant spring widflowers, with rich green cascading up around us on all sides. The little boys were happy to climb up and down the hardened mud and rocks on the trail. And we all took advantage of the slow pace they set to stop and smell the flowers. There were so many different kinds!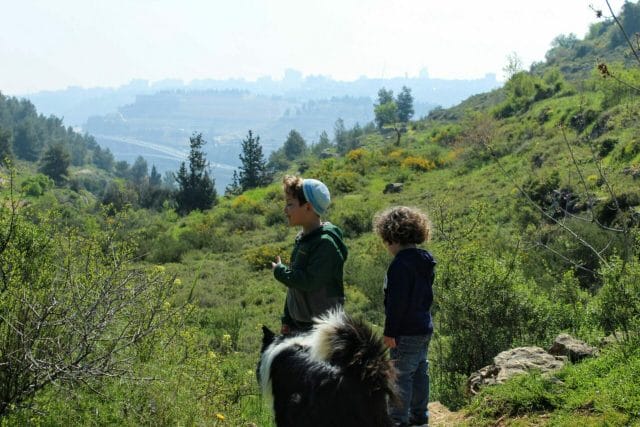 It turned out that my six-year old son had recently hiked this trail on a school trip. So, he became our head scout, letting us know where to stop for a picnic and where the best caves were along the trail.
Photo Shoot
Soon, we reached a big overturned tree, which to my kids, just seemed like a great jungle gym to climb over and under. To my sixteen year old son, on the other hand, it was a perfect place for a family photo shoot, using his new travel tripod.
Everyone was already climbing all over the tree trunk. All that was left to was set up the tripod and get everyone to look at the camera.
I'm not going to lie – it took more than a couple of minutes. But I think we got some good pictures out of it! We weren't all there, but at least almost everyone was smiling.
On the Road Again
After our photo shoot, we were back on the road again. The trail didn't disappoint the whole way through.
The scent of the flowers wafted up around us in the warm spring sunshine. We saw a mini turtle next to the path and lots and lots of butterflies.
We neared the first cave but chose to pass it by on a tip from our six-year old. He said that the second cave was much better.
So, on we hiked – at some points the path was nothing more than a dirt road through the valley. At other points there were cyclamen encrusted rocks to climb over. Before long we approached the second cave where we decided to stop and eat brunch.
Cave of Wonders
First, we set ourselves up on the rocks and broke out the grub. But even though we had lots of goodies, it was hard to keep the kids in one place for very long. We sent them off to go explore the nearby parts of the cave while we guzzled down our coffee.
Sooner than we would have liked, the children coaxed us away from our picnic spot and into the cave. I would say that usually, when it comes to drippy, muddy, and dark caves that I can't stand up in, I'd prefer to stay out in the sunshine.
But this was one of the coolest caves I had ever been in.
The cave darted out in more than one direction, with long tunnels that emerged into new caverns, and then again out into the sunlight. First, we explored the cave on the right. Then we headed left.
Where it Only Gets Better
It seemed almost too dark and dank to climb into. But if I thought that my boys wouldn't head in anyway, I really underestimated them. Before I knew it, they were deep within the cave, climbing through tunnels and finding new chambers that connected one to the next, before finally emerging onto a low cliff.
It seemed a little dangerous, so I was happy that my teenage son had gone in with them. After waving to me from the other side, the little kids scampered back, calling to me through peepholes along the way.
And then, there I was, climbing on my hands and knees through to other side. Yes, I got a little muddy. But I was really happy that I went inside. It was definitely worth bumping my head a few times and an extra load of laundry.
Where the Road Ends
Between our slow hiking pace and our thorough exploration of the big cave, it was already late in the day. We debated continuing on and pushing our kids a little further, down into Emek Haarazim. But instead we wisely decided to call it a day and turn back the way we came.
The good news was that going back was almost equally as interesting as heading out. Although we were traveling through the same scenery, there were new sights to see. We noticed lots of evergreen trees, sprouting forth with their spring fruit. And an oversized beetle making its way across the path.
Between the beautiful scenery and the mysterious caves, Nahal Halilim was a really special hike which we will most definitely be coming back to. A lush green valley, flowers of every color, and nature's best tunnel maze – it's an unbeatable combination for a perfect day out with kids near Jerusalem.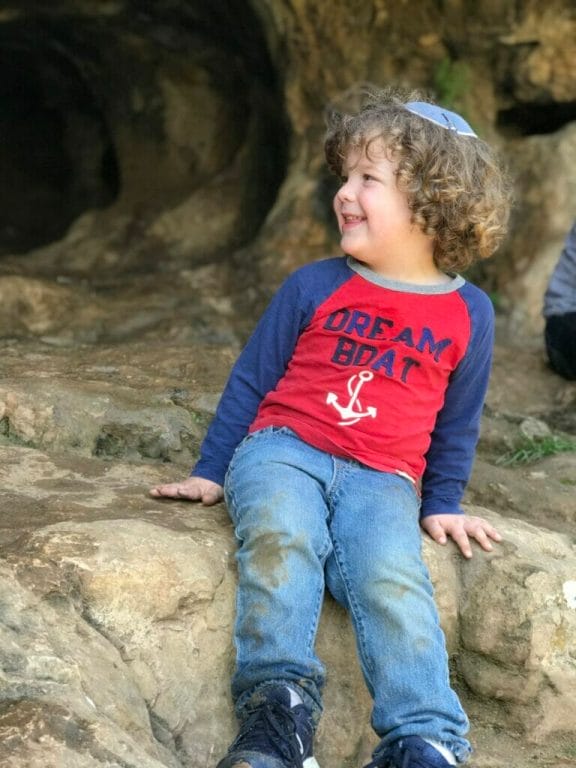 Hikers' Notes
If you're reading this in the springtime, now is the best time of year to explore this beautiful trail. It was such a novelty to smell the rich perfume of surrounding flowers for the entire duration of the hike. You don't want to miss it.
But no matter when you head to Nahal Halilim, it's a really great hike for kids. You won't be disappointed. Make sure to dress for the occasion and really get down and dirty with that big cave at the end. If you have a flashlight, bring that too.
During the summer, I'd imagine this hike can be a little hot unless you go early in the morning or late in the day. But I would still call this a hike for all seasons. Wear boots in the rainy season – it can be muddy.
The only tricky part is at the beginning of the hike. It is unclear exactly where the trail begins. Start on the unmarked path on the left (last time I went, I actually had to head through a construction site). You'll see the trail marker after walking down a little hill. If you head down the more obvious trail on the right you will have to turn back after a minute. Use my Google Earth file if you get confused.
If you have two cars, you can leave one near Emek Haarazim and make this a one way hike. At some point soon, I'll hike it to the end and post a Waze link for the second parking lot.
Don't forget to read my guide to the navigational features in this post before you head out on the trail.
Trail map courtesy of Amud Anan.
Have you hiked Nahal Halilim? Do you have anything else to add? Leave a message in the comments below!
Hiking can be dangerous and is done entirely at your own risk. Information is provided free of charge; it is each hiker's responsibility to check it and navigate using a map and compass.