Re-Release!
We've got so many hikes on the site that every once in a while, I'll be republishing an old classic. This week we went to Ein Prat Nature Reserve and did our favorite short hike along the blue trail towards Ein Prat (the actual Prat Spring). Our experience this time was pretty much the same as I wrote down below, but there were some new features at Ein Prat, like more quiet seating past the main area and an awesome climbing wall. Here's the original article from 2018 along with updated hike notes and photos:
Click here to go straight to hike notes.
Most Jerusalemites are familiar with Nahal Prat or Wadi Qelt, a beautiful natural oasis in the desert about twenty minutes outside of Jerusalem in the direction of the Dead Sea.
Today I'll share with you my family's secret to making this hike a perfect relaxing outing with kids and family on a hot day.
Push Through
When we go to Nahal Prat, we drive straight through the small community of Anatot until we reach the National Parks booth. Here, we show them our Parks Membership card (worth getting one if you love hiking in Israel!) and start the steep and winding descent down through the desert to the parking lot below.
More likely than not, there's no space in the little lot at the hike's entry (since we tend to go on days off when every other Israeli is looking for a nice place to spend the day). So we park at the dust lot nearby and walk over to the shop and bathrooms.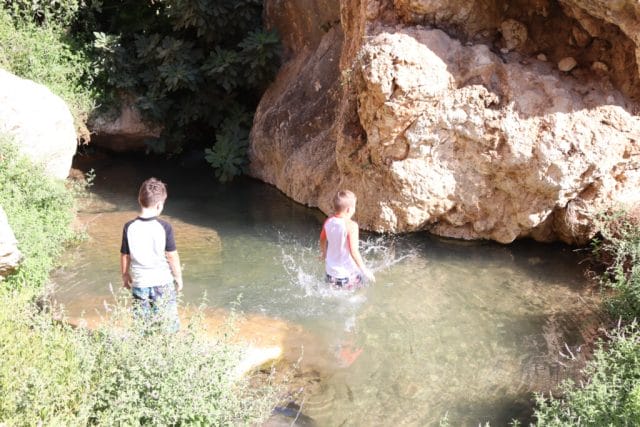 At this point, we're at the beginning of the trail. But that doesn't stop our kids from begging us not to go on. That's because usually it's close to a hundred degrees outside, and right at the start of the hike is a large, tree covered area with small streams, rocks, little natural pools, benches, places to sit, and lots and lots of people. Usually it seems like everyone and their brother has found their way here to this very spot, and they all have a large picnic basket and have set up camp for the day.
So as desperate as our kids are to find a little patch of water here among the throngs of people, we push them to keep going.
Don't Sweat It
As we embark on the trail we pass lots of small pools on the way. Since it's hot and the trail is dusty and unshaded, we are pressured yet again to stop here and hop in. Sometimes we let our kids dip their feet for a minute, but these pools are not ideal either – they are sunny and exposed and anyone looking for a place to swim along the path will be here. So we keep on trekking.
Past the stairs to the old monastery on the left hand side and almost at the end of the easy trail (about a seven minute walk total), there's a gap amongst the trees where we break right. Here, it's rough going as we climb over slippery rocks going back in the direction we came – just this time we're hiking right on the river. We push back tree branches and hold on tight to the kiddies for a minute as we move forward. Then suddenly out of nowhere, there it is – the large flat rock (can anyone say naptime?) and shaded clearing that we've been coming to for years.
This is the perfect place to stop and spend the day. There are ample caverns and banks to sit on and dip your feet, a pool full of little fish to nibble at your toes, and great rocks to slide on. In short – this is where we put down our backpacks for the day and let the kids get wet to their heart's content.
In this spot we've seen birds, dragonflies, and little snails. We feed the fish and feed ourselves. We listen to the sound of the stream and savor the great natural beauty of the shrubs and trees that protect us.
It's Our Little Secret
In all the years we've come to Nahal Prat our semi-secret spot has never been taken. Since its out of view of the main trail, people looking for a place to take a dip seldom make it here. Occasionally, a hiker traveling along the river will pass through, but this spot remains a truly quiet and peaceful oasis in the desert.
So that's how we hike Nahal Prat – the easy way. Not much of a hike for us adults, but it's an amazing place to spend a peaceful day watching your kids enjoy the simple pleasures of the great outdoors.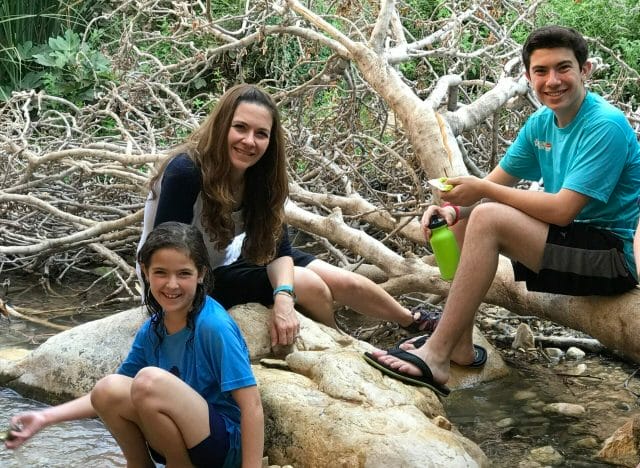 Hikers' Notes:
Here's what you need to know to take this easy hike at Ein Prat Nature Reserve:
This hike is suitable for all seasons. It is quite warm in the summertime, which makes the pools ultra-refreshing.
Great for kids.
Dogs are allowed on a leash.
Come equipped for this hike with water shoes, a hat, sunscreen, and swim gear.
This is a Nature Reserve run by the Parks Authority, and requires paid entry (and advanced reservations since the CoVid pandemic). Make sure to reserve online before you go. Entrance is free for Matmon members. Regular entry is 29 NIS per adult and 15 NIS per child. There are bathrooms, picnic tables, maps, and a store at the entrance. For a 10 NIS fee, you can get a Junior Ranger booklet and pin!
This hike is located in Judea and Samaria. Make sure you feel comfortable with your level of personal safety before attempting this trail.
To follow the trail: from the bathrooms and store, walk out on the blue trail away from the picnic area. Follow the blue trail with brief detours to interesting pools and shady spots along the way. After a short walk, you will reach the spot where the blue trail continues up towards the monastery. Rather than following the trail up, make a right onto the rocks towards the stream. After a short walk over rocks along the stream, you should be able to find a quiet, shady spot to spend the day.
New on the site: there is a nice large pool at the end of the trail past the monastery which is also a lot of fun, and not very crowded. Right beyond the trail is the source of the spring (Ein Prat).
There are many other amazing hikes for cooler days and more adventurous travelers here in the Ein Prat Reserve.  Check out this post for a longer hike through this Nature Reserve.
Pro tip: In late summer and early fall, taste the delicious figs that grow plentifully along the stream. You can also enjoy the wild mint that grows everywhere.
Don't forget to read my guide to the navigational features in this post before you hit the trail!
Questions? Tips for fellow hikers? Let's hear them in the comments section below!
Hiking can be dangerous and is done entirely at your own risk. Information is provided free of charge; it is each hiker's responsibility to check it and navigate using a map and compass.