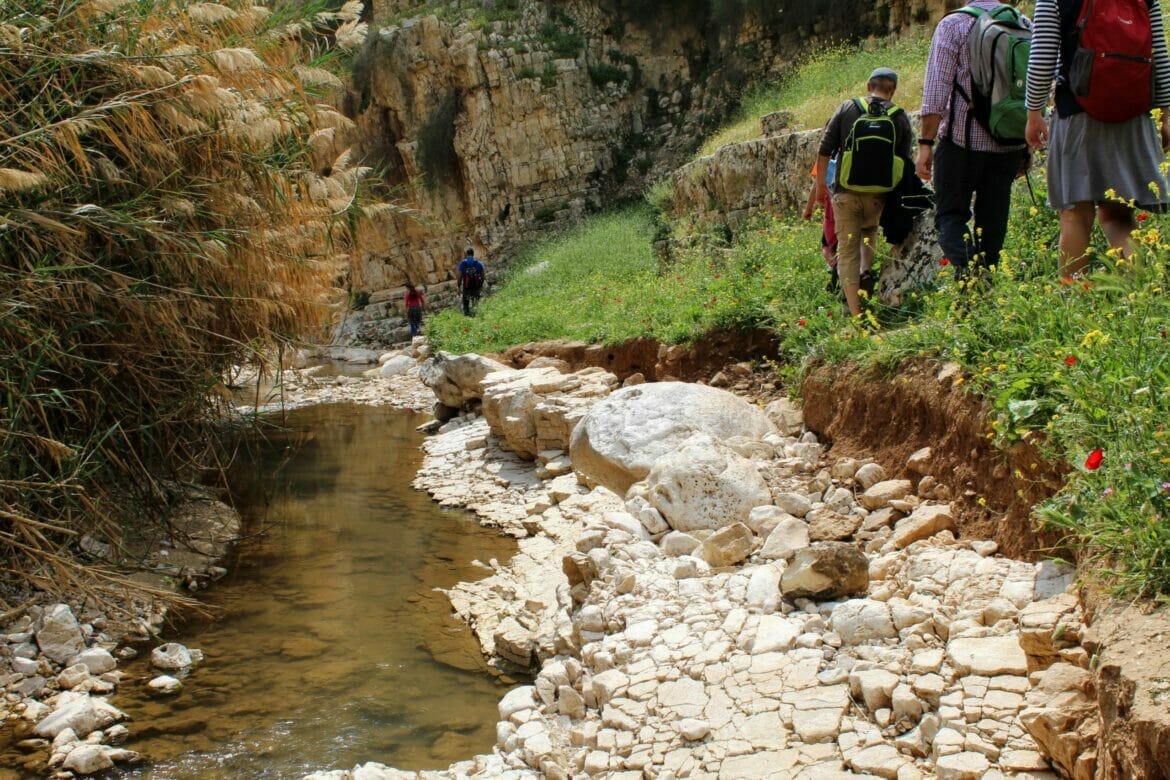 Ein Prat – We've been there dozens of times. The shorter hike through the trees at the Nature Reserve is one of our favorite places to spend the day with our kids. And we've also hiked out to the right on the red path, towards the less crowded pools on the other side.
But in all the times that we've visited Ein Prat, we had never actually hiked the whole trail.
This year, we waited all winter long for a chance to fully explore this oasis twenty minutes from Jerusalem. But, it rained a lot this winter. And when it rains, desert hikes are closed. (There's danger of flash floods).
So, despite our plans, we never actually made it to Nahal Prat – until this past Friday.
This time, we attempted to fully explore the trails at Ein Prat. We found that the long trail was a beautiful trek – by far the prettiest water hike in the Jerusalem vicinity. But we also learned a lot about how not to hike the path at Ein Prat.
Here's the beautiful, the bad, and the ugly of how we hiked Nahal Prat:
You Can't Always Trust a Park Ranger
We started off our hike with bits and pieces of information. We knew that the long trail along the river snaked out to Ein Mabua. And we knew that it was possible to return along the top of the canyon looking down, on the red trail. But we weren't sure how long these trails were – could we complete them in one short morning?
So, when we pulled up at the booth to show our National Parks card, we asked the parks worker there for more information. According to him, the whole length of the trail, to Ein Mabua and back, was thirteen kilometers. He pointed out a different way to shorten the trail by almost two kilometers. And he also said that if we wanted to hike it one way (ending at Ein Mabua), we could probably get a taxi at the end.
Spoiler alert!!! Some of that information was completely wrong.
We parked our car at the lower lot, then set out on the first short red trail, which connects to blue. Our plan was to take it easy, see how far we could hike, and then double back the way we came if we ran out of time.
The Most Wonderful Time of the Year
As we started on the trail, we saw the beauty of Nahal Prat – small waterfalls rushing into cool pools of crystal water, surrounded on all sides by white stone. It didn't take long until we reached the farthest point we had ever traveled on the trail – a roughly circular pool with natural stone stadium seating all around.
A few years back, we had spent the day here with friends. I remembered our teenagers and bigger kids jumping in repeatedly, to get a refreshing break from the summer heat.
Today, we weren't planning on swimming, so we continued along the trail. There were several similar pools on the path as we walked. But the most spectacular change at Nahal Prat from our previous excursions were the multicolored flowers pouring out of every crevice of every rock.
I had never seen Nahal Prat in springtime.
Tall reeds filled the paths along the pool. Poppies poured out in clusters. There were yellow and purple flowers, little white daisies, and many unfamiliar blossoms.
It made the whole desert oasis scene even more picturesque. Complete with birds, butterflies, and dragonflies, Nahal Prat was a little piece of paradise.
Cliff Climbing
Once we were on the blue path (we followed red to blue), the terrain began to change. I had expected the entire length of the blue trail to be fairly easygoing– walking along the inside of a riverbed, flat rocks, and cool running water. But as the canyon became narrower, the path began to travel up and down little cliffs.
At this part of the hike, the climbing wasn't difficult – there were neat hand and footrails to hold onto at every point. Actually, I thought it made the hike a little more interesting.
Soon, we headed down towards a large flat rock in the middle of the river. It was surrounded by flowers of every color. We laid down our backpacks and had our morning coffee, right there in the canyon, the rushing water around us.
Since we were in a rock canyon, there was plenty of shade from the surrounding walls. We sat there enjoying the peace and broken silence that can be found only while sitting on a river. Colorful birds swooped between the canyon walls. And the waterfall a few feet away sent a gentle mist into the air.
The Business of Hiking
After our little break, we were all business. Were we going to push ourselves hard through this hike so we could walk the whole thing? Or take it slow and come back another time for the full trail?
We started off slow. There were flowers to photograph. Neat little alcoves to climb through. And soon enough, lots of narrow cliffsides to navigate.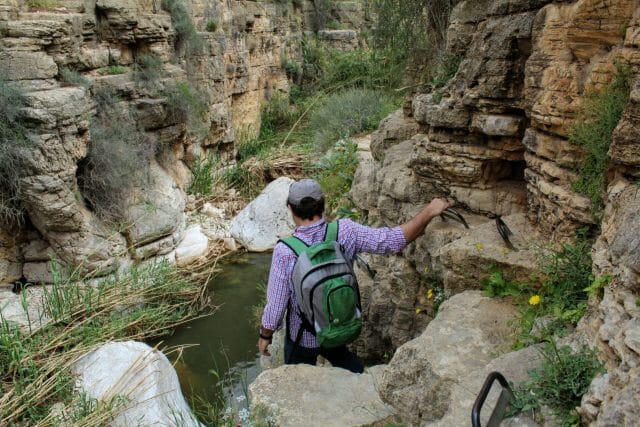 But then we reached a large group of hikers.
Because of the way Nahal Prat twists and turns, we didn't immediately realize what a big group we were hiking through. We said hello to one family, then another. Then we were traversing the river in turns, offering help to kids who were scared to cross on the wet rocks.
It was getting late, and we had decided to turn back the way we came. But as we made our way to the very end of the group, we realized that we really didn't want to navigate through all the people all over again.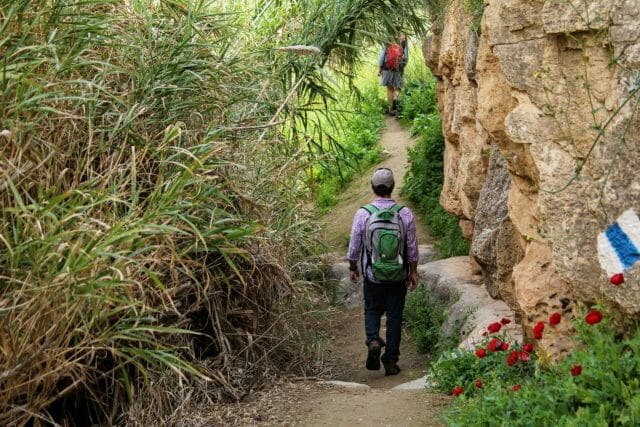 New plan. We took a deep breath and plunged forward along the trail, climbing up and down rocks and splashing through the river as fast as we could. We were going to take the long route – blue to red, where we would climb up to the top and walk overlooking the canyon, back to the trailhead.
Where the Going Gets Rough
Unfortunately for our speed inclined selves, this is where the trail got really tricky. It was totally safe for any adult walking slowly and carefully. But we were holding onto handrails along the side of a cliff in some places.
It was still stunningly beautiful though. And soon, we reached the point where the blue trail supposedly climbs up the side of the canyon to hit the red trail.
We followed the trail up the cliff. But it didn't seem like a real trail – the blue markers were all whited out, and there were no handrails. We felt more like free form rock climbers than hikers.
We were halfway up the side when we decided to turn back and see if the correct trail was located further along the path.
Where the Tough Get Going
But we never found it. And since we had wasted all of that time climbing up and down the mountain looking for the right trail, we were seriously short on time. We decided to hustle fast all the way to the end at Ein Mabua where – as suggested by the Parks worker – we would try to get a taxi back to the car (or maybe even hitchhike?!).
All this time, we had zero cell phone service, so there was no way to call a taxi in advance. We sped through the rest of the blue trail, emerging into a parking lot.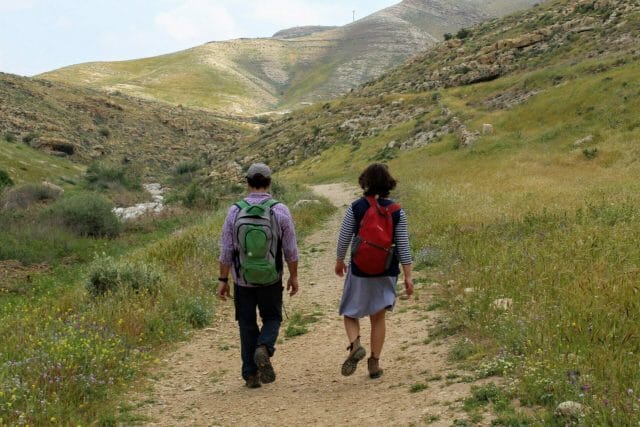 To make a long story short – there were no taxis. In fact, there was nothing there at all except for a highly questionable security situation. Because at the second side of Nahal Prat, there's no fancy Park Ranger station and no Israeli cars parked. It's just a random parking lot in the middle of what is known as "the territories" – not a place you want to be without a ride.
Very luckily for us, we were able to ask a policeman to help us out. And he took it upon himself to drive us all the way back to our car (a twenty-five minute drive.)
So, what's the verdict on Ein Prat? This National Park is stunningly beautiful – definitely the best water hike in the Jerusalem area. The crystal springs and varied topography make it a must-see destination. But don't go all the way to the end (at least not without a large group and a trained guide).
A simple walk a few miles out on the trail and back is all you need to experience this otherworldly oasis in the desert.
Hikers' Notes
Here are my tips for hiking Ein Prat. First of all, if you want to feel a hundred percent comfortable, go on a holiday when you know other Israelis will be there. If you go on a regular day, I would recommend that you walk out on the red trail, connect to blue, then go back the way you came rather than hiking out to Ein Mabua.
I, personally, wouldn't leave a second car at Ein Mabua under any circumstances. And since I didn't find a good solid return trail this time, I can't recommend that you climb the cliff and take the red trail back.
But just going out and back is a beautiful hike. Like I said, it's the prettiest water hike anywhere near Jerusalem. Dogs are allowed, so you can bring yours along (on a leash).
For little kids, stick to my first Ein Prat hike (Nahal Prat, the Easy Way). For bigger kids who know how to swim, you have options. You can hike out a kilometer or so to enjoy the deep pools without any tricky climbing. Or, with bigger kids, you can hike out further to see stunning scenery and cross the river in some places.
Towards the second half of the trail, the climbing is too tricky for anyone but teenagers and up. You'll know when you get there. If you have younger kids along, that's the time to turn around and go back.
It gets hot in Nahal Prat. Bring plenty of water and be prepared to jump in the river for a cool down in the summertime. In the spring and fall, it's the perfect weather for a hike.
This is a National Park, so you need to pay a fee or use your National Parks Card to get in.
Questions about this hike? I'll tell you whatever I know! Give me a shout out in the comments below:
Hiking can be dangerous and is done entirely at your own risk. Information is provided free of charge; it is each hiker's responsibility to check it and navigate using a map and compass.