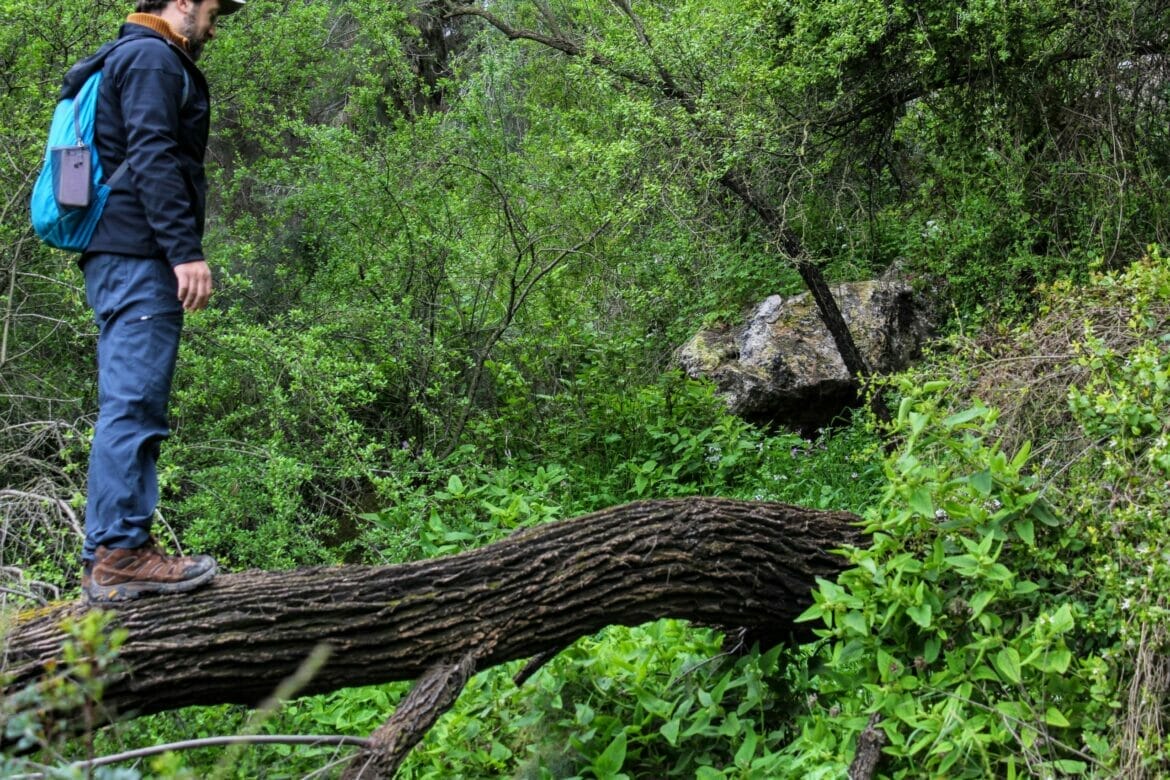 Years ago, we decided to take our family biking. So, we looked around for a local bike rental place and hit the trail by cycle at Burma Road near Beit Shemesh.
At the time, three out of our five children couldn't ride on their own. And it would be putting it mildly to say that our little bike trip didn't exactly end up being tons of fun.
My husband and I pedaled with all of our might up the hills, trying to stay balanced on tandem bikes with baby seats attached. Much of the time, we had to get off and walk our bikes along. It was hot – and the exertion made it hotter.
So, it was with much trepidation that we returned to Burma Road this past Friday. This time, for a kid-free hike by foot.
But wouldn't you know it? Burma Road is actually a beautiful spot for a hike (and a bike ride, if you know how to ride a mountain bike!). It is gorgeous, and shaded, and full of interesting places to stop. In the spring, there are fragrant wildflowers along the pathways. Exploring this trail is a must for anyone who lives in the area.
Here's how we hiked the path at Derech Burma:
Trailside Springs
We started our hike on the red trail, which immediately took us towards an area with streams and springs. It's quite possible that these pools are empty most of the time. But we were there on an early spring day after the rain.
The pool was filled with water. And the little riverbed that sat to the side of the trail was full of water too. There were picnic benches and playground equipment, and lots of shade. It seemed like the perfect place to spend a morning with kids.
But since we were kid-free that day, we continued along the trail. Soon, we passed a large, wildflower filled meadow. It was early on in the hike, but that blossom filled field just begged us to stop. We found a flat spot, framed by low bushes on one side and tall trees on the other. And coffee time it was.
Truth be told, I was a bit annoyed about the weather that day. Since it was already springtime, I was hoping for beautiful warmth and sunshine to hike in. But I'd woken up to another rainy and overcast day.
Sitting in that flower field, drinking hot coffee, with a gentle drizzle falling – now, the weather actually seemed incredibly beautiful. Cloudy skies always seem to intensify the deep green colors all around. And the fragrance of the flowers in the meadow filled the air.
Onward to the Great Unknown
After a nice long break, we got up and continued on our way. We walked along a relatively flat path through tall, reedy grasses. In the distance we could see a forest full of trees.
Soon, we reached our first crossroads, where we met another couple hiking along. This cute little pair was clearly in for the long haul – they were decked out in full hiking gear with big packs and sleep mats. They encouraged us to follow the Israel Trail, taking the shorter and more direct path.
But we felt like exploring a bit, so we made a left to follow the red trail, along what was the original Burma Road.
This path took us through thick hedges of tall yellow flowers on either side. Spiky purple things grew so tall that it was impossible to take pictures of the actual blossoms. We followed the red trail past a pumping station and towards the forest.
Obstacle Course
On this part of the trail, we began to encounter a few obstacles. Every so often a giant puddle filled the path, making it almost impossible to get to the other side.
Luckily, we have adventurous spirits. So, we climbed off the path and into the rocky, vine tangled overgrowth beyond. This happened more than once. And each time we wandered off the path we were so happy we did.
Because beyond the straight and narrow pathway lay a world of rich greenery and blossoms, thick all around. In one alcove, there was a cyclamen lake. In another, mustard blossoms and beautiful white flowers were tangled amongst the ivy.
It took a bit of climbing to get up and over the rocks. But sometimes the best fun is in taking the road less traveled.
Back to Burma Road
Soon, we were past the puddles and back on the main Burma Road. We reached the spot where we would been if we had taken the direct road recommended by the other hikers.
And we only veered off the path once more to get a closer look at some white tendrils climbing near a fallen tree.
Eventually, we hit the point in the road where the trail turns back. We followed the KKL red signposts onto what we knew to be the black trail – a path that would take us all the way through the forest and back to our car.
Spring Time Again
This part of the path was beautiful in a totally different way. It was much shadier and more densely forested. We passed by several carefully tended picnic areas and another spring, this one in an place called the Nahshon Stream Nature Reserve.
The water was flowing and relatively clean, and there were neat steps leading down to the pool. It actually looked like a great place for kids to play on a warm day.
We continued past Nahshon Stream and arrived at a point in the path where we could choose one of two directions. If we followed the path on the right, we would rejoin the red trail go straight back to the car.
But we opted for the path on the left, which we knew to be a slightly longer way back. The path ascended. A lot. And at one point, as I glanced down at my watch, I was wishing we had chosen the simpler and more straightforward way back.
Why Wander?
But if we had done that we wouldn't have seen the incredible beauty on this part of the trail.
The trees arched over us, a welcoming woodland. Tall acacia plants swayed over the pathway, their round yellow blossoms like miniature stuffed toys in their perfection. And blueish purple flowers peeked out from the sides of the path.
We continued climbing, then finally reached the road to turn back towards the trailhead. A few more minutes of downhill trekking and several flocks of sheep later, and we were back at our car.
So, what's the final word on Derech Burma near Beit Shemesh? This historic road has so much to offer. From rambling trails to wooded thickets to neat picnic areas, Burma Road is a wonderful place to explore the beauty of nature in Israel. (Just don't try mountain biking it with three kids under six!)
Hikers' Notes:
Burma Road is a great place for a hike or just some quality time outdoors. The picnic areas throughout the park are (for the most part) accessible by car. And as long as you follow the map, you can plan almost any kind of hike you want in the area.
You can make this hike 10 km long like we did. Or go the short route at every turn mentioned above (marked on the map), to take an easier hike (probably about 6 kilometers) along the trail.
Make sure to get off the path a little bit and explore. You don't have to go very far, and there is so much wild beauty right off of the road.
I'm not sure if this is really a hike for kids – it's probably too long and uneventful. But a short hike to either of the springs would be fun. And there are tons of picnic benches and pretty spots to sit. Definitely worth checking out if you're looking for a place to picnic.
As far as season goes, I think spring and fall are the best (although it's not going to be quite as green in the fall time!) It was muddy in places when we went, so just be prepared to skirt the puddles if you go in wintertime. And it's probably extremely hot for a long hike here in the summertime (since it's not all shaded).
Don't forget to read my guide to the navigational features in this post before you hit the trail!
Trail map from Amud Anan.
Questions? Any tips for fellow hikers about this trail? Let's hear it down below!
Hiking can be dangerous and is done entirely at your own risk. Information is provided free of charge; it is each hiker's responsibility to check it and navigate using a map and compass.