Click here to go straight to hike notes.
Late winter in Israel – it's a fabulous time of year. Dark, stormy days become interspersed with sunny ones. Birds start to chirp from the branches of every tree. And flowers begin to bloom just about everywhere.
Many people know late February as red flower season in Israel. Tourists and locals head South in droves to seek out crimson anemones at the Darom Adom festival. But you don't have to travel so far to engage in a little flower peeping.
Around Jerusalem, Central Israel, and pretty much everywhere, parks and forests are filled with flowers, in an array of sunshine-y colors. You'll find red anemones in any open field. And in nearby National Parks, you'll also discover yellow daisies and almond trees full of pink blossoms.
This past Friday, we took a walk in Park Britannia, a sunny KKL park near Beit Shemesh that's known for its beautiful flowers in the late winter. This time around, we followed the Einav Trail, a relatively flat, 10 kilometer loop that winds its way past many of the beautiful sights of the park.
Shvil Einav is a great way to lose yourself in the wonders of nature. The walk is long, but it's not challenging. You'll have plenty of energy to frolic in fields of flowers that you encounter along the trail.
Here's what we saw on last week's hike through Shvil Einav in Park Britannia:
Bright Eyed and Bushy Tailed
Puffy white clouds filled a blue sky. The sun shone bright, erasing all memories of the gloomy weather of previous days. We set out on the trail, down towards a sea of red anemones in a wide-open expanse.
There's something about an early taste of spring that just makes you feel cheery. With a spring in our step, we hopped over mud puddles, the only sign of wintertime. I crouched low to take pictures of purple flowers blooming plentifully against a rusty gate.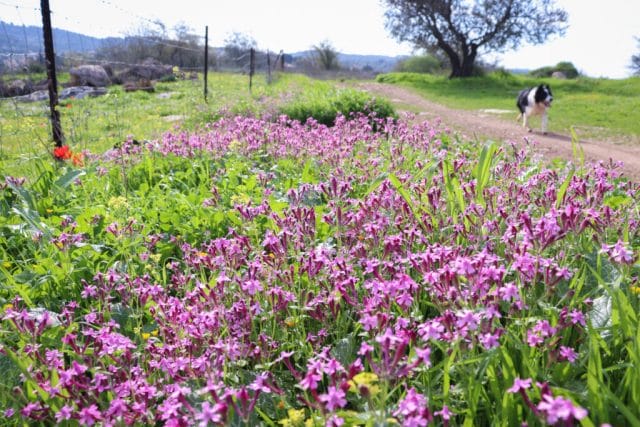 We walked past sabra plants. These prickly catci are found all over Park Britannia – they were used as a form of fencing in generations past.
Almond trees blossomed everywhere: white and puffy tree balls were spattered in the fields in the distance, a perfect imitation of the cumulous clouds in the sky.
After walking for a short time, we saw a particularly beautiful pair of almond trees. So, we left the path to set up camp beneath them.
Just a Moment in Time
When we reached the almond trees, it seemed to be snowing. White petals blew through the air, cascading down to form an ivory carpet on the path. This was the perfect place to stop.
We unpacked our bag and poured hot coffee from our thermos. The sun shone on our faces. White petals got caught in our hair. For a moment in time, everything was blissfully right in the world.
Even our border collie seemed to feel the spring spirit. He pranced back and forth under the almond trees, tongue out and tail wagging. It was the kind of moment in nature that just makes everyone happy.
Let's Explore
When our coffee was finished, it was time to explore the rest of the Einav Trail. We returned to the path and kept on walking.
The trail was narrow and lined with tall green grasses. Einav is actually meant to be a single file bike path. But its proximity to flowers and fields makes it perfect for hiking as well.
Soon, we found ourselves crossing over a small metal bridge: the first of many we would find along the trail. We passed by olive and carob trees, the ground beneath them filled with a thick carpet of green that had sprouted in the shade.
Next were pockets of red anemones, even more plentiful than on the earlier part of the trail. They popped out of the grass like red jewels on a green backdrop.
Lose Yourself Here
As we walked, we just kind of lost track of time. Since the trail was so easy to follow, we didn't stop to navigate. We just followed the path and the green trail markers as they took us in a winding circle.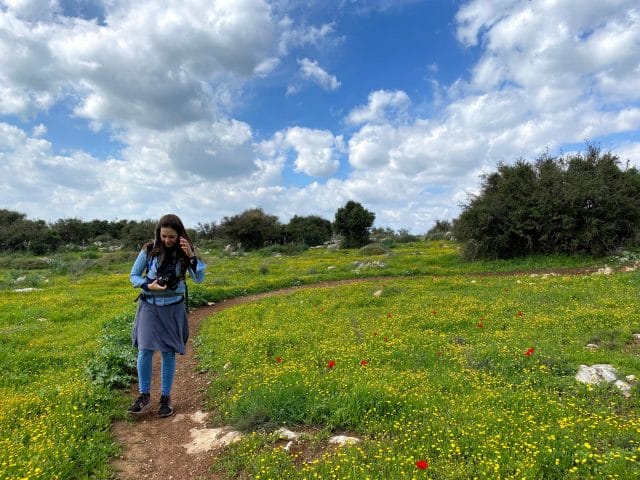 There were no challenging ascents or descents. We lost ourselves in conversation and the joy that comes with being outside on a beautiful day.
The only thing that snapped us out of our reverie was the flowers. Some clusters of blossoms were just too striking to ignore.
I leaned in close to capture a field of daises, sprinkled with purple and red flowers. Our border collie, obligingly, pranced through the field for a photo op.
The Best Things in Life Are Free
10 kilometers later, we reached the end of the Einav Trail and our morning in nature. The walk had been easy and peaceful – we hadn't encountered another soul on the trail.
There are days when you need to work for your good mood. But on a warm winter day in Israel, KKL's parks will give you that boost in spirit for free.
On the Einav Trail in Park Britannia, wildflowers, blossoming trees, and all kinds of natural beauty can all be found on one easy to follow footpath.
Hikers' Notes:
Here's what you need to know to hike this trail:
Best suited to fall, winter, and spring. You can hike the trail in the summertime, but expect it to be dry. Bring a hat and plenty of water to protect yourself from the sunshine.
Suitable for dogs.
The trail is circular.
This trail is also great for biking!
Trail markers to follow: black, green for the entire loop, then right on the second turnoff onto black.
Use the trail marker gallery and the trail map in the table up top to find your way.
Don't forget to read my guide to the navigational features in this post before you hit the trail.
Trail map from Amud Anan.
Questions? Have you hiked through Park Britannia? Let's hear about it in the comments.
Hiking can be dangerous and is done entirely at your own risk. Information is provided free of charge; it is each hiker's responsibility to check it and navigate using a map and compass.