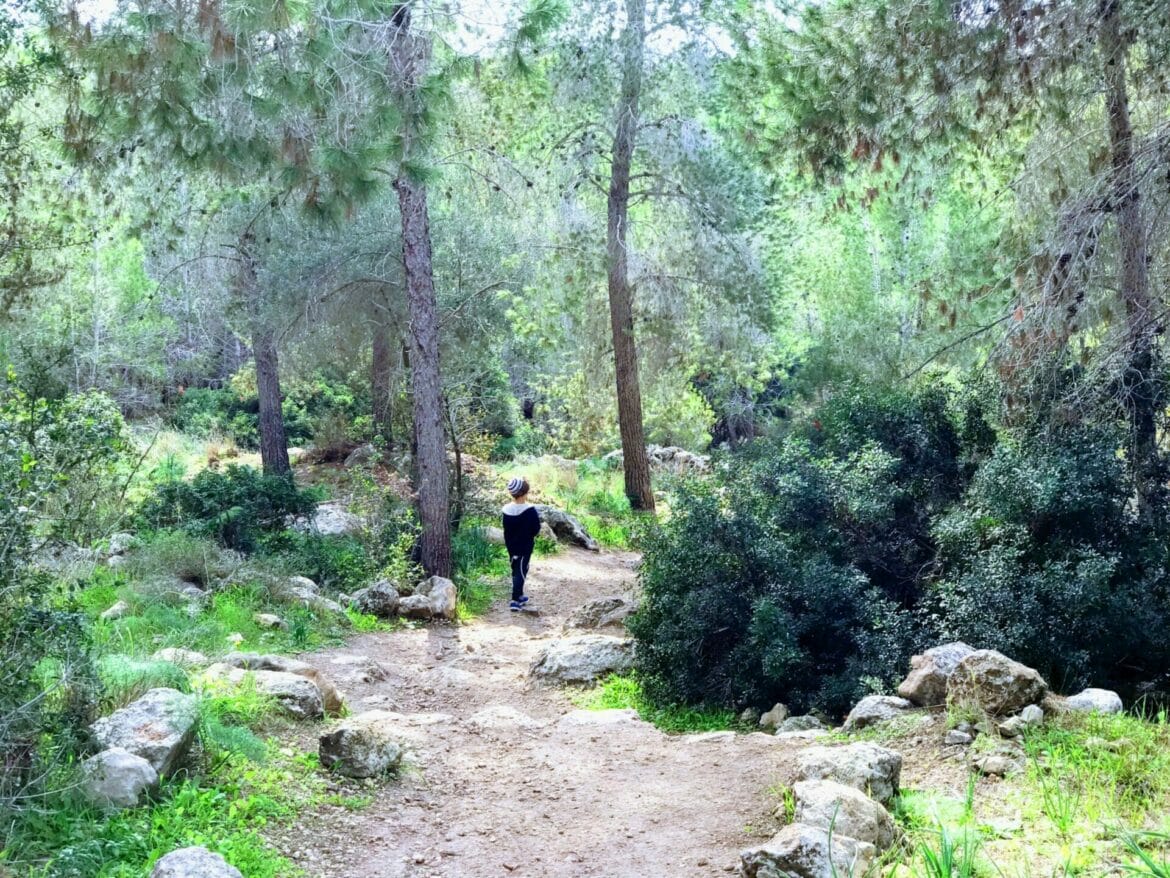 New nearby hikes can be hard to come by. But last week, on a tip from a friend, we explored another local hike that was perfect for kids.
Borot Ube'erot (Cisterns and Wells) is a trail located in Park Britannia, right near Beit Shemesh. It's also relatively close to Gush Etzion –only a thirty to forty minute drive.
This five kilometer hike runs through a forest and over grassy hills. The main attraction (and what gives the hike its name) are the caves, pits, and wells, located along the trail. These spots are fun for kids to peer into and explore. But the walk itself is picturesque as well.
Here's the lowdown on this trail:
The Hike
We met up at the Park Britannia parking lot (use the Waze link up above to get to the right one) and followed the green arrow up the road towards the trailhead. Here, there's a sign with the hike's name and a bit of an explanation. We turned onto the red trail, a circular five kilometer loop that would take us through.
Before we even got to the first well, I could tell that this hike would be perfect for my kids. There were rocks to climb over, and trail markers at regular intervals to find. The children led the way, running up ahead to be the first to follow the path.
It wasn't long before we reached our first bor. A rusty grate covered the pit, and there was no water down below. We peered inside, but there wasn't much to see. So we went on our way, following the path through the trees.
Soon we came to a large, flat, wooded picnic area. There were plenty of tables and little fire pits dispersed throughout the area. My kids ran through to a lookout point where we paused to take in the view.
From there, we continued along the red trail, the kids setting a fast pace up ahead. We only stopped to peer in at one or two more pits and explore a little archeological site off the path before reaching the first big cave.
There was a guardrail around this cave, but no screen covering the opening. Maybe we weren't supposed to go in, but I won't tell if you won't! We climbed under the guardrail and into the cave. It was dark inside, and there were tunnels to other openings. The kids explored the inside, climbing through and surprising us by emerging from another entrance past the trees.
After that, we continued along the red trail (which at this point was joined with the Israel Trail). There were lots of places to stop, with picnic tables and benches, but it wasn't time for lunch so we kept on going.
We left the forest (and the Israel Trail) and moved along to the more open and hilly party of the hike, with wild grasses and cacti growing all around. A friend we were with explained that cactus was once used as fencing to divide property. And their roots are so strong that they stick around for years, emerging from the ground years later, even after being destroyed.
At this point, the Borot and Beerot that we found on the path started to get much more interesting – they were all filled with water. We had tons of fun testing out the water levels by dropping stones in to hear the splash. And we also checked how much time it took for the rocks to reach the bottom of each well. Then we used a simple formula to figure out approximately how far it was to the water at the bottom.
This was an activity that kept everyone busy. The bigger kids took out their smartphones to do the calculations, and the little guys brought over rock after rock to hear the biggest splash possible.
And the walk itself? It was green and picturesque. My friend from South Africa who hiked with us said it reminded her of an African Safari without any animals. I'm not sure it was quite as beautiful as that, but it was lush and green, and perfect on a cloudy day.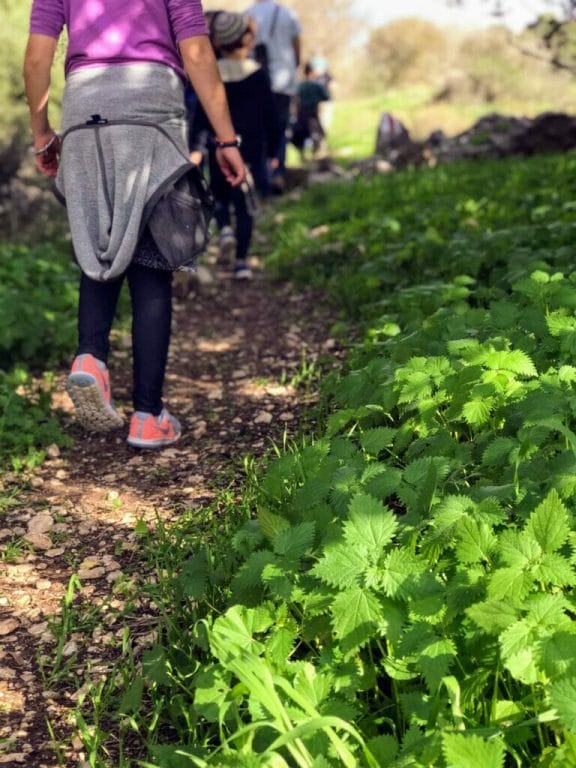 Before long we had completed the five kilometer circle through Park Britannia. With lots of stops and good conversation, the whole thing took us about three hours. Not a bad way to pass the day – exploring a scenic spot filled with natural beauty and ancient relics so close to home.
Hikers' Notes:
So if you live in Beit Shemesh, Gush Etzion, or Jerusalem and you're looking for a local hike that's perfect for families (especially in the fall, winter, or spring), look no further. This hike is it. There are no major ascents or descents, the scenery is beautiful, and the wells and pits along the path are really fun for kids!
I recommend you stop for lunch during the first part of the hike, before you cross into the hills. In the forest there are lots of picnic tables and also areas with flat rocks to sit on.
Another advantage to this hike is the quiet. This part of Park Britannia is far from highways and cities, and there aren't many people around.
New! Read this guide to how to use the navigation offered in these posts.
Questions? Have you tried this hike? Let me know what you think in the comments below!
Hiking can be dangerous and is done entirely at your own risk. Information is provided free of charge; it is each hiker's responsibility to check it and navigate using a map and compass.