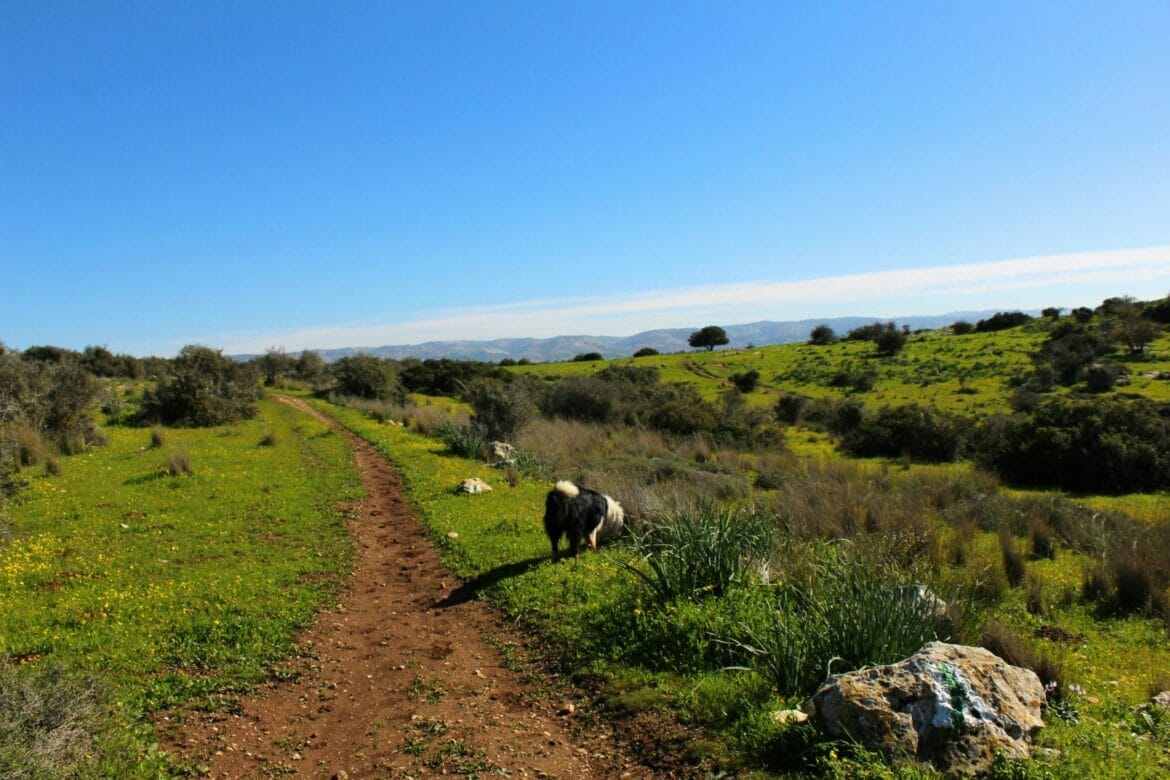 Last Wednesday was a cold and rainy day. It's funny how one day cooped up indoors can sometimes feel like an eternal winter.
So on Thursday morning, when I woke up to see that the brunt of the bad weather had passed, I was ready to head out into the sunshine. I figured that warm weather might be too much to expect (as the forecast for the day indicated below average temperatures). But especially in the cold, it was a great day to head towards the Beit Shemesh area and explore the rolling fields of green nearby. They always call to me from a distance.
Destination: Park Adulam, a vast and beautiful KKL park close to home. We were hoping for a good long trek (around 13 kilometers) over the hills and through the meadows.
And guess what? Those rolling green fields are twice as beautiful from up close.
Here's the scoop on our long walk to the middle of nowhere:
Leave the Paz Behind
The hike begins at a Paz gas station. Not the most promising start. And as we located the trailhead and started off towards the green trail, it really wasn't clear what we were getting into. There was trash on the ground and plenty of highway noise.
But within a few short minutes, all of that was far behind. The noise receded in the distance and we were ensconced in a beautiful pine forest, looking out onto blue skies and rolling hills down below.
This part of the hike was slightly uphill, along a rocky dirt road. We plowed along, leaving the noise of civilization as we made our way forward. We passed several turnoffs, but kept to the green trail, looking carefully for trail markers while we walked.
Better than HDTV
Before long, we reached a little clearing, with an unbelievable view into the distance. Even the sky was like a woven tapestry of color and light.
There were little wildflowers all around, purple, and yellow, and red. And as we wandered off the path a bit, there were lots of perfect flat stones where we could sit nestled away in the tall grass and shrubs to stare out at the surreal scene up ahead.
We took a loooong coffee break that morning. We almost didn't want to move. The famous giant satellite dishes were visible far in the distance, but our present surroundings felt more like a remote countryside in a foreign land. Looking out at the crazy blue sky and bright green hills and valleys, we could have been in Austria or Switzerland.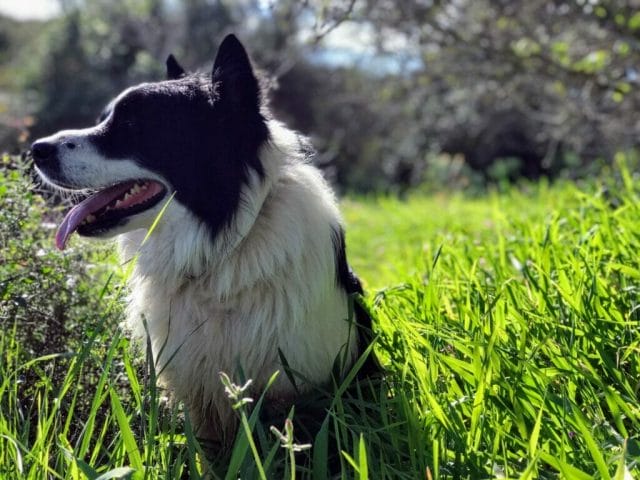 Eventually, we decided it was time to move on. We found our way back to the green trail and continued walking uphill. Past a middle of nowhere farm on the right, and out towards lush grasses and sunny skies in the distance.
A Paradise of Isolation
At the highest point on this green trail, we reached Har Socho. Right before the top, the path splits in two, blue and green. We stayed on the green trail, which led us over and back down the mountain.
Before long, this green trail turned into a narrow, single lane path. The scenery around us just kept getting more beautiful and feeling more remote.
There were fields of yellow, with the occasional red blotch of a poppy peeking through. There was no one, anywhere.
On we wandered, now heading slightly downhill, until we reached another big trail crossing right through ours – the red trail. We could have turned right here and started to head back towards the entrance to the park. But we wanted to see more of this picturesque and isolated scenery. So decided to continue onward on the green trail.
First we stopped for a few minutes to absorb the peace and quiet. The sun was actually getting hot now ,and I put away my vest and soaked up the warm rays. There was no more traffic noise out here. No more anything really. Just lots of really beautiful greenery, flowers, and blue sky filled with wispy cirrus clouds.
Really Wandering Now
Back on the green path we wandered through the trees and more fields of flowers. It wove this way and that, eventually reaching a point with a turnoff to the black trail. The black trail was where we were headed. But it was so pretty right up ahead that we decided to take the long way, continuing on the green trail, and then loop back to the black trail at a later point.
So that's what we did. The green trail became a little tricky to follow in some places. Finding the trail markers was super important to staying on track.
After a little while, the only signs at the unmarked crossroads were bike signs. We followed the bike sign (green trail) through one of these crossroads. At the second unmarked crossroad, we ditched the green trail and made a right onto black.
The black trail now took us back in the direction we had come. The scenery was much the same as before, but we had ascended quite a bit over the course of the hike. Now we were headed down over rocks and through the path.
Here, we also needed to keep our eyes peeled for trail markers. They were always there, somewhere on a rock on the ground, but it was easy to get off track if we didn't pay close attention.
The Best is Yet to Come
After a little while, the black trail sidled up against a settlement on the outskirts Park Adulam – Givat Yeshayahu. We walked alongside the neighborhood fence for a bit, then ducked off to the right on an unmarked trail which we knew would take us directly back to the red trail and back to our car.
We had thought that the best part was over, but as we made a left onto the red trail, we saw that there was a whole different kind of beauty right there. The path was large and flat – perfect for strollers or bikes. And it sat against a shady cliff of trees and cyclamen on one side with the most unbelievable tall grass on the other.
A couple of kilometers along this path and we were back at the highway. We ducked onto the blue trail to for a short walk to our car (so we wouldn't have to walk along a busy road).
And we were back – in the sights and sounds of civilization. A noisy tour bus was parked in front of us. A troop of young soldiers gathered at the far end of the gas station. And honking horns filled our ears from down on the highway.
It was hard to believe that only an hour earlier, we were in an isolated paradise of blossoms and sun. That day, I definitely escaped from my "eternal winter" – and came to know a place that we had previously only experienced from afar. Park Adulam was the perfect setting for a long and beautiful walk to the middle of nowhere.
Hikers' Notes
I know we must have lucked out to get such a glorious sky and beautiful weather on this hike, but every day has its own beauty. I say, hike in Park Adulam on any cool day in winter or spring and see what kind of beauty you discover!
You should try to take this walk during or after the rainy season – I bet it's much more green and beautiful than in the summer. It's a long walk, and of moderate intensity, so not for kids. Go when you need a long quiet morning of beauty and solitude.
Re: directions on the trail. If you want to hike the path the way we hiked it, I strongly suggest downloading Google Earth and following our map. (instructions for how to use it here.) There are just so many hidden trailmarkers and weird places to turn off the path (especially further on in the trail).
If you don't want to use Google Earth, and don't like to lose your way, then the best idea is to make a right onto the red trail when you see it. It's a big path that will take you almost all the way back to the gas station. And it's very beautiful as well.
Don't forget to read my post on finding your way before you go! All the resources you need, including a marked up trail map, are in the table up above. Gallery of trail markers and instructions that go with them down below.
Have you hiked this trail? Is there anything you want to add? Please share, and help your fellow hikers!
Hiking can be dangerous and is done entirely at your own risk. Information is provided free of charge; it is each hiker's responsibility to check it and navigate using a map and compass.