Almost every Jerusalemite knows about Givat HaTurmosim. This little hill near Beit Shemesh is one of the best places in Israel to see purple lupines blossom in late winter.
Since we moved to Israel fifteen years ago, we've been making the yearly trek up the hill with our children. Sometimes (like when I was eight months pregnant or carrying a kid on my back), the climb seemed interminable. And other times (more recently, for example), it just wasn't enough of a hike.
But no matter what, the reward waiting for us at the end of the climb was worth every step. Tall blueish purple flowers stretched out in front of us in a sight we'd never seen anywhere else in the world. And if we were lucky enough to come early in the season, the lupines would be interspersed with all sorts of other wildflowers, in shades of yellow, red, and pink.
This year, we decided to head back to Givat Haturmosim during blooming season. But this time, we weren't going for a short walk up the hill and back down. Instead, we planned to set out on a six kilometer loop which would take us over Lupine Hill and through part of Adulam Park before making its way back.
Here's how we hiked it:
Flowers, Photos, and Frolicking
We started off at the regular Givat HaTurmosim parking lot – which can sometimes get really crowded during blossoming season. Luckily for us, we had arrived early in the morning before the place filled up for the day.
We started the hike up the hill. I remembered it seeming really hard the first time I hiked it, like fourteen years ago. But, yay, for weekly hikes and good hiking gear – I barely even noticed that we were climbing before we reached the first layer of lupine heaven.
This is one hike that you don't stick to the trail. The whole point of Givat HaTurmosim is to run off and frolic in the flowers. And take pictures. Since the lupines are tall and intensely colored, they make a perfect background for family photos. Especially for little kids who become enveloped by the surrounding petals.
We made our way into the flower fields. It was a cold and cloudy day. And windy. So, the photos we took weren't exactly picture perfect, but we tried our best.
Next, we continued up and over the hill. There were layers upon layers of lupines, one area more beautiful than the next. And there were fields of yellow, red, and pink flowers along with the purple.
It's funny to reach the highlight of the hike right at the beginning, but walking it this way made sense for us this time around. (We wanted to try to catch the lupines in the early morning light.) Since we've seen Lupine Hill so many times before, it was more like revisiting a favorite beautiful spot rather than reaching a climactic vista.
In the Magical Mist of Winter
Once we were past the bulk of the lupines, we walked straight along the path ahead, then followed the blue trail to continue on the hike.
After a little bit of hillwalking, we came to an area full of large flat rocks. On one side was an inviting forest, carpeted by a blanket of wildflowers amongst fallen branches. We were cold, and the flat rocks were flooded in sun, so we decided to stop there for breakfast.
Although it was already later in the winter season and we were near Beit Shemesh, we were much colder that day than we usually are when we go for hikes. That morning, the car thermometer was at 39 degrees when we set out for the day. It was significantly warmer on Givat HaTurmosim, but the wind blew strong, and the sun was fleeting.
Despite all of this, it felt incredibly peaceful and, actually, almost magical sitting on those flat rocks past the lupines. The wind whistled gently in our ears. The clouds gave our surroundings a super rich green hue. And our hot coffee brought the experience up to a higher level.
Once we finished, we took a few moments to look through the wildflowers in the cluster of trees, then continued along the blue trail. It was well marked and easy to follow, and it took us up and over rocky hills and through green and flower filled scenery.
I'll Tell You a Secret
Wanna know a secret? We've hiked this blue trail before. Most recently this past summer. It was a great hike. But it was boiling hot and not even half as beautiful as it was this Friday (mid February).
Not only that, but when we hiked it in late summer, the trail markers were faded, and hard to follow. This past Friday, we got to follow a set of freshly painted bright blue trail markers, through greenery and endless flowers.
It was refreshingly chilly. And though the wind blew in our ears, we all agreed that this was definitely a better time of year to be in this particular place.
We continued following the blue trail, keeping an eye out for trail markers the whole way through, up and over Tel Socho and then turning back in the other direction.
Going Green
Eventually, after lots of good conversation a few stops to shed layers, we ended up at the crossroads to the green trail where we made a right.
We had actually hiked this green trail quite recently – it was part of our Long Walk in Park Adulam. Now, we walked along the same path, with views out onto the picturesque hills in the distance. We wound our way around giant puddles, as we had last time we were on the trail. And we met a few bikers on the path (the green trail is actually part of a really long Adulam Park bike path).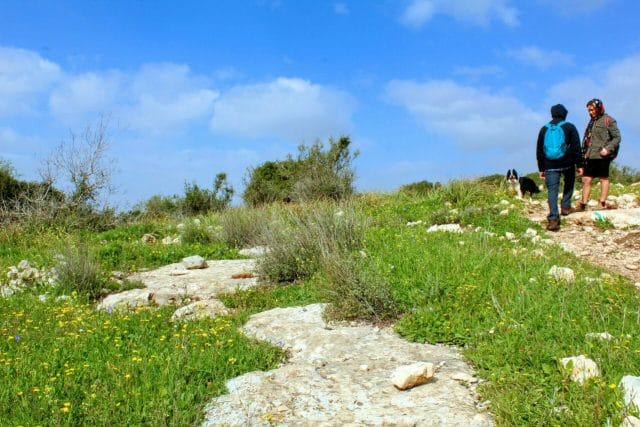 Before long, we had reached the turnoff to head back towards Givat HaTurmosim – on a trail marked green yellow green. This trail led downward, descending all the way back to the foot of the hill.
We saw a really cute family of hikers along the way (climbing up the hill – not an easy climb). And when we reached the bottom, we met another group who had gathered for a late morning picnic at the foot of Lupine Hill. We took some pictures for them and were on our way.
In Good Company
We followed the green and yellow trail all the way back to the main parking lot, now completely full of cars. Everyone and their brother had come to see the annual purple explosion on the top of the hill.
We hurried to the car and quickly pulled out of our spot to make room for another visitor.
With a mid-winter burst of spring like the one found on Givat HaTurmosim, it's no surprise that everyone around flocks to this incredible spot for a much-needed dose of natural beauty. Add a good trail walk through quiet scenery and you'll have a great morning in the great outdoors.
Hikers' Notes
If it's mid February to early March, now's the time to go visit Givat HaTurmosim! The flowers are blossoming there, with or without you. You can follow the blue trail to get a nice 6 kilometer hike out of your excursion. Or just go up and down if you're there with little kids or don't want to walk too far – it's only about a kilometer each way.
If it's not February or early March, you can still go out to this beautiful area for a nice and peaceful hike. Like I said, we hiked it in late summer, when everything is at its driest, and we still had fun. It's just a nice option for a mid-length local (to Jerusalem, Gush Etzion, and Beit Shemesh) hike.
Follow the trail as we walked it with Google Earth. I didn't attach a trail map, because for some strange reason, this trail is not featured on any of them.
You can also just look through the gallery below and follow the instructions. The trail is actually quite straight-forward and easy to follow (as long as you always stay on the lookout for trail markers). It starts with the Israel Trail/blue up Givat HaTurmosim. Then continues on blue. Take green to the right when you reach it. Then make your first right onto green, yellow, green! That's it.
Don't forget to read my guide to the navigational features in this post before you go!
Questions? Have you hike this trail? Tips for other hikers? Please share below!
Hiking can be dangerous and is done entirely at your own risk. Information is provided free of charge; it is each hiker's responsibility to check it and navigate using a map and compass.