Late winter in Israel: it's a hopeful time of year.
Some days, the weather is still downright gloomy.  But with increasing frequency, stormy days are punctuated by sunny ones.  Almond trees blossom up and down the highways – change is in the air.
It's time to go see the flowers.
February and March are the best months to see colorful displays of blossoms in national parks and nature reserves around Israel.  Almost everyone has heard of Darom Adom, the red flower festival down South.  But you don't have to travel so far to find wildflowers this season.
Here are my top 6 picks for the most incredible spots for flower peeping all around the country. Lace up your hiking boots and go soak up some spring beauty:
Hof HaSharon Nature Reserve – Herzliya Area
Central Israel may not have much in the way of forests or mountains.  But it does have a couple of the best spots for discovering wildflowers in Israel.
At Hof HaSharon Nature Reserve, a short walk takes you to the edge of the Mediterranean, on sandy cliffs.  During the month of March, follow the trail past the beach, and you'll encounter a spectacular array of wildflowers.
Daisies, irises, poppies, and many more varieties sprout wildly, creating a cheery little paradise. At only 3 kilometers, the Hof HaSharon Trail is one of the most easygoing spring walks you'll find.
Nahal Tavor – Tiberias Area
Nahal Tavor is one of my all-time favorite hikes in Israel. It has everything you could want in a hike: a winding river, grassy hills, beautiful views….and flowers.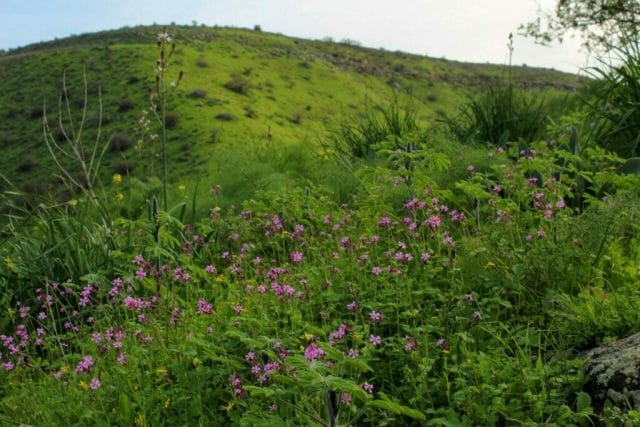 There are so many different types of blossoms sprouting up and down the hills along the path: lupines, anemones, cyclamen and more.
At 7.5 kilometers, this trail is a little more of an investment: but the waterfalls, lush greenery, and incredible scenery make it all worth it. If you must pick only one, pick Nahal Tavor!
Ruhama Badlands – Southern Israel
No list of hot spots for wildflowers would be a complete without a mention of Ruhama Badlands in the South.  Travel here in late February/ early March to frolic in a sea of red anemones.
You can make this trail as long or as short as you want.  For an easygoing outing, take a picnic and have lunch in a field of crimson just a few meters from the parking lot.  If you're feeling adventurous, you can set out on the trail to explore further and see a more varied splash of color. 
This trail is also great for biking.
Givat HaTurmosim – Jerusalem Area
Just thirty minutes from Jerusalem, in the hills near Beit Shemesh, sits one of the most popular wildflower treks in Israel – Givat HaTurmosim. This famous hill is covered in a blanket of purple lupines starting in early March.
We've been making the trip to Givat HaTurmosim every year since we moved to the Israel 17 years ago – and it is still a spectacular sight every single time.
To keep it simple ,you can walk up the steep hill, enjoy the views, and then head back down again.  Most of the lupines are concentrated right at the top. But if you have time and energy, you'll see more types of wildflowers by following the 6K loop trail.
Nahal Alexander – Netanya Area
Nahal Alexander is best known for the soft-shelled turtles that live at Turtle Bridge. But, there's more to this hike than sea creatures. During flower season, follow the trail along the river to discover sandy hills covered with a beautiful array of blossoms.
There's so much natural beauty at Nahal Alexander that the flowers don't get enough attention – but they should. It's one of my favorite spots for late winter flower peeping in Israel.
The trail ends at Yannai Beach – a quiet area of coast that's a perfect place for a picnic. Park a second car at the beach lot for a one way, 3.5 kilometer hike. Or make it a longer walk by turning around and going back the way you came.
Park Britannia – Jerusalem Area
For one last easily accessible dose of spring, head to Park Britannia near Beit Shemesh. There are several trails that wind through this beautiful park. And in late winter, they are all spattered with clusters of wildflowers.
On Shvil Einav, you can sit under a snowstorm of falling almond blossoms in late February.  This longer trail is good for biking too.
For a short and simple walk that's full of surprises, take the Borot and Beerot Trail (Cisterns and Wells). This hike is good for families, and it's full of colorful wildflowers in winter and spring.
Read the full hike post for the Einav Trail and Borot and Beerot.
In a few more months, the cold and rain will be a distant memory.  But, don't wait for warm weather to get outdoors.  These wildflower displays won't stick around.  Take a hike this season to see fields of flowers you'll only find during late winter in Israel.
Click through the individual hike posts for complete maps, GPS links, descriptions, and more.
For more great hikes for flower season, check out Hiking the Holyland's Flower Season Category.
Don't forget to read my guide to the navigational features in each post before you hit the trail!