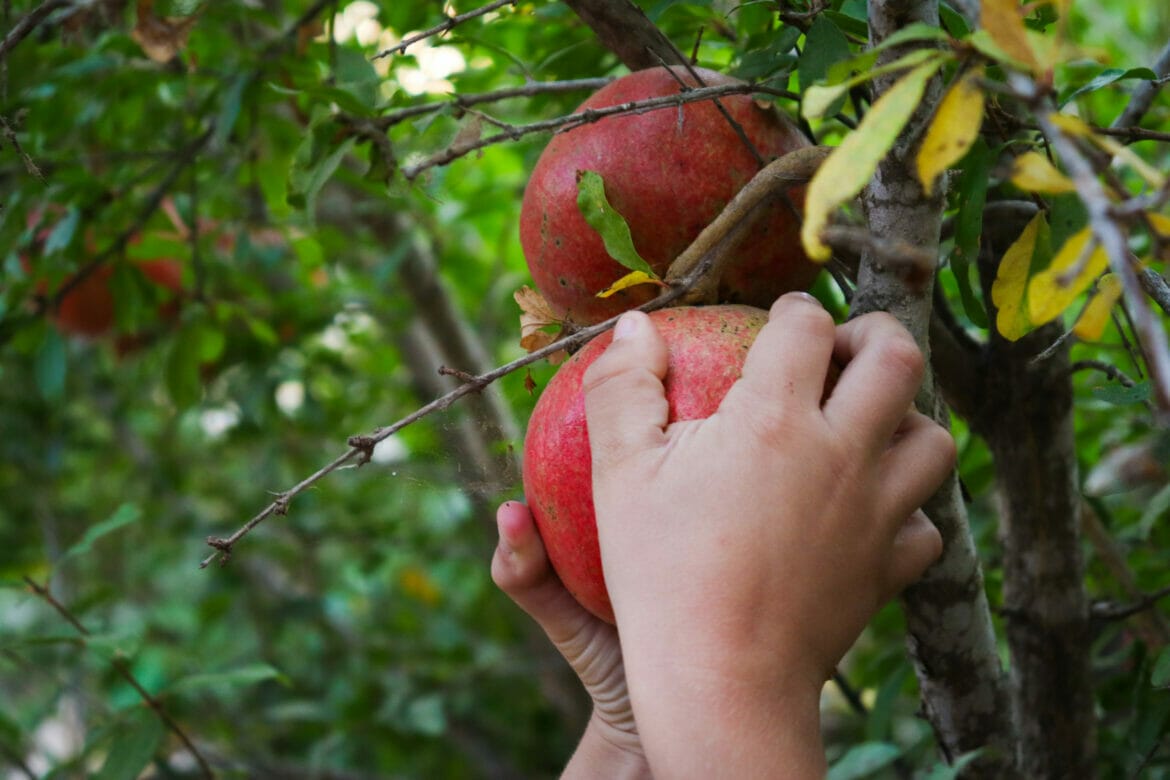 It's a wonderful time of year. The air is filled with the smell of willow branches and citron. The noise of banging and building can be heard until all hours of the night as everyone scrambles to get ready for the holiday. Sukkot is coming. And with it, lots of vacation time!
Rather than work the crowds this Sukkot, take your family into the great outdoors. Not only are hiking trails less packed than other attractions, but the beautiful fall weather is just begging you to stay outside.
To help you plan out your adventures, I've compiled a list of ten family hikes around Israel that are perfect for the Sukkot season. Pick your favorites from the bunch, and get ready for some nature therapy:
Central Israel
Holot Zikim
Sukkot vacation may be your last chance to go to the beach before the weather really changes. The trail at Holot Zikim is a short and quiet walk near Ashkelon that leads along a lazy river to a beautiful , lifeguarded beach. Kids will love sliding down the sand dunes along the way.
If you're looking for off the beaten track, this trail is it.
Click here to read the full hike post.
Nahal Lachish
It may not be your classic hike, but the Nahal Lachish walk in Ashdod is great for families. This is another riverside trail, but instead of sand dunes, you'll find animals of all sorts at Nahal Lachish.
After walking past zebras, ibex, and other animals, you can follow the river, past sculptures (fun to climb on), towards a massive pirate playground. There's also a stunning beach at the end of the trail, so make sure to come prepared for water fun.
Click here to read the full hike post. This trail is stroller friendly!
Jerusalem Area
Nahal Katlav Scenic Trail (Shvil Schuster)
I feel like the Katlav Scenic Trail deserves a place on every top ten list. It's short, quiet, and beautiful in every season. The rocks to climb and cute log benches on the path make it perfect for kids. The trail is well shaded and features splashes of fall color.
This 2 kilometer scenic trail is a great choice for families on Sukkot.
Click here to read the full hike post.
Cheater's Hike
If you want a quiet hike, take a lovely walk through nature near Jerusalem. The 3 kilometer "Cheater's Hike" trail leads through the Jerusalem countryside from Ein Karem to Beit Zayit. As you walk past tall grasses, forested patches, and grape vines, you'll be shocked that you're right outside of the city.
Why is this called a Cheater's Hike? Because at the end, you'll get to treat yourself to brunch at one of the best cafes in town: Café Derech Hagefen. Just make sure to reserve in advance if you want to have a place in the sukka.
Click here to read the full hike post.
Kedoshim Forest
I love Kedoshim Forest in the fall time. The thick trees and rock formations on the path are a great way to escape the sun. Flowers are starting to bloom down in the riverbed. And kids love this trail, because there's so much to climb on along the way.
If you bring your family, you may want to make it a one-way hike by taking two cars and leaving out the ascent at the beginning. Make a bonfire in the fire pit at the end and toast some marshmallows for a great end to a great day.
Click here to read the full hike post.
Southern Israel
Nahal Arugot
If you've enjoyed Nahal David at Ein Gedi, you'll love Nahal Arugot. This less traveled trail at Ein Gedi Nature Reserve is great for families. There are beautiful waterfalls, crystal pools, and desert ibex just like you'll see at Nahal David. But you get to walk through water for most of the length of the trail. This is a must visit if you haven't been there already.
Click here to read the full hike post.
If you've already been to Nahal Arugot, the hike to Dodim Cave is another awesome trail at the Ein Gedi Reserve.
Nahal Salvadora
For adventurous big kids and teens, Nahal Salvadora is where you want to go. This desert hike takes you climbing through a dry riverbed, down vertical descents. You'll also get to see lots of birds and animals, and beautiful views of the Dead Sea throughout.
Nahal Salvadora is less well-known than other popular desert hikes (Nahal Og, for example), so there shouldn't be any waiting to climb up or down the ladders.
Click here to read the full hike post.
Ein Avdat
Ein Avdat is an incredibly beautiful desert oasis. Alabaster stone forms a deep canyon, where springs and waterfalls flow through. The sights along this trail are really spectacular. And it's less than two hours from Jerusalem.
Click here to read the full hike post.
Haifa and the Galilee
Dor Habonim Beach Trail
Again, last chance to enjoy beach season before it's gone. Dor HaBonim trail climbs through cliff sides along one of the most gorgeous coastlines in the country. You could spend all day exploring this Nature Reserve. Make sure to stop at the lifeguarded beach at the beginning of the trail to get in your last swim of the season.
Click here to read the full hike post.
Agamon HaHula
Last, but certainly not least, bird season has started in Agamon HaHula! If you're heading to the Galil, visit this reserve to see the most incredible bird migration that you'll ever witness. You can hike the eight kilometers if you want, but you may want to rent bikes (or a golf cart) instead.
Click here to read the full hike post.
Click through the links in each hike for full hike descriptions, hike tips, Waze links, maps, and more.
For more family friendly hikes, check out Hiking the Holyland's Kids and Family section.