Sometimes in life, you randomly end up at Ein Gedi.
Well, not usually. But this Sunday morning, we had a last minute change of plans that sent us on a search for a good hike nearby. We were looking for a mid-length trek which wasn't close to home, but wasn't too far either.
We chose Nahal Arugot, a moderate hike in the Ein Gedi Nature Reserve.  Although we've lived in Israel for over fifteen years, we had never hiked this trail before.  For some reason, we always stuck to the main attraction at Ein Gedi – Nahal David.
I'm so happy that we branched out and discovered this alternative Ein Gedi hike. It was much less crowded than Nahal David usually is. Over the years, since rocks have fallen into the pools at Nahal David, the waterfalls have become a bit less spectacular than they used to be. The waterfalls, streams, and pools at Nahal Arugot were so, so beautiful.
Here's the lowdown on Nahal Arugot:
Walking on Water
The hike starts along the red trail, through rocky red mountains and typical Ein Gedi scenery. After a short walk, the trail divides in two. The blue trail dips down to the left for a walk through the waters of Nahal Arugot. Those who want to stay dry can continue along the red trail.
Although we were not decked out for a water hike (since our plans were so last minute), we still chose to walk on the water. It was seventy five degrees out, and we didn't mind wet feet.
Before long, we were hopping from stone to stone towards water filled caverns. Drops slid down from the rocks above.
If it had been a super hot day and we had our kids along, we could have stopped right here and made a day's activity out of this place. There were pools to splash in and a mixture of sun and shade. But we had plenty of time and much more to explore, so we continued on our way.
After a short time spent along the water, the blue trail joins back up to the red trail. On the dry trail, we got to enjoy a stunning walk through rocky desert scenery. We saw Dr. Seuss trees and giant fallen boulders. Birdsong echoed through the walls of the canyon. We spotted the source of all the noise perched on the edge of a cliff, a jet black bird with orange wings known as Tristam's starling.
Finding the Hidden Waterfall
After a long and peaceful walk, we arrived at another crossroads. Here the blue trail picked up again, for another walk through Nahal Arugot towards the Hidden Waterfall.
This part of the walk was still pretty easy. My kids would have had a great time. The weather was warm and beautiful, and the cool rushing water felt good on our feet. Rock walls and low trees gave us shade as we walked along the river.
Before long, we found the Hidden Waterfall.
It was worth the hike. A blue green pool formed at the bottom of a crashing white cascade of water. And there was a large bank for sitting and eating lunch. We decided that this was a perfect place to stop and unloaded our bags. (It's also one of two places that you are actually allowed to eat at Nahal Arugot – a nice change from Nahal David where no eating is allowed whatsoever!)
It was quiet while we were there. Well, except for the sound of the water pouring down from above. The pool was an unbelievable shade of teal, and looked like it would be very enticing on a hot day.
As we finished up our meal, a family with four little kids (including a four year old) made their way through the canyon toward the pool. They stripped down to swimsuits and all jumped in.
Towards the Upper Pools
For some, this would be a great place to turn around and head back after a morning well spent. But we had another 1.5 kilometer trek ahead – towards the Upper Pools of Nahal Arugot.
To get there, we got back onto the red trail. We climbed up the side of the canyon to get a birds eye view on the winding river down below. After crawling through a tunnel of reeds, we were once again walking on the blue trail, over rocks and through the river towards our final destination.
As opposed to the main Nahal Arugot trail, this one was a bit tricky. There were large boulders to climb over, and slanted rocks which formed little crevices to crawl through. I didn't think that this part of the hike would be good for little kids (maybe good for eight and up), and I would actually call it more strenuous than moderate – you have to be in decent physical shape to work your way towards the Upper Pools.
When we finally arrived, it was breathtaking all over again. A crystal pool made a great swimming spot (not for us – we weren't properly prepared!) The water poured down from rocks up above.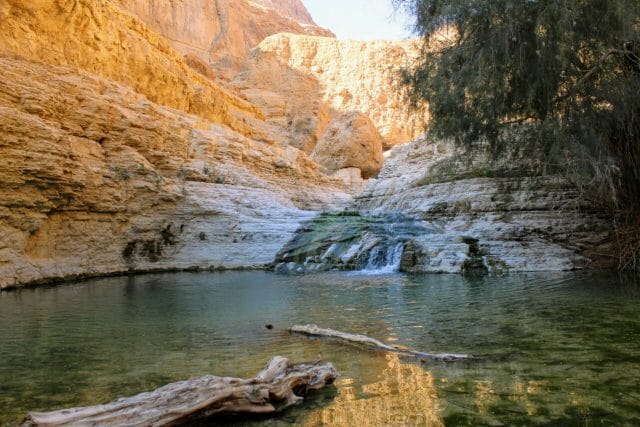 We were all set to put down our things and take some pictures when I noticed another blue trail marker which seemed to lead to a thick clump of reeds.
Turns out that we hadn't reached the end. The Upper Pools continued, through the thick brush and up some rocks. We walked through a red walled canyon, over flat white stepping stones, and we were there.
The Birth of the Fairy Pool
They are actually called the Upper Pools, a typically understated Israeli name. But if we were in Scotland, this pool would have been called the Fairy Pool. The water was a shocking aqua color against a pure alabaster background. A large rock sat at an impossible angle. And foaming water trickled down around it. It seemed like a magical place worthy of a magical name.
Turns out that this unbelievable Fairy Pool was born only last week. Before that, it was a small puddle of water, resulting from the Nahal Arugot spring (whose source we could see right there in the ground – I've never seen that before!). But in last week's flash flood, a new spring opened up, creating a waterfall that pours into the Fairy Pool from up above. We felt very lucky to see this enchanting pool in its first week of existence.
After taking it all in, we were ready to turn around and head back. We still had a good long hike ahead of us, and it was starting to get late.
Don't Fall Down
We made our way back over the slanted rocks and along the water. The afternoon light gave the walls of the ravine a reddish glow, which contrasted with the chalky rock inside.
Soon we were back at the turnoff to the Hidden Waterfall. This time we decided to take the parallel red trail instead. That way we would change up the scenery and give our feet a chance to dry off.
While the scenery was indeed incredible from up above, I felt my heart palpitate as I thought about what would happen if I brought my kids on this part of the trail. There were so many cliff edges and dangerous places to fall down.
We were fine up there, though. And we loved watching the quintessentially Israeli Ein Gedi scenery change with the setting sun. We also saw lots of birds (including a bright green one not listed in the park guide) and a few rock badgers, emerging as the sun disappeared.
An hour or so later, we were back at the trail head. I really couldn't believe that in all of our visits to Ein Gedi we had never seen this beautiful part of the park. Nahal Arugot, the Hidden Waterfall, and the "Fairy Pool" up above were like secrets of the desert, just waiting to be discovered by anyone willing to dig a little deeper.
Hiker's Notes:
With kids or without, Nahal Arugot is the place to go! First of all, it's really perfect at this time of year (winter) – it was so nice to get an instant weather change of twenty degrees just by driving an hour and a half away. Just make sure to dress for the weather. Remember, it's always summertime in Ein Gedi! Water shoes, a light shirt, a hat, and sunglasses will serve you well.
If you're looking for a hike with the whole family, just walk out on Nahal Arugot as far as you can. The whole thing to the Hidden Waterfall and back takes about three hours (a little over 6 kilometers). Definitely don't take the red trail back with little kids! Stick to the blue trail where you can.
Some families will be able to make it up to the Upper Pools as well. I wouldn't try to bring a baby (it's just very tricky with the climbing over boulders part). But I would for sure bring older kids who are up for the challenge.
For a long date day, you could try to get to Nahal Arugot early in the morning. Then you could enjoy the entire hike and fully relax at the pools before the reserve shuts down for the day (4:00 in the winter and 5:00 in the summer.) Stop for dinner on the way home!
Since Ein Gedi is a National Park, there are facilities and maps at the trailhead. Pick up a trail map at the beginning and plot your path with the help of the guide. Of course, there's also a fee to get in unless you have a National Parks card.
I'm not including a gallery of trail markers this time. Instead, here's a link to the official trail map. You can plot your path along Wadi Arugot to the Hidden Fall and the Upper Pools (not listed by name – its just a red stop sign at the end of the blue path on the map).
New! Read this guide for how to use the navigation in this post.
Questions? Have you hiked Nahal Arugot? Leave a comment below!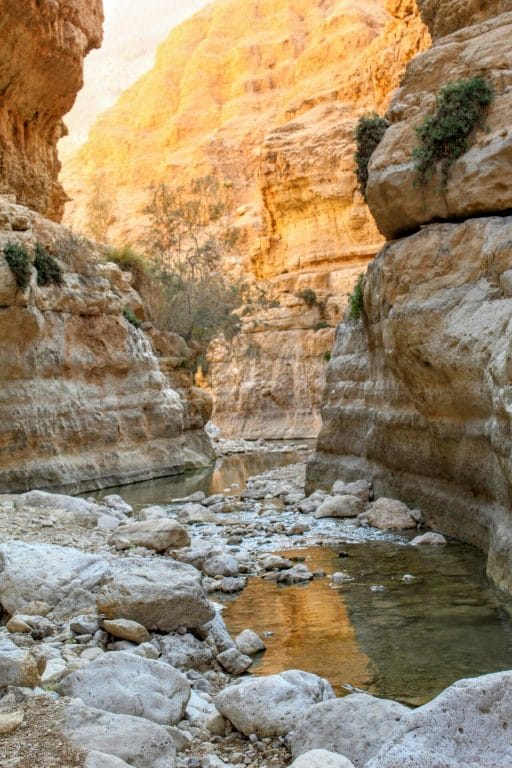 Hiking can be dangerous and is done entirely at your own risk. Information is provided free of charge; it is each hiker's responsibility to check it and navigate using a map and compass.