One thing I never expected to discover in Scotland was shortbread…and English tea.
It's not that I was opposed to sampling the Scottish cuisine.  It's just that I kind of figured with our keeping kosher, I would be lucky if we could make it through the two and a half weeks in the Highlands without being totally sick of peanut butter and jelly.  Two and a half weeks, a family of eight (from ages three to forty-three), and a country known for its national dish of haggis (an assortment of meat parts wrapped in intestine and slow cooked over a flame) – gourmet eating wasn't a top priority for our trip to Scotland.  But – there were a lot of things about traveling through this magical country that took me completely by surprise.
True Scots Wear Kilts (and have accents to match)
Off of our train to London and into Glasgow, we made our way through town.  From the iconic Lighthouse (built by the city's most famous architect) to the pedestrian Buchanan Street – we tried to hit all the hotspots before leaving the big city (think something like New Orleans, not Manhattan) to explore the quieter side of Scotland.  Our Scottish friend, David from back home, was our guide for the day, and he brought us to the center of town where there was some sort of music festival taking place.  As we sat around on a tree box eating strawberries and shortbread we noticed a tall and handsome kilt wearing stranger watching the musicians perform. Of course we expressed our surprise to David, who went up to the man and asked if he would take a picture with us.  To which he happily obliged.
But there were many kilts to be seen and many musical accents to listen to throughout our trip. Many cultural misunderstandings ("The castle is a wee bit of a walk away…" That means the castle is very very far away, like three more miles.) Scotland really is an awesomely different type of place where men in plaid skirts walk next to women in plaid skirts playing in bagpipe bands.
There are places in the world you can lie down on the ground in the middle of a meadow and enjoy the passing day.
How many times have we seen that scene in a movie – two lovers collapse into a field of wildflowers in blissful romantic comfort. But in real life? Fields are full of biting ants, tall thorny weeds, and sometimes even snakes. There aren't many places except maybe the beach that you can get really comfortable lying flat on the ground. But as we made our way from Luss through the rolling hills and striking views of Glencoe, we began to see that comfortable ground cover does exist! You can lay in a meadow and make a soft pillow of a pile of moss. In Scotland, mushrooms grow on moss, growing on lichen, growing on a rock. And weirdly enough, there are no poisonous snakes in Scotland – so your magical dreams will definitely not end in a rude awakening with a snake bite. Of course, we were thankful that we made sure to bring waterproof gear – any Scotland traveler needs it to prevent the light drizzle and layer of dew from seeping into their clothes while taking in nature at ground level.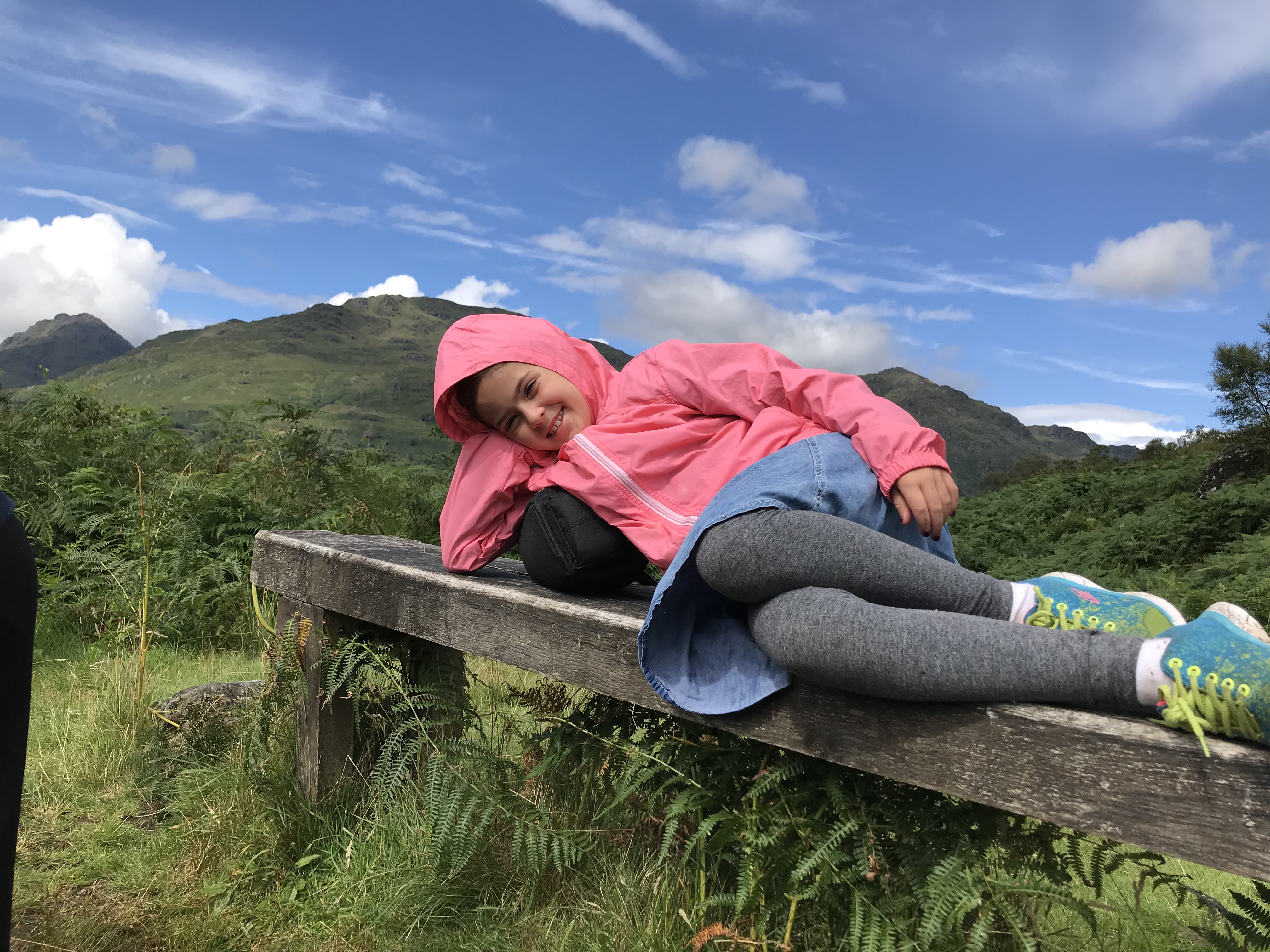 Making meals out of local produce is the next best thing to living off the land.
A few days into our trip we were in a routine – we'd eat cereal or Scottish porridge (also known as oatmeal) for breakfast and pack up about a million sandwiches and snacks for the day along with several boxes of blueberries and strawberries. Then I'd slice up some little brown Scottish mushrooms, neatly packaged carrots and celery, herbs, spices, cans of tomatoes and beans and put it all in a crock pot set on low.
By the time we finished our days treks we'd drip in the door of our cottage to be greeted by the aroma of steaming hot soup. After a bone warming bowl of minestrone with rice pudding and Cadbury's chocolate for dessert, we'd settle down in front of the fire and turn on the next in the series of Harry Potter movies.
Not gourmet cuisine and nothing fancy – but putting together our own food in a foreign country with no kosher store was fulfilling in a deep inner minimalistic kind of way. It's nice to feel you can fend for yourself (and your six children) no matter where life takes you.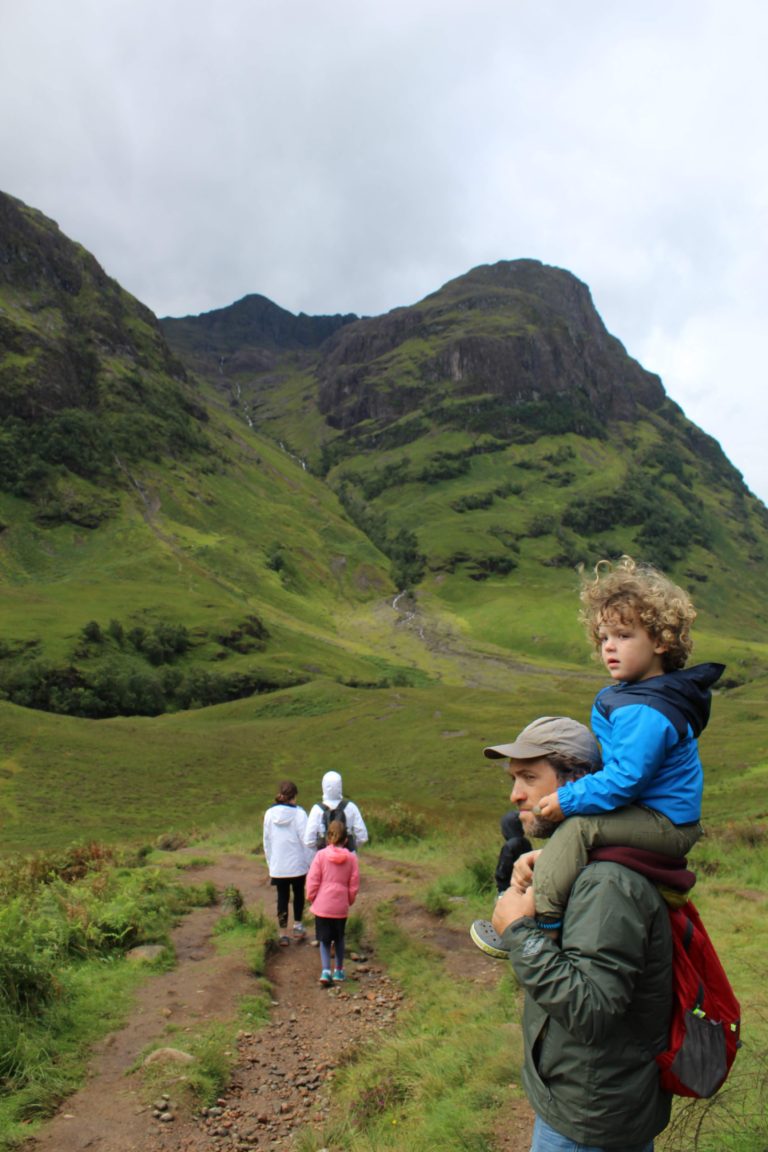 Sometimes, challenging and harsh can be gentle and nurturing.
How many times was I warned about the bad weather in Scotland? As one saying goes, "There are two seasons in Scotland, June and winter."
A few weeks before our trip I began checking the forecast daily. That's when I started to take the inclement weather seriously. I went on an online shopping frenzy for the best raingear for all eight members of my family. Shoes were a problem, as we were only packing carry-ons and didn't want to drag around heavy rain boots. But we packed long pants and leggings alongside our shorts and summer tees for our Highlands vacation in August.
Once we arrived, the weather didn't disappoint. Our shorts and tee shirts stayed packed until our return to Israel. There was definitely some rain every single day. (Although every Scot we met insisted that we had just come at the end of a month long heat wave and dry spell.) Sometimes it drizzled, sometimes it poured, sometimes there was a foggy mist all about.
In the mountains, the wind blew hard. In the glens down below it blew even harder.
But as we put all of our energy into climbing the next peak and getting around the next bend, we were rewarded every time. The rain always cleared to reveal a jaw dropping majestic view – we took thousands of pictures.
One day we decided to climb Ben Aan – not an official munroe as any mountain 3000 feet or taller is so called, but still quite a challenge for all of us. The wind blew so strongly towards the top that I was scared my children would blow away. And as we reached the top of the highest peak, the clouds parted all at once to reveal dappled sunshine and a complete rainbow – at our feet. We were up in the sky and the colorful display was down below. The grey clouds parting made the few moments of striking blue skies and golden sunshine that much more special.
So as scary as the weather may seem in Scotland – I can promise you that it's really not so bad. In fact, the cool rain and wind can be a blessing as you challenge yourself to explore the next bit of scenery. Being surrounded by mist can be soothing for the soul. And there's always a warm cup of English tea waiting in the tea room at the bottom of the peak.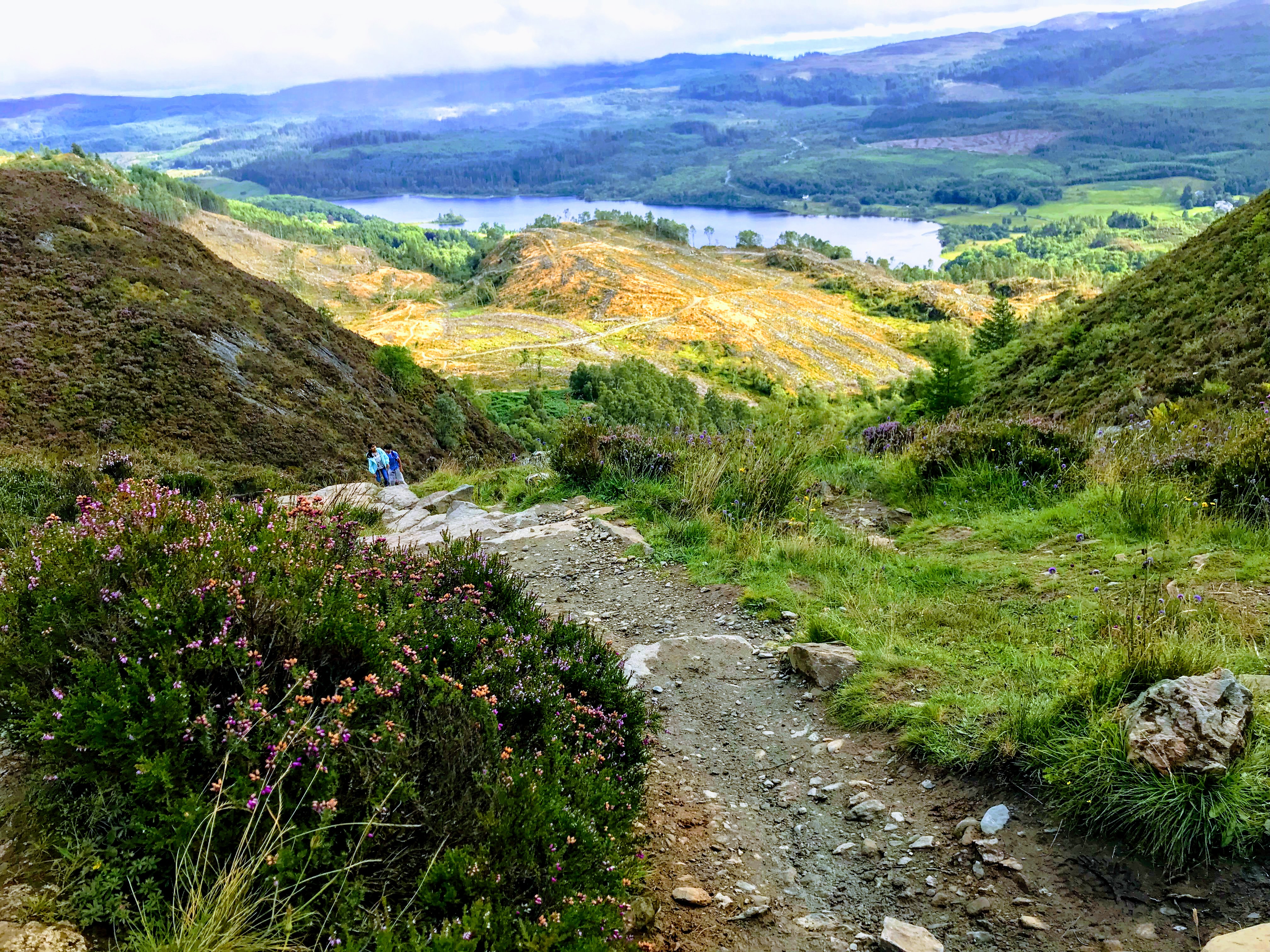 Reindeer are Furry from Head to Toe and All Beaches aren't the Same
Any time you travel, it is always eye opening to see things that are totally different to the things you are used to.
We had heard about reindeer our whole lives – some form of deer which may or may not have been used to pull Santa's sleigh. But we had never actually seen a reindeer in person, and for that matter, we didn't feel that we were missing much.
So on that random Thursday when we decided to drive through the Cairngorm mountains and scrolled through Tripadvisor posts looking for the best places to stop, The Reindeer Reserve would not have been our first choice. But, since our two little boys love animals and the place got great reviews, we decided to give it a try anyway.
It started with Wellies – the park ranger gave us each a pair to keep our feet protected out in the marshy land of the reserve. And we embarked along with a small group on yet another stunningly beautiful hike – over rivers and through the trees and out into a vast open clearing, surrounded on all sides by pink tinged skies and mountains. The reindeer approached us gingerly, to check if we had brought any food for them.
As we reached out to pet the animals and feed them their favorite treats (provided by the rangers) I realized that I had never been so close to a deer before! The deer that we've seen always run from people. Not reindeer – the ranger was even able to pick up their feet and show us that they were covered with fur from top to bottom, right up to the tips of their noses.
The wind blew deafeningly around us and my three year old son chased reindeer giggling the entire time (and repeatedly fell down – the combo of rain boots, wind, and giggles was just too much for him). Seeing these gentle creatures up close in their natural habitat was an unforgettable experience.
And it wasn't just the reindeer – there were lots of things in the Highlands that we thought we knew, but were in fact very very different.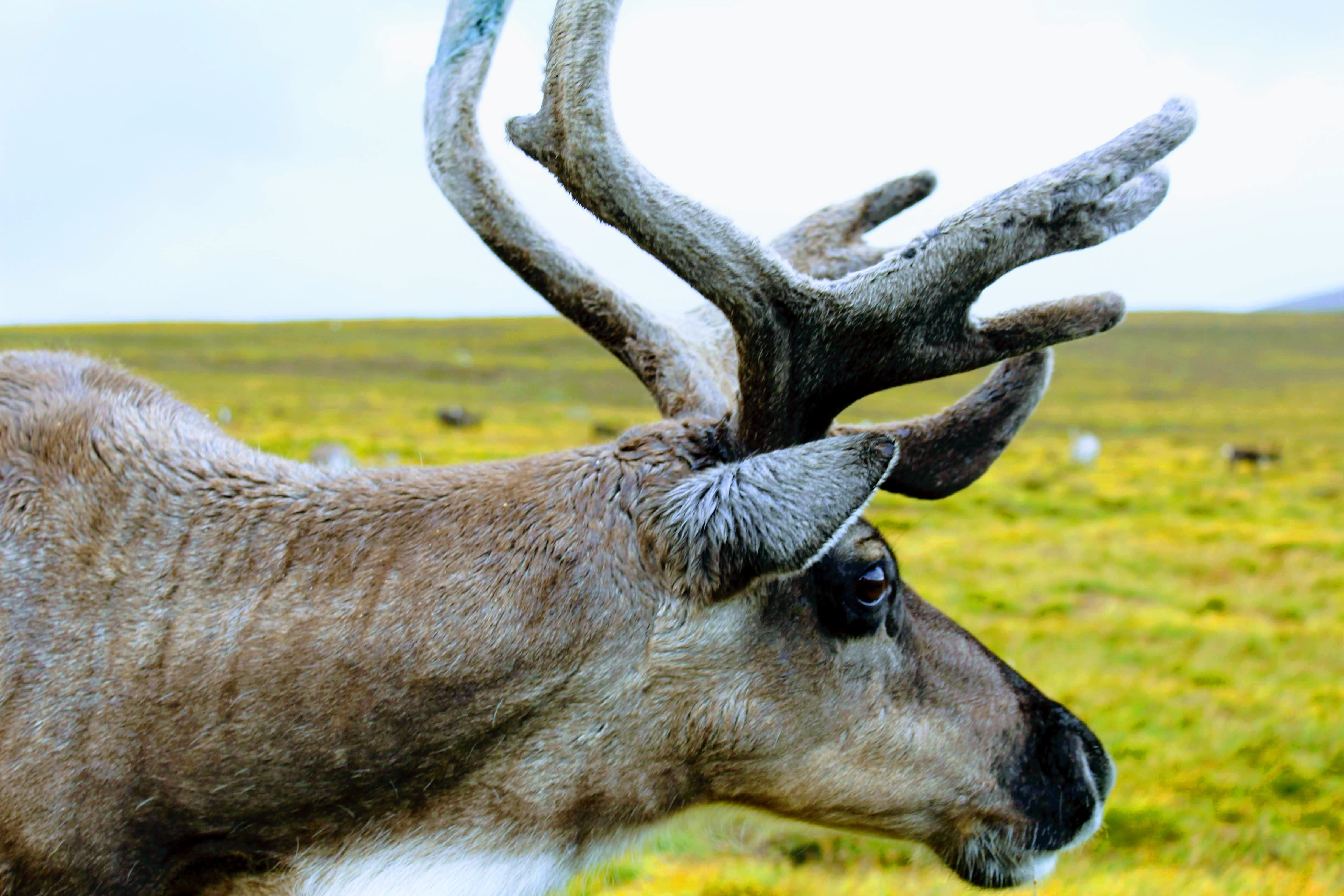 Our last weekend was spent in Cruden Bay, a small town with beaches on the North Sea.
From all my previous life experiences, most beaches were relatively similar – sand, sun, and a beautiful sea. But the North Sea beaches of Scotland weren't the same. They were pristine and quiet. The sky looked like something out of a big budget fantasy movie. The water pooled across the beach for at least 100 meters back, in little inlets and puddles. The wind blew the sand in clouds low at our feet. There were no footprints at all. To me, it was like visiting a beach in an alternate universe.
Being outdoors in a distant land lets you see the Creator's handiwork with open eyes.
So what did I really learn from hiking in the Highlands? I guess it's this: when you go out into the world and see the natural beauty of faraway places your mind is forced out of its jaded and dulled frame of reference. You see the majesty of everything around you – because you are seeing it all for the first time. Misty sunsets, crystal clear lochs (that's lakes to us), and purple heather create a picture perfect environment for experiencing the wonders of creation. God made a beautiful world – and to appreciate it sometimes all you need is a fresh perspective.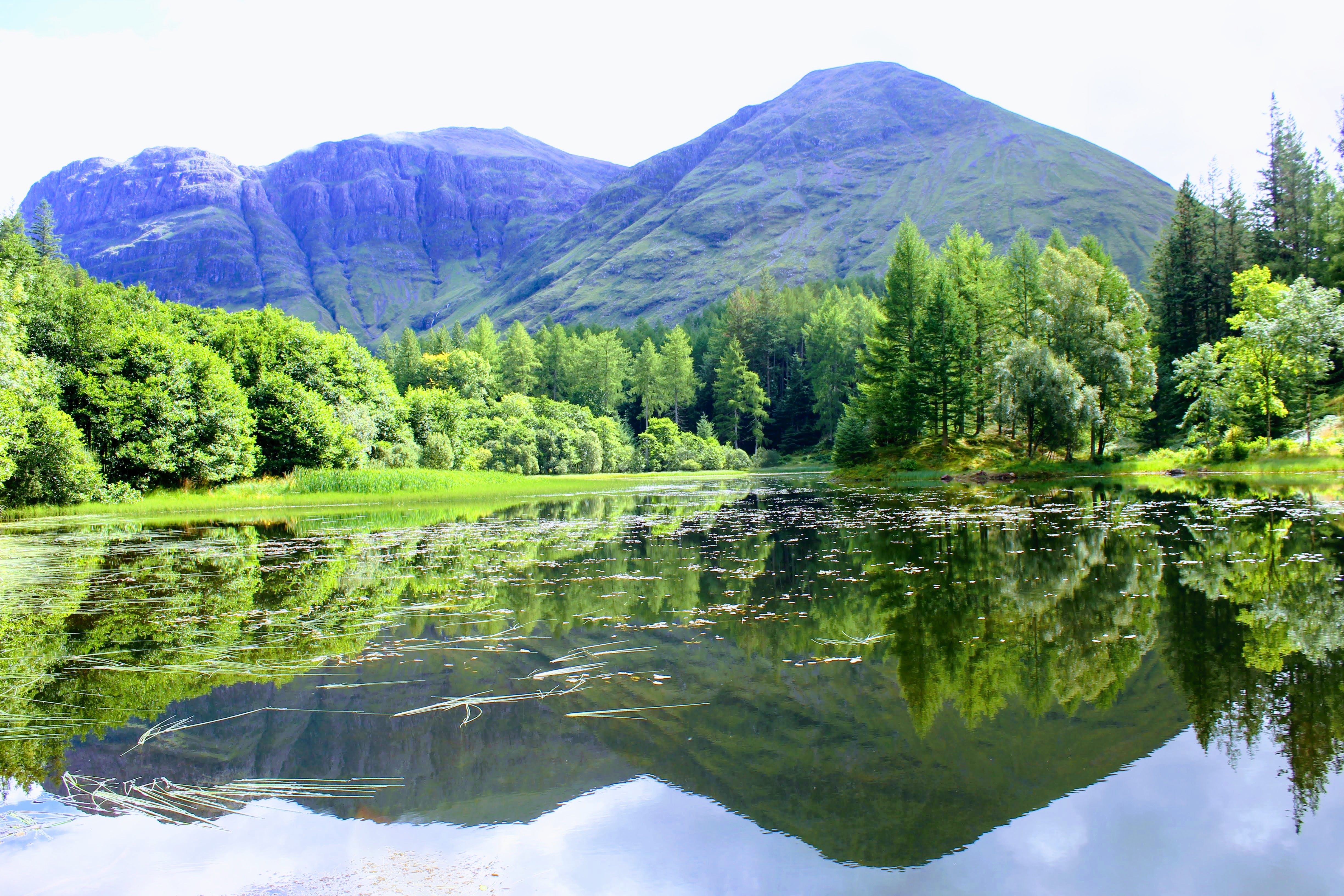 Coming back home, I can recognize all the things that make my own land special.  Our desert oasis is magical to someone coming from the North Sea.  Our gazelles hopping across the highway are graceful and enchanting.  Our figs and dates are as soft and sweet and delicious as Scottish shortbread.  Our world is a beautiful place – traveling the world can open your eyes to recognize that beauty every day.