On our recent trip to the Upper Galilee, we visited Agamon Hahula for seventh time in seven years. You read that right. This place is so incredible that we keep on coming back to it – every single year.
What makes Hula so special? A giant bird migration that happens each spring and fall.  Agamon HaHula rates as one of the top ten birdwatching sights in the whole world.  Twice a year, as migrating birds make their way down to Africa and back up to Europe, hundreds of thousands of them spend the night at Lake Hula.  The spectacle never ceases to amaze us.
The first year we visited, I had no idea what we were in for. Ever the intrepid travelers, we made sure to wake our children before sunrise and arrive at Hula at the crack of dawn. Our plan was to catch the flocks of cranes before they lifted off for the day.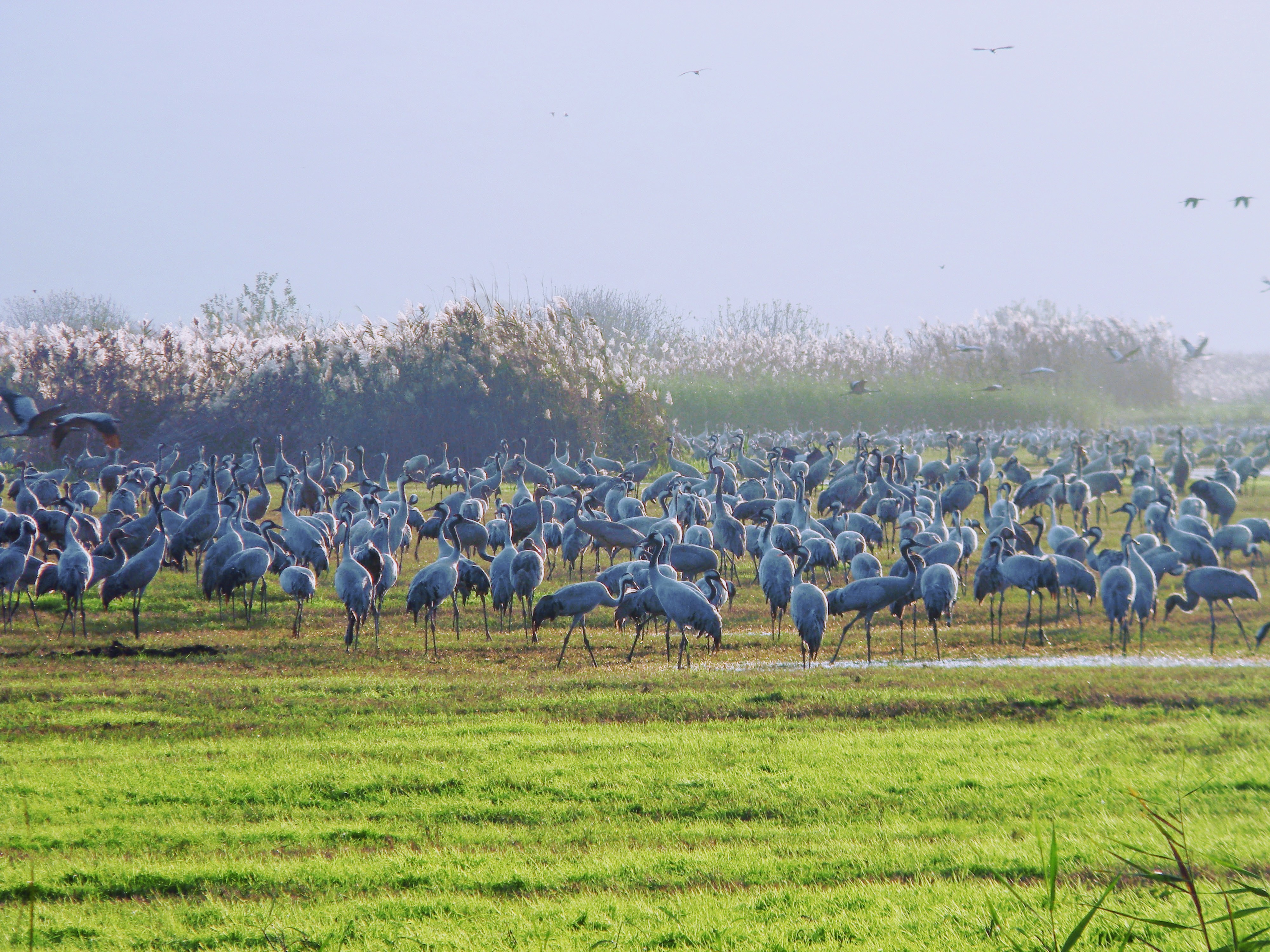 I was prepared for something special. But I didn't expect the thunderous noise of birds calling to fill our ears as it did. I didn't expect the incredible beauty of the park itself. And I didn't know what watching thousands of birds gathered in one place would be like. Even as I write this, I still don't have words to explain it.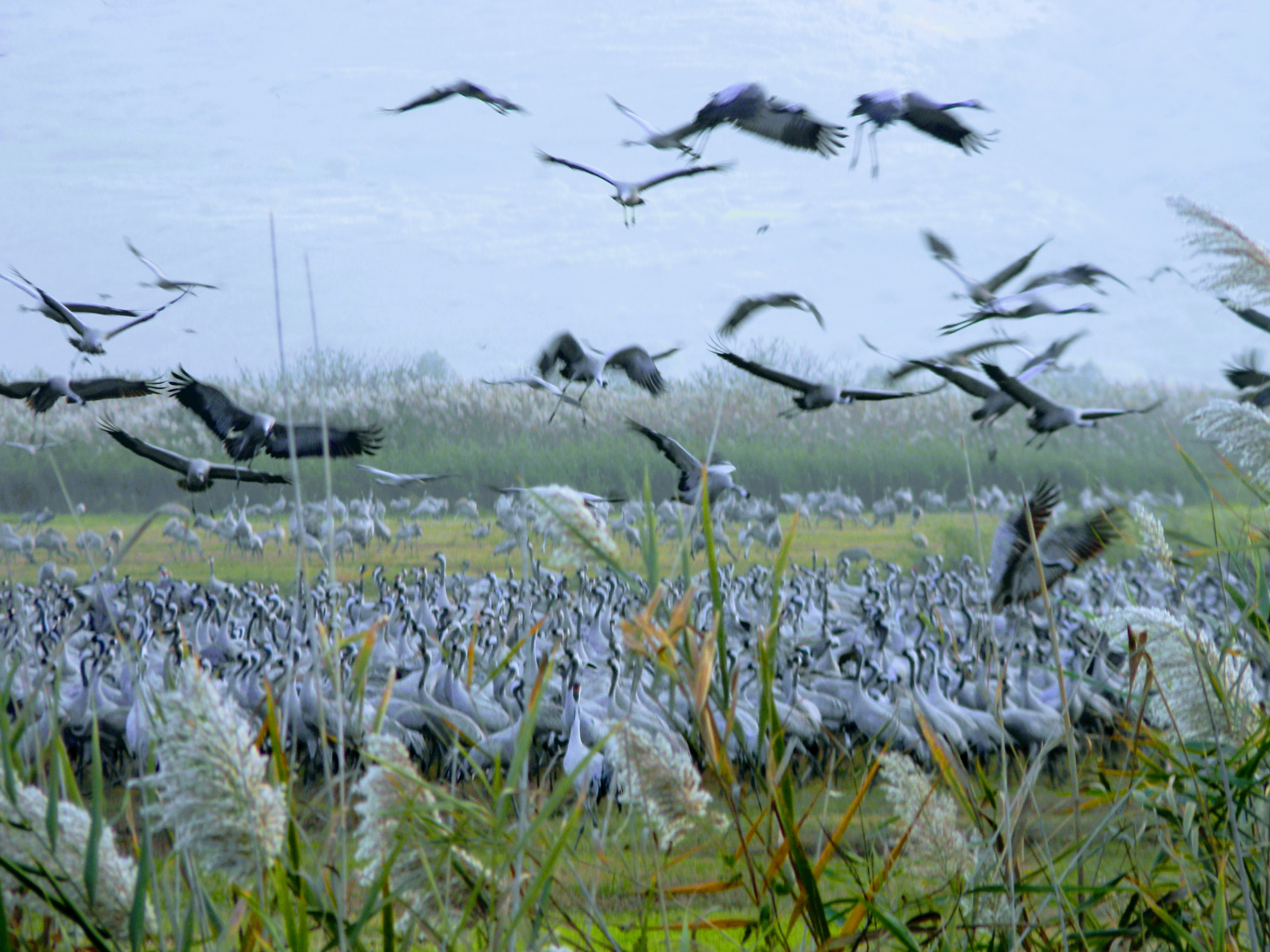 Seven years later, I can safely say that the novelty of the experience does not wear off. So each year, come autumn, we head back up north to Agamon HaHula to watch it all over again. Usually we get there at dawn, or at least in the early morning. Other times we come to watch the birds glide in with the sunset.
The trail around the lake is a hefty 8.5 kilometers. It's a peaceful hike around (especially in the early hours of the morning). There are lots of viewpoints along the path to sit and take it all in. There's also a lake lookout to see waterbirds (and turtles, and fish) and a raised lookout area for other bird species.

Besides all of this, Agamon HaHula is simply beautiful. Once upon a time, it was a murky and malaria infested marshland. In the mid twentieth century, early pioneers drained the swamp. And over time, nature lovers rehabilitated the area into the paradise that it is today.
Nowadays, besides birds, there are nutria (a beaver like creature), wild boar, and water buffalo in the nature reserve. We love spotting these animals in their natural habitat as we walk along the path. The beautiful lake is like a mirror for the rising and setting sun that we are always there to see. And as for waking up with the sun to see the birds in all their glory? It's definitely worth it.
Note to Israel explorers: I know this isn't your typical hike, but I just couldn't leave it out. It's one of the most amazing spots in northern Israel, and if you love to walk in beautiful places, then trek around the 8.5 kilometer loop and make it happen.
If hiking isn't your thing, or the trail is just too long for the kids, you can still enjoy this incredible experience. At the entrance to the reserve you can rent bicycles and golf carts for an hour or the whole day. This is an especially good option if you are racing to see the birds early in the morning and are worried that you won't make it to the first viewing area if you walk.
Entrance to the Agamon HaHula park is free and there are bathrooms and a café on site. If you do decide to go for sunrise, go on a Friday when the park opens up at 6:30 AM. Otherwise, you will be waiting outside a locked gate till 8:00 AM (not saying that ever happened to us or anything!).
I mentioned waking my kids before sunrise to get there on time – we always drive up the day before and spend the night. Otherwise, we would have to make a two and a half hour pre-dawn trip from our home near Jerusalem! Good places to stay nearby are Kiryat Shmona, Sde Eliezer, or Amirim.
Sunset is also a great time for watching the birds – just keep in mind that it'll be dark when you leave.
Any questions? Have you hiked this path to see the birds? Leave a comment below!
Hiking can be dangerous and is done entirely at your own risk. Information is provided free of charge; it is each hiker's responsibility to check it and navigate using a map and compass.