Click here to go straight to hike notes.
There's nothing that says summertime like a lake and a stream – right next to each other!  Near the small community of Yehiam (where Yehiam Fortress is located) you can find these two water features in close proximity, at Ga'aton Stream and the Hidden Quarry Lake.
The walk to the stream and lake may not be much of a hike (or really any hike at all), but sometimes all you want is a place to hang out in the water.  Bonus points if it's slightly off the beaten track and you can have it to yourself in August.
We scouted out Ga'aton stream last week while we were on vacation up North.  It didn't look like much from the highway, but once we made our way downhill and through the trees, we found an actual paradise for kids – in the form of water rushing over rocks under shade.
We hung out at the stream for an hour or so, then headed off in search of the The Hidden Lake.  It turned out to be incredibly cool and super beautiful.  We had fun swimming in the large lake full of refreshing, deep water.
Here's how we discovered Ga'aton stream and lake near Yehiam:

I Spy Water
It all started when we were driving down the highway.  While we drive, we're always looking off to the sides in search of our next big adventure.  And just about five minute before reaching Yehiam, we found it – a bubbling stream near the highway. 
Looking at the map, we saw that the name of the stream was Nahal Gaaton.  On the map we could see that the stream continued from here, eventually spilling out into the Mediterranean Sea right near Nahariya.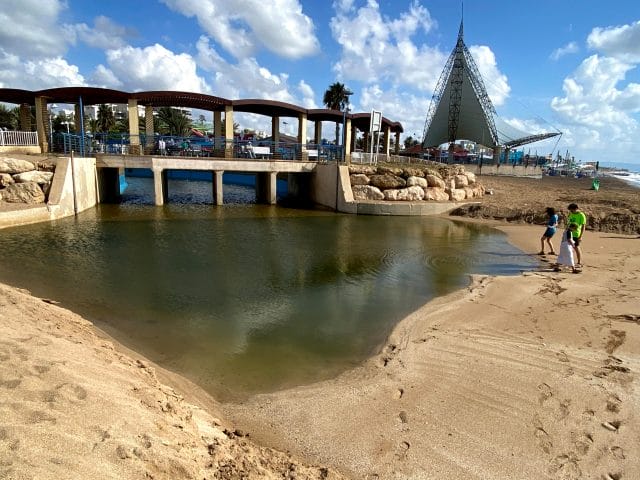 It seemed like the perfect place to play in the water.  So, we headed off the highway towards the spot where we saw the stream.
Hidden Oasis
As we pulled into the dirt parking lot, there wasn't much to see.  We weren't sure if it was even worth getting out of the car.  But we persevered.  And we were so happy we did.  Because down the hill and through the trees was a pretty little stream with shallow, rushing, water pouring down over miniature waterfalls.
Right near the stream was a big patch of shade. It was lunchtime, so we set up a picnic and enjoyed the sound of rushing water while we ate our sandwiches. Then, it was into the water for just about everyone.
A Place to Splash
Gaaton Stream wasn't a place to swim. But it was a perfect place to splash. The water was about ankle deep, and full of rocks at a downstream incline. My kids started climbing over the rocks, putting their heads in the waterfalls, and just generally having a great time.
The first best part about this discovery was that the rushing water was so loud, you couldn't hear any of the traffic noise from the nearby highways.  And it was lower down in the shade, so all you could see was a pretty little green area.
The second best part?  We had it all to ourselves!  There's nothing better than finding yourself alone at a water feature in August.  We relished the fun of having our own private piece of nature to enjoy.  It stayed like this until one other family showed up as we were getting ready to leave.
The Hidden Lake
When we examined the map earlier, we had noticed another cool water feature right nearby – Gaaton Lake, a quarry turned into a beautiful freshwater lake.  Years ago, diggers hit an underground aquifer. Ga'aton Quarry has had a hidden lake ever since.
We went off in search of the quarry, and found it – many, many meters down below.
 Looking out, we could see that it was absolutely gorgeous. Turquoise waters stood out against a backdrop of rust colored rock and dramatic mountains.  But from where we were standing, we had no way of getting there!
We got back into the car and went in search of the secret entry to the lake.
What I Call: Off the Beaten Track
And boy, was it a secret entry all right.  From the road, we turned off into a quarry work area.  All we could see were signs like "No Entry" and "Restricted Area."   Luckily, we bumped into a kind worker who pointed us in the right direction: down another restricted area pathway, along a dust road, towards beautiful Ga'aton Lake.
We didn't feel too bad for breaking the rules(what are the rules in Israel again?).  There were lots of other people in these uncharted waters.  Luckily, the lake was very large, so there wasn't any crowding problem.
Our kids headed straight for the water and dove right in. It was so cool and refreshing – and great for swimming after all of that water play at the stream. Our border collie had fun too!
On to the Hard Part
After spending a long time swimming out to the deep part of the lake and back, my kids started to cool down. The sun was disappearing behind the clouds.  It was time to leave our water fun for the day.  Now, we were off in search of an actual hike in Yehiam – from the fortress and through Yehiam riverbed.
In towels and flip flops, we marveled at the quarry lake as we said goodbye. Who would have thought that something so beautiful and unique existed in the countryside, 20 minutes from Nahariya?
In Israel, there are all sorts of hidden gems just waiting to be discovered.  There's no need to travel internationally in the summer to discover cool new varieties of natural beauty.
Hikers' Notes:
Here's what you need to know to visit Ga'aton Stream and the Hidden Lake:
Great for kids.
Dogs are allowed
Free entry
Bring water shoes, sunscreen, and swimwear.
The hardest part about this adventure is finding it! Use the Waze links in the table up top. The Stream link will bring you to a dirt parking lot above the stream. Head down the hill by foot to find Nahal Ga'aton. The Lake link will take you down roads that feel like you shouldn't be driving on them. Those are the roads you need to follow to reach the lake.
No lifeguard at the lake. The water is shallow around the edges and deep in the middle. There is plenty of shallow water for non-swimmers to play in safely.
Make sure to visit Yehiam Fortress National Park nearby!
Hiking can be dangerous and is done entirely at your own risk. Information is provided free of charge; it is each hiker's responsibility to check it and navigate using a map and compass.