Click here to go straight to hike notes.
Update from user: no water in Nahal Betzet, July 2023. Please let us know if you visit and this has changed!
There are lots of water hikes in Northern Israel. But there aren't many water hikes that are practically empty in the middle of August.
Nahal Betzet in the Northern Galilee is a slightly off the beaten track hike along a stream that you can walk in virtual silence. Betzet Stream is long (for Israel). It stretches for several kilometers. Because of this, there are parts of the beautiful riverbed which just don't get a lot of foot traffic.
On our North Israel vacation last week, we decided to approach Nachal Betzet from the settlement of Ya'ara. Beginning at a water pumping station, we took a beautiful walk through a shady woodland. The walk was gorgeous, and there were plenty of trees to climb.
We came prepared for water, so the whole family was really excited to finally reach the wet part of Nahal Betzet near Kibbutz Eilon. And after stomping through the stream, we discovered a hidden waterfall pool perfect for swimming in.

It was a great day – besides being beautiful, it was so nice to have a water hike to ourselves in mid-August.
Here's how we hiked Nahal Betzet in the Galil:
Begin with a Bang
We emerged from the car into the sunlight near a water pumping station. It took us a few minutes to get situated. Soon, we were heading into the shade on the blue trail.
Right away, we were taken in by Nahal Betzet. It was so shady and cool. There were great trees everywhere. And the views out through the forest were pretty spectacular.
Soon, we met a small herd of roaming cows. Aside from the cows, there was just no one else walking the trail.
My boys had fun picking up interesting things while we walked. They found old sticks and stones. We discovered an array of colorful feathers scattered on the ground. Even the bright pink midsummer flowers were surprisingly beautiful.
Time for Some Water
My husband and I could have walked in that kind of scenery for hours. It was quiet and beautiful – what more could we want?
But my kids were ready for some water fun. We warned them that even once we reached the water, it would likely be only ankle deep. But whatever type of stream we were going to find – they were ready for it to reveal itself.
Luckily, we only had a bit further to travel. Soon, the sound of rushing water filled our ears. Towards the side of the pathway, Betzet Stream ran through shallow pools. Frogs croaked and jumped between the reeds.
We all headed for the water. Right there, the stream was filled with algae, squishy under our feet. But at least it was wet.
Since everyone was tired and ready to stop for lunch, we found a big rock in the middle of the river and set up our picnic.
Food for Thought
While we sat there with our sandwiches, my husband went exploring. He found the remains of a water pumping station, one that had drained the river and caused tremendous damage before being abandoned. From this spot, a short trail led up to Kibbutz Eilon.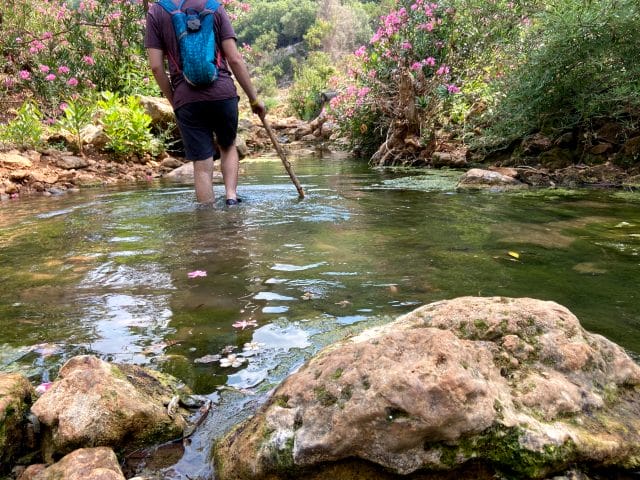 We were surprised that this area wasn't packed with people. With such easy access to the water (from Eilon), we expected that more hikers would flock to the spot.
After everyone was fully re-energized and ready to push on, we packed up our backpacks and set off in search of more water fun.
Surprise – There's a Waterfall Pool!
The more we walked, the better it got. First the water reached our knees. It turned from algae-filled and murky to clear and flowing, rushing over little rocks in miniature waterfalls.
My kids chose this spot to dunk into the water, in a small pool formed between roots under a canopy of leaves.
We pressed forward, eager to see what kind of treasures lay up ahead. And then we saw it: a large, deep pool of water with a crashing waterfall at one end.
Just What I Needed
We hadn't expected to swim in Nahal Betzet. But this pool was here, and it was deep and cool. Clear, beautiful water filled the large area – and we also had it all to ourselves.
My kids jumped into the water, ignoring the fact that they were all fully clothed. We watched them swim and splash with shouts of glee. And I crept around the rocks towards the waterfall with my camera, to catch them in the act of getting soaked in a whitewater rush.
We swam and splashed for a while – it was clear that this hike was going to take a lot longer than we had expected. At one point, a couple joined us in the pool. We couldn't believe that in August in Northern Israel, this awesome pool wasn't completely packed.
Back Home with Butterflies and Frogs
My kids actually could have stayed right there all day. But we wanted to make it to at least one more activity before the sun went down. We dried off by laying on warm rocks, then began to follow the trail back through Nahal Betzet.
As we passed through the shallow stream, we stopped to scoop up a beady eyed frog to inspect up close. Then we set it free, hopping back into the shadows of the river rocks.
We hiked back through a butterfly patch. Our movement sent a flurry of yellow wings into the sky. Another kilometer through the shade, past the cows, and we were back at the car all dried off after our water adventure.
Nahal Betzet had been everything we had hoped for and more: quiet, shady, beautiful, and full of water fun. Getting off the beaten track at Betzet Stream was exactly the mid-summer adventure we needed.
Hikers' Notes:
This is an all season trail. You can easily walk next to the water instead of inside it. The trail is shady and beautiful all year long.
This is a one way trail. We walked back the way we came.
Great for kids.
Suitable for dogs.
If you plan on going in the water, bring water shoes.
Bring plenty of water and sunscreen. There are no facilities on site.
The way we hiked Nahal Betzet included a walk in the shade, then a walk in the water – but there are a lot of different ways to hike this trail. You could reach Nahal Betzet from another point altogether. We started from Ya'ara. If you'd like to skip the beautiful, shady walk and go straight to the water, begin at Kibbutz Eilon. From here, take the black trail down to blue. Turn right onto the blue trail.
The trail from Kibbutz Eilon is actually wheelchair accessible/stroller friendly almost the whole way down. The ramp is broken in one small place.
To follow the trail, use the trail marker gallery and the trail map in the table up top. Or, follow our path on Google Earth.
Trail colors to follow: Blue the whole way from the water pumping station near Ya'ara. Coming from Kibbutz Eilon instead: black, then blue.
Don't forget to read my guide to the navigational features in this post before you hit the trail!
Trail map from Amud Anan.
Questions? Have you hiked through beautiful Nahal Betzet? Let's hear about it in the comments.
Hiking can be dangerous and is done entirely at your own risk. Information is provided free of charge; it is each hiker's responsibility to check it and navigate using a map and compass.