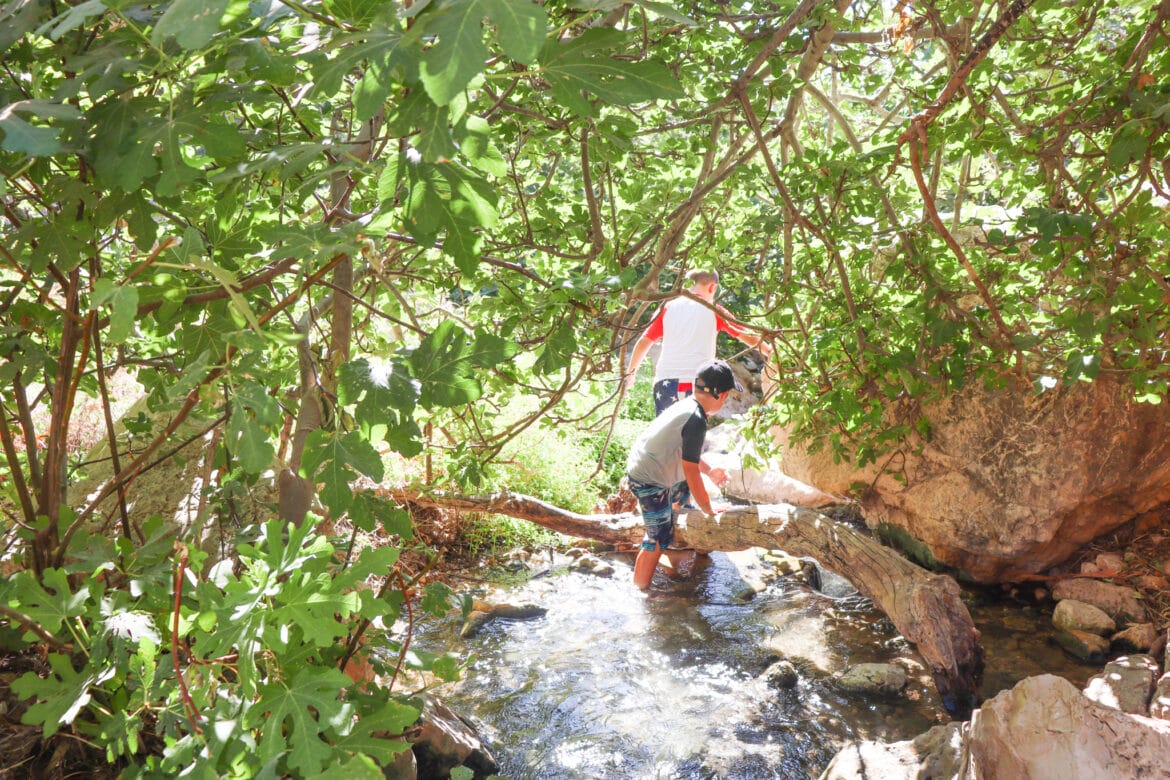 Rosh Hashana and Yom Kippur have passed. You know what that means: Sukkot vacation is almost here!
If you have kids at home, this holiday is a great time to discover the beauty of Israel's great outdoors. This year, your children will need a Green Pass for any indoor activities. But you can avoid the difficulties associated with family fun during Covid by going for a hike instead.
Sukkot is arriving early in the fall season this year. According to the forecast, the weather is supposed to be cooler than usual for this time of year. This Sukkot, you'll may be able to enjoy some of those hikes that were too hot to hike in the heat of the summer.
Let's get to the trails.
Central Israel and Haifa
Nahal Sfunim
There are lots of beautiful hikes in the Carmel Mountain region near Haifa. One of our favorites is Nahal Sfunim, a climb through a green and shady riverbed towards a really cool bat cave.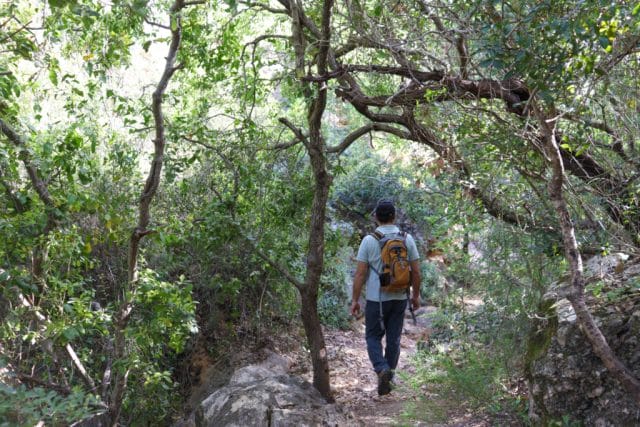 Since the cave is closed for bat hibernation season from October through March, the best time to hike Nahal Sfunim is in spring and fall when you can visit the cave. The second half of this gorgeous trail is out in the open, so it's not recommended for very hot days.
This 4 kilometer hike is perfect for the Sukkot holiday. Don't forget your head lamps. Read the full post with maps here.
Little Switzerland
Little Switzerland is another beautiful family friendly trail near Haifa. This short but challenging hike will take you through lush greenery and past stunning views out to the Carmel Mountains. My little kids loved climbing over large rocks through the shady riverbed.
If your kids are animal lovers, you can take a trip to nearby Hai Bar Carmel before or after your hike. Or visit Nahal HaMearot, where you can see ancient cave dwellings and learn about prehistoric man.
The trail at Little Switzerland is 1.5 kilometers long. Read the full post with maps here.
Tel Afek: Shvil HaHatzavim
They're heeeere! Hatzav (squill) flowers have been spotted blossoming all over Israel, from the desert to the Jerusalem hills. These tall, white flowers appear of nowhere, announcing the coming autumn season.
At Tel Afek National Park in Central Israel, there's a special trail dedicated to squill flowers called "Shvil HaHatzavim." Hike there to see the flowers in full bloom. Afterwards, you can continue your journey through an ancient Crusader fortress and past an old Roman thoroughfare. Next, relax by the lake and finish your day by splashing through the small stream that runs through Tel Afek National Park.
Tel Afek is a National Park. Reserve your spot in advance at the Parks website.
The trail through Tel Afek is about 2.5 kilometers. Read the full post with maps here.
Apollonia National Park
Beachside hikes are perfect for fall. With the slightly cooler weather, you can enjoy the breathtaking coastal scenery at Apollonia National Park. Your kids will love exploring the remains of a Crusader Fortress, complete with a pile of ancient cannonballs. Make sure to stop for a picnic and take in the beautiful views and sea breeze on the trail.
Apollonia is a National Park, so register in advance on the Parks website before you go.
This trail is about 1 kilometer, and much of it is stroller friendly. Read the full post with maps here.
The Galilee
Nahal Betzet
Nahal Betzet is one of my favorite lesser-known water hikes. The trail at Nahal Betzet leads through a shady woodland towards a flowing stream. On the wet part of the trail, you'll find cool pools and miniature waterfalls, perfect for cooling down in the midday heat.
This trail is longer than my usual family-friendly recommendations, but it's an easy walk with lots to see along the way. Take your time, climb some trees, and settle on in to the beautiful nature at Nahal Betzet.
The trail at Nahal Betzet is 3 kilometers each way. Read the full post with maps here.
The Cliffs of Arbel
For families with older and more adventurous kids, the Cliffs of Arbel hike is a perfect choice. This awesome trail in the Galilee boasts beautiful views, climbing walls, and the incredibly intact remains of a fortress built into the side of a cliff.
I found this trail to be both fun and fascinating. Not only that, but the view from Mount Arbel is known as one of the most iconic in the Galilee.
Mount Arbel is a National Park. Register in advance on the Parks website before you go.
The Cliffs of Arbel Trail is 4 kilometers long. Read the full post with maps here.
Jerusalem Area
Beit Itab in Nes Harim
If you're hanging out in the Jerusalem area this holiday, there are some wonderful trails for you to take advantage of. At the Beit Itab trail near Nes Harim, you can take an off the beaten track walk down a hill, past rows of grape vines, and towards a small spring and a lookout on top of an ancient fortress.
This easy, quiet, hike is kind of perfect for any time of year, especially when the weather is nice. At Beit Itab this Sukkot, you can spot seasonal flowers beginning to blossom and enjoy some relaxing time in nature. This hike isn't very shady, so on hotter days, try to plan your trip for early in the morning or late afternoon.
The trail at Beit Itab is about 3 kilometers long. Read the full post with maps here.
Wet Fun at Sataf
Another Jerusalem area favorite for families is Sataf. This Biblical landscape is filled with all kinds of surprises: shady pine forests, beautiful olive trees, and terraced orchards. Midway through the hike, you'll reach Sataf Spring, itself. Bring some flashlights so you can climb through the dark, water-filled tunnel and into the sunny splash pool at the end.
Sataf is a classic Jerusalem hike. Note that some of the areas around this trail were damaged in the recent forest fires.
This trail at Sataf is 3.5 kilometers long. Read the full post with maps here.
Ein Prat Nature Reserve
The Ein Prat Nature Reserve is beautiful at every season. But I find this desert oasis near Jerusalem to be especially appealing in early fall. At this time of year, wild mint grows abundantly on the sides of the stream. Delicious, ripe figs hang down from twisty trees growing near the freshwater springs. It's delightful.
The short and easy blue trail will take you away from the crowds and into your own quiet place. Your kids will love chasing frogs and fish and splashing in the cool water.
Reserve your spot at Ein Prat Nature Reserve on the Parks website before you go. The nature reserve is located in Judea and Samaria, 30 minutes from Jerusalem.
The short trail is 1 kilometer long. Read the full post with maps here.
The South
Nahal Bokek
If you're feeling nostalgic for summer, head to Nahal Bokek near the Dead Sea for a warm weather adventure. This hike towards a waterfall pool will have you feeling like its summertime all over again.
At Nahal Bokek, giant boulders and a cool stream create an awesome oasis in the middle of the desert. Plant and animal life thrive in this little piece of paradise near the Dead Sea.
Don't forget to bring your bathing suit and water shoes: you're going to want to get wet.
The trail at Nahal Bokek is 2 kilometers long. Read the full post with maps here.
Tis the Season for Outdoor Fun
Don't let a pandemic stop you from family fun this Sukkot. This is your opportunity to explore the country's trails with your family and fall in love with Israel's natural beauty. Let this list of family friendly hikes be your guide to the great outdoors this holiday season.