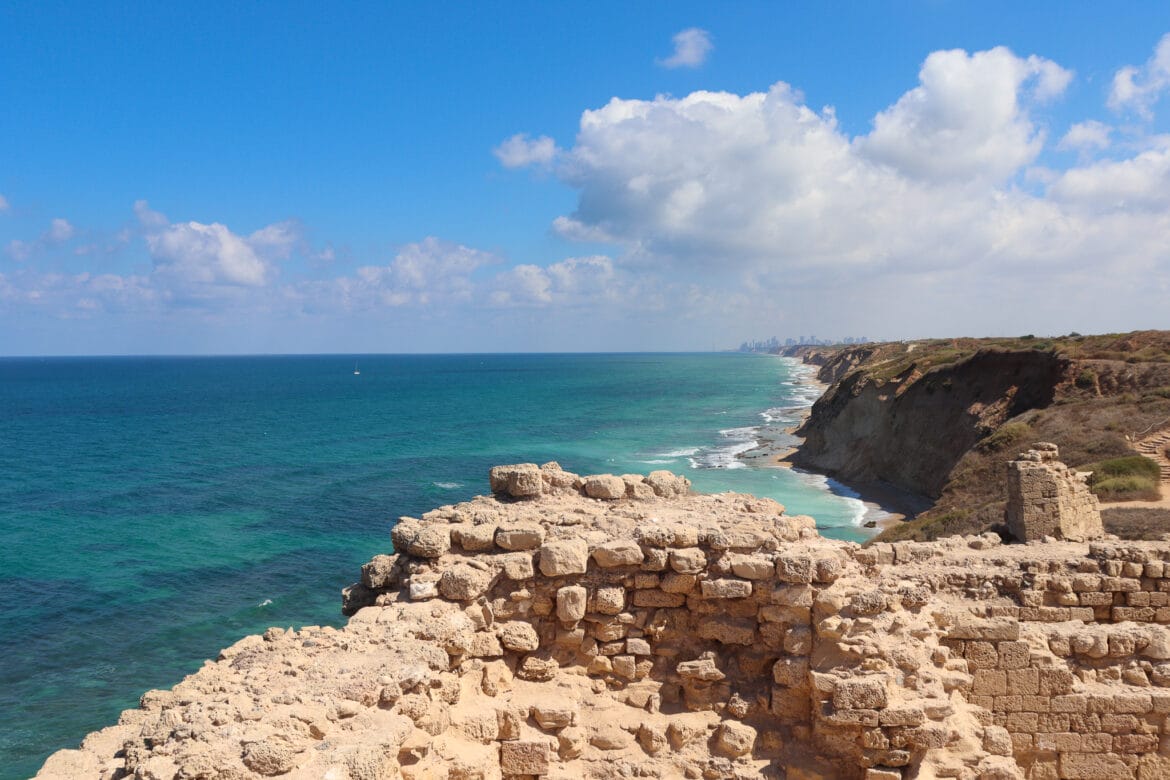 Click here to go straight to hike notes.
Israel is an archeologists' paradise. Pretty much everywhere you turn, there are remains of crumbled societies buried under layers of history. But in some places in Israel, antiquities are right out in the open.
At Apollonia National Park near Herzliya, remains of ancient civilizations are all over the place.  There are relics from Phoenician times through the Middle Ages.  To make it all even more accessible, the Parks Authority has built a beautiful, wheelchair accessible pathway between different digsites and ruins, connecting them into one little loop hike.
There's more than history at Apollonia.  The park also sits on cliffs of a jagged coastline, so that every point on the trail looks out over a sea, layered with colors created by underwater rock formations.
We walked through Apollonia with the kids last Friday.  We knew they would love it: there's nothing like a good Crusader fortress to get our little guys excited.  After exploring the ancient ruins, we would head to the beach nearby.
Apollonia turned out to be even better than expected.  It was not only interesting, it was also beautiful and quiet.  We loved exploring the impressive fortress and having a picnic in the shade, overlooking an incredible sea view.
Here's how we hiked the trail at Apollonia National Park:
Greeted by a Moat
After handing over our Parks Card and getting a few maps, we were off, past an overhang of bougainvillieas and down a smooth pathway. As we made our way into the sunshine, the first of the remains lay before us. We discovered that it was a dry moat, built to protect the fortress from potential intruders.
As we walked the path, we marveled at our surroundings. Sandy cliffs stood out against one of the most beautifully colored seas I've seen. Combined with old ruins and seaside greenery it reminded me of Ireland, where ocean views are a part of visits to old castles.
My kids ran up ahead while I stopped to take pictures.  One very nice thing about Apollonia (aside from cute, Crusader inspired signs with tons of information) was that there were shaded areas all along the pathway.  We stopped under a canopy on a cliff overlooking the sea, where the remains of a Roman Villa lay just past the ocean.
Off Roading it Into History
The path around Apollonia is entirely wheelchair accessible/stroller friendly.  BUT, there is a second path you can take which loops down closer to the sea, inside the areas of natural ruins.  My kids are a little weird – they'll choose a path with steps over a flat walking path any day.  So, we followed the old staircase down into the ruins.
Here we walked closer to the beach. One side of the path was covered with thick green succulents. The cool sea breeze blew in our faces. Up ahead we could see the fortress, towering over the coastline below.
As we walked, we passed the remains of another house from Roman Times and an old cistern. These layers gave testament to the presence of life at this site over a period of thousands of years.
Fun at a Fortress
After a short walk, we climbed back up another set of steps towards the main pathway. The Crusader fortress was just up ahead. As far as my kids were concerned, it was a castle in the sky. They ran to discover its hidden secrets.
And it really was magical. As we entered, an old archway greeted us, framing the turquoise and purple sea just beyond. We paused to take it all in, then continued through the ancient structure.
There were piles of cannonballs, made of chiseled stone. We entered the burnt room, an old chamber whose walls were covered in fire markings. This discovery confirmed story of how the fortress finally fell: when the Crusaders were forced by Mamelukes to set fire to their stronghold from the inside.
From here, we toured the dining hall, the flour press room (every fortress needs one of those!), and the oven room (is that a kitchen?). Besides the old pillars and intricate carvings, what was most impressive about the "castle" was its position on the coastline, majestically perched on a cliff above the raging sea.  The combination of history and nature at Apollonia was beautiful.
That's a Wrap
After the Crusader fortress, we went to take a look at the rest of the park. I barely even noticed the catapults and battering rams as I walked by, looking for the perfect picnic spot. But my kids made sure to point them out! After seeing the pile of cannonballs in the fortress, they thought these stone-throwing replicas were incredibly cool. I left them to examine each one while I found us a spot in the shade.
And there we were at the end of Apollonia.  But is it crazy to say that the best part was our picnic at the end: on a cliff looking out on the park and the ocean?  As we sat there, we watched the fisherman below while we sipped iced coffee. We all agreed that after today, the fortress scene in Israel was something we wanted to see more of.
When our coffee was finished, we walked back along the stroller friendly path towards the exit and the next part of our day: the beach. After looking out from our picnic spot, we knew exactly where we were headed: towards a quiet swimming spot beneath the cliffs.
Apollonia is a quiet little gem full of deep beauty and magic.  This seaside National Park in Central Israel is a perfect place to spend time walking, discovering history, and basking in the beauty of a spectacular coastline.
Hikers' Notes:
Here's what you need to know to hike through Apollonia National Park:
You must pay a fee or show your Parks Card to enter. Map, facilities, and Junior Ranger badges available on site.
Great for kids.
Stroller friendly/wheelchair accessible.
This hike is great for all seasons.
To follow the trail, use the map you will receive when you enter.
Wear a hat and sunscreen on sunny days. There is little shade.
The beach is not accessible from the National Park. You will need to leave the park to access the nearby beach.
Click here to print the Junior Ranger Guide to Appolonia (Hebrew) from the National Parks website.
Don't forget to read my guide to the navigational features in this post before you hit the trail!
Questions? Have you visited Apollonia? Let's hear about it in the comments!
Hiking can be dangerous and is done entirely at your own risk. Information is provided free of charge; it is each hiker's responsibility to check it and navigate using a map and compass.