Click here to go straight to hike notes.
Last summer, we discovered something incredible.
In the very north of Israel lies a spectacular fortress. This impressive structure is no ordinary pile of crumbling ruins. Nimrod's fortress is absolutely magnificent: it looks like a European castle and sits atop a mountain amongst the rolling green hills of the Golan.
I've seen plenty of castles in my life: in Portugal, Ireland, Scotland, and more. But I had never seen a place quite like this in Israel. Nimrod's fortress really took my breath away.
Although I found it fascinating in late August, I knew that it would be more far beautiful if I could visit and take pictures in the winter or spring. After the rainy season, the land around it would be green and blossoming. I figured that post-rainy season would be a much better time to take in the views from the top of the Nimrod's Fortress.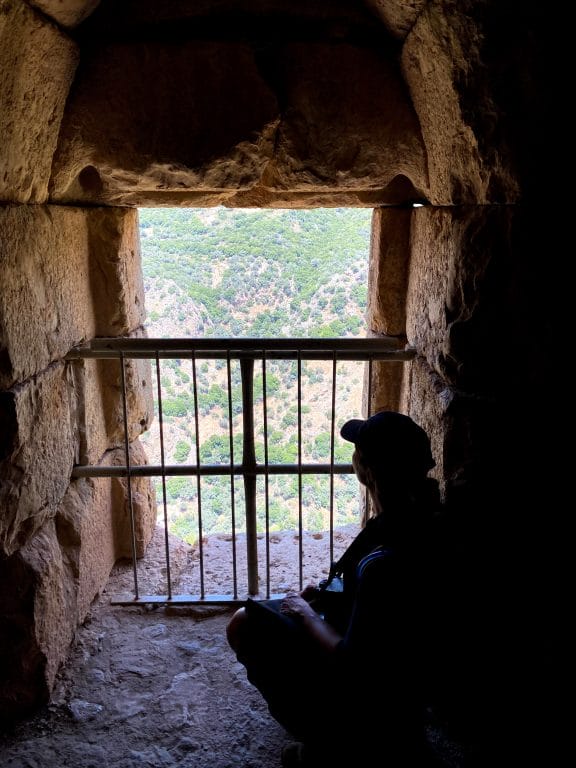 So when we set out on a trip to the Golan a few weeks ago in late spring, Nimrod's fortress was on our hit list. And since we were all by ourselves (no kids), we decided to turn a trip to Nimrod's fortress into a longer hiking adventure. We planned a trail through beautiful Nahal Govta to Nimrod's fortress and back.
The full length (12K) hike that we wanted to trek was partially closed. Instead, we took a shorter and simpler circular hike through Nahal Govta to the fortress. There was plenty of water and shade, beautiful views, and an easy walk back to the car.
Here's how we hiked this fun adventure through Nahal Govta to Nimrod's Fortress:
Water Adventure!
We started the trail in a random parking lot, without much idea of what to expect from Nahal Govta. We knew that for part of the year, water flowed through the stream bed. But we weren't sure what it would be like in mid-June.
Within minutes, we had arrived in a world of quiet, beauty.
The path was shaded and covered in a carpet of oak leaves. White rocks formed the sides of the trail. And pretty soon, we heard the sound of rushing water.
We peeked down into the trees, and there it was: the Govta Stream, full of cool, clear water. It was late in the morning and we were ready to have coffee. This spot in the shadows next to a crystal waterfall seemed like the perfect place to set up shop.
We found a flat rock to sit on, our feet dangling into the stream. And I poured boiling hot water over freshly ground coffee beans into our tin hiking cups. Then we sat there for a while. We couldn't have found a better place to stop and take it all in.
Now Comes Water Fun
After coffee, we continued to follow the trail. It led us up and down over river rocks, under a canopy of shade. Nahal Govta flowed right along side us, bubbling along merrily as we hiked.
After a few more minutes of walking, we began to heat up. We looked at each pool we passed, aching to stop and dip in the water. I knew that soon, the stream would probably dry up. And I wanted to make sure to cool down in Govta Stream while we still had the chance.
So we climbed down into the trees once more and I hopped in. The water was so cold, like melted snow. I splashed around for a bit, felt the spray of a little waterfall, and then we were on our way.
Climb Time
It was a good thing I took a dip when I did. After just a few more minutes of walking, the stream disappeared. We began to climb up and down over rocks, using hand holds in some places. Dense tree cover protected us from the heat of the sun. The scenery at Nahal Govta was quite similar to riverbeds in the Carmel Mountains.
After a while, we saw Nimrod's fortress popping up from between the trees in the distance. It was really high up there! Soon, we would be making our way up to the top.
Breakaway Trail
Eventually, we reached the blue and black crossroads, where followed the blue trail left from Nahal Govta. We ascended some more, still enjoying the protection of trees all around us. At the top of the hill, we took a right turn onto the road and reached the entrance to Nimrod's Forest National Park.
After showing our Matmon card and checking our reservation, we entered the park. We scouted out the pretty walking trail up to Nimrod's Fortress and began our ascent.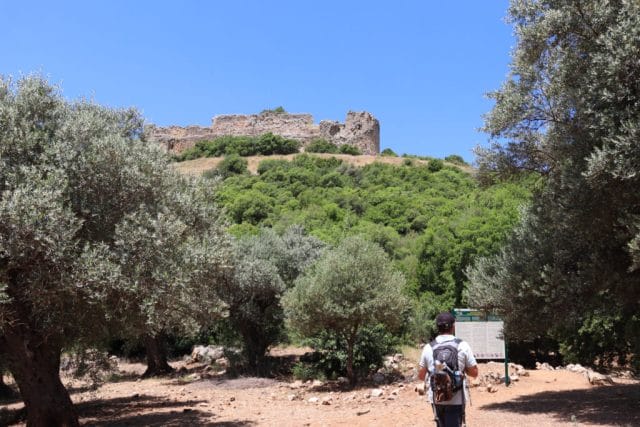 This was probably the steepest part of our entire journey. We climbed up and out of the trees, past beautiful views out to the surrounding area. Soon, we were climbing up the side of the fortress itself. And then we were there: on the inside of a medieval fortress in Northern Israel.
Magical Castle
Nimrod's Fortress is one of the largest medieval fortresses in the Middle East. According to one story, the name of the fortress comes from the mighty hunter, Nimrod, great grandson of Noah. As the legend goes, Nimrod built his castle in this spot, and would stretch out his (magically long) arm to collect water from the Banias Stream nearby.
The fortress was used as a stronghold by a succession of powerful groups from the years 1228-1277. After that, it was used as a prison, and then used by shepherds and their flocks.
We climbed through the fortress room by room, admiring the impressive arched windows and passageways. We followed steep sets of stairs up and down, checked out every observation point, and took a trip through the secret passageway. A cool wind blew in our faces as we ascended to the highest point on the hill. Looking around at the stonework and the green mountains that surrounded us, it was impossible to tell that Nimrod's Fortress wasn't a castle in Europe.
We're on the Road Again
We took a complete tour of pretty much everything there was to see. Then, we returned to the main gate along a more direct road. After a short walk through the trees, we reached the turnoff to the red trail once more. We followed the red trail through densely forested area, past wildflowers and blossoming bushes, until eventually, we reached our car.
Our trip through Nahal Govta to Nimrod's Fortress had been a real adventure. That day, we had seen so many incredible sights: a bubbling stream, a shady valley, and an amazing fortress with spectacular views. This hike through Nahal Govta to Nimrod's fortress was a great way to enjoy some of the most unique scenery in the Golan Heights.
Hikers' Notes:
Here's what you need to know to hike this circular trail from Nahal Govta to Nimrod's Fortress:
This is a circular trail.
This trail is suitable for all seasons. Nahal Govta dries up as the dry season progresses, and may have little to no water come August time. Most of the trail is in the shade.
This trail could be suitable for very active families. Alternatively you can skip Nahal Govta and follow the second Waze point to head straight to Nimrod's Fortress.
Not suitable for dogs.
Wear good hiking shoes, a hat, and bring plenty of water to hike this trail.
Nimrod's Fortress is a National Park. Make sure to go to the National Park's website to reserve/ check for closures before you visit. If you have a Matmon Card, there is no fee to get in. Otherwise, it costs 22 NIS per adult and 9 NIS per child.
To follow the trail, use the Trail Marker Gallery and Trail Map in the table. You can also download the Google Earth file to follow your location along the trail we took.
Don't forget to read my guide to the navigational features in this post before you hit the trail!
Trail map from Amud Anan.
Questions? Have you hiked this circular trail from Nahal Govta to Nimrod's Fortress? Let's hear about it in the comments!
Hiking can be dangerous and is done entirely at your own risk. Information is provided free of charge; it is each hiker's responsibility to check it and navigate using a map and compass.