Hasbani Nature Reserve, more popularly known as Nahal Snir, is a beautiful National Park in the Golan. There are lots of trails to choose from in this park.
Most people choose the classic river walk, which winds along a stream over tree roots and rocks. But there's another option for those who can't (or don't want to) clamber over boulders: the red trail – an easy, stroller and wheelchair accessible path.
This short little walk takes hikers through some of the incredible beauty that Nahal Snir has to offer. And the best part? There's a little waterfall and natural wading pool that's perfect for cooling off on a summer day.
It's not a long trek, but visitors can spend lots of time by the water, dipping their feet or having a picnic at the benches nearby.
Here's what we saw as we walked along this pretty, accessible pathway at Nahal Snir:
On the Right Track
The hike begins at the entrance booth to Nahal Snir. We showed our National Parks card, got a map, and parked the car.
From the lot, there are clear wooden trailmarkers and posted maps which show you how to follow the red trail through the park.
The first part of the trail led us down a paved pathway, towards the main crossroads for all of the trails. As we walked, tall flowers leaned in from around the path.
At the crossroads, we made a left to follow the red trail towards the wading pool.
Splash
When we got to the wading pool, it looked like a super fun event. That's because it was absolutely full of teenagers, splashing each other liked they'd never seen water before.
There was a pretty little waterfall running down into the pool. And a canopy of shade all around, with picnic benches underneath.
We sat down and waited a while, and pretty soon, all of the teenagers gathered up and left the pool in peace and quiet.
Now that we were no longer in the splash zone, we waded into the pool to check out the waterfall.
At the Waterfall
The water was cool and clean, and the area all around was well tended. It was refreshing on a hot day. And looking around, it seemed like the perfect place to hang out with little kids.
I think that even toddlers could wade their way through the pool with a parent's help. And I could just imagine my little four-year old heading straight for the small waterfall.
Once the big group had gone on their merry way, the area was quiet and peaceful. It was a great spot to relax to the sounds of the trickling waterfall.
Full Circle
After the wading pool, the path heads full circle back to the trailhead. It's not a long walk – probably about fifteen minutes in total – but it's pretty and full of the sights and sounds of nature.
Anyone who wants a taste of the beauty of the Hasbani Nature Reserve can have it. On this wheelchair accessible path, birds, blossoms, and waterfalls are available to all.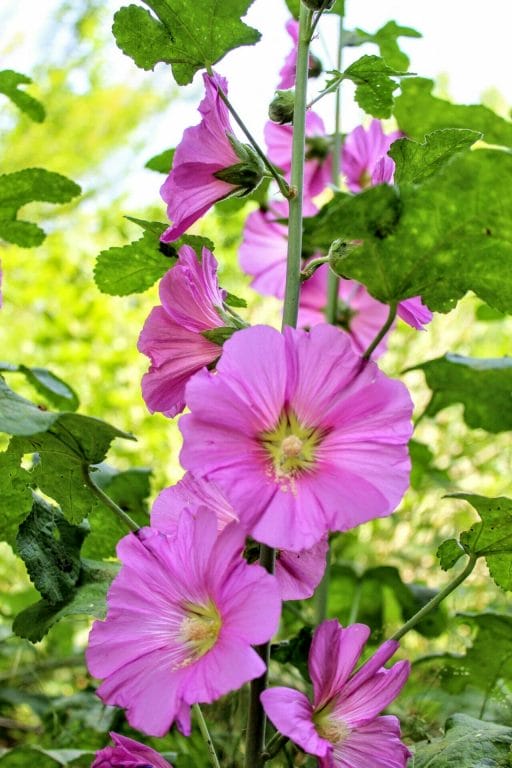 Hikers' Notes:
There aren't that many water hikes that are on a flat path. If you need a stroller friendly or wheelchair accessible Golan hike, this one is for you. What's nice is that it's the same path which leads to the main Nahal Snir Walk. So if you're with other people going to Nahal Snir, but you can't handle the climbing, park yourself here and get ready to relax.
If you can handle a few steps, make sure to walk down a little further on the blue path to peek into Nahal Snir itself. Then return back the way you came to the red path.
This trail is part of a National Park, so there's a fee to get in and facilities on site.
The trail is really easy to follow. Stay on the flat path and you'll end up right back where you started. (Red trail markers throughout.)
Questions about this trail? Did you walk this path? Let's hear about it in the comments!
Hiking can be dangerous and is done entirely at your own risk. Information is provided free of charge; it is each hiker's responsibility to check it and navigate using a map and compass.