Click here to go straight to hike notes.
I love to get off the beaten path.
You would think that any hike near Jerusalem would be well-traveled, especially one with a freshwater spring at the end. But some hikes just sort of fly under the radar.
Last week, we took a hike to Ein Kfira just outside of Jerusalem. It was short, sweet, and very beautiful. The trail was well marked and easy to follow. The scenery, though dry in summertime, was absolutely spectacular.
But thankfully, this hike felt off the beaten track: like we were wandering through the mountains in the middle of nowhere.
While we were hiking we wondered whether there would be water in the spring at the end. Oftentimes, freshwater springs like Ein Kfira dry up in the summertime.
So we were pleasantly surprised to find that there was, in fact, water to play in at the two pools of Ein Kfira. It wasn't a flowing waterfall or a crystal pool. But it was perfect for my little kids who didn't mind murky water.
This trail would have been fun and beautiful even without the spring. Here's how we hiked the trail to Ein Kfira, in the Jerusalem Mountains:
Just Bopping Along
We pulled into the parking lot and saw black trail markers, posted on a tree. After a tree-climbing moment or two, we set off on the trail in the early morning sun.
Rolling hills of golden grain and grass stretched out ahead of us. Way down below, we could see the valley between the hills, still slightly green in the summer heat. And in the distance, the blue sky shone against low mountains. It was incredibly picturesque.
As we walked, I could just imagine how beautiful this area probably was in springtime, when the hills were green and full of flowers rather than wheat colored. But for now, I was enjoying the summertime scenery, more monotone, but pretty in a different way.
Jumping Stones and Patched of Shade
Soon, we veered left onto the green trail. The sun began to warm up the air. But every time we got too hot, we would run into a small patch of pine trees or oak trees, complete with fruit to study and flat rocks to sit on. Because of all this entertainment, the walk towards the spring went really slooowly.
There were rocks to climb down and jump off of. My five-year old really enjoyed "flying" every time we reached a particularly tall rock.
The best part was when arrived at spot in the trail with nothing hills all around. We began to test out our singing skills, to see who could produce the loudest echo over the valley.
It felt like Sound of Music in the Middle East.
There's a Spring Here
After a lot of wandering on the green trail, we saw a much greener area up ahead, complete with palm trees and fig trees. Judging by the scenery, our guess was that we had finally reached the spring. But we still had to find the water.
The first little pool soon became visible under a cluster of trees. But although it was pretty and shady, we established that the water was very, very shallow – just about ankle deep. A pool of this depth without a constantly rushing source was bound to be quite murky, so we moved on.
While my husband and kids searched out the second pool, I found a delightfully shady place to stop for breakfast under a tall palm tree.  On this little ledge on the hill, we could look out from the shade to see the awesome scenery all around, including some old ruins just across the valley.
Soon, I heard shouts of excitement coming from deep inside a cluster of fig trees. My kids had found water.
Breakfast and Bath
My boys were really eager to test out the waters. But I reminded them that only moments earlier, they had insisted that they were going to keel over and die if they didn't get something to eat. They agreed to join me in my picnic spot.
There's nothing quite like breakfast on the trail. Iced coffee tastes extra delicious while gazing out over golden, rolling kids. And my kids were happy to finally re-energize.
After relaxing in the shade for way longer than we intended, we set out towards the spring.
The pool itself looked kind of questionable. There was a small stream of water pouring down the side into what appeared to be knee deep water. Judging from the water line, Ein Kfira is much fuller (and probably much clearer) in the springtime.
But we were here, it was summer, and my kids were ready to go swimming. So, they jumped in.
It Looks Questionable to Me!
Even if Ein Kfira wasn't exactly a chlorinated swimming pool, the kids had a great time in the water. They shivered at first, then warmed up after they dunked.
My favorite part was when my son swam across the pool, then re-emerged with grit on his face. A little dirt never hurt anyone. (I think!)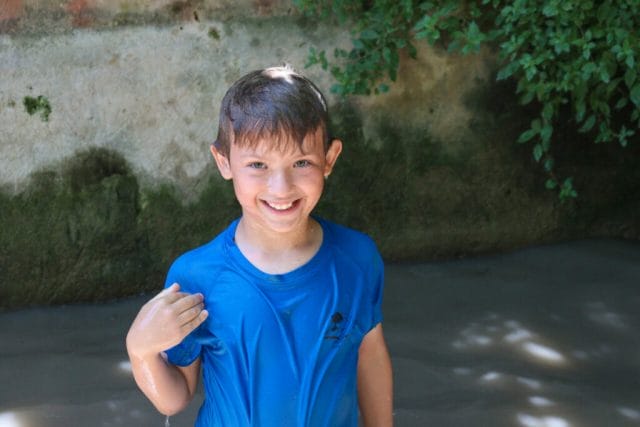 After spending twenty minutes in the water, we were ready to go. We coaxed the kids out of Ein Kfira and back into their sneakers, off to tackle what we assumed would be a challenging ascent back up to the trailhead.
Summer Days Drifting Away
As it turned out, the walk back was super simple. The kids barely even noticed they were climbing. Maybe it was because they were wet, or maybe it was because we were having so much fun just talking about life. But before we knew it, we had hiked the entire kilometer and a half back to the car.
This off the beaten track trail may be more beautiful in the springtime. But it's not always springtime. We found peace, beauty, and water fun at Ein Kfira on a lazy summer morning.
Hikers' Notes:
Here's what you need to know to to hike to Ein Kfira:
Suitable for all seasons. The spring and scenery are at their best in winter and spring. In the summer, go early and wear a hat and sunscreen. There is very little shade on the trail.
Great for kids.
Suitable for dogs.
The spring water is low in the summertime, and probably nonexistent in the fall. Go in springtime to experience the water at its best.
To follow the trail: Use the Waze link to reach the trailhead. Follow the black trail markers until you see a turnoff to green. Follow green markers the spring, then turn around and follow them back. The green trail markers are currently well painted and quite visible. Make sure to keep an eye out for them so you don't veer off trail.
Don't forget to read my guide to the navigational features in this post before you hit the trail.
Trail map from Amud Anan.
Questions? Have you hiked at Ein Kfira? Let's hear about it in the comments below!
Hiking can be dangerous and is done entirely at your own risk. Information is provided free of charge; it is each hiker's responsibility to check it and navigate using a map and compass.