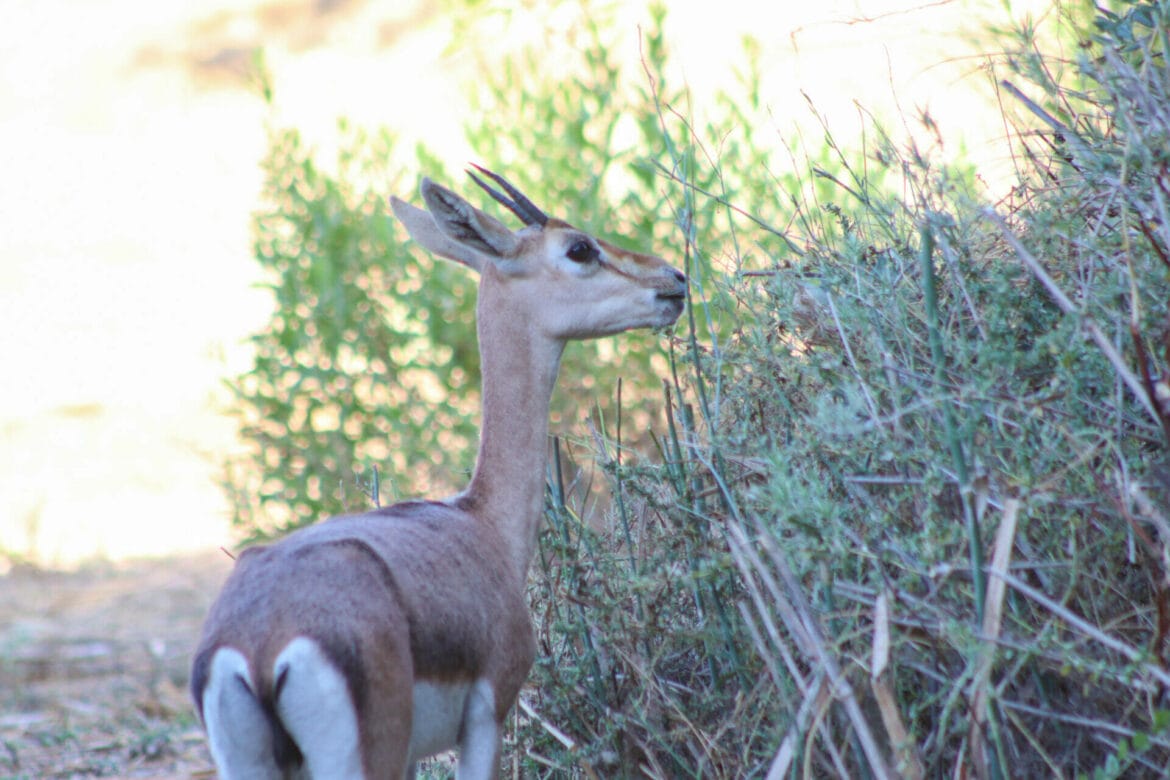 Click here to go straight to hike notes.
6:30 AM on a Jerusalem morning, the wild gazelle and waterfowl are out on the hunt. At Gazelle Valley in the heart of Jerusalem, it's time to eat breakfast.
Once upon a time, gazelle roamed freely throughout the Jerusalem area. But as the city was built up, most of the gazelle escaped to the surrounding mountains (being shy creatures, they just aren't cut out for city life). There was one place in Jerusalem where the animals remained – in an untended valley near the Botanical Gardens.
When it came time to build in the area, SPNI (The Society for the Protection of Nature in Israel) fought against it, arguing that the valley should be preserved as a natural habitat so that the gazelle who lived there could keep their home. Nowadays, Gazelle Valley is more than just a piece of wilderness. SPNI has put time and effort into rehabilitating the water system in the area. Gazelle Valley is now home to numerous species of birds, along with turtles, butterflies, bees, and herds of gazelle.
In order to catch the wild animals in action, we always show up at Gazelle Valley first thing in the morning. There's more to see in the early hours. And just like the animals, we'd rather avoid the heat of the day.
This past Friday, we took a trip to Gazelle Valley with our kids. There's nothing super exciting about the actual walk itself. The path heads mostly through tall reeds peppered with trees – and a few impressive lily pad ponds. But the wild animals at the nature reserve turn an average walk into an exciting adventure.
Here's what we saw on our early morning trip to Gazelle Valley:
Early Morning Meeting
We tumbled out of our car and into Gazelle Valley at 7:00 AM, a good half hour after opening. There was no one in the Visitor's Center (they only open at 9:00), but there were a few walkers already out on the trails.
In order to make the biggest walk (hike?) possible out of Gazelle Valley, we made a left, to make a full circle around the park. Right away, we were treated to the sight of some gazelle, hidden in the reeds and munching away on their breakfast.
We couldn't get too close to the animals, but we snapped some pictures and then moved on to take a look at a water gathering system. According to the signs on the spot, water was being pumped out of a natural spring or stream right here. But SPNI had done everything possible to restore water to the valley, by gathering winter rainwater which flows to the area, then filtering it and sending it through the park in a series of pools.
We continued on our way, stopping to take a look at more gazelle intent on eating as much as possible before the sun got high in the sky. Along the way, we passed the first of the ponds, filled with tall reeds and red billed waterfowl.
Bills, Bills, Bills
Gazelle Valley has really changed over the years. What used to be a pretty, but sort of dilapidated park where one could see gazelle, has now become a well-tended area where all kinds of nature gathers.
Soon, we reached a bird observation point. Climbing into the wooden shack, we peeked out through a slat window in the wall. Right there in front of us were all sorts of beautiful water birds – babies and adults swimming together. We watched as little ducklings took deep dives into the water for food. They would resurface for a few moments, then dive down again in search of sustenance.
This show entertained our children for quite a while. But soon, it was time to move on to the rest of the sights on the trail.
We passed by a lily pod pond, full of open white flowers.  Then came more birds, more gazelle, more little houses to watch the animals up close and personal.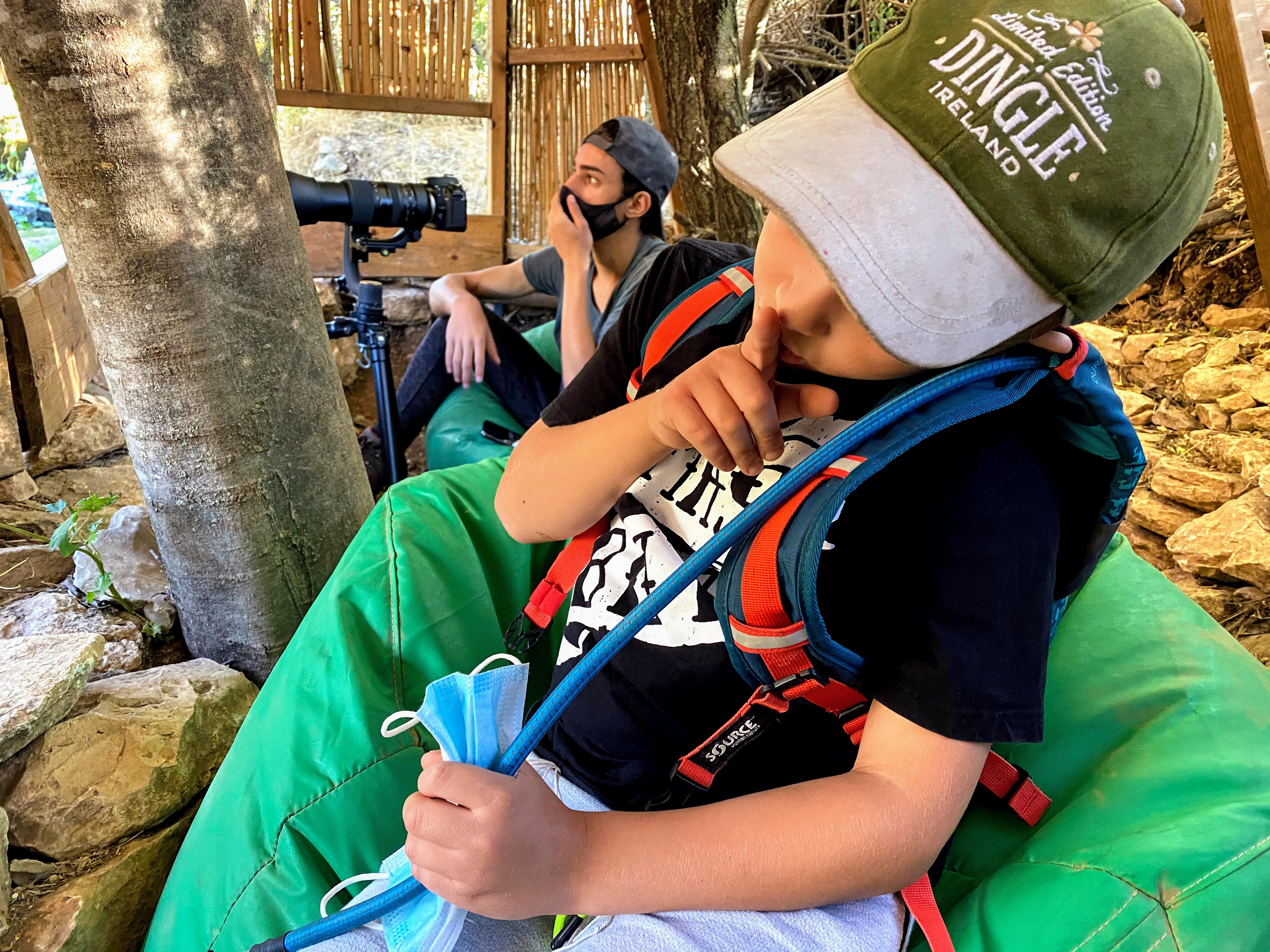 Have a Seat
After this, we followed the path all the way to the end of the park. The gazelle (and birds) were out in full force that morning. No matter where we wandered, we met them again and again.
Of course, my kids began hankering for breakfast. They were tired of watching everyone else eat!
Luckily, there were about a hundred different places to sit in Gazelle valley – little wooden benches, tables and chairs – this one in the shade and that one in the sun. We passed by several until we finally settled on a collection of painted tree stumps arranged in a circle. It just gave us that Indian powwow vibe.
Our Own Powwow
We gathered around with ice coffee and blueberry muffins and finally took our turn at breakfast in the wild. Here at Gazelle Valley, no birds joined us to finish our crumbs. The birds there seemed to be happy in their habitat and had no need for pita bread.
After the food was finished, we spent a while in that spot, the kids hopping from tree stump to tree stump in an obstacle course game invented on the spot.  Since this hike was so miniature, there was really no rush to cover ground and reach the end.  With the shade, with built in entertainment and plenty of iced coffee, we could stay right there all morning long.
Eventually, we packed up our things and finished up the trail, saying goodbye to the last of the beautiful gazelle on our way out of the park.
Bonus Round
A regular trip to Gazelle Valley would have ended right there. But since when do we do things the regular way? We decided to continue our walk along a pretty pedestrian path towards the Botanical Gardens.
At the Jerusalem Botanical Gardens, there's also a garden center. And an awesome new café just opened right inside!
We walked along the highway, my kids oblivious to the traffic noise but loving the "balance beam" in the center of the walking path. A few bikes whizzed by. After a twenty minute walk we reached the garden center. Inside, we bought flowers and soil and watched frogs jumping under a wooden bridge. And then we got a second round of drinks at the café.
When our long morning was over, we all agreed that it had been a big success. Where else around Jerusalem can one see gazelle and an assortment of birds frolicking in their natural habitat? A trip to Gazelle Valley is a beautiful escape towards nature and animal life right in the heart of the city.
Hikers' Notes:
Here's what you need to know to take this walk through Gazelle Valley:
Gazelle Valley is free and open to the public. Opening hours are from 6:30 AM – 7:30 PM daily.
There are facilities and a visitors center on site.
Good for all seasons. In the summer months, it's better to go early or late in the day.
Great for kids.
No dogs allowed.
Take the trail we followed by turning left near the entry, then circling along the outer edge of the park. There are no trail markers. But none are needed. If you'd like, grab a trail map at the entry to get an idea of the park.
You can add on to your trip like we did by continuing along the bicycle/walking path down the highway. Then make a left before the gas station and walk down towards the garden center (you will see it below you as you walk on the highway). Here, you can purchase plants and get lunch – or you could even add on a trip to the Botanical Gardens (for a fee) if you are feeling very adventurous! This extra walk is 1.3 kilometers each way. The Google Earth file includes this stretch.
If you'd like to do the extra walk to the cafe, you can also use Google Maps to get there. Enter in "Jerusalem Botanical Gardens" and follow the walking directions.
Don't forget to read my guide to the navigational features in this post before you hit the trail.
Questions? Have you walked through Gazelle Valley? Let's hear about it in the comments!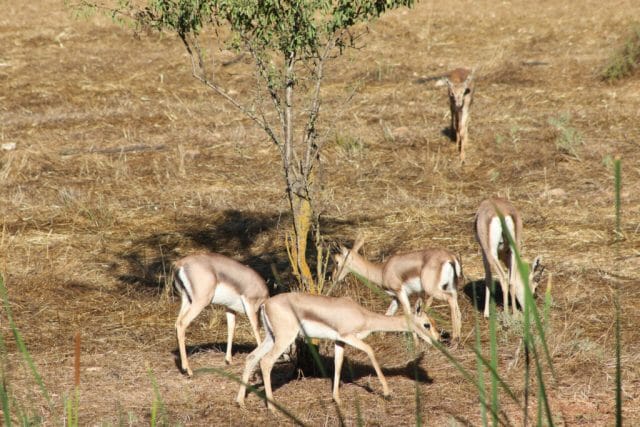 Hiking can be dangerous and is done entirely at your own risk. Information is provided free of charge; it is each hiker's responsibility to check it and navigate using a map and compass.