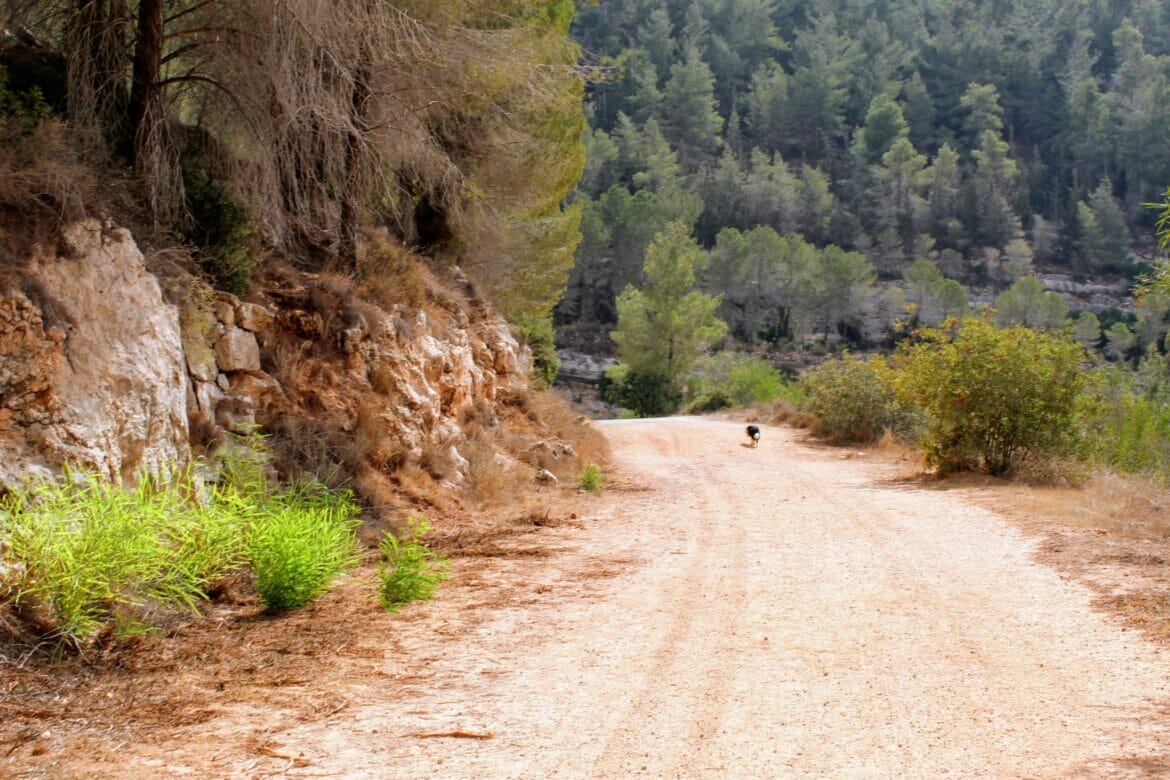 It's a big title to carry, but the Mt. Eitan trail in the Sataf Nature Reserve can handle it. This spectacular eight kilometer hike is what I consider to be the best walk in Jerusalem.
We love heading out to Sataf in almost any situation. It's perfect for bringing a baby stroller along. Or grandparents who need a somewhat flat surface. Or even teenagers looking for an adventure.
It's great for just the two of us – whether it's my husband and me, or my sister and me, or whoever is along that day.
What makes the Mt. Eitan loop at Sataf so exceptional is that almost anyone can tackle it. And almost anyone will still feel like it was still great hike too. Because the trail is smooth and wide, it's easy to walk on. But since it encircles the entire mountain, you still get to cover a good distance and work your muscles on the inclines, all while taking in an ever-changing view.
An All Season Favorite
So when Sataf is our plan, we pack up our hiking bag and off we go. The trail starts at the upper Sataf Parking lot. There are bathrooms and a place to fill up our water bottles. Then we follow the signs for the Mt. Eitan circular trail.
We always walk this trail backwards, starting at the end and ending at the beginning. This way, we have the option of cutting through the forest at the last kilometer, for a change in scenery.
It's hard to say which season is best for hiking through Sataf. On a fall day, the leaves are starting to change color along the trail. Since the area is also full of evergreens, it never looks sparse or dry. There always seems to be a good mix of shade and sun along the path.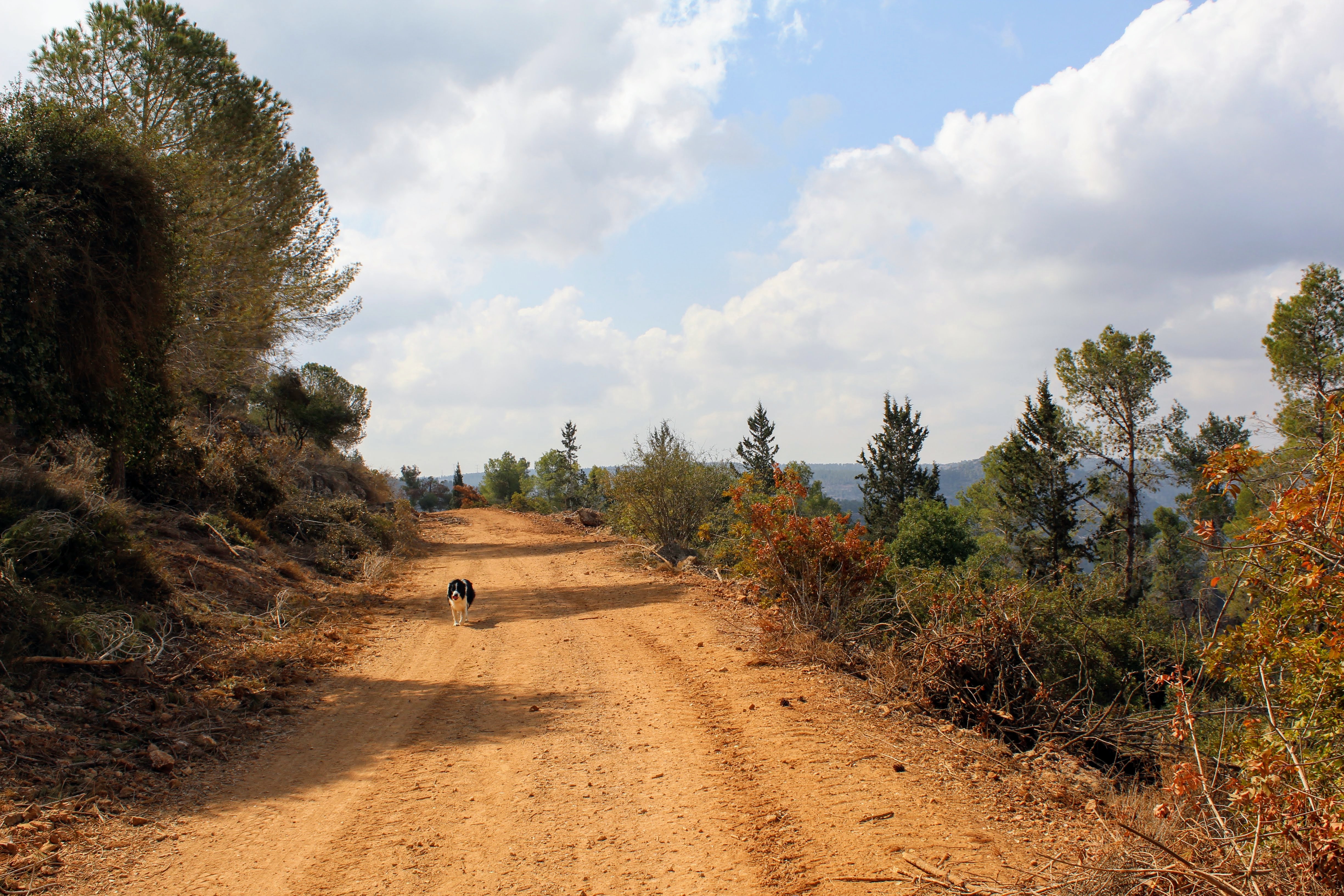 But it's perfect in the winter too – with broken pine branches and patches of snow on the ground. Or bursting forth with red poppies in springtime.
Nature Therapy
As we walk, our everyday worries fade away. It's just our thoughts and conversation for the next couple of hours.
We stop when a particularly beautiful view catches our eye. With its sweet spot looking out onto the Jerusalem mountains, Sataf's Mt. Eitan is the best place near the city to see the most breathtaking scenery. Green pine forests pop out against a backdrop of blue mountains and an open sky.
Each time we visit, we choose a different place to take a break. Sometimes we climb up into the forest and watch as people pass from our secret spot in the trees. Or we set up on a flat rock looking out onto the rest of the nature reserve.
At kilometer seven (or between the trail markers for kilometers one and two), we often take the second set of stairs up off the trail to follow a marked path through the forest. Past the picnic benches, through the pine trees, and over antiquities – we head up a narrow dirt road and back to the trail head at the main Sataf lot.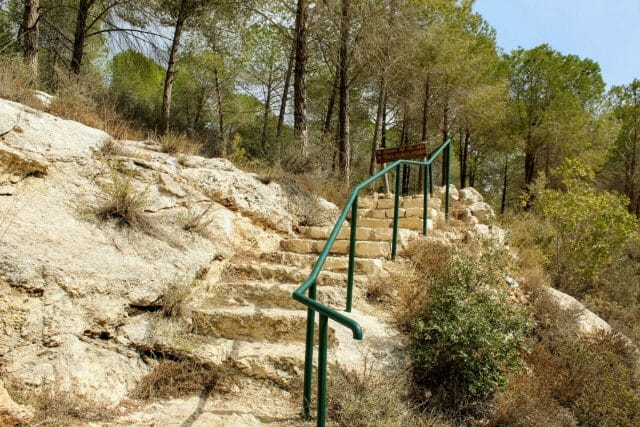 We are so thankful that this incredible nature reserve is only a few minutes from Hadassa Ein Kerem, on the outskirts of our holy city.
Hikers' Notes:
I mean it! If you haven't yet been to Mt. Eitan, get out and hike this trail. It's really great for anyone looking for a relatively flat path close the city that still gives you a real out in nature feel. The only ones who probably can't make it through this hike are little kids – unless you carry them on your shoulders. It is an eight kilometer walk after all!
There are many more great hikes in Sataf. There's a spring with a little water cave, other antiquities, and great short hikes for kids. Stay tuned for more info.
You can follow the Google map below to take the trail backwards and with a break through the forest at the last kilometer. If you have a stroller or want to stay on a flat surface, just keep walking along the main marked path instead of breaking off to the left.
Questions? Comments?  Leave a note below.
Want more great Sataf hikes? Check out our Complete Insider's Guide to Sataf Forest.
Hiking can be dangerous and is done entirely at your own risk. Information is provided free of charge; it is each hiker's responsibility to check it and navigate using a map and compass.