Once upon a time, I thought that the hikes in our area weren't so remarkable. They were mostly hot and rocky, hard to follow, and definitely in no way magical.
I was completely wrong.
This week we headed back to American Independence Park near Nes Harim to scope out a new path. Located in the park, Cafe Bar Bahar is the trailhead to a number of spectacularly beautiful, well-marked hikes. It's the starting point for the Schuster Trail, an old favorite of ours that's perfect for families.
Since we were looking for a higher level walk this time around, we laced together a few different trails which would yield a six and a half kilometer circular hike through what we knew to be a thick forested area.
The Hike:
We started off at the black trail, listed on the sign as the Soreq Stream Nature Reserve (still haven't figured out why they use q's for the k sound on these signs). The Nahal Sorek mountainside path was really easygoing – a pleasant start to an awesome hike. There was no incline, and the bold red barked katlav trees shaded the path without blocking the views of the lush green valley below.
We continued along this route for a while, enjoying the cloud filled sky and the crisp autumn breeze. When we reached a fork in the path, we made a sharp right downward towards the green trail.
I'm starting to see a pattern when it comes to green trails – these are the trails where the easy walking ends and the real hiking begins. No mountain bikes can ride this way. This particular trail headed sharply down, down, down, through the bushes and trees, through the remains of an old arab village, and into the valley below. We tread carefully as we descended, doing the best we could not to slip and fall along the way.
There were lots of nice things to look at along this route, but the real payoff was when we got to the valley and turned right onto the blue trail. This path was full of beautiful surprises.
Berry bushes lay entangled in olive trees and ivy along the sides. Orange leaves all around created a picture perfect backdrop. And fall wildflowers peeked up at us from behind the trail markers.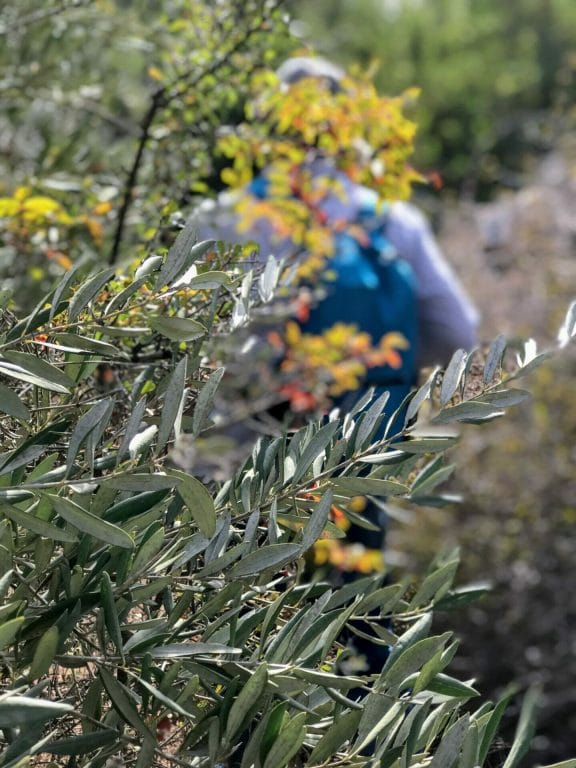 Pine trees towered tall in every direction, never completely obscuring the bright blue sky.
There were pinecone archways to walk through. And birdsong in every direction. Being in that tremendous green valley, we felt totally isolated in an endless panorama of nature. Completely magical.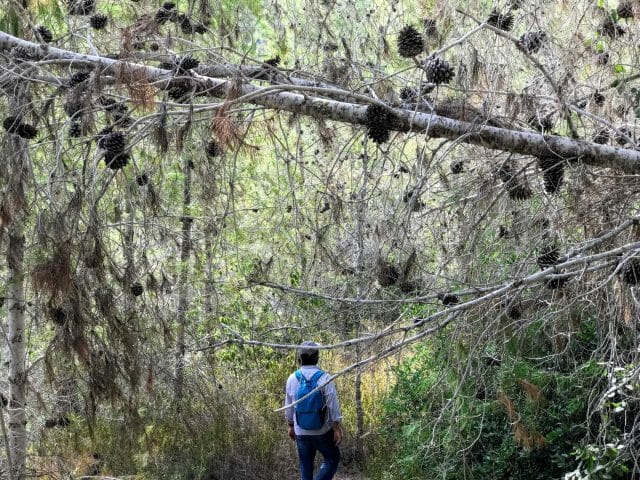 As we hiked our way further and further into the forest (and approaching Nahal Sorek itself), it felt like we were in Switzerland or another distant mountainous green country. In a few places, the trees were so thick that it was actually dark underneath, almost like a haunted forest. I've never seen anything like it before in Israel.
We took a long break on a few flat rocks to take it all in. There's nothing to match the experience of quiet serenity that comes with being all alone in the middle of nature's unbounded glory.
When we were finally ready to tear ourselves away, we picked up our backpack and continued along toward the next part of the blue trail – back uphill toward the end of our journey.
Luckily for us, it wasn't as steep going up as the green trail was on the descent. Instead, we took the hill at a steady pace, back and forth, stopping to climb over a tree root here and look at some crocuses over there, until we reached another fork in the road which lead to a new black trail (Nahal Katlav).
From here we continued as the scenery changed around us. The pine trees faded into the valley below and we were once again up at the top of a mountain. Rather than climbing the stairs directly back to the parking lot, we took the Scenic Route back to our car.
So was it a mid level hike? Not exactly – I would call this a strenuous hike, for people in great shape only. But the sheer beauty and tranquility to be found when you climb down into the heart of this forest is worth every step.
Hikers' Notes:
So like I said – it's not a hike for everyone. But if you are up to the challenge of a six and a half kilometer hike with a really steep descent and ascent, then you should definitely take this one on! I couldn't believe that there was such an expanse of breathtaking beauty only fifteen minutes from Gush Etzion and Beit Shemesh, and twenty minutes from Jerusalem.
You can follow the map in Google Earth above to take the trail exactly as we walked it. Or check out the gallery below for a visual guide. The trail markers are clear and easy to read the whole way through. Happy hiking!
Update: Here's a marked up trail map that you can print out and follow through the hike:
Nahal Sorek and Beyond Trail Map
Questions or comments about this hike? Please leave them below.
Hiking can be dangerous and is done entirely at your own risk. Information is provided free of charge; it is each hiker's responsibility to check it and navigate using a map and compass.