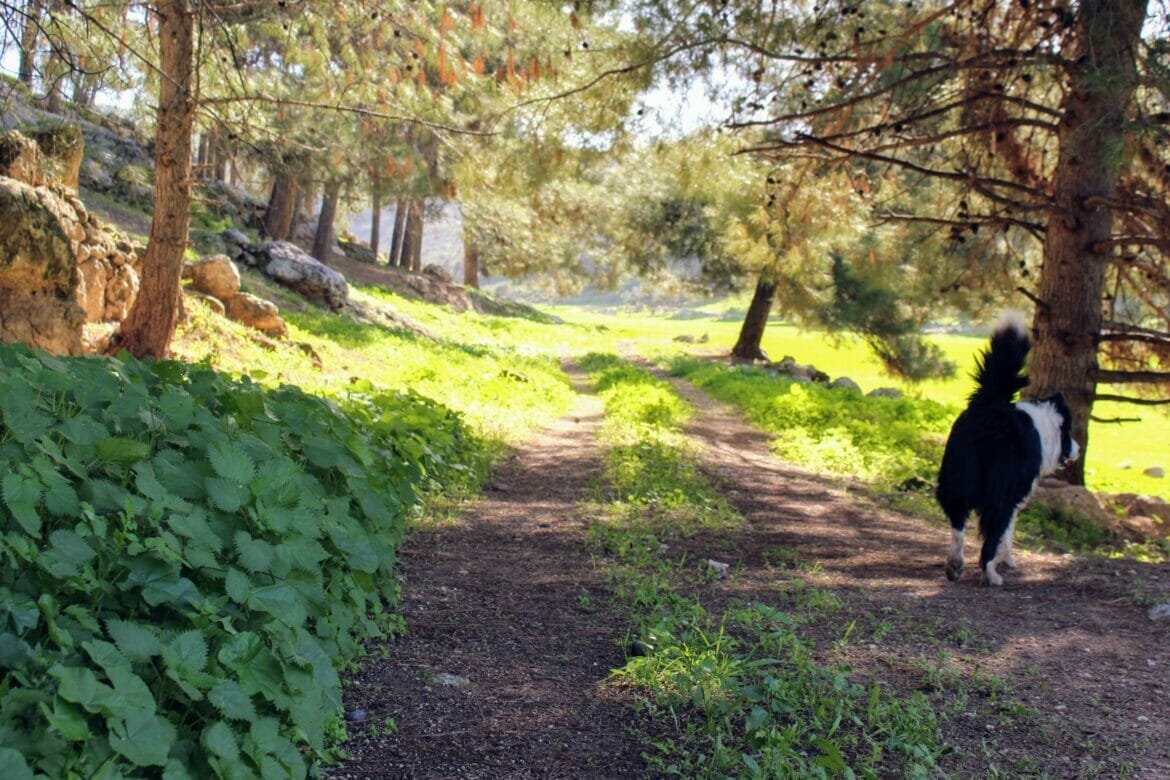 A long, long time ago, we lived on a street called Nahal Dolev.
And when we lived there, we wondered: what was the deal was with all of the streets in this neighborhood named after rivers? The streets didn't feel like rivers. There was no water, and it was blazing hot without any shade most of the time.
We also wondered where all of these so called nahalim (translation: rivers, or streams) existed in Israel. We'd never heard of any of these Israeli rivers!!
We've learned a lot since those first years as new Israelis. A Nahal doesn't necessarily mean a flowing stream in this unique land of ours – just a riverbed – a dip between two high places where water can potentially flow through.
We've hiked along many of those streets' namesakes at this point – Nahal Sorek, Nahal Refaim, Nahal Katlav. This week we decided to cross another Nahal off the bucket list – Nahal Dolev.
Here's what we found:
Hiking Nahal Dolev
Nahal Dolev is a 9.5 kilometer, picturesque hike close to Beit Shemesh, Jerusalem, and Gush Etzion. It's not a hike for the summertime – we went on a cold winter day and were quite warm by the end of our journey. But it does have some scenery that I've never seen before in Israel.
The hike begins right off the highway. After thirty seconds of walking on the trail, we arrived at a crossroads – we could go left, straight, or right onto the red trail.
It's a circular hike, so it didn't matter which direction we chose. We decided to make a right onto red and start off with a long, two kilometer stretch in the sun. That way we'd warm up a bit.
This part of the walk is also relatively close to the highway. Not right on it, but it didn't feel like we were walking in the middle of nowhere.
At some point near the beginning, we left the path to go out onto the grass and gaze down at Nahal Dolev below. The area itself was beautiful – winter flowers were peeking up from the grassy expanse in the sun. And the view down to the winding Nahal, thick with trees between two rock covered hills, was something special.
After a little while of walking, the trail begins to descend at an incline. The path is by no means a flat one – there are rocks covering the trail almost the whole way through. But this descent doesn't involve any climbing. It was just a steady walk downhill into the valley below.
Moss Covered Wells in a Pine Forest
About halfway through the descent, we passed through the remains of an old Arab village. Soon after, we found ourselves in a tall pine forest that stretched out in all directions. The intoxicating smell of pine needles was thick in the air.
This entire section of the trail wanders through a once populated area, so there are a number of wells right here. Most of them are visible – protruding from the ground and built up as a well should be. But off of the path, there are some holes which didn't seem like they held water until we got close.
We peered into one and realized that it was quite deep. My daughter dropped a stone and heard the splash of water way down at the bottom.
This forested area was incredibly beautiful, and the large flat rocks all around made it a perfect place to stop for breakfast. We found some stones in a circle and pulled out coffee and muffins (thanks Pat Bamelach!)
Twenty minutes later, we were back on the move. When we had walked up top at the beginning of the hike, we could see that the trail wound its way through some picture-perfect grassy meadows. I was excited to see what they looked like up-close.
Could This Be Israel?
I didn't have to wait long. Within a few minutes of our pine forest breakfast, sonic green meadows opened up before us. And who should come out to greet us but the meadow's residents – dozens of sheep and goats.
I've seen herds in Israel before, but never one that created quite such a pretty scene. The long-haired goats had rich brown, speckled coats. Fluffy sheep gathered further off the path. Red poppies peeked up from the ultra-green grass below. And to complete the picture, lots of white birds hovered low over the flocks, clearly sharing some kind of symbiotic relationship.
Our border collie scurried up ahead of us, and the goats scattered from the path.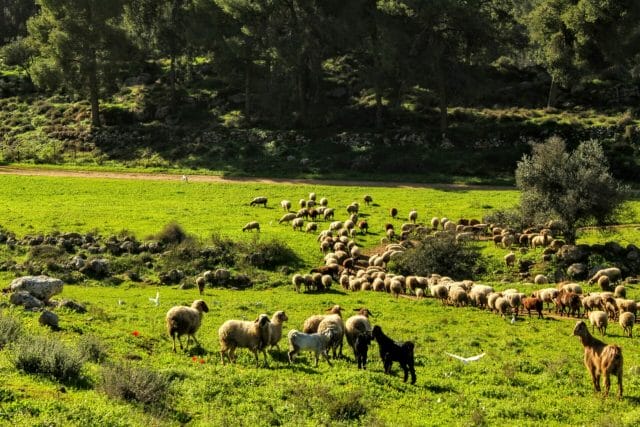 After taking a lot of pictures and gawking at the beauty of the scene, we continued on the trail through the grass, past the shepherd's tents and to the far end of the meadow. We followed the trail to the right towards the forest.
Here, we had to search for the trail marker, but we found it painted on a rock. At this point we made a left onto the black path, which continued through the tall grasses and into Nahal Dolev.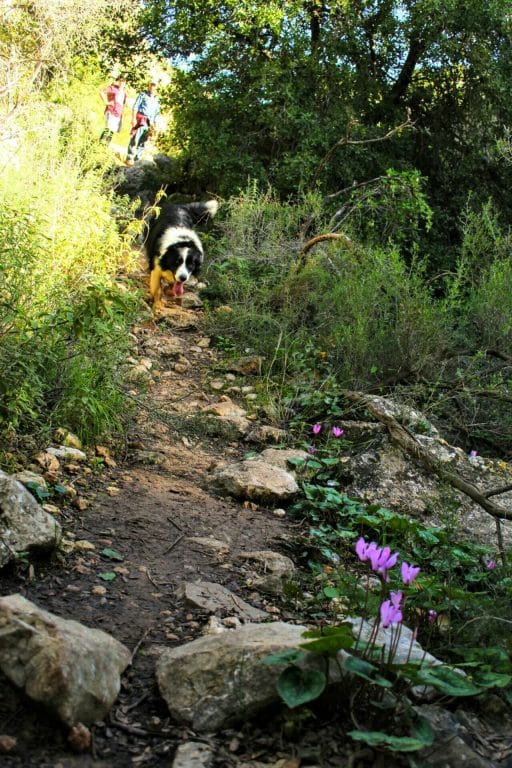 What Goes Down Must Come Up (or something like that)
When we got to the Nahal itself, the scene was a familiar one. Large rocks and boulders lay strewn on and around the path. Cyclamen peeked up from between the cracks. And little trees grew over the riverbed, giving us much needed shade as we climbed.
Thinking back on the direction we took at the beginning of the hike, I was happy with our decision. If we had come down this way, it would have been a lot of struggling downhill over big rocks, then up the hill in the sun.
Going this way, the rocks were just fun to climb over, and we were making the ascent in the shade.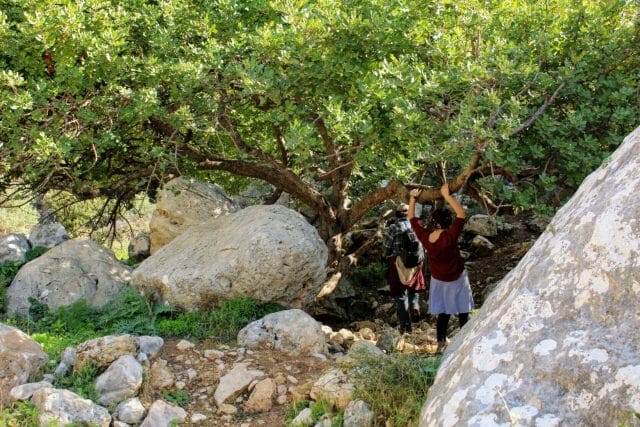 It was also quiet here. The hike itself is very close to the city of Beit Shemesh, so on the way down we heard some traffic noise. But down here in the Nahal, there was not a sound to be heard. It was total isolation.
After a while climbing through this scenery, we emerged from a thicket of tall reeds onto a mountainside path. The trail wound its way past a vineyard and out over another stunning view. We could see the city past the rolling green hills in the distance.
A few more minutes of walking and we were back at the first crossroads – where we had walked out on the red path at the beginning. Here we took the black trail straight back to our car.
New Day, New Discoveries
A random Friday morning in wintertime on a random hike twenty minutes from home – we hadn't expected to come across anything particularly exciting.
But between an untouched pine forest with moss covered wells and a Heidi inspired meadow, we had seen new and beautiful sights that day. Unexpected experiences are lying in wait, ready to greet us along every journey .
Hikers' Notes:
So go ahead and try this 9.5 kilometer hike down through Nahal Dolev. Just don't do it on a hot and sunny day. I'm guessing that it stays this green and beautiful throughout the winter and spring.
Be careful when you get past the village ruins – watch out for holes in the ground! Most of them are entirely off the path. But if you want to go exploring in the forest (and I think you should!), you need to keep your eyes peeled for hidden wells. And if you go with kids (although this hike is kind of long for young children), don't let them run ahead of you at this part of the trail.
This trail alternates between well marked and poorly marked sections. On the first stretch down toward the valley, there are a number of possible turn offs onto other trails. Just stay on the red trail until you get to the end of the meadow. After the meadow, you're on the black trail for the rest of the hike. It's marked at irregular intervals, but there really isn't more than one way to go.
Use the Google Earth file in the table above to stay on track with your smartphone. Go through the image gallery with directional instructions down below (just click to see them.) And follow this marked up map trail map:
Nahal Dolev Trail Map
Original map courtesy of Amud Anan.
New! Read this guide to how to use the navigation offered in this post.
Questions? Do you have any updates to this or any other trail? Help your fellow hikers out by leaving a comment below!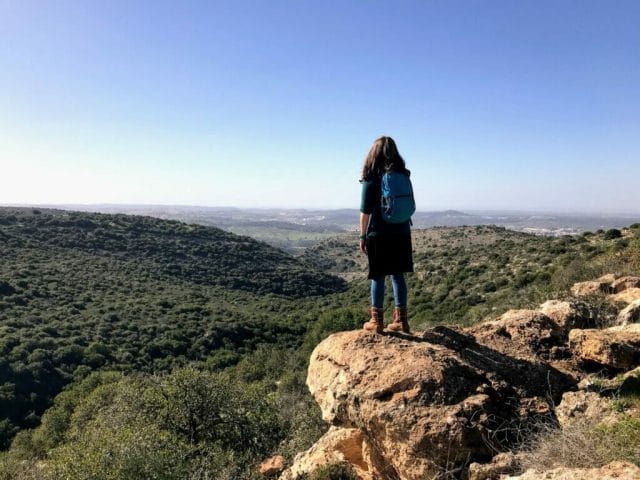 Hiking can be dangerous and is done entirely at your own risk. Information is provided free of charge; it is each hiker's responsibility to check it and navigate using a map and compass.