Sometimes you revisit a place you've been to before and see it in a whole new light.
This past Sunday, we planned a hike which I figured would be fairly straightforward and easy to write about. But I was wrong.
That's because we discovered so many new and interesting things on the trail that I didn't know what to write. I wasn't sure which of the many beautiful pictures to leave out. And I didn't know how to narrow down all of the experiences we had into 1000 words.
We hiked that day at the Sorek Stream Estuary Nature Reserve near Palmahim. This unusually beautiful hike starts in an overgrown green area by the riverside, then winds its way through tall reeds, over sand dunes, and towards one of the least trampled beaches in Israel.
As I said, we had hiked this trail before – a couple of times. With kids and by ourselves. But on Sunday I realized that we'd never really taken it slow and fully experienced what this special place has to offer.
This time around, here's what we discovered:
Dew Kissed Fields and Sand Dunes
The hike starts in a beautiful forested area, filled with tall Eucalyptus trees. We followed the black trail markers painted on the trees towards the real beginning of the hike, right at the tail end of the Sorek river.
I've written about about the Sorek River before. The Sorek Estuary Reserve (also know as the Rubin Stream Reserve) surrounds the area where a cleaned up Sorek river spills into the Mediterranean Sea.
All of that water comes together to create an amazing array of plant and animal life right in one spot.
Sunday was a rainy day. (That's why we were on this particular hike in the first place. We had plans to go down south but became nervous about flash floods.) But for most of our hike, the rain had abated and left behind beauty in its wake – extra saturated green fields of clover, dew kissed reeds, and yellow flowers under a bright blue sky.
We made our way down the path along the river, stopping every so often to try to capture the glory all around.
On the path, we saw a cluster of bare trees behind the reeds in the distance, black birds adorning every naked branch. We saw a little hobbit hole created out of twisted trees and vines. And as we approached the area where forest turns to beach, we saw little purple flowers popping up from the sand.
At the end of the walk along the river, we reached a big area that's perfect for a picnic. There's a big flat surface, tall shade trees, and sand dunes on the side. I remembered back to last time we were here – our kids spent a good half hour running up and rolling down the sand dunes while we ate. This time, our border collie got a kick out of them.
From here, we followed the black path through the reeds and towards the beach. The path here is mostly made up of sand. Since it was cool and wet that day, we had our boots on. They were actually the perfect footgear for this terrain – better than our Keen water shoes and better than sneakers for trudging through the pebbly sand.
A few more minutes and we reached the final uphill- a large sand dune right before the beach. We tramped up the wet sand. And a glorious scene awaited us on the other side.
All Rivers Flow to the Sea
North Palmahim beach is one of the quietest and most pristine beaches in Israel – at least that I've seen. There were almost no footprints on the sand at this time of year, save for bird and wolf tracks (yes, there are wolves on this Nature Reserve – we saw one!).
The reason for this is that you can't get to the beach unless you walk – there's no parking nearby. And there's no lifeguard, so fewer people choose this as their swimming spot.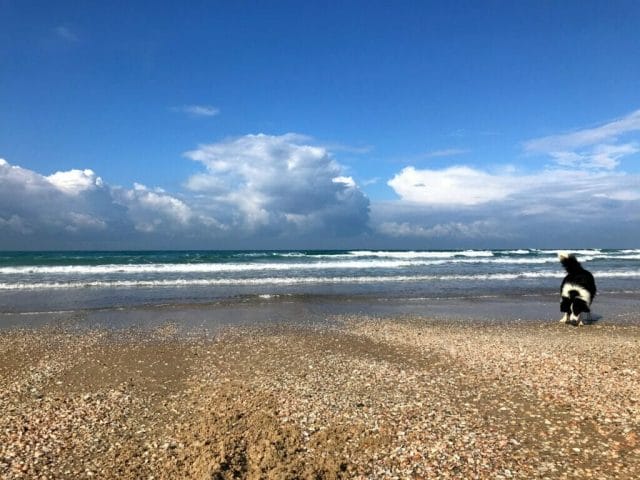 For us, the solitude was awesome. It's rare to have a whole beach full of crashing white waves to yourself. The unreal blue and cloud dotted sky framed aqua water from behind. We sat down in the sand for a break and a chance to look out on the water.
A little while later, we were off to explore. We had left the black trail for a bit to sit on the beach, and we continued off-track towards the mouth of the Sorek river. We wanted to see what it looked like where it spilled into the sea.
The water on the river was smooth and silent in contrast to the wave filled sea just beyond. It was surprising that this long river which runs all through the middle of Israel meets such an unspectacular ending as it pours gently into the sea.
Next, we went off to find the black trail again, and see the rest of the hike. The trail continued towards the end of the beach on the other side, where one lone fly fisherman was set up for the day. We always strike up a conversation with these guys when we get a chance. We talked about his plans for the day (no fish expected – too cold), then continued up and over the rocks on the trail.
Shells, Shacks, and Spear Fishermen
At this point we reached a treasure trove – of seashells!
Ever since my first discovery of a giant conch on Martha's Vineyard, I scan the ground with hopeful anticipation whenever we're at the beach. I usually find something worth picking up when I'm down on the sand collecting. And this time was no exception.
There were beautiful shells in every shape and size. Rusty purple cockleshells thick with barnacles. Smooth blueish grey shells. And jet-black river stones. We collected a bunch in our backpack and were on our way.
From here, the trail leads past Kibbutz Palmahim, where little old houses sit in front of a perfect ocean view. Then back down into the sand and up another craggy rock formation.
The very end of the trail took us all the way to the main area of Palmahim beach. Here, there are beach walkers and fly fisherman in wintertime. In the summer, it's full of people. That Sunday, we even met an underwater spear fisherman, decked out in a full camouflage wetsuit with his waterproof camera headgear. It seemed like everyone at Palmahim had a plan for the day.
Tiny Snails Under a Grand Sky
After this, we went right back the way we came along the black trail, over the rocks and past the beach. We followed it all the way back as a gentle drizzle began to fall. The ever-changing sky cast a new light on the beach path, so the scenery never became monotonous.
We walked down the sand dune and back through the reed path towards the trees. Here, we spotted some large birds perched up above. As I zoomed in to take a picture, my camera scanned over the flowers down below. And I noticed how incredibly pretty the yellow daisies were from up close. I also saw that little snail shells were permanently attached to all of the flowers and tall plants around.
We finished up our walk and headed back through the beautiful dark forest towards our car. We had been walking the trail out and back for eight kilometers – much farther than we usually wander along this path. But there was so much to see along the way that it felt more like a relaxed ramble.
Little things, grand things – they're both out there waiting to be discovered and appreciated. When the din of everyday life subsides and we are left to the quiet tranquility of nature, we notice what we never expected to see. Past the straight up majesty of this beach trail, there's a world of tiny wonder laying like gemstones hidden in cracks.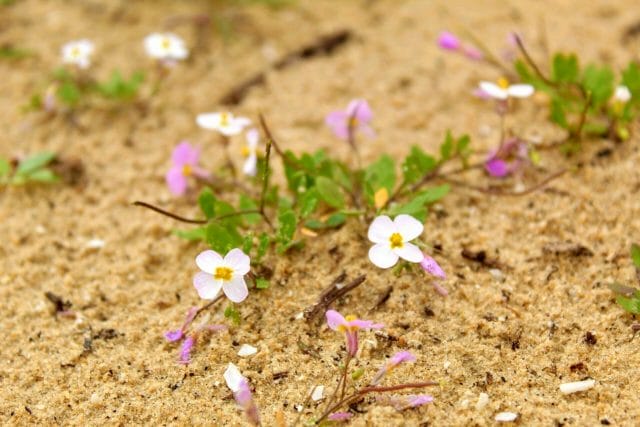 Hikers' Notes
I'm not sure if I've effectively conveyed just what a visit to this National Park can be like, but it's really special. This hike is one to keep tucked away for almost any occasion. It's great in all seasons (although I'll admit the walk to the beach is a bit hot in the summertime – but it makes getting there so much more refreshing!).
It's perfect for kids- there's nature, sand dunes, and a beach filled with incredible shells. And since its pretty much a one way hike (there and back on the same trail), you can make it as long or as short as you like.
This hike is also fairly centrally located – less than an hour from Jerusalem and twenty minutes from Modiin. Close to Rishon Letzion. Combine this hike with a trip to Ikea!
This is a hard trail to get lost on. There is really only one way to go. You'll follow the black trail the whole way through. And if you lose it once you're at the beach, you can basically just head south along the shore- you don't have to stick to the trail.
But just so you can get a feeling for the trail in advance, scan this printable map before you go:
Sorek Estuary Trail Map
I've marked it up for you so you can see which way to go. The trail is one way, so turn around whenever you are ready. It's not more than 2 km just to get to the beach. Map from Amud Anan.
New! Read this guide for how to use the navigation in this post.
Questions? Have you tried this trail? Give me a shout out in the comments below!
Hiking can be dangerous and is done entirely at your own risk. Information is provided free of charge; it is each hiker's responsibility to check it and navigate using a map and compass.