Just north of Herzliya, on the Mediterranean coastline, lies the Hof HaSharon Reserve. This beautiful path through nature combines craggy cliffs overlooking an aquamarine sea and lush greenery, full of flowers in the springtime.
We had been meaning to go hiking at Hof HaSharon (otherwise known as Shefayim) for quite a while. This past Sunday, we unexpectedly found ourselves with some time to hit the trails.
So, off we drove in the direction of Herzliya. We knew that the Hof HaSharon hike wasn't too long, and we knew that it was near the beach. But other than that, we had no idea what to expect.
When we got there, we were blown away by the natural beauty of the area. There was an array of flowers lining the entire path – and an assortment of butterflies flitting between the blossoms. As if that wasn't enough, we got to walk along what must be one of the most impressive views of the Mediterranean sea in Israel.
Here's how we hiked through this perfect piece of nature:
Welcome to the Secret Garden
We walked through a wooden gate and found ourselves at the trailhead. There was a large map with information about the reserve and clear trail markers, pointing us in the right direction.
We followed the red trail into what seemed like a secret garden. There were spring flowers everywhere. And little golden butterflies were floating around looking for their next resting place.
As we walked along the path, we noticed signs near the ground which gave information about the local geology and formation of the rocks on the reserve. We checked out a few of them, then continued on our way towards the Cliff Trail.
Beach Magic
Before long, we were on a sandy outcrop, overlooking a majestic blue view of the Mediterranean. The water lapped gently against the flat gray rocks below. And the sand stuck together in deep tan clusters, forming the perfect soil for tiny flowers that grew along the edge of the cliff.
We walked along a boardwalk which kind of melted into its surroundings. The Cliff Walk had clearly been well thought out and maintained, but the manmade element wasn't obtrusive.
As we walked, the wind blew in our faces and sea birds called out in the background. It felt like a perfect day at the beach – an unexpected treat for an early spring hike on a cold day.
After passing by wooden platforms and neat places to sit, we found a little gap in the foliage overlooking the water. It seemed like a good place to stop for a break. So, we sat down in the sand and spent some time looking out at the sea.
Life in Miniature
At this point, the trail headed away from the water and towards a sandy path completely lined by wildflowers. From our perspective up above, the colorful display was simply beautiful. But, as I got down close to take pictures, I noticed that on every flower, there were little snails stuck to the petals.
I can't imagine that these snails do good things for the flowers (I wouldn't want them in my yard!). But petals don't last long anyway. It was cool to see what type of miniature life was happening from up close.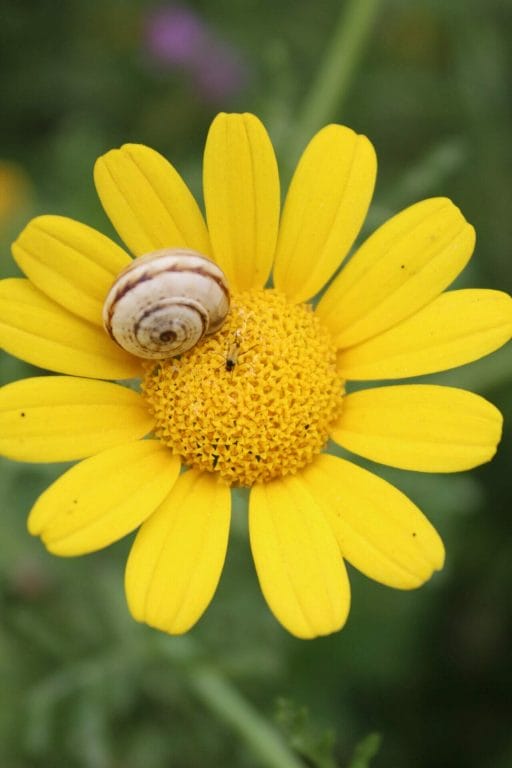 We continued through the sea of yellow, white, red, and purple towards the first crossroads. Here, hikers have the option of turning right on the red trail and heading back towards the trailhead. We decided to turn left onto the black trail for a longer loop through Hof HaSharon Reserve.
Next Stop – Paradise
The black trail led us further away from the ocean. We knew that it was supposed to turn and take us through a Eucalyptus grove and towards the Iris Trail, but soon we had reached a gate exiting the park.
We backtracked a step or two and saw that we had missed the turnoff. There were trail markers painted on stones on the ground, but the trail itself turned right onto a path that was so overgrown that any painted markers weren't visible.
We stomped through the overgrown flowers, sending white winged butterflies up in a frenzy around us. Once we were on the path, it was easy to follow, and soon we were able to see a black trail marker or two hiding in the bushes.
The wildflowers on this part of the path were just incredible. There were lantanas and poppies along with the usual mix of short and tall daisies. And lots of things that I couldn't identify.
We made our way up towards a lookout, the highest point on the trail, then continued towards the trees.
Tall Purple Flowers and Rich Barked Trees
From here, the path wound past a grove of Eucalyptus trees. More flowers grew in patches across from the little forest. We hiked along, stopping to take pictures of a particularly beautiful flower or butterfly on the path.
We also kept our eyes peeled for a special Iris that supposedly grows on the reserve. But we didn't see any. (Or maybe we did, but I just didn't realize??)
Soon, we reached the black trail crossroads, where we made a left. We followed the black trail all the way back towards the Hof HaSharon trailhead.
We finished up the hike and reviewed the morning. It had been unexpectedly beautiful – we were so happy that we had only made it out to this Herzliya area hike in the spring time (probably the prettiest time of year on the reserve).
It's hard to beat the quiet magic of sand cliff beaches and butterflies. The Hof HaSharon Nature Reserve is a great escape from the noise of everyday life into an enchanting hideaway of natural beauty.
Hikers' Notes
Wow. It's really hard to describe how pretty and peaceful this hike was. Please go and see for yourself!
You could take this hike in Hof HaSharon at any season. Springtime is super special. But if you go in the summertime you can also take advantage of being right on the ocean. Pack a swimsuit and jump in.
This trail is totally kid friendly. It's short and easy and there is so much to see and do. I will definitely be bringing my kids here at some point in the near future.
No dogs allowed at the Hof HaSharon Reserve.
I find that these beach hikes are great for days when the weather is threatening rain. On those days, any Nature Reserve that is near water or includes rock climbing is usually closed. Beach hikes are usually pleasant even in a light drizzle, and there is no mud to worry about.
Don't forget to read my guide to the navigational features in this post before you go!
Trail map courtesy of Amud Anan.
Questions? Any tips for other hikers? Please give a shout out below!
Hiking can be dangerous and is done entirely at your own risk. Information is provided free of charge; it is each hiker's responsibility to check it and navigate using a map and compass.