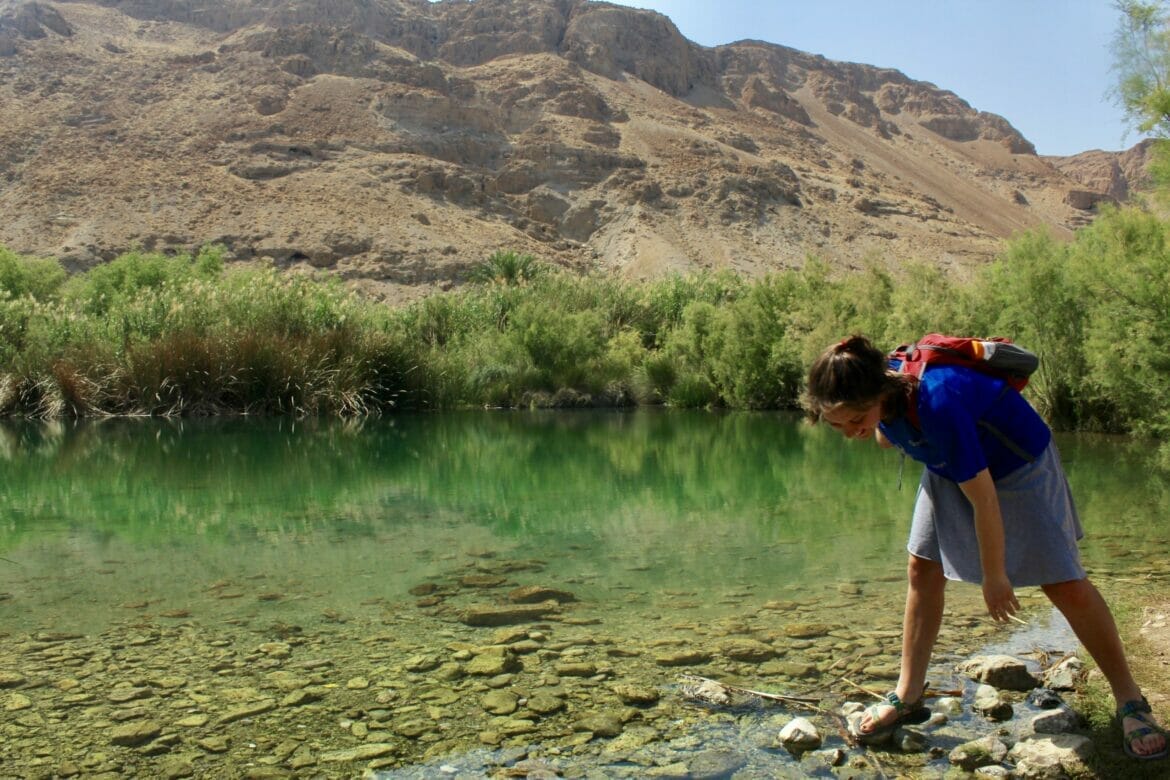 As far as I was concerned, Enot Tsukim Nature Reserve was a place that I never wanted to go back to.
We first visited almost ten years ago, during a holiday week (Sukkot). I expected to find beautiful natural springs and Dead Sea inspired scenery. But the place was jam packed.
The smoke of many barbecues wafted through the air, obscuring any scenic view. And there were so many people in the murky, cement pools that swimming was only for the very brave among us.
Yet for some strange reason, we decided to go back this year. Maybe it was the repeated recommendation of a friend. Or maybe it was that we heard about a hike in a hidden part of the reserve, only accessible with a Parks Guide.
And I'm so glad we returned. Because this time, we uncovered a completely different side of Enot Tsukim. On our trip, we made sure to explore the Nature Reserve in its entirety. In the end, we realized that there's a right way and a wrong way to do Enot Tsukim.
Here's what we learned about hiking through Enot Tsukim, a natural desert oasis near the Dead Sea:
First Impressions Aren't Everything
We definitely did not start our Enot Tsukim journey on the right foot. This time, we went during the week of Passover, when we knew it would be about as crowded as it ever gets. Not only that, but we didn't even get an early start in the morning. So as we pulled into the dust parking lot at almost midday, we struggled to find a decent parking spot.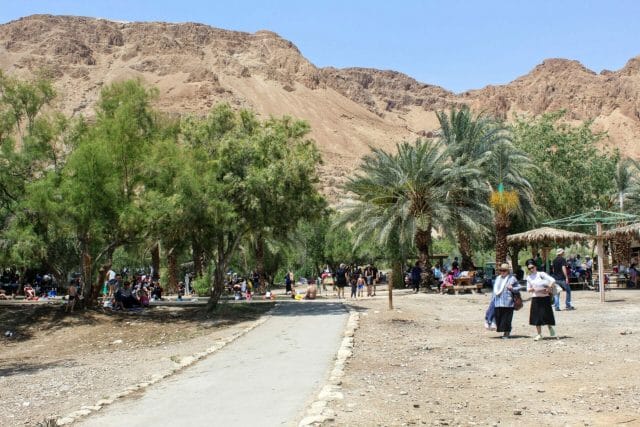 In the end, we parked further away and started our day in the exact same place we had begun last time we visited.
The barbecues were firing away madly, smoke spilling into the air. The first cement pool we encountered was teeming with people. Every picnic bench was occupied. Between the smoke and the noise, there was nothing desert oasis about this place.
But we persevered. We scurried away from that spot and found a quiet path through the trees, where a gentle stream in the shade led the way to the second part of Enot Tsukim – the Spring Pool and the Poplar Pool.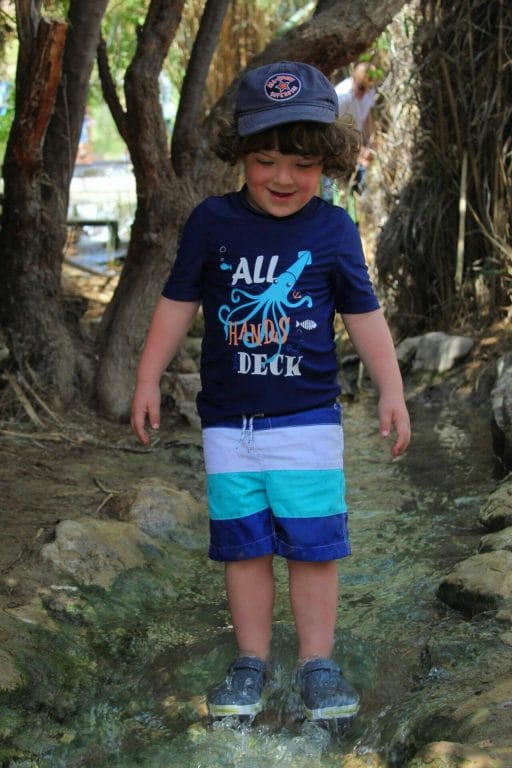 Neither are Second Impressions
At first glance, the lower part of the Nature Reserve was no better. There were still tons of people. But at least the pools on this side were a bit prettier. And it wasn't hard to find a seat on a stone under a palm tree near the pool.
First things first: we registered for the main attraction of Enot Tsukim – a tour through the Hidden Reserve. We had plenty of time to kill before our turn came up, so we settled into the shade near the pool and sent the kids into the water.
While relaxing in the shade, we realized that while not exactly a sparkling spring, at least this pool wasn't very crowded. The kids were able to splash around freely without getting in anyone's way.
They spent a lot of time playing in the water while we took in our surroundings – which were actually quite beautiful if you were able to see past the noise and the crowds.
After a while, everyone was freezing cold and ready for lunch. We decided to take a walk along a path through the tall reeds to warm up. Then we would find a quieter place to sit and eat.
A Spot All to Ourselves
A few minute's walk away, and it was like we were in a completely different National Park. We found a little pond full of frogs and dragonflies (not for swimming) and sat next to it under a tree.
Here, it was totally quiet. We could see the gate to the Hidden Reserve nearby and the Dead Sea in the distance. We had our picnic in peace, without another soul in sight.
Soon, everyone was warm again. It was almost time for our tour of the Hidden Reserve. We walked back through the reeds to the meeting point and cooled down with popsicles while we waited for the tour to begin.
Peace and Quiet in the Hidden Reserve
A large group had assembled, all eager to see what lay beyond the locked gate. Our guide marched us past some very pretty looking natural streams (also less full of people) and into the hidden part of Enot Tsukim.
We gathered in a sandy area between the trees, under a large canopy. The view beyond to the Dead Sea was magnificent. And in this part of the park, it was quiet.
After a brief explanation of everything we would see and do on the trail, our guide led us along the path.
The Hidden Reserve was oasis beautiful. There was no smoke here, no garbage. Tropical plants and streams of water surrounded us. A wooden walkway had been built along most of the path, making it an easy trek for everyone.
Nature is (Self) Healing
First the guide showed us an area where fallen palm tree trunks lay everywhere. And growing out of their roots were full sized trees, providing a complete canopy of shade.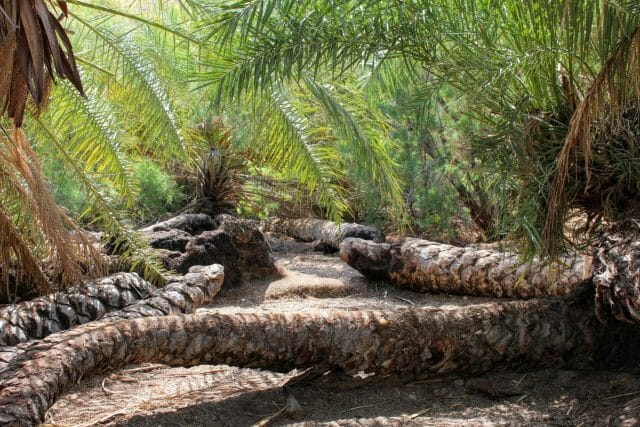 The guide explained that several years back, there had been a fire in the reserve. The Parks Authority didn't know whether to recultivate the area or leave it up to nature. Turns out that nature is self -healing. New trees grew up from the old, burnt trunks.
We then continued along the wooden pathway, stopping to taste salty leaves and take a close up look at perfect spider webs along the way.
The last stop on the trail was a large aquamarine lake, desert mountains looming large in the distance behind it. In the water lay black rocks covered in little white snails.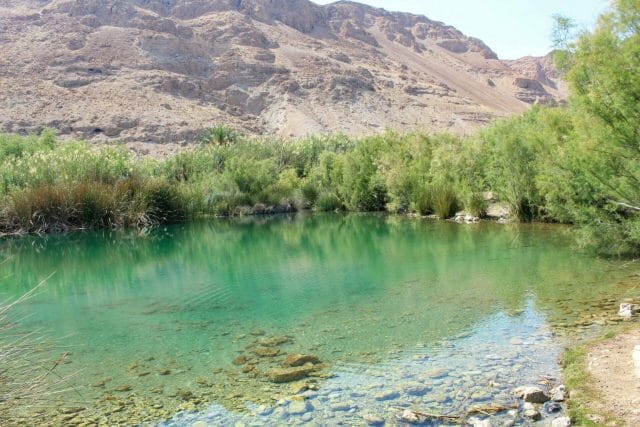 Ten minutes spent at this photo op spot and then we returned the way we came, through the Enot Tsukim Hidden Reserve and towards the canopy tent. Here, we sat in the shade while the guide gave us a full (kid-friendly) explanation of everything we'd seen, and what factors went into creating the unique climate in the region.
Can't Get Enough
We were worn out after a day in the heat, and ready to go home. But were the kids ready? No!
When we passed by that quieter, water filled area on the way back, they had to jump in all over again. We gave them a twenty minute time limit, then put our feet in the water while watching them play in this much prettier area of the park.
If at first you don't succeed try, try again. It's worth it to give a National Park a second chance. Just make sure to figure out the right way to hike and visit in order to really gain from its unique natural beauty. After all, these areas are preserved and protected for a reason.
Next time , we'll visit this stunning oasis on a random Friday morning when no one else is around.
Enot Tsukim is a site that's loved by many. The best way to explore it is to seek out the parts of the park that remain pristine and untouched in their desert spring beauty.
Hikers' Notes:
So, what are my suggestions for hiking this park? First of all, don't go on a day off when you know everyone will be looking for a place to swim and barbecue. Go at a quieter time – on a random Friday in the spring or early summer. Or maybe even visit in the winter time (just don't expect to swim).
Entrance is free to anyone with a National Parks Card. Otherwise there's a fee to get in.
Guided tours to the Hidden Reserve run on Friday and Saturday at 10:00 and noon. An additional tour runs on Saturday at 2:00. Tours every hour on the hour on holidays.
For more details, give them a call at 02-9942355.
Since it's a National Park, there are bathrooms, a shop, and other facilities. And it's one of the only National Parks where barbecues are allowed, if that's your thing. No dogs allowed.
Have you been to Enot Tsukim? Do you have any questions or tips to share? Give me a shout out in the comments below!
Hiking can be dangerous and is done entirely at your own risk. Information is provided free of charge; it is each hiker's responsibility to check it and navigate using a map and compass.