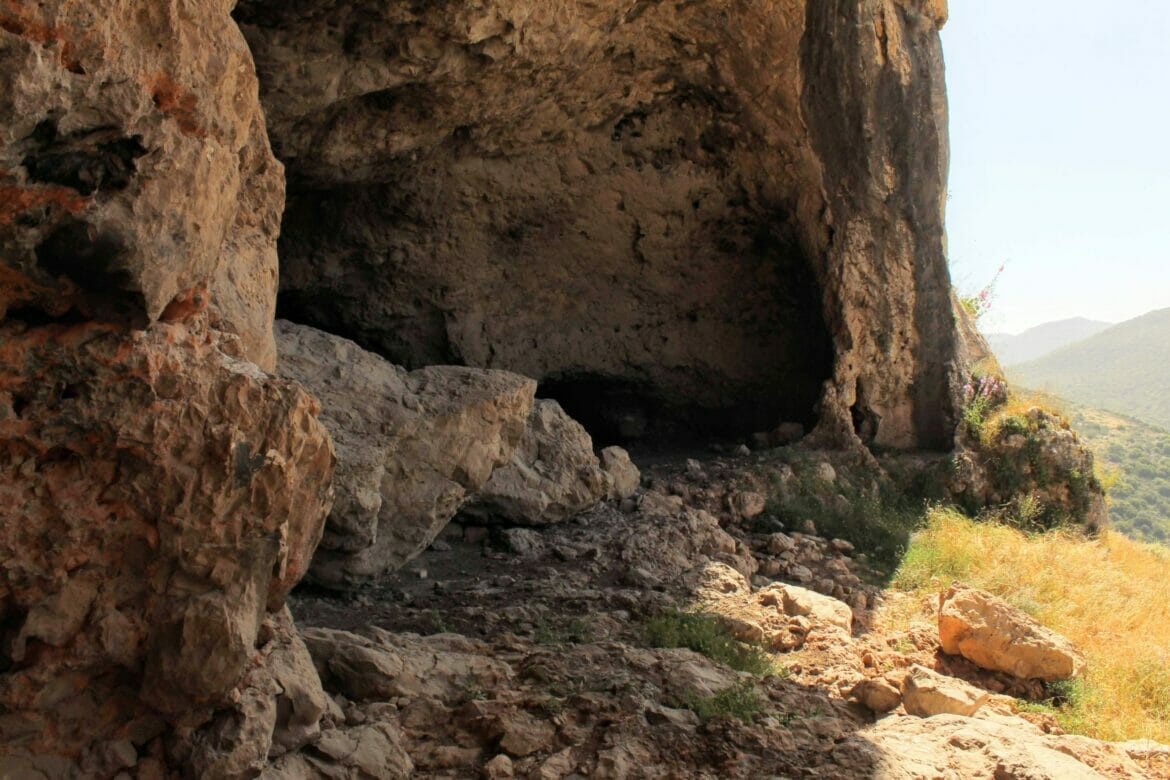 Spring vacation was finally over. And after many, many days of sticking to kid-friendly hikes, we were ready for a challenge.
We had been talking about hiking up to Shimshon's Cave for months. But even though the hike is close by (only a half hour from our home), we hadn't gotten around to it yet. Which was partly due to the fact that trail is closed during the rainy season.
So, this past Sunday, we sent the kids off to school and set out to cross a river and climb up Har Shimshon. The hike was everything we hoped it would be: challenging, beautiful, and peaceful. And Shimshon's Cave itself was an awesome discovery.
Here's what we saw on our hike to Maarat Shimshon:
Trailhead in a Quarry
When we arrived at the parking lot where the trailhead was supposed to be, it took us a bit of time to get ourselves situated. That's because there were construction vehicles everywhere, making noise and sending up clouds of dust.
After wandering a bit, we saw a clearly marked trailhead, sending us along a wildflower lined road next to the Sorek River.
We were thrilled to be outdoors again – by ourselves this time. And it was our first warm weather hike of the season. We basked in the sun and early morning warmth as we walked along the flat path. After only a few minutes, we reached the turnoff to the cross the Sorek River.
What to Do With Nahal Sorek
The crossover point at Nahal Sorek was incredibly cool. The river was bubbling happily along, as usual (it's full of water year-round). And there were giant stepping stones and a sturdy metal railing to get across.
The scenery in that spot was beautiful – just what one would expect to find around an ever flowing river. But we'd been down this road before. Nahal Sorek may look gorgeous, but it's got a deep dark secret. (Read all about it in my post, The Secret of Nahal Sorek).
We still had to stop to take a few pictures – scenery like this is hard to come by around here. Then we began our long ascent to Shimshon's Cave.
Flower of the Month Club
The path up the mountain was not easy walking. Besides a constant ascent, it was also dusty and pebbly. It felt like someone dumped the contents of a gravel driveway onto the path. There was a bit of slipping going on.
But the surroundings as we walked were really spectacular. After a week without any rain, the tall grasses on the mountain were beginning to turn just the slightest shade of golden, like sunshine. And early spring flowers had yielded their place to masses of late spring blossoms.
There were tall white flowers. And little purple thorny things. We walked along the narrow path, brushing up against the petals as we passed.
Please Stop Here
Soon we reached a flat open space completely covered by the shade of an oak tree. After climbing in the sun, we needed a drink. And that spot seemed to be calling to stop and take a break.
So even though we hadn't yet reached our destination, we climbed in under the tree for a moment's rest.
It was serene and peaceful up there under the canopy of a tree. The only sounds were birds and the river flowing down below. And the noise of a train passing by every so often in the distance.
We could have sat in that spot all morning long. But we knew that the real reward lay a little further up the mountain.
So, we got up and ploughed ahead towards Maarat Shimshon. Up we climbed past beautiful views of the valley below, the train tracks, and the trees that filled the riverbed.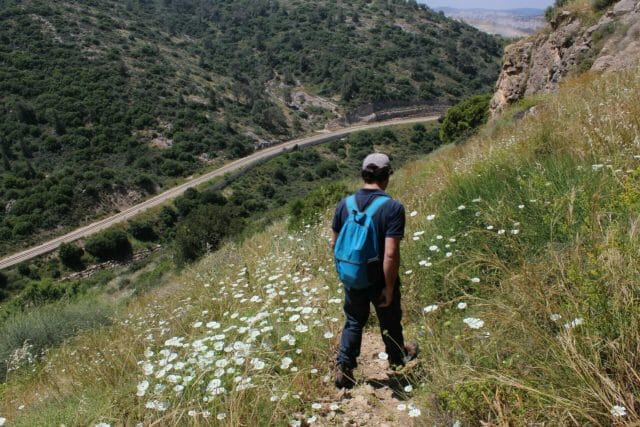 We finally reached a spot where a turnoff marked with a blank trail marker (white, clear, white – indicating a dead end trail) went to the right. And we followed that path over rocks and past the trees to Shimshon's Cave.
Cave of Mysteries
The cave was totally worth the climb. It was a cool and shady shelter from the sunny side of the mountain. Inside were many chambers, stones to sit on, and cathedral ceilings. There were nooks and crannies, birds and bats (sleeping upside-down in the inner chambers), and even a window looking out onto tall hollyhocks growing against the side of the mountain.
First things first – we found a spot to sit at the edge of the cave where we were in the shade, but still perched at the precipice. We weren't that high up, all mountains considered. But after many weeks of tame hiking, it felt like we were on top of the world.
A thermos full of coffee came out of the bag. And we sat there for a really long time, taking in our soul-touching surroundings.
More to Explore
Once the last of the coffee was finished, and we had completely explored the cave, we decided to continue on a little further up the mountain. We weren't planning a long hike that day, so we didn't want to go far – but we wanted climb up just a bit more.
After heading back to the main trail, we continued up along the blue path. The climb after Shimshon's Cave was much more interesting, scaling the side of the mountain by stepping up onto large rocks and grabbing metal hand holds.
Once we reached the flatter part of the mountain (and an even better view than we had from Maarat Shimshon), we were ready to turn around and go back the way we came.
Crossing a river, climbing the side of a mountain, scoping out a cave, and a few moments of peace and quiet – all in a day's exploration. It's thrilling to make new discoveries of natural beauty in one's own backyard.
Hikers' Notes:
If you live in the Jerusalem, Gush Etzion, or especially the Beit Shemesh area, this hike is for you. Caves always end up being more fun than they actually sound like they would be. And this one is no exception.
This hike is strenuous, for people in good physical condition only. Make sure to wear sneakers or hiking boots and bring plenty of water. Wear a hat and sunscreen. And don't try it on a very hot day.
The crossing over the Sorek River is closed from some time in October through some time in March. The river is too rough to cross at that time of year. So this trail is only for spring through fall.
The trail is well marked and easy to follow – first follow the red trail until the river crossover. Then once you're on the blue trail, just keep your eyes open for blue trail markers and follow them. If you wander off the path, go back to the last trail marker you saw rather than continuing up the mountain. The turnoff for the cave is marked white, clear, white. If you get to the hand holds without seeing the turnoff to the cave, go back a bit and you'll see it.
Don't forget to read my guide to following the navigational features in this post before you go.
Trail map courtesy of Amud Anan.
Questions? Have you climbed up to Shimshon's Cave or beyond? Share your tips in the comments below!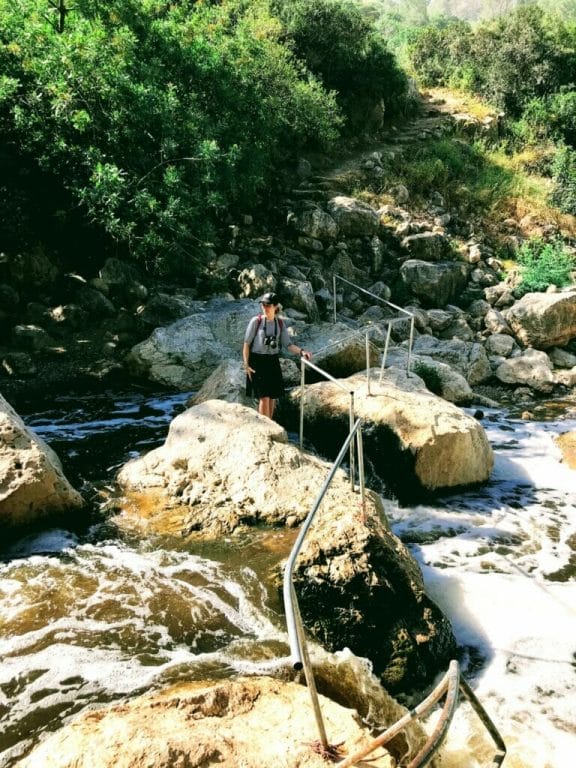 Hiking can be dangerous and is done entirely at your own risk. Information is provided free of charge; it is each hiker's responsibility to check it and navigate using a map and compass.