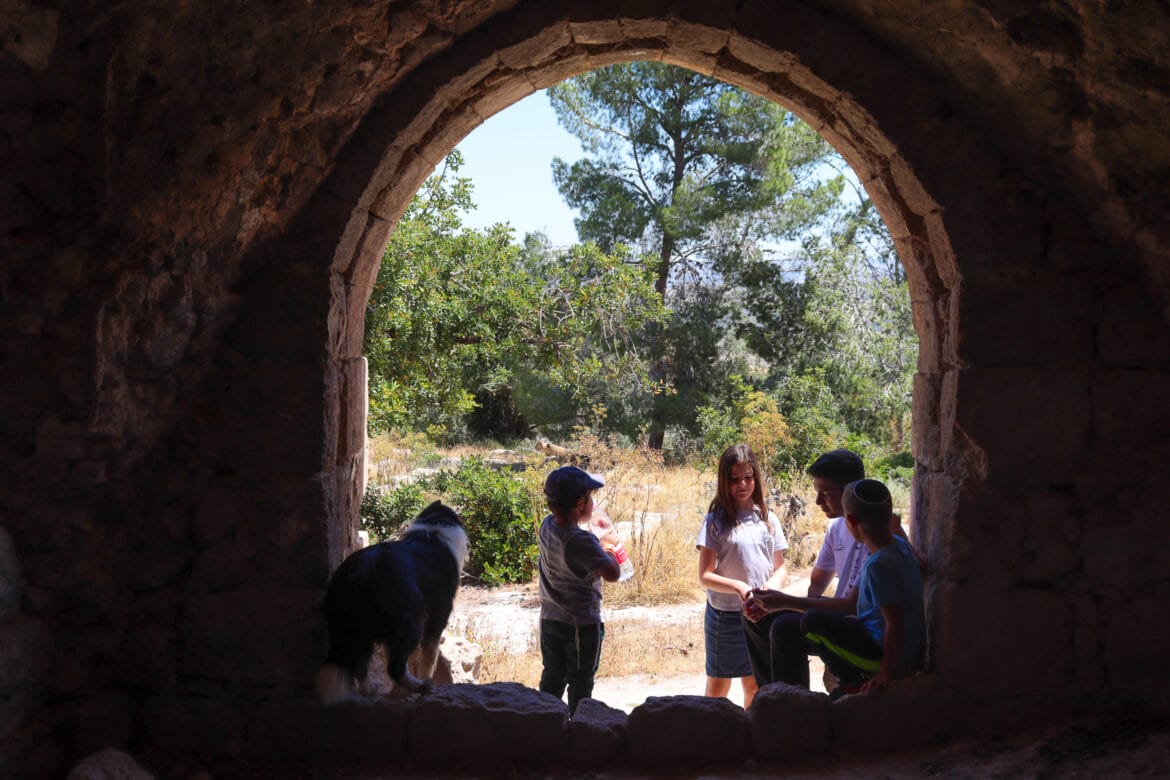 Click here to go straight to hike notes.
It's nice to get to know different parts of the country.
In springtime, many trails around Israel are at their best. Even as late as May, you'll find wildflowers aplenty. Most grasses are still thick and green from the winter rain fall. And if it's been a particularly rainy year, waterfalls and rivers are gushing.
This week, we traveled to the Lachish region to explore Gevaot Gad – a nature reserve that's somewhat off the beaten track. We set off expecting a walk through the rich greenery of springtime, along with wildflowers and antiquities.
There were wildflowers and antiquities, but on that day in early May, the scenery was anything but lush. The thick grass of winter had already given way to the golden straw of summertime around Lachish.
We realized right away that the warm weather and minimal shade would not allow us to go for a long trail hike. So instead, we opted to follow a blue trail up a lightly forested hill towards a sheikh's tomb with our family.
As frequent hikers, our kids have learned to appreciate all kinds of scenery. And although Gevaot Gad is certainly best enjoyed during the winter season, we found a unique beauty in the rustling fields of straw and pale colored wildflowers on the hill.
The dark shade under the sheikh's tomb at the end was a welcome reward for the ascent.
Here's what we saw on our little spring hike at Gevaot Gad:
Surprise, It's Summertime
As we pulled into the nature reserve, an entirely different type of scenery greeted us. Gone were the green forests and fields of the Jerusalem Mountains. Although we were less than an hour from home, the hills of Gad were full of tall golden grain under an open sky.
It was a hot day. And we could see that the weather just wasn't right for a long walk. So rather than take a circular trail through the hills, we chose to climb one hill towards a sheikh's tomb.
We began a slow and easy ascent. The sky was bright blue, and the beautiful music of rustling grain filled our ears. Butterflies flitted from flower to flower. And the trees peppered along the hill gave us a break from the sun as we walked.
The scenery was nothing like the spring splendor that we had expected. But it was beautiful in its own right. And after zig zagging for a little while, we decided to find a shady spot and have breakfast on a bed of straw.
A New Sensory Experience
We are quite used to finding perfect picnic spots in nature. Stones are the best – in the winter, they are often dry. And year round, they are free from thorns and not likely to be dirty or muddy.
Sometimes, we'll find a patch of pine needles in an evergreen forest. And on a beach hike, well…we just come prepared to have a little bit of grit in our food.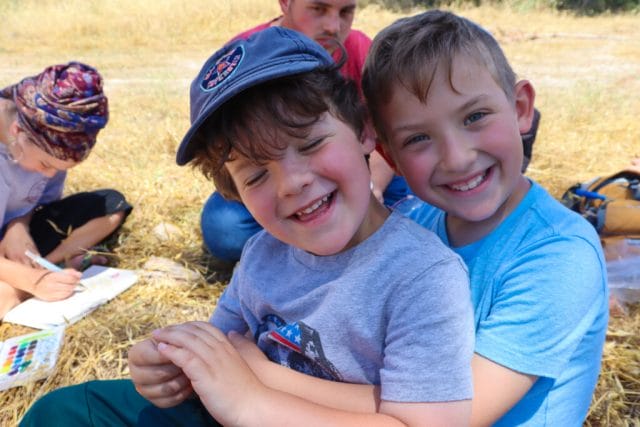 But at Gevaot Gad, we were unfamiliar with the terrain. We started our search for a spot under thick patches of trees. But it seemed that every shady spot was full of overgrown shrubbery.
Finally, we settled into a flattened patch of straw, under the semi shade of very tall trees. We expected it to be scratchy and uncomfortable. But instead, it was fragrant and soft – it felt like the very definition of a summer day.
Out came iced coffee and chocolate milk. And a sketch pad and watercolors. It felt like we could stay in that one spot for hours.
The Main Attraction
But the day was moving along (and so was the sun). And after almost an hour, we found that our patch of shade had turned to sun. So, we packed up our things, and continued the short ascent towards the top of the hill.
Up at the top, the nature reserve seemed a bit more organized. There were a few signs explaining the sights. Beautiful views out to the hills surrounded us on every side. And in the distance, we could see the ancient sheikh's tomb, waiting for us to come explore.
We took our time, examining the plants and rock formations as we walked. And after a few minutes of walking, we arrived at the tomb.
Lots of Recreation, Little Explanation
According to the sign out front, the tomb was first erected in the 7th century. Later on, it was added to – creating the current space with multiple rooms and caverns.
As to whom the tomb belonged to, it was unclear. But that didn't stop my kids from entering the cool darkness of the cavernous space and climbing through the shadows.
We explored the various rooms, admiring the views through the arched windows. And after trying, unsuccessfully, to find more information about the antiquities we were climbing through, we left in search of hidden caves.
We found a deep, empty pit (great for making echoes!), but no caves. So, we continued on our way, taking the green trail back down the hill, past fields of yellow widlflowers, towards a dirt road down below. From there, we made our way back to the car in the midday sun.
Maybe we hadn't seen Gevaot Gad at its best. But although we missed the lush beauty of winter, my kids still had fun experiencing the sights and sounds of the Lachish region in the summertime.
Watching my little boys climbing a sheikh's tomb and chasing grasshoppers with more joy than if they were playing at a playground made me realize: the variety of nature has a lot to offer those who are willing to embrace it.
Hikers' Notes:
Here's what you need to know before taking this short hike:
Best suited to the wintertime and early spring. You can hike it in the spring and fall. I don't think I would hike here in the summertime.
Great for kids.
Suitable for dogs.
Bring a hat and water. There is very little shade.
There is an ascent and descent (with a few steep parts), but for the most part, it is very manageable.
To follow the trail, go up the blue trail (marker pictured in gallery). At the top of the hill, explore the sheikh's tomb. When you are finished, you can return the way you came, OR follow the green trail down the hill and then follow the dirt road back to your car.
Don't forget to read my guide to the navigational features in this post before you hit the trail.
Trail map from Amud Anan.
Questions? Have you hiked this trail? Let's hear about it in the comments below!
Hiking can be dangerous and is done entirely at your own risk. Information is provided free of charge; it is each hiker's responsibility to check it and navigate using a map and compass.