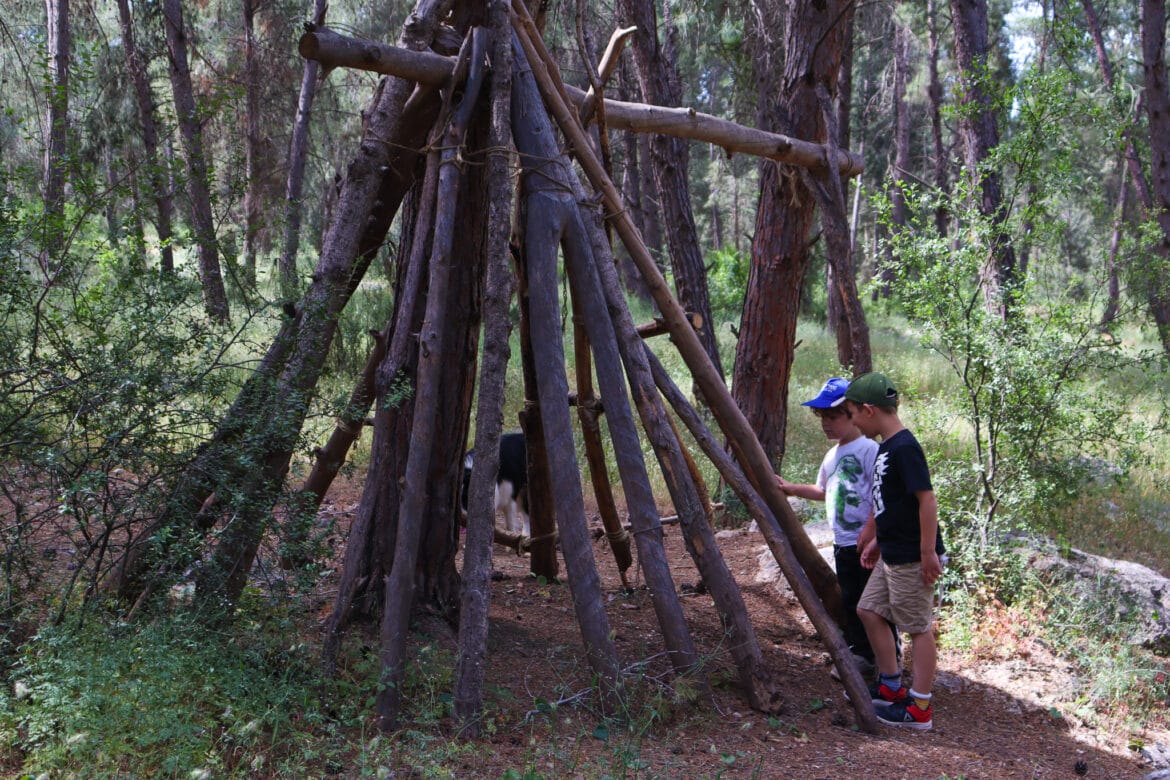 Click here to go straight to hike notes.
Last week's visit to Tel Gezer opened our eyes up to a new world of discovery. Right near the Tel sits an area of quiet beauty, one of the most enchanting natural spaces in Central Israel.
On our drive towards Tel Gezer, we had passed two spots that we just had to come back to. The first, Varda Spring, is a natural pool, one of the clearest and prettiest we had ever seen. HaMeginim Forest, right nearby, looked like a vast wonderland of natural beauty from afar, with thick woods that stretched out for miles.
This forest also had one special feature: an old gutted aircraft sitting right in the middle.
So as soon as we were able, we scheduled a morning to return and explore. Our plan was to start the day with a hike in the forest, then take a dip in the spring. Afterwards, we would head over to the airplane.
The day went even better than expected. HaMeginim Forest was, to our eyes, the most beautiful forest we had visited in Central Israel. We barely penetrated its vast network of trails on our 3 kilometer walk. After the hike, Varda Spring's waters really were completely refreshing… and crystal clear.
Here's how we got our feet wet at HaMeginim Forest and Varda Spring:
Follow Your Heart
As we drove towards our starting point in the forest, we passed by all of the familiar beauty of last week's visit to the Tel. On the outer edge of the woods, tall purple flowers grew. Orchards and fields spread out on the outskirts, neat and green in the morning sun.
The forest itself was deep and enchanting. It seemed to go on forever. After driving for a while, we parked at a memorial in the middle of the woods. We emerged from the car ready to start exploring the beautiful world around us.
After taking a brief look at the memorial to Moshe Sharett, the second prime minister of Israel, we searched for a path to follow. We used a few maps to scope out a marked, 3 kilometer loop trail that began in the parking lot. But a search on the ground didn't reveal any paths with trail markers.
Instead, we decided to follow an unmarked path into the trees, our Border Collie leading the way. (He's great at sniffing out well used trails.)
In the Thick of Things
In a way, I think that little, unmarked paths are even better than the well-trodden ones. Following a narrow path through the trees allows you to really immerse yourself in your surroundings and make all sorts of discoveries.
We brushed by hanging evergreen branches and stopped to pick some of their fruits and examine the insides. We stumbled upon an uprooted tree and found a 3D spiderweb built on its underbelly.
As we progressed along a little trail, we found signs of scouts at work. We discovered a shelter built out of discarded branches. This structure was a cool lesson in survival skills as well as a great place to play.
After a long wander, we were ready to stop and eat. There was no shortage of beautiful places to sit in HaMeginim Forest. Flat stones under shade trees seemed to be the order of the day.
We relaxed under a vast canopy of shade while we drank our iced coffee. The boys, as is their custom, began a game of pine cone fetch with our dog. Our older son gathered pine cones while the younger threw them: it was like some sort of self- replenishing tennis ball machine. Who doesn't love watching team-work at work?
On to the Spring
After a long circular wander, we were back at the car and ready for Phase 2 of our adventure: Varda Spring. We drove through the forest, along a bumpy dirt road, towards an area of immense natural beauty.
Gone were the overhanging trees and smell of pine. They were replaced by tall flowers, wild fennel, reeds, and birds: the type of scenery one finds around a water source in Israel.
We hopped out of the car and approached the spring. It was just how we remembered it: water so clear you could see every rock on the bottom of the pool.
My eight year old was the first to jump in. And soon enough, all the rest of the kids followed suit. The water was cold, but the day was hot. Swimming in Varda Spring was refreshing and fun.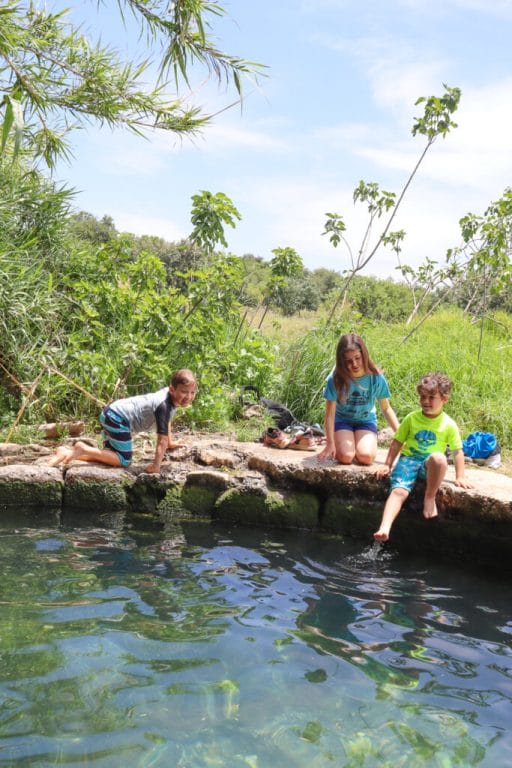 As for me, I found a step and dipped halfway in. After cooling off in the water, I sat on the flat stones around the spring, under a canopy of shade, watching the kids play. We could have spent an entire afternoon swimming and jumping in and out of the water.
But we had one more spot to visit: the old skeleton of an aircraft at the heart of HaMeginim Forest.
Defenders' Forest
Ya'ar HaMeginim translates to Defenders' Forest in English. The woodland is full of memorials: to those that died defending the Land of Israel. The aircraft at the heart of the forest is actually a memorial to lost members of the Israeli Air Force.
We drove through the woods towards the spot where the plane was supposed to be. And at first, we weren't sure it would actually reveal itself. But one last turn, and there it was, a full-sized aircraft sitting in an open space between the trees.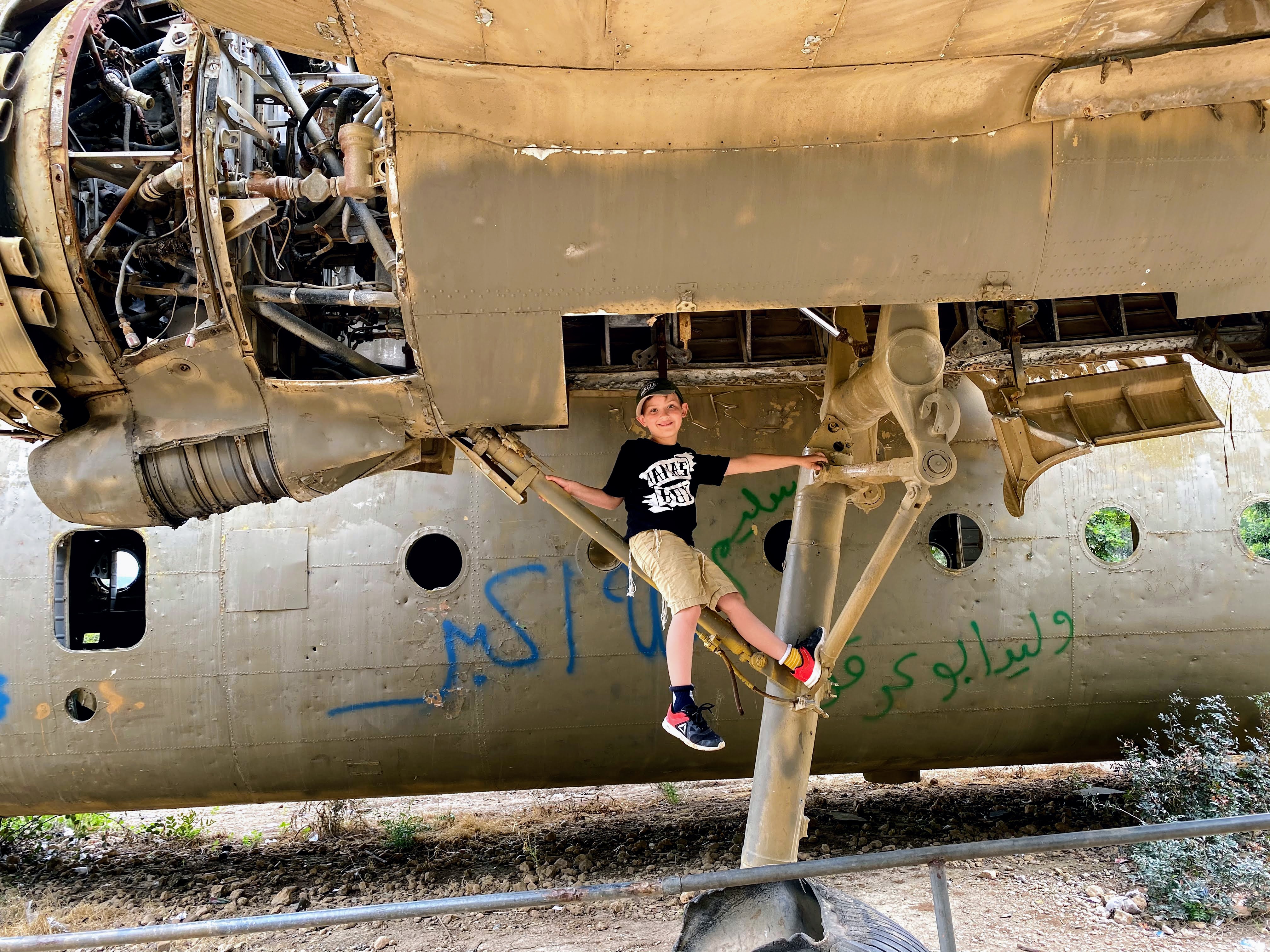 We got out of the car and went over to explore. It wasn't safe to climb inside, but through some careful maneuvering, we were able to take a peek into the cockpit and explore the inner workings of the machinery.
Our kids thought the plane was incredibly cool. It certainly wasn't the type of thing one usually sees on a nature hike.
After a thorough exploration of the aircraft, we got back into the car and headed out of HaMeginim. As we said goodbye to the woods, we got one last surprise: a small deer appeared up ahead, hopping away from the car on the side of the forest path.
Happy and exhilarated, we returned home with the feeling that we'd experienced something truly special that day.
I feel like we barely got a taste of HaMeginim Forest and its natural spring. But the little we experienced is going to keep us coming back for more.
Hikers' Notes
Here's what you need to know to take this hike:
The trail we took through HaMeginim Forest is not marked. You can make up your own trail by following the footpaths in the forest. Or you can take the trail we took by following our path in Google Earth.
To get to Varda Spring and the Airforce Memorial, you'll need to get in your car and drive. Waze links for those points are in the table above.
Great for kids.
Suitable for dogs.
HaMeginim Forest and the Airforce Memorial are good places to visit in all seasons. At the end of the summer and before the winter rains begin, Varda Spring is not a fun place to swim! The water level is very low and the area is full of flies (according to a local). A warm day in spring is your best bet for swimming.
Don't forget to read my guide to the navigational features in this post before you hit the trail!
Trail map from Amud Anan.
Questions? Tips for fellow hikers? Have you discovered a better trail through HaMeginim? Let's hear about it in the comments below!
Hiking can be dangerous and is done entirely at your own risk. Information is provided free of charge; it is each hiker's responsibility to check it and navigate using a map and compass.