Ben Shemen Forest – we had been there before. And I remembered that it was really vast, and pretty, and full of tall trees. But I also remembered that we tried to take a long walk there with kids and ended up getting lost on the trails – and had several exhausted children on our hands.
So I figured it would be a public service if we could come up with an easily executable and well mapped out hike through Ben Shemen Forest. Unfortunately for Ben Shemen newbies, that's easier said than done. The KKL maps are next to useless when it comes to finding good trails for walking.
Ben Shemen is a biker's paradise: there are tons of well-marked bike trails on the map. But the many footpaths through the trees are not visible on the park map.
But we came, we saw, we conquered. Here's how we walked on a five and a half kilometer trek through the woods:
We've Arrived – Fire up the Taboon
We started off at the main Ben Shemen Forest parking lot. It was a Friday. And the place was hopping and popping.
Even though it was early in the morning, there were several stalls lined up, playing music and offering their wares for sale. Two different stalls offered fresh baked laffas, hot off the stone. A little drink stand was setting up tables and putting out beer.
It wasn't exactly the scene we envisioned for a hike through the woods. But we figured we would forge ahead and get at the depths of the Ben Shemen forest, eventually.
We walked down the green trail, which was more of a road than a trail. Only one or two cars passed us by, but there were bicycles galore. And motorbikes as well. The wide path went straight through the center of the park. And we longed to go explore all the little unmarked trails that we saw heading out into the woods.
But at that point, we were still trying to stick to the KKL map trails. No unmarked paths for us.
After the tenth motorbike passed us by, we were done following the rule book. A small trail into a thicket of trees and a dense carpet of cyclamen beckoned. So, we followed it.
Luckily for us, that was the best move ever! That little blue trail ended up being part of a much longer mountain biking trail that took a circular path through the woods. After consulting an alternate map, we realized that if we followed the path, we would eventually end up back where we started. A new plan was formed.
A Bit of Quiet in the Forest
The first thing we did after heading off on the blue trail was find a place to stop for coffee. We needed a bit of a recharge in the peace of the forest after all the morning's racket.
The forest itself was incredibly beautiful. Pine trees climbed towards the sky as far as the eye could see. The forest floor seemed to be a mottled carpet of pine needles and cyclamen. But it wasn't totally silent.
In the distance, we could see solo walkers, leaning down and collecting something from the base of the trees. We wondered what they were gathering. Behind us, an occasional group of bikes zoomed down the path. And we heard a motorbike or two buzz by, out in the woods. But it still felt pretty peaceful, alone on our own patch of rock in the forest.
After some refreshing solitude, we rejoined the blue path, and headed deeper into the woods.
Gatherings
We now accepted this path for what it was – a nice walk through a beautiful park, but not a quiet one (at least on a Friday). We stopped for a chat with some mountain bikers who were looking for the rest of their group. And we saw picnic benches and a little playground in the woods where some people had gathered for a drink.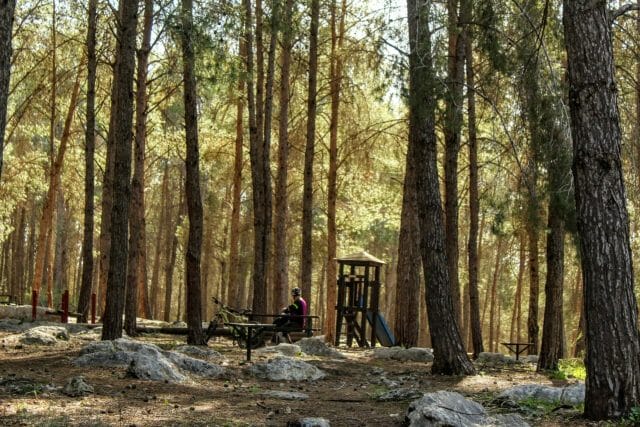 A few more minutes on the path and we were lucky enough to come face to face with an older couple, equipped with a bucket and clippers. This was our chance to find out what everyone was collecting on the forest floor. So, we asked them.
As it turned out, they were gathering edible mushrooms. They had a bucket full of colorful fungi, of every shape and size. They showed us which mushrooms were good for frying up like a Portobello burger, and which were good in sauces and stews. But they gave us good advice, "Only pick the ones you know are safe!"
Since we didn't know, we couldn't pick. But we had fun living vicariously through these wise old nature lovers.
Flowers, Flowers Everywhere
As we progressed on the blue trail, the clusters of flowers became more varied and abundant. I'm guessing we lucked out as far as season goes. But I imagine that there are different elements of beauty at every season here in Ben Shemen Forest. Mid-winter blossoms colored our experience of the forest.
We continued on, following the blue trail through the trees, alternating with sunny patches of grass. We had to keep a close eye out for trail markers – they were there, but it was easy to lose them if you weren't paying attention. Sometimes, an especially beautiful patch of flowers lured us off the path.
But there was a benefit to all of that bike traffic. As long as we could see the bikers, we were on the blue path! Those guys are really good at following directions. Whenever it got too quiet, we knew that we had gone off track.
Full Circle
After a long and beautiful ramble through the Ben Shemen Forest, we found ourselves approaching the area we had started from. We passed by a Pagoda and some sort of Bird Museum. And we noticed the diminutive wild irises we had seen growing on the path at the beginning of our walk.
Back at the parking lot, Thank God It's Friday was still hopping and popping. Several of the bikers we had seen on the trails were relaxing at one of the tables, enjoying a beer post ride. The little old ladies were still throwing dough into the air, as a laffa baked hot on the nearby taboon.
But, we had scoped out the quieter side of beautiful Ben Shemen. This large forest may not be undiscovered, but it is certainly worth exploring.
Hikers' Notes
So, if you're anywhere near Modiin and looking for a really pretty walk through the woods, try this 5 1/2 kilometer trail through Ben Shemen Forest!
If you have the choice, my recommendation would be not to go on a Friday. There are so many bikers on the trails! If you don't need the quiet and don't mind moving aside every so often to let them pass, then Friday's your day.
To follow the trail as we walked it, use the Google Earth file or the marked up map. Really, the instructions are simple. Green trail to blue trail and back to green. That's it. And pay attention to the blue trail markers the whole way through if you don't want to end up on a long, long ramble through the woods (it's not dangerous, but it can be annoying to get lost in this park!).
The blue trail we took is the second blue turn to the left off the green trail. I just noticed that while I was marking up the map. But I didn't notice the first blue turn off while we were walking! I'm sure it's there. Since you'll be paying attention, make sure to take the second left on blue (images in the gallery below).
Don't forget to read my guide to the navigational features in this post.
Original trail map from Amud Anan. (Thank you Amud Anan for helping us find a better path!)
Questions? Have you tried this hike? Give me a shout out below!
Hiking can be dangerous and is done entirely at your own risk. Information is provided free of charge; it is each hiker's responsibility to check it and navigate using a map and compass.