Click here to go straight to hike notes.
Have you ever heard of forest bathing?
I hadn't. But a few weeks ago, one of my readers sent me a really interesting presentation on this topic. I had no idea what forest bathing was, but being a nature lover, I was eager to learn about it.
According to the video, forest bathing translates roughly to spending time in a forest. Scientists around the world have studied the effects of forest bathing on mood and health. They've found that a visit to a woodland once a week can have a statistically significant effect on stress levels and immunity.
Since I watched this video during lockdown, I can tell you that I was really longing for a good forest hike. Sure, we were able to take walks in the beautiful area around our home. But I still found myself craving the shade of tall trees and the rich pine scent of the woods. In short, I needed a good forest bath.
So, this week, when friends told us about a 6 kilometer hike through Yishi Forest, I jumped at the opportunity to try a new woodland walk.
The Zechariah Single Trail in Yishi Forest was originally built for cyclists. This meant that, in all likelihood, it would be a narrow pathway through the trees – the best type of trail for a really good forest bath.
The Zechariah Trail was, in fact, delightfully woodsy and beautiful. It felt like a winding ramble through a large and beautiful woodland – one where you could really immerse yourself in the beauty of nature.
Here's how we hiked this trail through the Yishi Forest:
Off to a Good Start
We drove past Beit Shemesh and found our way into Yishi Forest. As we pulled over to the side of the road to park, we could see nothing but trees in front of us. One large jeep trail led into the woodland. But off to the right, a narrow pathway climbed right through the trees.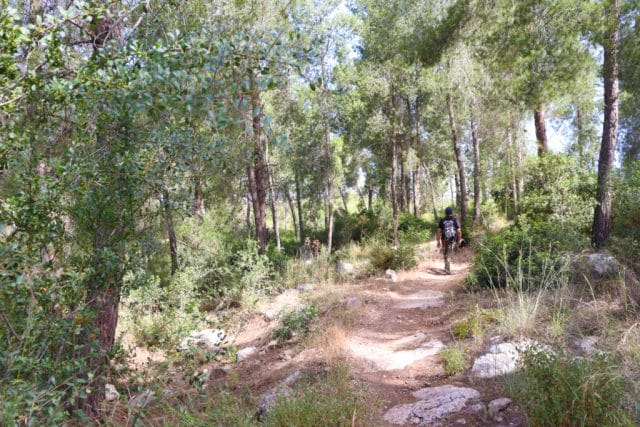 When we approached the pathway, we saw a big KKL sign explaining the Zechariah Single Trail. The trail had been built through joint efforts by KKL and Geerz (an incredible therapeutic mountain biking program for kids). The full trail was about 14 kilometers long, but we were going to be walking the most densely forested part of the trail. We would cut through in the middle to create a 6 kilometer hike.
Just a few minutes along the pathway, and we were already lost in the beauty of the woods. The smell of pine and summer camp wafted through the air. Birds chirped and pine needles crushed under our feet. I was exactly where I wanted to be.
Can't See the Forest for the Trees
It felt good to be back out on our own again, hiking at our own place with no one but our border collie around. Although the Zechariah Single is a bike trail, we only saw one or two bikers the entire time. No other hikers took the path that Friday morning. There was no trash anywhere. It was just us and the wind, blowing through the trees.
After a couple of kilometers of walking, we decided to stop and find a place to have breakfast. There was no shortage of beautiful places to stop – little hideaways of flat rocks on a bed of pine needles, hidden away from the main pathway by thick greenery.
We chose a spot and broke out the iced coffee. Life was sublimely peaceful in that moment. Between the scents and sounds in the air, we felt like we were a million miles from civilization.
As my mood lifted and spirit soared, I could finally understand what all of those forest bathing loving scientists were talking about. There's nothing quite like a picnic in a quiet forest.
Just a Walk in the Woods
After a long breakfast, we continued on our way, following the green trail as it wound through the forest.
I can't say that we saw anything incredible exciting or unique. But walking from one dense thicket of trees to another was its own type of magic.
In the Yishi Forest, we were able to lose ourselves in conversation – and sometimes just lose ourselves in thought. The walk was long enough to fill up the morning, but short enough so that it wasn't a huge time investment.
Brightly colored insects, subdued flowers, and tree bark became our focal points. Sunlight filtered through trees and created pockets of light and shadow. This was all the excitement that this walk in the woods needed.
A New Direction
After passing through some ancient ruins between the trees, we arrived at the breakaway path, which would shorten the hike and keep our walk shady. We followed it back towards the green trail, then hopped back on to continue our forested walk in the direction of the trailhead.
An hour or so later, we were back where we started. But our hearts were in an entirely different place.
It's incredible what a few hours of forest bathing can do for the spirit. Lucky for us, magical woodlands like these are all over the place, just a few minutes away from city life.
Thanks to the efforts of KKL and Geerz, the Yishi Forest is now a place where hikers and cyclists can completely lose themselves in the beauty of Israel.
Hikers' Notes:
Here's what you need to know to hike the Yishi Forest Zechariah Single Trail:
This trail is suitable for all seasons. In the wintertime, after a rainstorm, it can get very muddy.
Suitable for dogs.
Most of the trail is shaded, but there are a few parts that are out in the sun. Bring a hat and wear sunscreen.
To follow the trail – take the green marked trail. The path is well marked. Make sure to follow the green trail markers and you won't get lost. See the image gallery in the table above to visually identify the breakaway trail. This path is not marked green. Follow it straight, not veering to the left or right, until you see the green trail again. Then make a left on the green trail and follow it back to your car.
Alternatively, use the Google Earth map in the table above to follow your location along the trail as we walked it.
Currently, the path is free from thorns and easy to walk. Wear sneakers or hiking boots for this trail.
Special thanks to Elliot Berkovits and Navigating My Dreams for tipping us off to this trail.
Don't forget to read my guide to the navigational features in this post before you hit the trail!
Trail map from Amud Anan.
Questions? Have you hiked this trail in the Yishi Forest? Let's hear about it in the comments!
Hiking can be dangerous and is done entirely at your own risk. Information is provided free of charge; it is each hiker's responsibility to check it and navigate using a map and compass.