It was happening. Tomorrow.
We couldn't wait any longer. It didn't matter anymore that the official wedding date was days away. It didn't matter that the florist had cancelled, along with the hall and the band.
Tomorrow morning, we would make a wedding for my daughter, the earlier the better. Long awaited, and at the same time, last minute.
Phone calls came in and out – planning, worrying. The in-laws called: Maybe we should have the wedding tonight?
We reassured them. The new restrictions weren't set to go into effect until tomorrow morning at the earliest. We could wait until then.
After that, our planned and re-planned wedding party of twenty on a remote hilltop farm would be a dream of the past. No matter that most of our plans had already been scrapped. This last plan was going to happen – tomorrow.
Family from America was long gone. Friends were out. The wedding hall: a tent overlooking the beautiful Judean Mountains – that was out.
What we had left were my daughter and her fiancé: isolated in their own homes, eagerly looking forward to beginning their life together. We had a rabbi to officiate, a beautiful wedding dress. What more did we need?
Flowers, Food, and Friends
We would have to work fast. Pushing all of my feelings aside, I transitioned into power mode, putting in every effort to give my daughter the best wedding day possible.
We found flowers. Because of COVid-19, all of the local flower exporters were kind of stuck – lots of beautiful blossoms with nowhere to go. So, we bought bushels from several different places, and hoped we would be able to put them together into a happy bouquet.
We picked up a giant tallit from a neighbor– now it would serve as an extra-large chuppah, so that everyone could stand underneath, two meters apart. We bought four wooden broomsticks to hold the thing up.
And so, it continued. All day, we got it together: the food, party items, the rest of our wardrobe. My amazing friends pitched in, driving all over the place to find a random assortment of items: a garden bench became the kallah chair. A giant satin sheet became its adornment.
My daughter, throughout it all, remained happy and totally go with the flow. How many brides are content to let a 16 year old neighbor do their hair for their wedding day? Our bride sat in the living room that afternoon, trying out hairstyles in front of the mirror with a teenage neighbor. In a mask.
Last Laughs
Late at night, we put together the finishing touches: candles for the ceremony, tablecloths for the small meal in our yard afterwards. And then the chuppah.
We all laughed about it at the time. My daughter, my husband, and I sat in the living room together, after the other kids had gone to bed. We had a giant tallit and 4 broomsticks, but how were we going to make the thing stay together? This chuppah needed to be completely windproof. Our destination wedding would take place in a wide-open area, a mountain cliffside – it was going to be windy.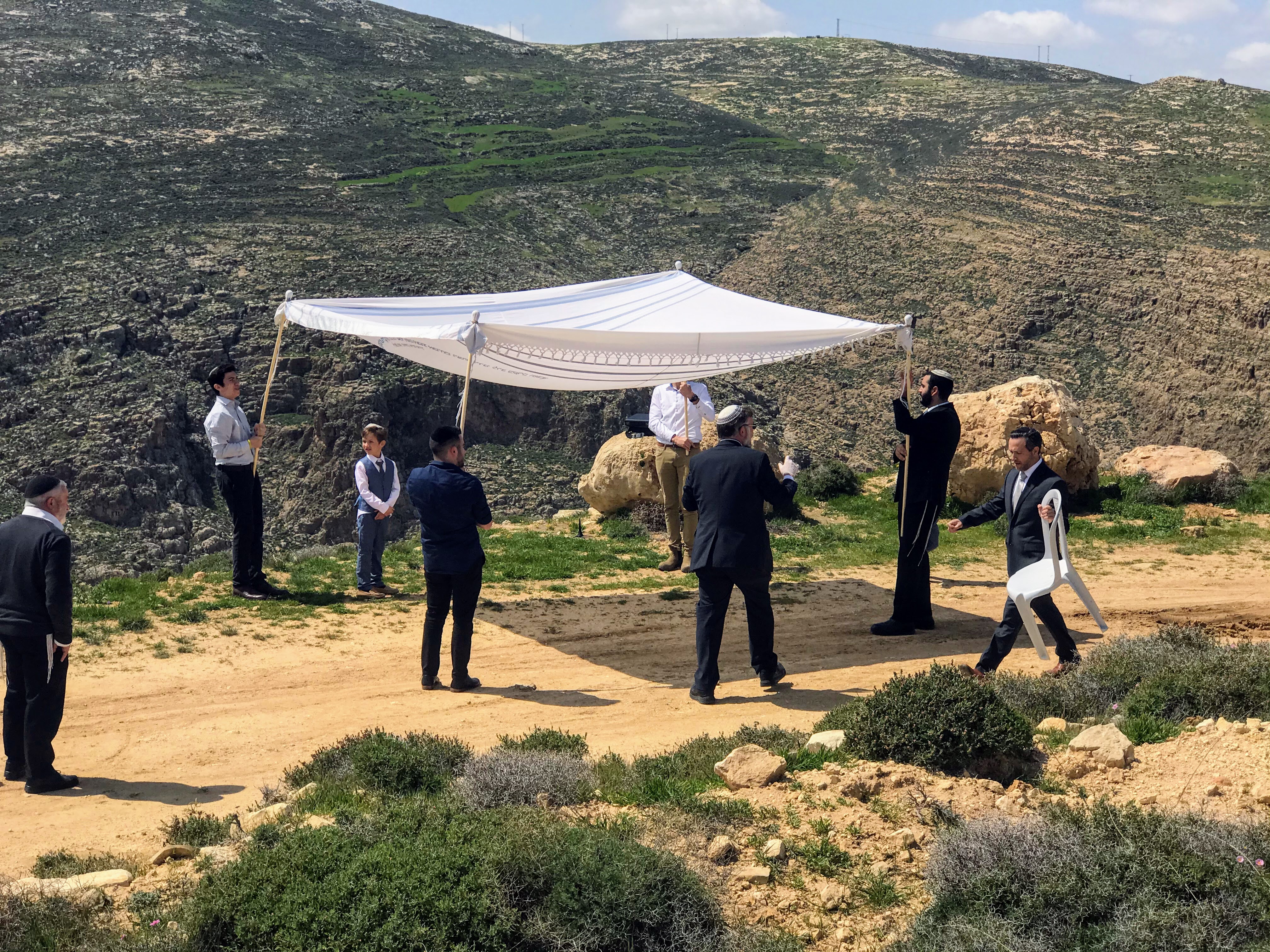 I'm not the creative one when it comes to DIY craft projects. But I was determined. Running through the possibilities in my head, I came up with a solution: my kids' curtain poles had knobs on the end. If we could somehow secure those knobs to the broomsticks with screws, then tie string tightly around the tallit to hold it all together…voila!
Miraculously, the knobs fit. We jimmied the whole thing together in a fit of laughter. This was our chuppah.
In the Morning
The morning of the big day: we ran around in a frenzy of preparations. We were going to make sure the wedding happened early – before any new regulations went into effect.
As mother of the bride, it was my duty to make everything as easy as possible for my daughter – there was no one else to do it. She had no friends to help her through the day. Keeping things smooth was my responsibility.
I was fortunate that I had as much help as I needed from friends and neighbors. Before we left for the farm, I sent out one last text to my friends, letting them know what was left to be done as I hurried upstairs to get dressed. "How much time do you need?" asked my husband. We were already running late.
"Ten minutes," I answered as I rushed off.
A conversation like that has never happened in the history of our marriage.
Ten minutes later we were on our way, crammed into our van with everything we needed for a makeshift wedding. I sat ducked under a second set of chuppah poles in the backseat, giving up my spot in the front to the bride. And then there we were: at my daughter's wedding.
Dreams
My daughter went with the photographer (one of our ten for a minyan). The groom's family was stuck in traffic, weaving their way through blockades set up to prevent unnecessary travel. So, my husband and I scouted out the location.
Green and rocky mountains spread out in waves all around us. The view was one you could never get used to – a deep riverbed down below, hills in the distance, and an open sky.
On the farm itself, little vineyards grew. An ancient olive press sat abandoned in a field. And one small domed "meditation room" stood in the center, built out of stones found all around the property.
This was the spot for my daughter's photo shoot. But the ceremony itself would be far away on another part of the farm, where nothing would separate the chuppah from the open expanse of natural beauty surrounding us.
So we sent the wedding bench down in one car, the chuppah in another. We brought over a table and chairs. And I laid out tablecloths borrowed from one friend, along with elegant little deserts and appetizers crafted by another.
A Simple Melody
When the groom's family and the clarinet player (also a close friend and mentor) arrived, we were ready to get started. In the distance, we saw our neighbor, setting up cameras for video and Zoom. Beyond the cameras, some of our extended family had pulled up and were watching from their cars – like a wedding safari.
We passed out tambourines and the ceremony began, to ancient wedding tunes pouring out of one lone clarinet. The beat of a darbuka (brought by a friend) and tambourines completed the sweet music.
As we made our way to the chuppah, my husband and I holding our firstborn daughter's hands, I thought to myself that nothing could be more perfect. The simple wedding canopy, the striking setting. The rocks and hills and the mountains, dramatic and intense. Simple and messy and beautiful. This was my daughter and everything she stood for.
The unreal glowing smile on her face told me that we had succeeded in everything we set out to do.
The ceremony itself passed in a blur – from the ring, to the blessings, to the glass cup being crushed under my son-in-law's foot. And then we were dancing back to the car, onto the party itself, with only a moment to reflect before the ensuing celebration.
True Friendship
Back at home, I was astounded as I stepped into my backyard. My neighbors, my dear wonderful friends had decorated our garden. Yellow and white streamers hung from the trees. Flowers were artfully arranged – everywhere. And the extra tambourines we had left behind on our way to the ceremony: they were hand painted with watercolors – beautifully lettered and decorated by a talented neighbor.
No time to stop and appreciate the true beauty of friendship, I threw myself into preparations, setting out food and getting together all the party accessories borrowed from friends: the confetti canons, the arches.
My daughter and her new husband danced into our backyard in an explosion of confetti.
In the backyards surrounding our home, friends and family took turns dancing along with us. From the streets, all spaced two meters apart, more friends sang and celebrated.
Our driveway became the dance floor for a while. My daughter and her new husband sat and watched: juggling, belly dancing, someone in a bear costume. My daughter danced and laughed as if she had been at a 300 person wedding.
Afterthoughts
When it was all over, the new couple drove off to their Airbnb in Jerusalem. I felt horrible. I finally crashed.
The wedding had been incredible – my daughter happy. Scrolling through my phone, I could see that the pictures reflected the unbelievable beauty of the location. Everything looked perfect.
But my daughter was gone. She would probably never appreciate everything we had done that day, or everything we had ever done. She would probably never know how much I really missed her, all of my true feelings behind a mask of happiness, in place to reassure her that all was going to be ok.
There would be no sheva brachot, no week of parties. No hugs from friends and family. It was all over now.
My husband and I dragged ourselves up to bed late at night, after putting the house back in order, and we found a letter waiting for us on my pillow:
"To my dear, amazing parents, Imma and Abba,
I honestly don't know where to start. But Imma, you taught me to always be grateful so I guess I'll start from there.
Imma and Abba, thank you for bringing me into this world, for taking care of me before I could even begin to understand who you are.
Thank you for raising me, for teaching me the difference between right and wrong, good and bad.
Thank you for teaching me how to eat, drink, talk walk, sit, stand, write, read, and so much more.
Thank you for putting me into art class and swim class and gymnastics and piano.
Thank you for teaching me how to be a good friend and a respectful person.
Thank you for teaching me what it means to care for someone, to love someone.
Thank you for teaching me what it means to be part of a family.
Thank you for teaching me how to be independent and responsible.
Thank you for teaching me how to love myself and how to be happy.
Thank you for punishing me and rewarding me.
Every part of me is thanks to you.
And I will probably never appreciate it enough, but I will definitely keep trying."
The letter went on. A waterfall of tears poured down my face. Uncontrollable. This day had been entirely bittersweet. Hard. Beautiful. Happy and sad. A lesson in what's really important. A lesson in gratitude. And my daughter, God, and a crazy pandemic had given me the chance to experience all of it.
She ended her letter with this:
"I will miss seeing you every day or at least every week.
I will miss intruding on your walks and on your breakfast.
Thank you for always supporting me no matter what."
I was not unappreciated, not forgotten. This experience had a purpose: to teach an ancient lesson. That perfection is a fleeting thought, a breath of air. It is not attainable: no matter the money, effort, and work you put into achieving it.
True perfection comes from appreciating what you have, from being grateful no matter the circumstance. For my daughter, and for me, a bare bones wedding in a pandemic was a lesson in what matters: true friendship, relationships, family. Our beautiful Land of Israel.
We had all of these treasures at our dream wedding. And nothing could have been more perfect.