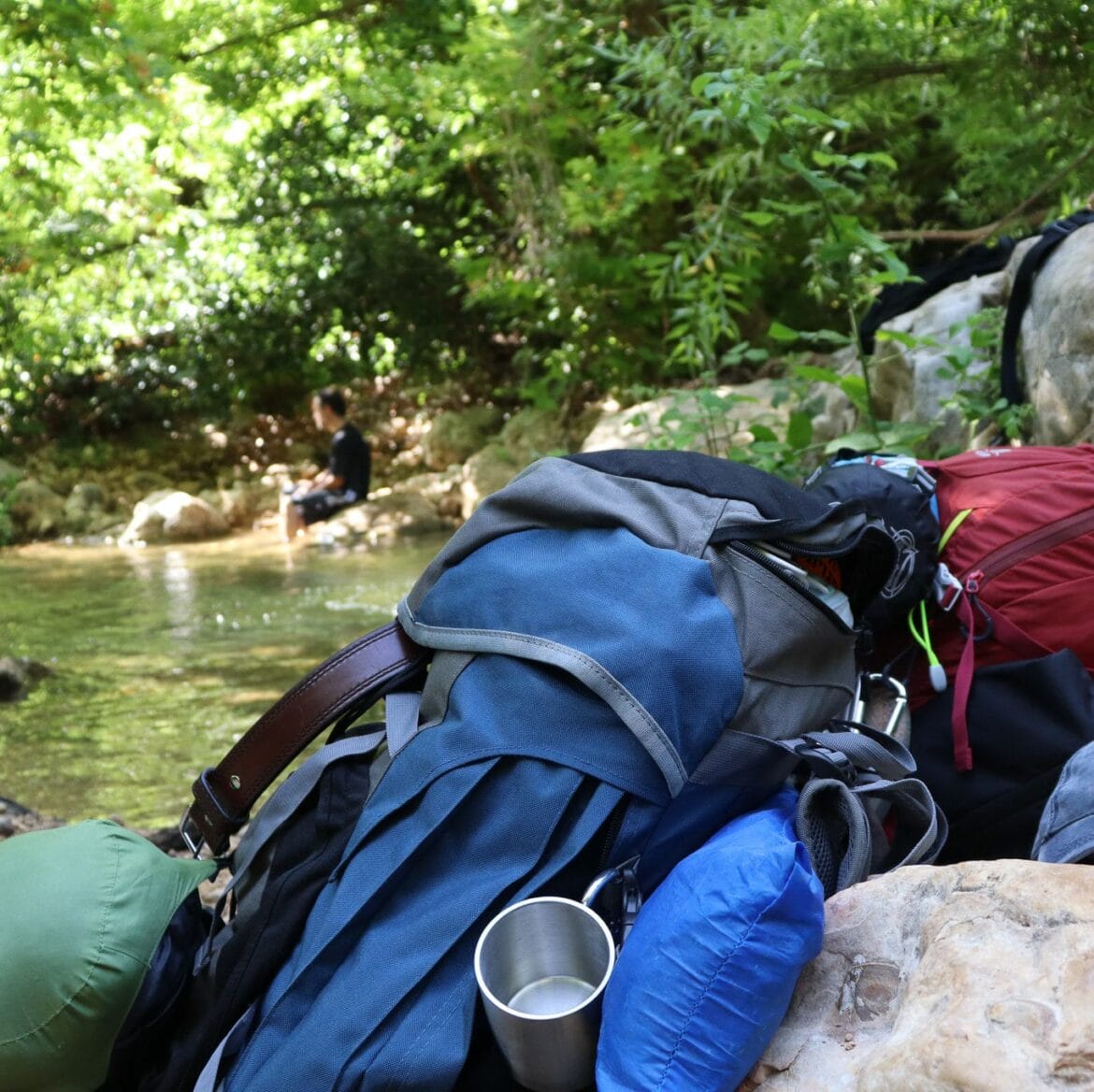 5:30 AM on Tuesday morning: I find myself waking up to lots of birds chirping and a distinctly blue glow. I take a deep breath of cool, fresh air. Opening my eyes, I remember: I'm in a tent on top of a mountain.
And it's time to get going.
Today is the day that we hike the last 25 kilometers of our 75 kilometer journey from Yam El Yam, or Sea to Sea. Today, we walk the full length of Amud Stream – through unknown terrain that we've yet to discover. We must reach the Kinneret by nightfall, which is why I reach over and gently wake my husband who is still fast asleep.
We get up and pack up our things. There's not much to do before we set out for the day. My husband wraps his tefillin around his arms and head, and I say morning prayers under my breath as I boil water for coffee.
While folding up the tent, I notice the moon, low and bright, still prominent in a clear blue sky. It's not a sight that I'm used to seeing, at least not from the side of a mountain.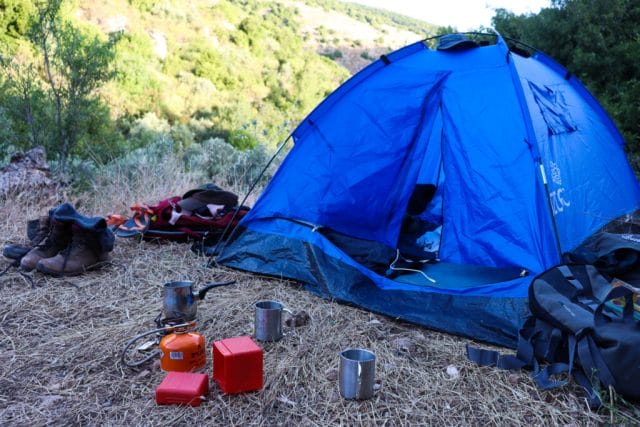 I guess moments like these are one of the reasons we set out on this trek. Part of our motivation was the desire to see our Land as we don't often see it. Early in the morning. Late at night. Unencumbered by the hum of noise that accompanies our normal daily life.
Of course, that wasn't our only motivation. There are so many good reasons to go on a thru-hike in Israel. Hiking for days through Israel's uninterrupted countryside was a path towards new experiences.
This journey inspired feelings that I just don't have during the course of regular life.
Full Immersion in Nature
I'm a nature lover. To me, no activity quite compares to discovering something beautiful in the great outdoors. My favorite breakfast spot? It's under the shade of a desert cliff, next to a bubbling stream, or on a carpet of oak leaves.
I find that I don't need much more than the happiness that nature brings. That's why I go hiking every Friday, without fail. It's why every family trip we take is organized around outdoor experiences. Being outside inspires happy feelings within me that no other activity can provide.
But whenever we're out hiking, there are always bookmarks at the beginning and the end of the day. We may eat breakfast, or even lunch, on our hike. But usually, that's where it ends. There's always a home to return to, always the pressures of daily life weighing in come nightfall.
For a long time, I've dreamed of spending several days hiking, a full immersion in nature that would take that happy feeling to a whole new level.
Yam El Yam was only three days long. But on the other hand, it was Three. Whole. Days.
We had three days with almost no cell phone service, three days of pure, fresh air. Time was judged by the location of the sun in the sky. Birds accompanied us by morning, cicadas and crickets by night.
It was the first time I had experienced such a complete and extended break from civilization – and it was wonderful.
Self-Reliance
Part of what made our Yam El Yam thru hike even more of an accomplishment was that we became backpackers for three days – carrying everything we needed to survive on our shoulders.
Walking 75 kilometers and ascending 2000 meters – that was something special. But doing it all with a 25 pound pack on my back? That gave me a completely new feeling of capability.
Carrying everything on our backs meant that it was up to me to provide delicious, healthy, and creative meals that we could take with us on the trail. There's nothing I find quite as exciting as this type of challenge. Putting together dinner at the end of the day from dehydrated mushrooms, spices, green peppers, sausage and rice was strangely thrilling.
Creature comforts were ours to create. We learned how to make drip coffee using cloth napkins and clothespins. Bath time included the soap in our bag and whatever freshwater springs we ran into along the way.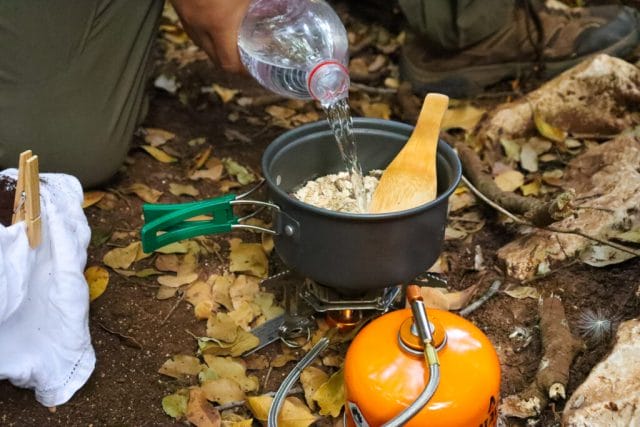 Knowing that I had what it took it to complete a major physical challenge and tend to our needs over three days in the wild – it gave me a sense of self-sufficiency that I'd never had before.
The Beauty in Your Own Backyard
Actually, thru hiking had always been kind of a dream of mine. My husband and I fantasize about one day in the future, when we'll backpack along the Colarodo river, fishing and gathering berries for sustenance. Maybe it's a little unrealistic, but the idea of being completely cut off from the world's expectations for weeks at a time seems kind of incredible.
More immediately, we've made plans to walk part of the West Highland Way in Scotland, a place we've visited with our kids. It's said that the walk can be completed in less than a week.
I'm not sure why I never thought of Yam El Yam as an opportunity for a great thru hike.
Somehow, it was off my radar. Had I known that the trail leads along Nahal Kziv for a full day, it definitely would have caught my fancy. Had I known that Yam El Yam climbs up Mount Meron, and ambles along the entire length of Amud Stream, I would have hiked it long ago.
Yes, Scotland has its green mountains and valleys, its cool weather in August, its lochs, and dozens of other reasons why it's a hiker's paradise. But Israel has its own astounding natural beauty. The variety and richness of the terrain in Israel means that on a three-day trek, you can explore three completely different landscapes.
On Day One of the trek, we spent most of our time walking through water, amidst scenery that looked like an Amazon jungle stream. Day Two took us along a desert-like riverbed, then over mountains that are covered in a twisty canopy of trees. Flowers bloomed. Snakes slithered (are we scared of those?!). It felt like paradise.
The final day of the trek was, perhaps, the most varied. It began in another stream, filled with miniature waterfalls, neon dragonflies, and old ruins crawling with ivy. The trail then proceeded to crazy cliffside terrain above a gushing stream. Finally, we traversed a dry riverbed, blooming with flowers. The canyon walls were a series of awesome rock formations that towered over us.
This kind of beauty is located here in Israel, right in our own backyard. For those who live here, no flights, hotels, or rental cars are required to experience it.
And for those who don't, it's another great reason to visit and spend time in this wonderful country.
Shefah (Abundance)
We needed that early morning wakeup on day three. The terrain was challenging, and we stopped for several breaks along the way.
When we finally pulled into the Kinneret at nightfall, we were exhausted and soaked in sweat. We had experienced great natural beauty over the course of the past three days. But perhaps the most amazing surprise was waiting for us at the end.
The Sea of Galilee looked so different from usual that we almost didn't recognize it. Gone were the rocky beaches and vast expanse of water. Instead, we were greeted by a lake that had been so abundantly filled by winter rains that the beach had completely disappeared.
We ran straight for the water, threw our bags down, and dunked, amongst the palm trees that were now half immersed in the lake.
The sun was setting on our spot by the shore, somewhere near Tiberias. And with it, the sun set on our incredible and meaningful adventure from Yam El Yam, between Israel's two great bodies of water.
Read a detailed description of Days One and Two here and here.
Read about Day Three here.