Click here to go straight to hike notes.
Day 2 of Yam El Yam : the longest and hardest of the 3 day hike. On this day, we were planning on walking 29 kilometers. As opposed to the first and last day, we weren't going to be splashing in any little waterfalls along the way.
Instead, the trail leads up and around magical Mount Meron, the second highest mountain in Israel. Over the course of the day, we were going to ascend one kilometer into the sky. The views were going to be spectacular.
We woke up bright and early that day. After a quick cup of coffee, we packed up our bags, put away our tent, and filled up our water bottles at the camp site in Abirim. By 7:00 AM, we were back on the trail.
The first part of the hike was going to be relatively unshaded. So, we wanted to cover as much of it as possible early in the day. That way we could rest later when the sun was at its strongest.
After a few minutes of navigating, we were all sorted out and headed in the right direction. The early morning sun shone gently through the trees. We were ready for another great adventure.

Here's how we hiked through two riverbeds and two mountains on Day two of Yam El Yam:
Long and Beautiful Nahal Kziv
Although we had spent all of the previous day wandering through Nahal Kziv, we weren't ready to give up on lush beauty so easily. And luckily, we didn't have to. The first part of the day's trail continued through a pretty countryside and through a dark riverbed.
It felt like a country farmland. Early morning sights and sounds of nature were all around us. The sun's ray rested gently on little blossoms. A cow mooed nearby.
After about an hour or so of walking through this beautiful scenery, we decided it was time to stop for breakfast. We found a shady spot in a thicket of trees. The ground was strewn with a carpet of golden oak leaves and flat grey rocks.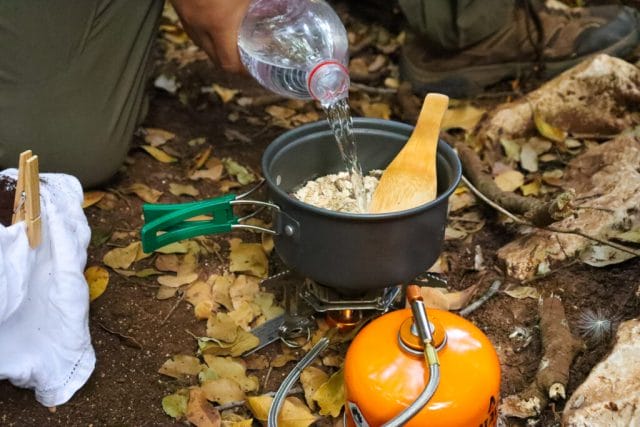 Out came the camping stove. We made cinnamon raisin oatmeal and slow drip coffee. And after we had replenished our energy stores, we continued on our way.
Don't Skip the Gas Station
Many kilometers along on this beautiful riverbed, it was time to stop for a water refill. We had passed through a super beautiful pine scented forest, then some planted fields. We were now approaching a highway overpass.
At this intersection (Tzomet Elkosh), the first water point of the day awaited, along with the promise of whatever we could purchase at a gas station grocery.
It took a lot of searching to figure out exactly how to get up to the highway. But sooner or later, we found our way. We refilled our water bottles, bought some replacement batteries for our headlamps, and took some ice cream to go.
The Meron Nature Reserve
After more walking along the green trail, we reached the Meron Nature Reserve. We were expecting tons of lush greenery, typical of Mount Meron. But for many kilometers we walked along a mostly dry riverbed.
There were pockets of water down in the white rock valley, but nothing that you'd particularly want to swim in at this point in the year. We reapplied our sunscreen and plowed along. The scenery was beautiful – almost like a desert riverbed – but it was hot and we were getting tired.
Although we had wanted to reach the shady mountain before lunch time, we decided to take a break under a cluster of trees instead. We ate lunch in the shadows, then went off in search of a spring which was supposedly right nearby.
It's Wet? I'll Take It!
Since our bodies were soaked in sweat at this point, the promise of a spring sounded really enticing. After much searching, we found the pool of water.
The water was shallow, but very clear. And although the pool was tiny and enclosed in a little structure, I still took the opportunity to hop on into the water and cool down a little bit.
Just Another Nahal
Rested and refreshed, we set out on the trail again – this time (after crossing another road) on the red trail through Nahal Neria, another dry riverbed.
At first, the walk stayed sunny and exposed. But soon, we found ourselves walking through a dark canopy of shade, wildflowers blooming all around us.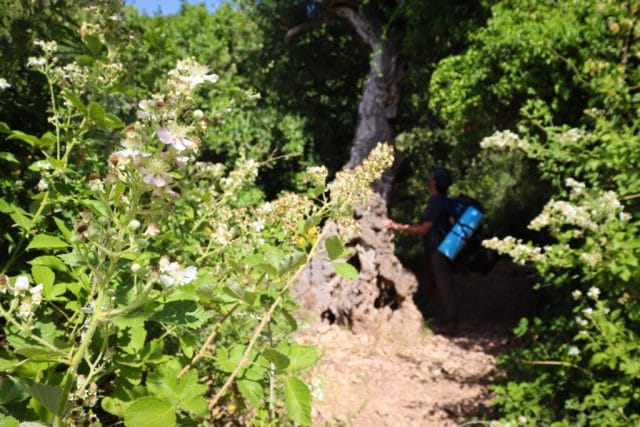 It sort of felt like Little Switzerland near Haifa– dark, twisty, magical. There were beautiful places to stop, tucked away from the trail, inside little hideaways made out of trees.
Had we been hiking the 4 day version of Yam El Yam, we definitely would have wanted to stop and spend the majority of our day right there. It was just so gorgeous.
But it was getting late in the day, and we still had a mountain to climb. We would have to push forward if we wanted to summit Mount Meron before sunset.
Mountaineering
We passed through a campsite where we refilled our water bottles, yet again. Then, we began the climb up Mount Meron.
I'm not gonna lie – it wasn't easy, especially with giant packs and 11 pounds of water on our backs. But we climbed at a steady pace, taking breaks every so often to cool down and rest. And pretty soon, we found that the climbing got a whole lot easier.
Luckily for us, Mount Meron was dark and shady. We didn't to contend with any more harsh sun. This mountain is one of the rainiest spots in all of Israel, so moss, ivy, and other greenery sprout all over the place. Once the ascent finally began to flatten out, we found ourselves deeply admiring the dark beauty of Mount Meron.
Shvil HaPisga
As we neared the top, we found ourselves wandering along the red trail around Mount Meron. We had been on this beautiful trail on a day hike before. Shvil HaPisga takes a circular loop all around the peak, with breaks in between the trees for views to the incredible landscape down below.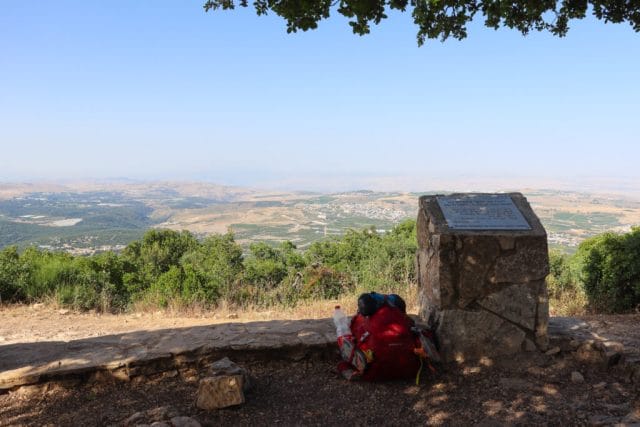 We stopped at one lookout, then another. And soon we saw something very exciting – our first view of the Sea of Galilee, gleaming turquoise in the distance.
It was hard to believe that we had another day and a half of walking before we reached the great lake. For now, we were content to enjoy the blessing of cool shade atop Mount Meron.
Let's Wrap this Thing Up
From Mount Meron, we continued on to the very aptly named Mount Bar Yochai. The Israel Trail took us around the mountain and then towards a Druze farmland.
As the sun began to descend in the sky, we walked past Druze fields and orchards. Soon, we found ourselves on the last leg of the trail, passing a stone pillar known as "Elijah's Chair".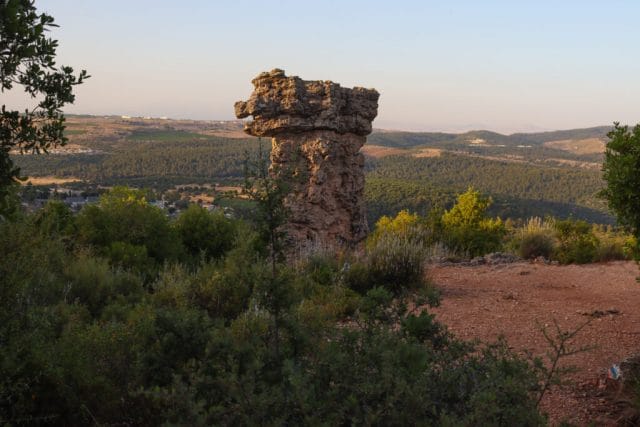 We reached the campground as night was beginning to fall. There, we refilled our bottles, then climbed back up the mountain a bit to find an isolated place to spend the night.
I lit a fire. My husband set up the tent. We made soup while resting our tired legs.
It had been an awesome day – a spectacular day. We had seen a variety of sights and landscapes unique to the Land of Israel. Over 29 kilometers, we had covered a massive amount of ground, bringing us closer to tomorrow's destination: The Sea of Galilee.
But as they say: it's about the journey, not the destination. That day we had taken an amazing journey towards Mount Meron and through some of the most beautiful terrain in Israel.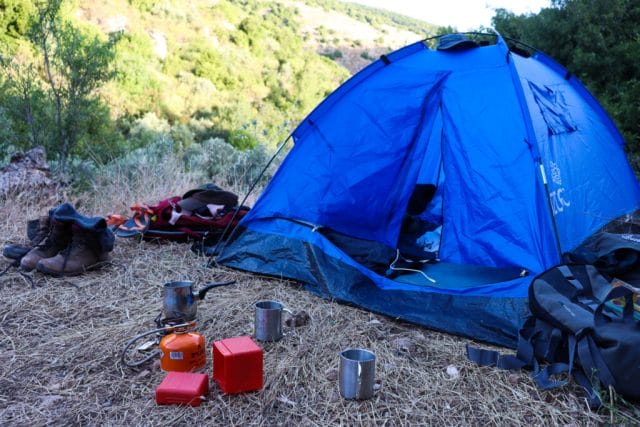 Hikers' Notes:
Here's what you need to know to successfully hike Day 2 of Yam El Yam:
Get an early start. This trail will take you all day.
The best seasons are spring, summer and fall during Daylight Savings Time. You would not want to attempt to cover this ground on a short day in the wintertime.
That said, you will have to contend with a lot of unshaded terrain. Don't hike this trail in intense heat. Make sure to wear sunscreen, a hat, and sunglasses. Start the day with 5 – 6 liters of water, assuming you will stop at every water point.
Remember, you will still have along way to go after ascending Mount Meron – around 6 or 7 kilometers. Make sure to leave time to cover this ground before nightfall.
To hike the trail – leave the highway on to red, then turn onto green. The green trail will take you through most of the trail. After green, turn onto the red trail. After the campground, you will get onto the black trail (Shvil HaPisga) to climb Mount Meron. YOU ARE NOW ON THE ISRAEL TRAIL TOO. Near the top of Mount Meron, turn onto the red trail/ Israel Trail (Also Shvil HaPisga) to encircle Mount Meron. Follow the Israel Trail/ green trail over Har Bar Yochai. Continue to follow the Israel Trail all the way to the campground at Meron.
The two water points for the day are at the gas station at Tzomet Elkosh, and the Campground at Hirbet Hamama. To get to the gas station (on the green trail near the beginning) walk under the NEW BRIDGE, then under the OLD BRIDGE. Right after the old bridge, turn right to climb up and get on top of the old bridge. Cross the old bridge and you'll be on the highway where the gas station is located. The water point at Hirbet Hamama is at the end of the red trail, before you climb Mount Meron.
See the trail map and the trail marker gallery in the table at the top of this post for further instructions.
The trail ends at the campground under Meron.
You can hike this hike as a one day hike – start in Abirim and end in Meron. You will have to climb a set of stairs up to Meron at the end.
I highly recommend downloading Amud Anan to follow this trail. On the app, you will see points of interest (like the spring we found), and you can follow your location along the trail. It's like our Google Earth file, but better!
Need more help planning your Yam El Yam adventure? Check out our Complete Insider's Guide to Yam El Yam right here!
Read about Day One.
Read about Day Three.
Read about the Yam El Yam Experience.
Don't forget to read my guide to the navigational features in these posts before you hit the trail.
Trail map from Amud Anan.
Questions? Have you hiked this trail? Let's hear it in the comments.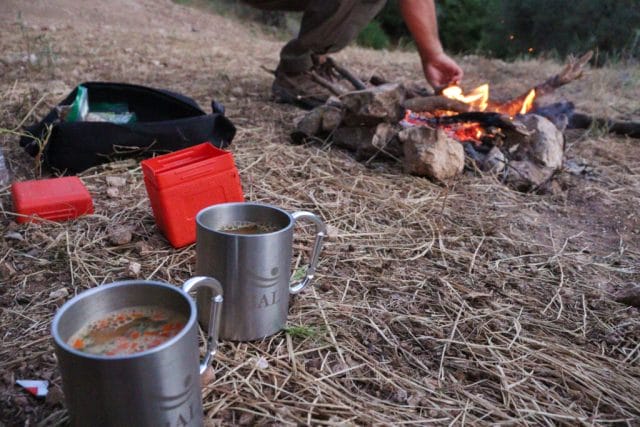 Hiking can be dangerous and is done entirely at your own risk. Information is provided free of charge; it is each hiker's responsibility to check it and navigate using a map and compass.