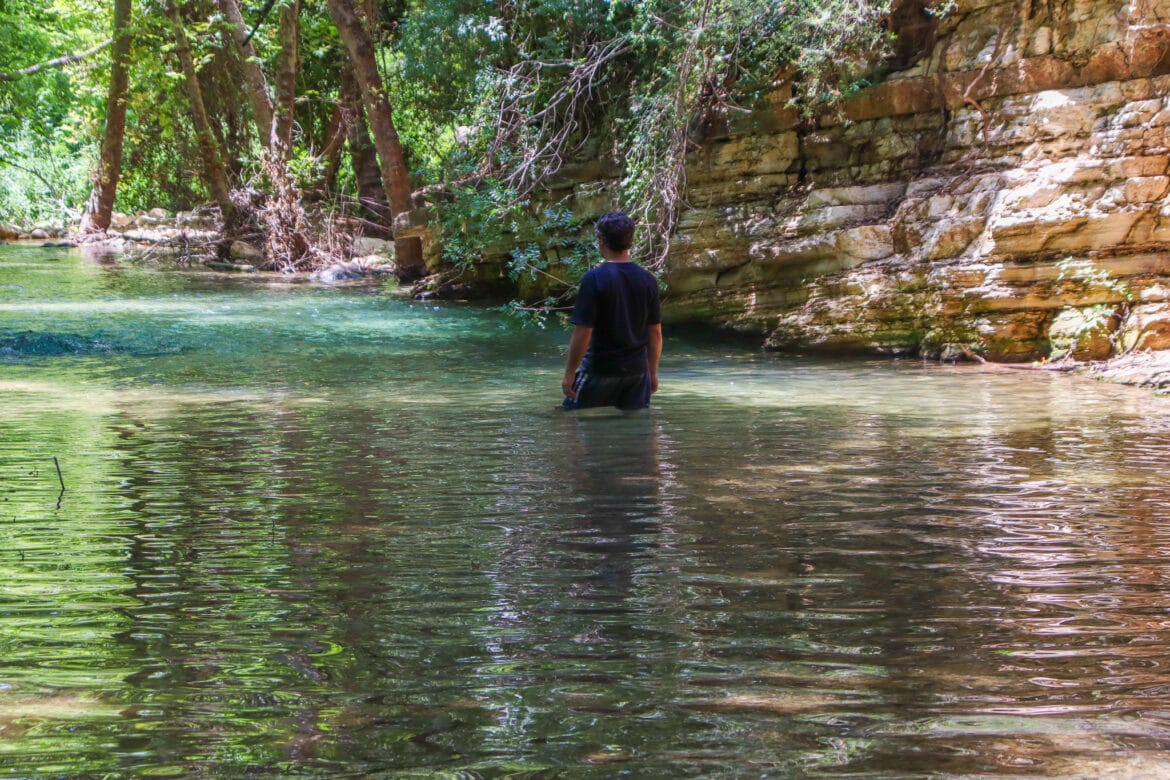 Click here to go straight to hike notes.
After a few days of preparation, a night of packing, and a 3.5 hour bus ride, we arrived at Achziv Beach, the start point for our 3 day trek from the Mediteranean Sea to the Sea of Galilee. We disembarked and crossed the highway to the shore, ready to go.
This trip had been kind of a spontaneous decision. One night a week earlier, I was having trouble falling asleep. That was when the idea of a taking a 3-day trek through Israel lodged itself firmly in my brain.
I had heard some stories about the Yam l'Yam (Sea to Sea) hike – mostly from my sisters in law, who had taken the hike a decade earlier.
One sister's toenail had fallen off.
She told the story about black spots she had seen as they ran out of water, when she thought she might fall off the side of the mountain. And several times they lost their way, relying on the help of fellow trekkers to reroute them onto the correct path.

They said they had fun, but from those stories, Yam l'Yam hadn't sounded very tempting. But when I looked into the details of the journey, I saw that this tough trail leads through three of the most beautiful parts of Israel.
The first leg of the hike runs through Nahal Kziv – a lush river that reminds me of an Amazonian stream. The second part ascends up Mount Meron, a dark and shady mountain covered in a thick tangle of trees. And the last part of the trip traversed the entire length of Nahal Amud. I have always loved the first part of Nahal Amud – and I always wanted to take the one-way version of the hike to see the whole thing.
Now, here we were, ready to start the first day of hiking. We would be starting with an unshaded stretch of around 8 kilometers. Then, we would follow the trail along Nahal Kziv until the first campground. I couldn't wait to begin.
Say Hello and Goodbye
First, we headed towards the beach. We were geared up with heavy packs, carrying everything we needed to be self-sufficient during our three days of hiking. And we had no immediate intention of putting our backpacks down, taking off our hiking boots, or hopping into the water.
Instead, at 10:30 in the morning, we felt like it was time to start walking. So, we said a quick hello and goodbye to the Mediterranean and went looking for the trail head.
Using Amud Anan, we found the obscure starting point for Yam El Yam – there were no trail markers and no indication that a popular trek began from that spot. But we followed the dirt road we knew to be the correct path.
Bananas, Avocadoes, and Highways
We had read that this first part of the trail was going to be a little boring and very exposed. So, we decided to hustle through as fast as we could – which wasn't all that fast since we were getting used to the weight and structure of our packs.
We passed through endless banana groves. Then, we moved onto the avocado trees. Soon, we needed to stop to readjust all of our straps and make things more comfortable.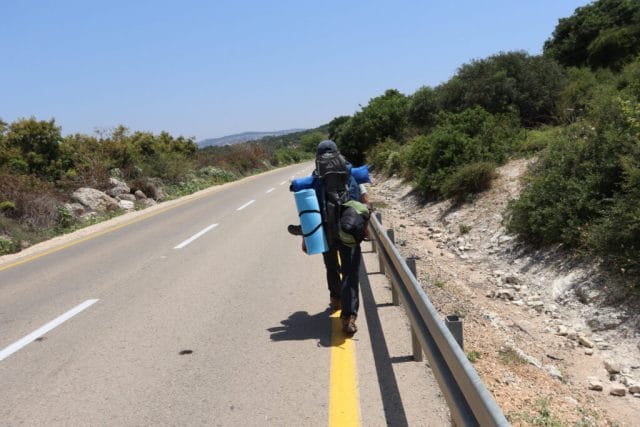 But we plowed on until we reached the end of the farm-y section of our trip. Once we were done with that, it was onto to the highway, for a long walk on a narrow shoulder. Almost nobody honked!
The Journey is the Destination
Eight kilometers later, we arrived at the real beginning of this fabulous hike – the entrance to Nahal Kziv national park. Here, day hikers and visitors were driving in and out, their cars loaded with people and picnic baskets.
We headed along the asphalt road, towards the very first spring of Nahal Kziv. We passed by a few families, gathering around the water for a barbecue. And on we continued.
This is where Nahal Kziv started to get really beautiful. A thick canopy of trees shaded the stream from overhead. We had changed into our water shoes, and followed the green trail, which snaked in and out of the water. Soon, we were hot. It was time to hop into the stream for our first swim of the day.
The water was incredibly cool and refreshing. In some places, it was deep enough to really swim. But for the most part, we just waded in, sometimes taking a break to lie on our backs. After cooling down, we climbed out of the water onto some rocks for lunch.
Like a Stream in the Amazon
After lunch, we continued on our way, no time to waste. Soon, the green trail led us up onto a pathway above the water.
We passed by Montfort on our left – the remains of a beautiful fortress framed by blue sky and a lush green mountain. Detouring up to Montfort is an optional part of the trail. And since we'd seen it already, we decided to skip it this time around.
Soon, the green trail led us back down towards the stream. Birds chirped. Neon blue dragonflies flitted from one trailing vine to the next. We walked through the water, cooling ourselves down in miniature waterfalls.
It felt like we were in a jungle stream, somewhere in South America.
Secret Places
Before long, a crystal pool appeared on our left, totally isolated – deep and inviting. We threw down our packs and waded into the water.
On one side, a miniature waterfall rushed over our bodies in an effervescent splash. On the other side of the pool, we watched as the waterfall spilled over into the stream below.
We swam and floated, and then relaxed on rocks at the far end of the pool. Across the water, we could see our backpacks, colorful and stuffed with our hiking gear. It felt like we were peering in on the life of some thru-hikers, two people with all the time in the world to enjoy magical discoveries in nature.
Reality Check
But in truth, it was getting late in the day. If we wanted to make it to camp by nightfall, we had to continue on our way. After a peaceful break, we hoisted up our packs again and continued on towards Tamir Spring.
It was already 5:30 PM by the time we reached Tamir Spring. Normally, this pool is a popular spot for hikers and school groups, but this late in the afternoon it was completely deserted. At Tamir Springs, smooth white rock surrounds pools of cool water.
We took our time, enjoying the sounds of nature at the pools, then continued up towards the last part our day's journey.
Tough but Fair
The last leg of our journey was a tough ascent along the black trail. As the sun began to go down in the sky, the air cooled down. We thoroughly enjoyed climbing through the beautiful terrain.
Cicadas and crickets chirped. Small flowers bloomed. It felt almost like an evening walk in the country.
As we neared the top, lush green mountains were stacked in the distance, taking on a fuzzy glow in the setting sun. We pushed through to the very top, then found ourselves at the end of the trail.
A short while later, we were settled in the campground at Abirim, sipping red wine. Green peppers, red beans, and sausage sizzled on our miniature stove. It had been an exhausting, but amazing day at Nahal Kziv.
With trails this beautiful, it's no surprise that Yam el Yam turned out to be such a wonderful experience. This first leg of the trip – through the jungle-like stream at Nahal Kziv- was a spectacular beginning to an incredible journey.
Hikers' Notes:
Here's what you need to know to hike this one way trail:
While Nahal Kziv is really well suited to any season, it can be best enjoyed in warmer weather, when you can take advantage of the cool stream.
This is a one way trail.
You can hike this as part of Yam El Yam or as a trail all on its own! If you hike it by itself, I recommend you start at the second Waze point, the entrance to Nahal Kziv.
Dogs are allowed on this trail.
Make sure to bring a hat, water shoes, and sunscreen!
If you want, you can leave out the first 8 kilometers of the trail which run through banana fields, turning this leg into a much shorter hike. Waze points for this alternate starting point are in the table up top.
Make sure to read my full Yam el Yam post for tips, stories, maps, complete directions, packing lists and everything you need to know about Yam el Yam (coming soon!)
To follow this trail, use the trail map in the table up top. Find the start point by using the trail marker gallery. When you've walked all the way to the highway (past the fields of fruit trees), make a left. Then make a quick right onto the next highway when you see a sign for Nahal Kziv. Turn right when you see the entrance to Nahal Kziv and follow the green trail through the hike. When you reach Ein Tamir, you may find it hard to locate where the green trail continues. Walk through the bushes to your left and you should be able to see the green trail. After Ein Tamir, follow the green trail until you see the black trail. Follow the black trail to the left all the way up to Abirim Fort. Part 1 ends at the Abirim campground.
Use our Google Earth file in the table up top to follow your location along our trail.
More Info:
Need more help planning your Yam El Yam adventure? Check out our Complete Insider's Guide to Yam El Yam right here!
Click here to read more about Yam El Yam: Three Days in Israel's Wilderness on Yam El Yam!
Click here to read about Day Two.
Click here to read about Day Three.
Don't forget to read my guide to the navigational features in this post before you hit the trail!
Trail map from Amud Anan.
Questions? Have you hiked this trail? Let's hear about it in the comments!
Hiking can be dangerous and is done entirely at your own risk. Information is provided free of charge; it is each hiker's responsibility to check it and navigate using a map and compass.