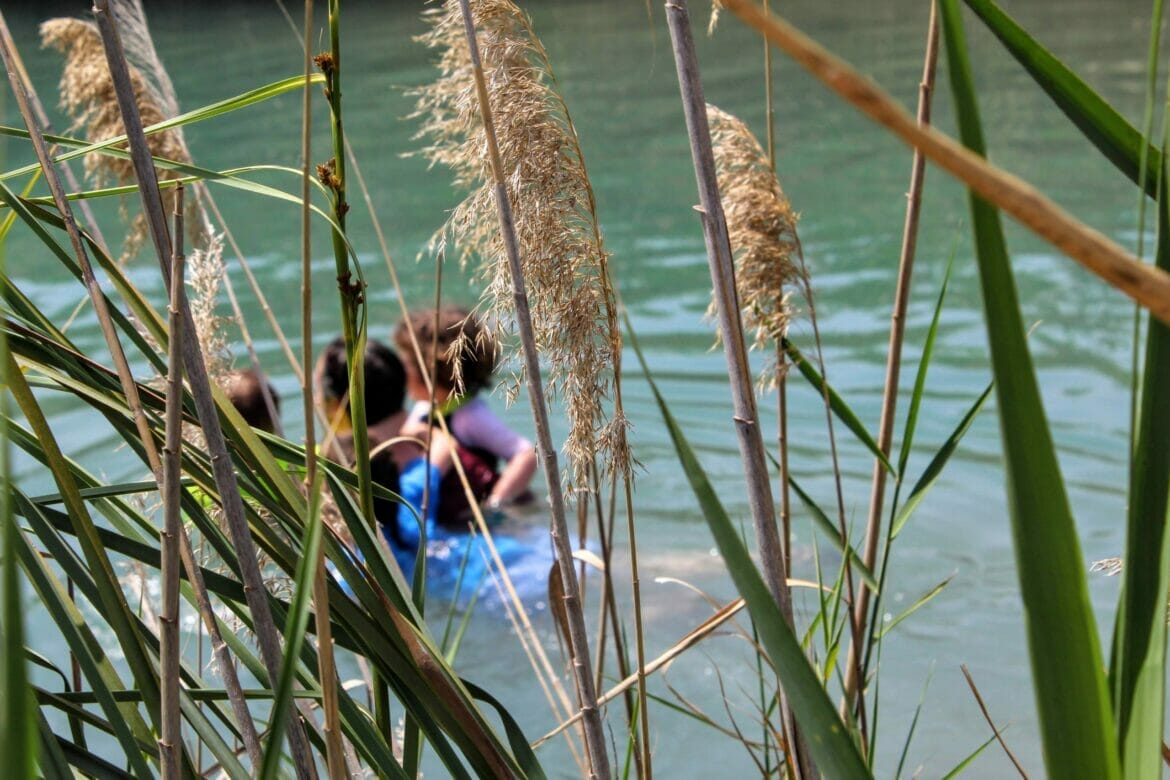 Nahal HaKibbutzim – We've been hearing about this trail for years. But somehow, we never seemed to find the right opportunity to make it over there.
Until this past week when we took our three youngest children for a trip up north.
Located in the Beit Shean area in Emek HaMaayanot, Nahal HaKibbutzim is a water hike. Or maybe it's more water than hike. This trail leads through tall grasses and reeds to a deep river. And the only way to really experience this water trek is by swimming through.
When planning out our trip to Nahal HaKibbutzim, I really didn't know what to expect. I had heard that there were really fun waterslide pipes. And I knew that we had to come prepared in full swim gear. But would my three little kids be able to make it through?
Here's what we learned about Nahal HaKibbitzum:
Welcome to the Jungle
The trail starts in a big parking lot next to pools of water. I half expected there to be some sort of facilities there – it is a super popular destination, after all. But Nahal HaKibbutzim is Israeli style fun – change in your car or find a spot in the bushes. Then jump on in along with everyone else.

In keeping with our lifelong tradition of trying to find the quieter side of every favorite attraction, we passed up the pools at the start of the hike and started walking.
We figured we'd walk along the dry trail all the way to the very end of the river trek. Then we'd hop in the water for a quieter swim through the tall reeds.
It was a hot day (and at Nahal HaKibbitzum, it's always even hotter), but luckily, the walk wasn't too long. There were several places along the way where little bridges looked out over the water and steps descended into the murky depths.
But my kids were happy to pass those up in favor of starting at the very furthest point on the trail (which wasn't really that far – the whole length is less than a kilometer).
Messy Fun
We reached the bridge and stone steps that climbed down into the river. There was one other family at this side of the track, and we could see from their antics in the water that the river was deep – for swimmers only.
Luckily for us, two of the three kids we had along were solid swimmers. So, my husband took my three-year old on his back and away they swam. Within minutes, everyone's faces were coated with layers of dirt. But that doesn't mean that they weren't having lots of fun.
I walked along the side of the river to keep our stuff dry. Which was a little sad for me, but someone had to volunteer!
Chill Time
I crossed the bridge and walked along the other side of the dry path, hoping to catch my little swimmers at a break in the reeds. Pretty soon, I found the first break in the grass wall. There were a few trees and a carpet of dry reeds on the ground – which made it the perfect place to stop.
I could hear the kids approaching through the water. So, I called them over to our little reed beach, and we used that spot as our own private swimming pool for a little while.
A few other people came and went, but it stayed pretty quiet in that area of the trail (even though it was a vacation day and there were lots of people in the park).
The kids jumped in and out of the water and splashed around. Then they dried off in the sun. Then cooled down in the shade of the tree. I had kept our stuff all nice and dry, so we were able to eat lunch right there in the shade.
Back Down the River
After an hour of swimming and eating, we were ready to continue along the trail. My husband took our three-year old on his back, and they swam away.
I stayed on the dry trail, calling out to them at various points along the way.
Soon we reached the first real novelty on the path – a set of pipes under a bridge which functioned as water slides.
I had heard about these pipes from a few people. But you really have to see it to believe it.
Ghetto Fun
Basically, there are two very large drain pipes built into a concrete bridge. The pipes aren't very long, but they are somehow situated in a way that they create a fun, movin' and a groovin', waterslide for anyone who pops on in. The river's current takes swimmers in on one side of the pipe, and happy faces emerge on the other side.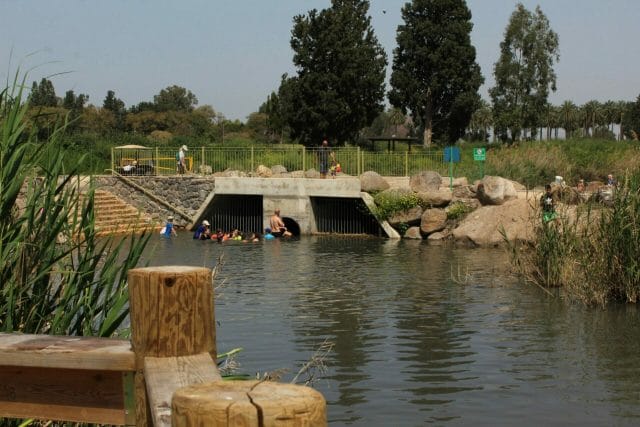 My kids went through these pipes about a thousand times. Each ride is about a second long. Afterwards, they swam to the steps on the other side and climbed up and back down to wait in line for their next turn.
This little waterslide was probably the most adrenaline inducing fun that they had on our whole three day trip up north.
And the best part? After another short swim down the river, we got to a second set of pipes. This one is apparently even more of a wild ride than the first.
My kids (and husband) were happy to ride these pipes again and again, along with all of the other people at Nahal Hakibbutzim. I found a shady spot right by the bridge to watch and take pictures.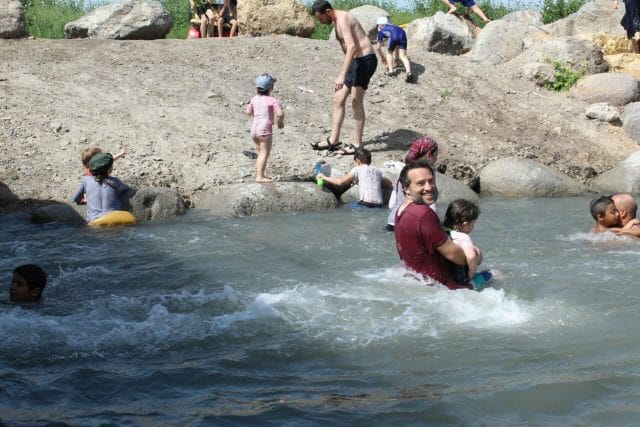 Water – Hike?
After many hours of dirty, wet fun, we were ready to call it a day. We had finally swum the trail at Nahal Hakibbutzim, and we could join the massive club of Israelis who understand what this awesome place is all about.
It is a natural river. It is a naturally beautiful area. And it is a unique outdoor experience.
Wet fun for everyone? As long as you don't mind getting a little dirty, Nahal HaKibbutzim is the place to be.
Hikers' Notes:
So this isn't exactly a hike. But it is really, really fun! Don't go expecting tons of natural beauty, or any quiet at all. Just go for good, messy fun in an outdoor watering hole.
If you want to be able to swim through this trail, just go in your water clothes and leave everything in the car. The trail is really short, so you can always go back to the car to get lunch or anything else you need.
Surprisingly, this trail is stroller friendly! You can walk it like I did and stick to the sides of the river with the stroller, then pull the stroller closer to the water to watch everyone or dip your feet.
Actually, this is part of the larger Emek HaMaayanot, so lots of people are there with golf carts and bikes (which you can rent and drive between different water attractions).
We even noticed some people riding down the river with tubes and floaties.
It's hot in this area of the country, which makes it perfect for swimming. Check the weather before you go (Beit Shean) as it will likely be different than other parts of Israel.
In the table up above, the Google Earth map follows the dry trail.
I didn't include other maps or instructions because it's pretty straightforward. Just make a left from the parking lot and follow the river all the way down, to where there's a sign indicating "End of the Wet Trail." That's where we hopped in the river and started the wet trail.
Questions? Any tips for other readers? Leave them in the comments below!
Hiking can be dangerous and is done entirely at your own risk. Information is provided free of charge; it is each hiker's responsibility to check it and navigate using a map and compass.