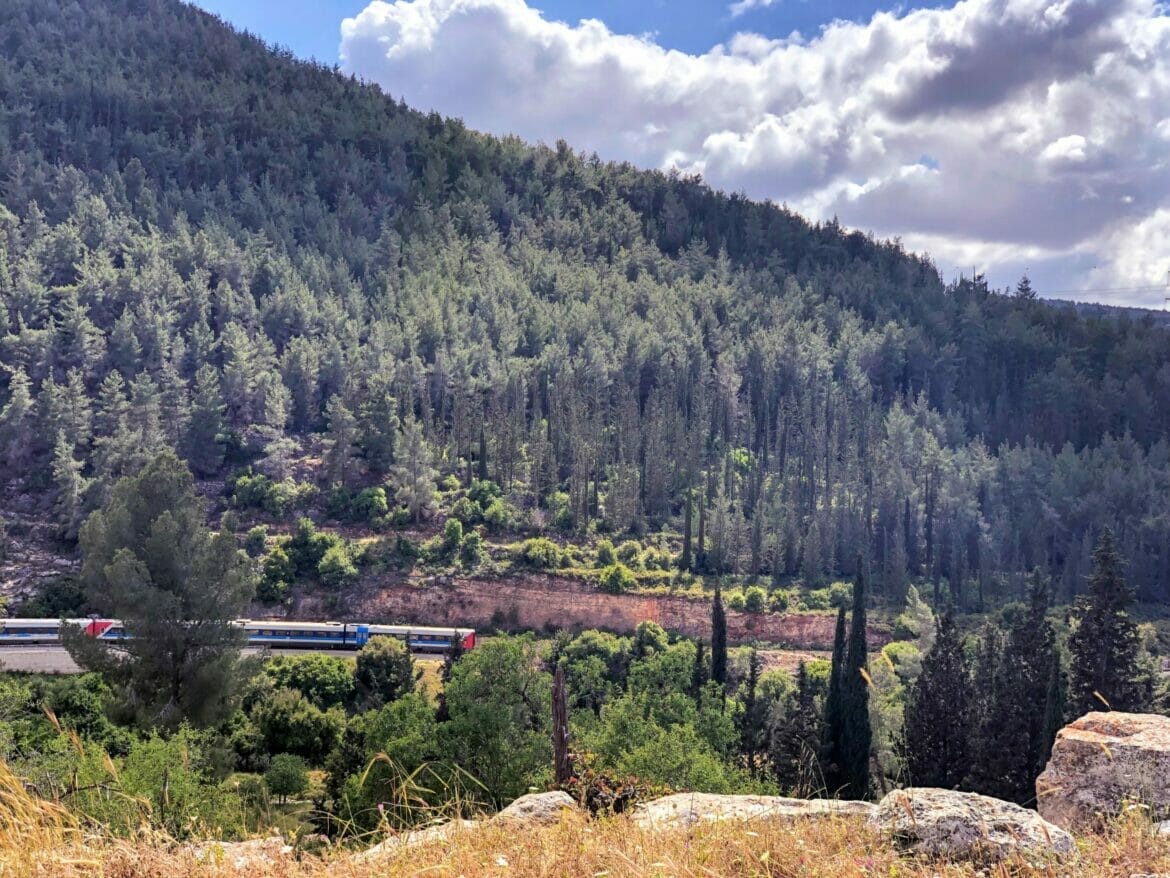 From green and forested mountains to exotic desert springs, Israel has lots of natural beauty that every local and every visitor should take advantage of. But if you live in the city or you're a traveler on a budget, there's a good chance that you're relying on public transportation to get around. How are you supposed to reach the hiking paths in remote and beautiful spots around the country?
I've got good news for you: Israel has an excellent public transport network. Some of the most incredible hikes in Israel are easily accessible by a bus that will take you all the way there.
I've put together a list of ten amazing hikes around Israel which you can get to by a bus that will take you straight to the trailhead. Just use the Moovit links in each hike post to find your way via public transportation. No car? no excuses!
Jerusalem Area
Har Eitan Loop at Sataf
If you're based in Jerusalem, you have every reason to explore nature in Israel. Jerusalem is surrounded by green, forested mountains, all with their own quiet footpaths.
The Har Eitan Loop at Sataf is my all-time favorite Jerusalem area hike. The path takes walkers around the summit of a mountain, through ever changing views out to the surrounding peaks. At 8 kilometers, the trail is a perfect choice for spending a few hours reconnecting with nature.
Read the full post with free maps and a Moovit link here.
Jerusalem Forest – Erez Trail
If you're looking for a quick escape into nature inside the Holy City, Jerusalem Forest is it. The Erez Trail is a five kilometer loop that travels through a beautiful woodland located inside of Jerusalem. It's an easy getaway into the great outdoors.
Read the full post with free maps and a Moovit link here.
Cheater's Hike from Ein Karem to Beit Zayit
This unique walk takes you from the quirky neighborhood of Ein Karem to the best brunch in Jerusalem, at Café Derech Hagefen in Beit Zayit. But rather than walk through the streets of the city, you'll be taking a tour through the Jerusalem countryside. On the way, you'll see flowers, trees, and twisty grapevines. The path leads down a backstreet and out into wild beauty.
At the end, reward yourself with an iced latte at Derech HaGefen, a fantastic café that's located in a garden center – so you won't have to leave nature behind.
This is one of the easiest Israel hikes to reach by bus.
Read the full post with free maps and a Moovit link here.
Nahal Halilim
Another wonderful hike in the Jerusalem area is the trail at Nahal Halilim. This beautiful walk through the mountains near Mevaseret Zion takes you past wildflower fields (in the winter and spring) towards and an awesome series of caves. The scenery is picturesque, and the caves are worth exploring.
After you reach the caves, you can turn around and go back the way you came or continue along the rest of the trail and make your way home from the end.
Read the full post with free maps and a Moovit link here.
The South
Nahal David at Ein Gedi
If you're ready for a bigger adventure, branch out into desert at Nahal David in the Ein Gedi Nature Reserve. Nahal David is the quintessential Israeli water hike. You'll encounter crystal-clear waterfall pools and a winding stream to splash through.
A trip to Ein Gedi is also bound to include wildlife, like ibex and nutria that live near the trail. Make sure to get there early. This hike is extremely popular, so it gets pretty busy as the day goes on.
Read the full post with free maps and a Moovit link here.
Mount Yishai and the Window Waterfall
If you're looking for an intense, full day desert adventure, Mount Yishai and the Window Waterfall are waiting for you!  This epic hike is also located in the Ein Gedi Nature Reserve.  A bus ride will take you right to the Ein Gedi Field School, where the trail begins.
This hike isn't for lightweights. But if you love a good physical challenge and absolutely incredible scenery, the Window Waterfall trail will give it to you.
Read the full post with free maps and a Moovit link here.
Central Israel
Ben Shemen Forest Walk
If you're in the Modiin area, take an easy bus ride over to the Ben Shemen Forest. This large and beautiful woodland is home to seasonal wildflowers, cool mushrooms, and tons and tons of trees. Hit up the path mid-week if you want real peace and quiet. On Fridays, the area's bikers take to the trails.
Read the full post with free maps and a Moovit link here.
Park Adulam
Hanging out near Beit Shemesh? Then you can take the bus to a nearby trail at Park Adulam.
This KKL park spreads out over miles and miles of unadulterated natural scenery. You can follow the path for hours, getting lost in what feels like total isolation. The trail is most beautiful in the wintertime, when rainstorms make the fields green and full of flowers.
Read the full post with free maps and a Moovit link here.
Northern Israel
Nahal Tavor
If you're in the mood for a real getaway, take a long journey up to Nahal Tavor in the Lower Galilee. When I realized that this hike was easily accessible by bus, I was thrilled to include it on the list. That's because this is my all-time favorite hike in all of Israel.
The pathway along Nahal Tavor leads past rolling green mountains, through fields of multicolored wildflowers, then back and forth along a lazy river. The scenery is unparalleled – it's unlike anything I've seen anywhere in the country. Visit Nahal Tavor from December through April for the most beautiful display of colorful blossoms.
Read the full post with free maps and a Moovit link here.
Nahal Iyon
If waterfalls are your thing, take a trip to the Golan to see the three magical waterfalls at Nahal Iyon. It may take you a while to get there, but there's a bus that leads right to the trailhead. And once you're on the hike, you'll be happy that you went out of your way.
Nahal Iyon passes by a few waterfall pools towards a massive waterfall at the end. The scenery on the path will keep you completely absorbed the whole way through.
Read the full post with free maps and a Moovit link here.
So, if you're carless in Israel, you can still get a taste of the country's best hiking trails and remote natural beauty. Pick a hike from the list, then use the Moovit link on each hike page to make your way to the trailhead by public transportation.
Car or no car: everyone in Israel should go out into the country's wilderness and experience the Land's incredible natural beauty.
Follow the links above to read the full post about each of these unique hikes in Israel you can reach by bus.
Don't forget to read my guide to the navigational features in each post before you hit the trail.
Questions? Have you explored Israel by bus? Let's hear about it in the comments below!