Click here to go straight to hike notes.
On a cold and rainy day, there's nothing like a nice big cave to huddle in.
I never thought I'd write those words.
But I've come to understand that when you're looking for a place to sit outdoors, a cave provides all sorts of shelter from the elements.  In the summer, it's cool and shady inside a cave.  And on a rainy day, you can drink hot coffee in its shelter, no soggy droplets ruining your breakfast.
When I'm stuck inside because of the weather, I get stir crazy. I want to go out and see the world. And hiking to a cave is the perfect rainy-day pick-me-up.
On a rainy day this week, we decided to set out on a journey to Shimshon's Cave, near Beit Shemesh. We knew that the last trail we'd marked to Shimshon's Cave would be closed (it leads over a river which is not safe to cross during the rainy season). So, we had to scout out a new path to the cave.
Maps in hand, we planned out a 3.5 kilometer hike from above Shimshon's Cave, near Ramat Raziel.  This trail would take us right to where we wanted to be. Then we would walk another 3.5 kilometers back the way we came.
And in the end, it was perfect: rainy, wet, and glorious. The hike itself was a challenge (mostly because of the weather), but the time we spent gazing out at sheets of rain from Shimshon's Cave with hot drinks in hand made every step worth it.
Here's how we took a new approach to Shimshon's Cave:
Wow, It's Really Raining
I don't know why were surprised when we got out of the car and it was still pouring rain. Usually, when we set out on a gloomy day, the weather improves by the time we reach the trail. But this time was different.
So, we geared up with rain jackets, tightened our hoods, covered our bags with waterproof covers and set off. Up the road, we saw the blue trail through the fog. We turned right to follow it into the woods.
It's not really fair to judge any trail on a day like that day.  Visibility was low and rain was pouring. But even with the fog and rain, the blue trail was really beautiful.  Tall trees lined the path.  From what we could see, they extended out all around into a pretty forest.
Soon, we made our way through the woods and out into more open landscape.
Winter Showers Bring Spring Flowers
After the forest, the trail wound up and down over smooth grey rocks and boulders, alternating with a dirt pathway. Between the rocks, cyclamen flowers sprouted, showing off their bright pink blossoms.
It was hard to get a sense of the trail with all of that fog.  But from what we could make out, it seemed like a great hike for older kids – fun and easy climbing over little stone steps, up and down.
Our eyes were glued to the trail, to make sure we didn't slip and fall in the rain.  Crossing over a cluster of rocks, we stumbled onto a carpet of white petals, scattered over the ground.
I looked right and left to find the source, but there were no white flowers growing on the ground.  Then I looked up – an almond tree stood in the fog, in full bloom.
In Israel, almond trees blossoming is the first sign of spring – even though this always happens in the dead of winter.
Still, it was surprising to see this first almond tree in full glory so early in the season. Its dark branches twisted into a striking silhouette. At the tips were light pink flowers, barely visible in the white mist.
Towards the Cave
We continued along the blue path, now heading steadily downward towards Shimshon's Cave.  The rocks flattened out, forming a ridge along the side of the mountain.
After walking across the ridge, we followed the trail almost vertically down, taking care not to slip.  The first descent was missing hand holds.  But the next one had metal rungs.  In this rain, with the surface of the rocks slippery and wet, we held on tight for extra security.
A few more steps and we were there, following the clear breakaway trail towards Shimshon's Cave.
Coming in From the Storm
Reaching a large, dry cave after a 3.5 kilometer walk in the rain is simply heavenly.
We hung our rain gear out to dry over some rocks.  Then we found a spot to sit: completely protected from the rain, but still open to a view out to our surroundings.
The hills and mountains on the outside were green and lush, a stark contrast to the monotone interior of the cave.  Thick fog hung in the sky, with random clouds separated from the cloud pack.  Down in the valley, Sorek River flowed past, swollen with rainwater.  We heard the echo of the rushing river on the cave walls.
Of course, we had hot coffee and food – everything we needed to replenish warmth and energy after a cold, wet walk.  We sat inside Shimshon's Cave, watching sheets of rain pour down from the sky, for a long, long time.
Time to Go
Too soon, it seemed, it was time to get going. We packed our things up, re-outfitted ourselves in rain gear, and set back out on the trail.
To make the hike back a little bit easier, the rain let up a bit. We finally had a few moments to take pictures in between downpours.
As we headed back up, we began to notice things we hadn't seen the first time around: acorns scattered on the ground around a puddle, pale wildflowers peeking out from between pine needles. The scenery was vivid and beautiful after the rainstorm.
Somehow, the hike back always seems shorter than the way out.  Before we knew it, we were walking through the forest again, the fog thick between the trees.  We weren't cold anymore.  Actually, we were beginning to get hot under all of our layers.
Back at the car, we stripped off raincoats, jackets, and gloves and settled into our manmade shelter. On the inside again. It was different than that most basic protection of a hollow in the side of a hill.
This new trail to Shimshon's Cave was a great choice for a winter walk – or for a walk in fall or summer or spring. That day, we discovered an entirely new approach to one of our favorite hideaways.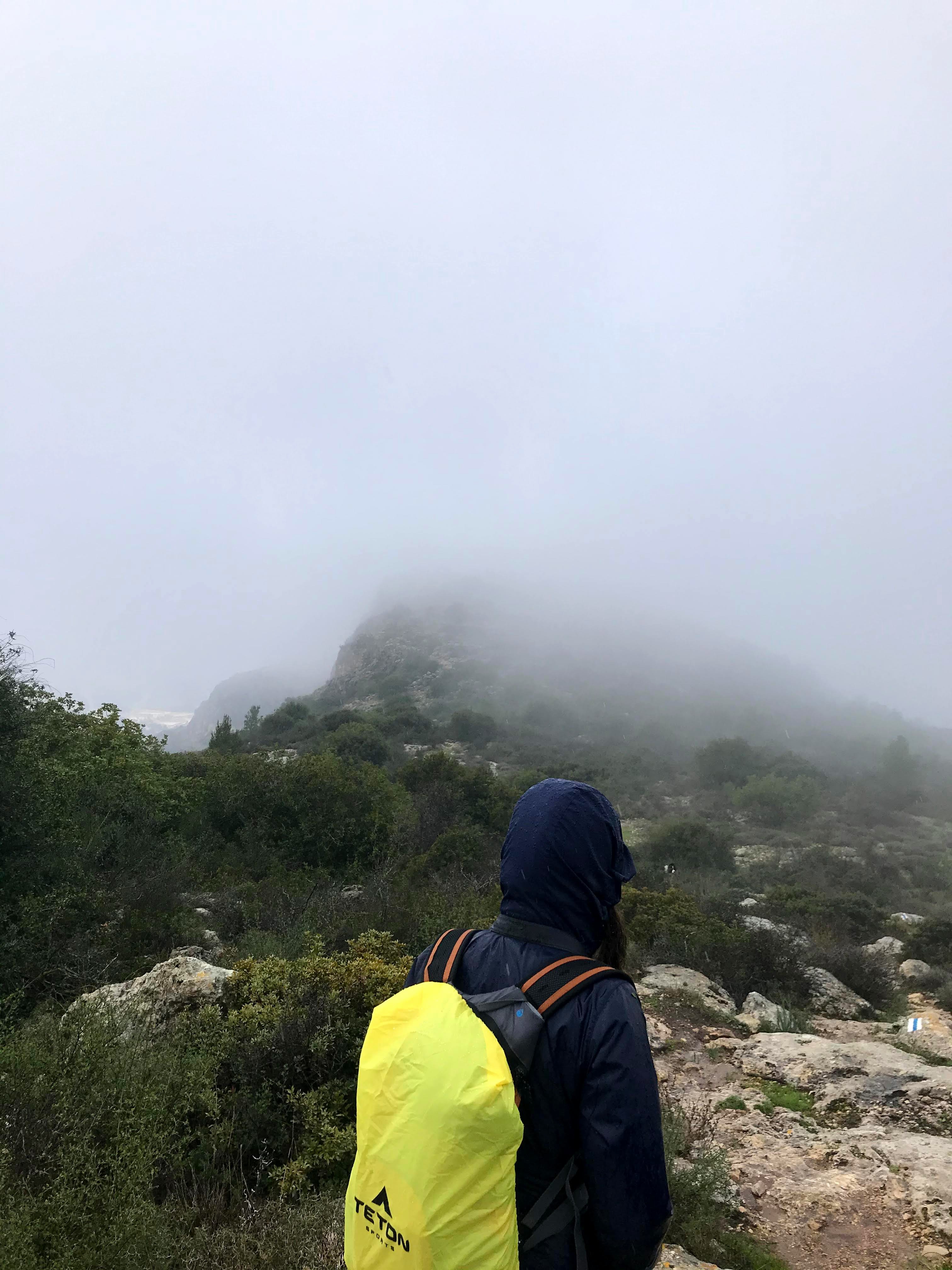 Hikers' Notes:
Here's what you need to know to hike this trail:
If you do hike this on a rainy day, be careful and wear solid footwear! The rocks are slippery.
On a sunny day, bring plenty of water, a hat, and good hiking shoes.
Most of this trail is great for kids. The one minute descent down to Shimshon's cave would be nerve racking with younger children. I would recommend 8 and up.
This is a one way hike. From Shimshon's Cave you will need to return the way you came.
The trail is suitable for dogs. The short descent/ascent could be a challenge for smaller dogs.
The trail is very easy to follow. Take the blue trail, keeping an eye out for trail markers. After the short descent, you will see a clear breakaway trail towards Shimshon's Cave. Return the way you came.
Use the trail marker gallery in the table up top to find the trail head.
Don't forget to read my guide to the navigational features in this post before you hit the trail.
Trail map from Amud Anan.
Questions? Have you tried this new approach to Shimshon's Cave? I'd love to hear about it in the comments below!
Hiking can be dangerous and is done entirely at your own risk. Information is provided free of charge; it is each hiker's responsibility to check it and navigate using a map and compass.