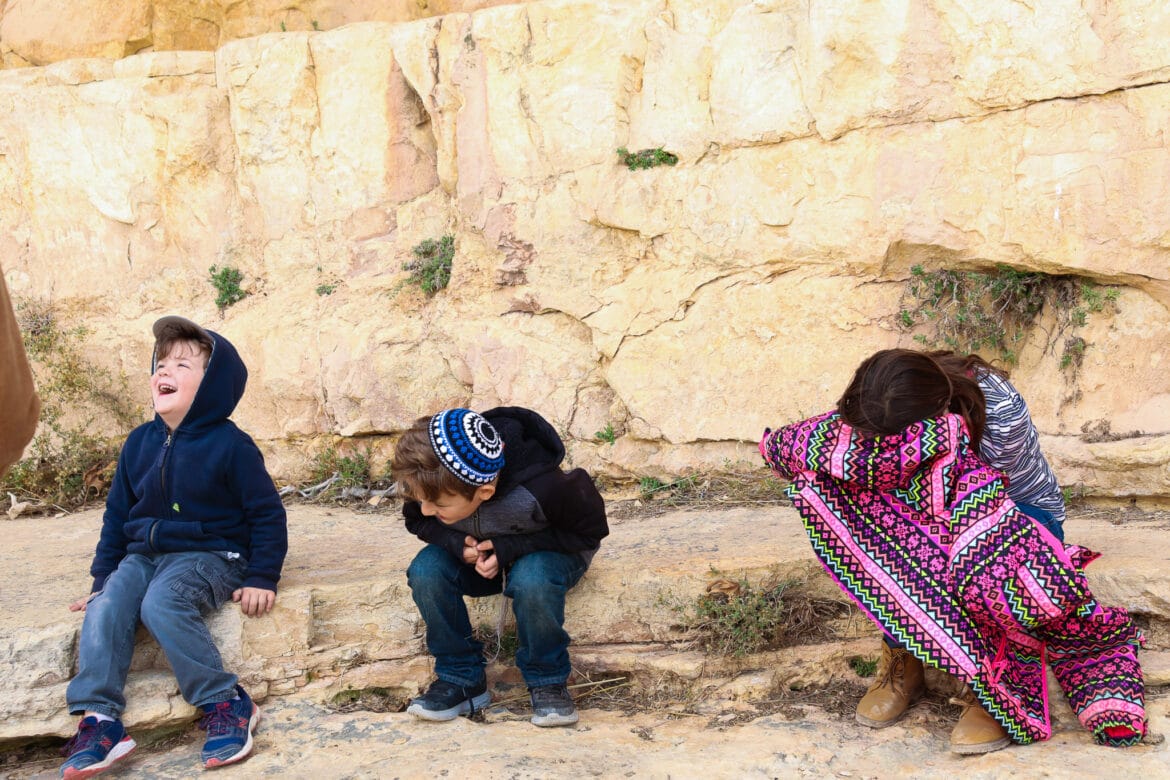 Click here to go straight to hike notes.
A winding valley between mountains, secret caves, deserted monasteries, a spring – the hike to the Haritoun Caves at Nahal Tekoa has it all
We took our family there on a hike this past week. It was a cold and stormy day. The sky was filled with a mist of dust. It wasn't exactly perfect hiking weather.
But nonetheless, our kids had a great time at the Haritoun Cave Trail. There were so many rocks to climb, so many cool views, and so many places to explore.
Armed with headlamps and a picnic lunch, we set out on the trail just before lunch time with only two hours to kill. The hike itself was a short 2 kilometers, but the trail was full of fun surprises.
Here's what we saw on our hike through Nahal Tekoa:
Down Towards the Valley
The access road to reach the trail head seemed like it had to be wrong. It was winding and bumpy. But sure enough, at the tail end of the road sat a little parking lot and metal steps with a picnic table underneath.
We walked down the steps and began hiking along the black trail.
We had expected a very easy hike. So, the first thing that caught our attention was that we were going downhill. The black path led us down towards the valley. Since this was a one-way hike, we knew we were going to have to climb back up at the end.
For now, we enjoyed the beautiful and totally different views that spread out around us in Nahal Tekoa. Even though Tekoa is part of Gush Etzion, and not too far from where we live, the scenery in the surrounding area is very different. It's more like a cross between desert and mountain range – stark hills that tower around on every side.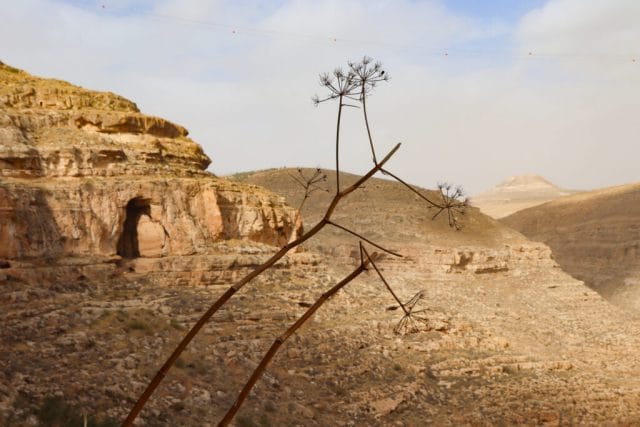 We could see Herodion in the distance – the famous palace built by Herod thousands of years ago. And as we walked, we began to see little structures built into the sides of the mountain.
Little Explorers
Past the first little stone hut, we arrived at a breakaway trail, marked white, clear, white. My husband explained to the kids what this meant (a dead-end trail towards some sort of unusual feature – in this case, Haritoun Cave, the second largest cave in Israel). We climbed the rocks to follow the trail.
Keeping our little ones close at hand, we made our way up towards the cave opening. Then we strapped on our headlamps and went inside.
The cave itself was incredible. Many tunnels led off of the main pathway, towards open chambers and little rooms. We told our kids the story of a group who had recently gotten themselves lost in the caves – no deep exploring allowed without a trained guide! Then we carefully made our way around the rooms we could access without getting off track.
Once they had their fill of the cave, we made our way out and back down the clear trail towards the main pathway.
A Spring Has Sprung
From here we continued heading down, past more little structures carved into the stone walls. Soon, we reached a big flat stone area, shielded on one side by a towering rock wall. Up above, a spring trickled down into a tiny freshwater pool.
It seemed like lunchtime, so we made ourselves a picnic on the flat rock. While I unpacked our lunch, some bigger kids went off to explore another cave up above.
Soon, we were all enjoying a picnic in nature, beautiful views on every side, a cool breeze blowing in our hair, and no crumbs to worry about sweeping away. When the food was all gone, the kids climbed up to dip their hands in the spring. Then we cleaned up and set out on the trail again.
Giant Boulders and Breathtaking Scenery
We continued on along the side of mountain, passing by little cave-houses, next to giant boulders. The wind whipped through tall grasses, creating a dramatic surrounding that I never expected to see in my very own neighborhood.
The kids were impressed by the views. They relished climbing from rock to rock. And they were happy to find cool bugs on the trail.
But most of all, they liked thinking about the monks that once lived here. My seven-year old wondered what their lives had been like and why they left.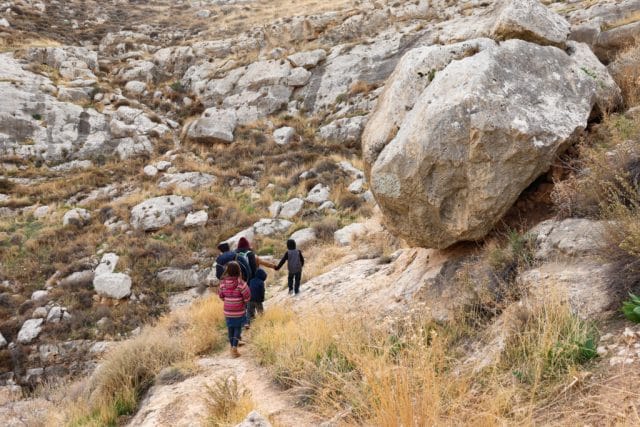 It did seem like the perfect place for quiet solitude. Nestled between tall hills, a little carved out cave in the side of these mountains was a fitting dwelling for a monk.
A Short Walk Back to Civilization
The last stop on the trail was called "The Hanging Cave" – a cave suspended from the side of the mountain up above. When we reached this point of the trail, we headed back the way we came. And much to our surprise, the ascent wasn't nearly as difficult as we expected it to be. The kids enjoyed climbing rocks so much that they hardly noticed the struggle.
Almost before we knew it, the trail head came back into sight again. The quiet of nature faded into the background. A small group sat at the picnic table, eating lunch.
At the Haritoun Cave Trail in Nahal Tekoa, we escaped from the noise of everyday life and discovered a cross between a playground and a monastery. Between the uniquely beautiful scenery and fun rock formations, this little trail is well worth exploring.
Hikers' Notes:
Here's what you need to know about this hike:
Wear solid footwear and bring water and sun protection. The trail is exposed to the sun, and therefore not ideal for a very hot and sunny day.
Suitable for dogs.
Don't explore the caves without a trained guide – it's easy to get lost. Only go as far as you can while still keeping track of the entry point.
This hike is over the green line. Make sure you feel safe on this type of trail before beginning.
This is a one way trail. Go out on black and return the way you came.
Use the trail map, gallery, and Google Earth file in the table up top to find your way on the trail.
Don't forget to read my guide to the navigational features in this post before you hit the trail.
Trail map from Amud Anan.
Questions? Tips for fellow hikers? Give me a shout out in the comments below!
Hiking can be dangerous and is done entirely at your own risk. Information is provided free of charge; it is each hiker's responsibility to check it and navigate using a map and compass.