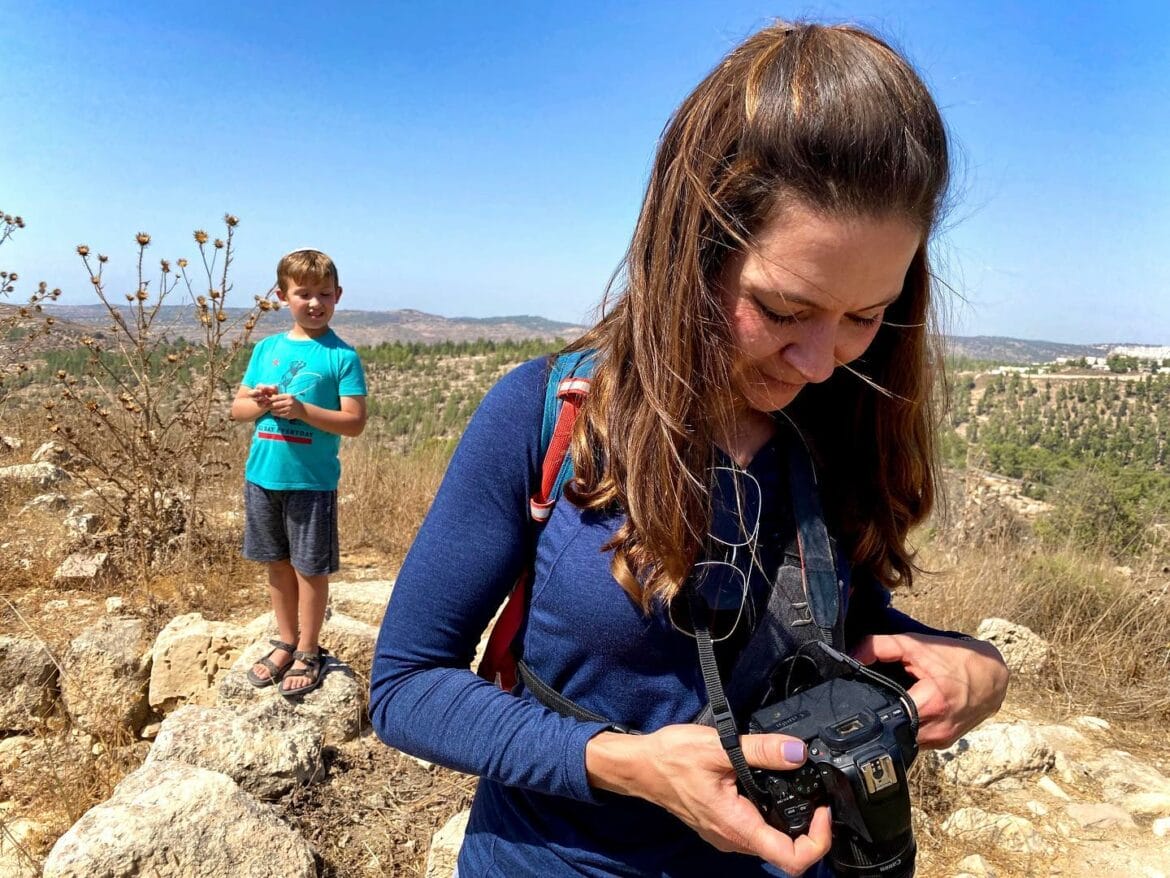 Sometimes, the best walks are right in your own backyard. From my home in Gush Etzion, I've discovered that there are dozens of different hikes I can take, all leading to areas of varied natural beauty.
In Gush Etzion, there are walks past sweeping mountain views and walks through vineyard valleys. There are several incredible springs, forests, and hills on ancient cities. Gush Etzion is home to old monasteries and mysterious caves.
This small municipality right outside of Jerusalem has a beautiful and varied landscape. But it can feel kind of inaccessible. While some of the paths are well marked and easy to follow, others require a bit of wandering.
This complete guide will clue you in to some of the many beautiful trails in Gush Etzion. If you like to stick to the straight and narrow, try the trails that are marked easy to follow. But if you're more of an adventurer, you can add every one of these trails to your bucket list.
Wait, What Exactly is Gush Etzion?
Before you lace up your hiking boots, let's review the history of Gush Etzion.
From the time of early settlement in the Land of Israel, Gush Etzion's trails were well traveled. Situated between Bethlehem and Hebron south of Jerusalem, this area was home to important roads that led between Israel's holy cities. Remains of Second Temple settlements have been found in Gush Etzion, along with the site of a famous battle.
In more recent history, Gush Etzion was settled by both Arabs and Jews until the War of Independence. In 1948, the Jews were beaten away from their homes. Gush Etzion was lost to Israel until its recapture in the Six Day War.
Nowadays, Gush Etzion is considered to be an area of strategic importance for Israel, protecting Jerusalem and providing access from the south. It's home to many flourishing communities, established institutes of higher learning, schools, and places of business.
There's also agriculture: grapes, olives, raspberries, and cherries grow in abundance in the valleys between the hills. Many freshwater springs are located throughout the area: there's even an ancient Herodion aqueduct, once built to supply fresh water to Jerusalem.
So, It's Safe to Hike There?
Some of the trails are well traveled and considered safe by most locals. Others are more off the beaten track.
Gush Etzion is a hub of Jewish life in Israel. But, there have been incidents of violence against Jews in the area, particularly on the roads. Your best bet is to hike in a group with a weapon or contact the Kfar Etzion field school to arrange a guided tour.
With that disclaimer out of the way, let's get to the trails:
Path of the Patriarchs
This much loved, well-traveled trail is just what it sounds like: the path that our Patriarchs walked along when making their way between Jerusalem, Bethlehem, and Hebron.
The trail leads between the communities of Neve Daniel and Alon Shvut, passing by Elazar along the way. This hike is great for kids, families, joggers, cylists, and strollers. It's relatively flat and easy to follow.
We love walking here at sunrise and sunset, when a golden glow is cast over the surrounding hills, creating an incredibly picturesque view. Along the trail, there are wild fig trees, almond trees, and grapes: it's the perfect place for an autumn fruit tasting.
Perhaps most impressive are the ancient Roman Milestones which line the trail.  These columns with ancient markings demonstrate the importance of this road during the period of the Roman Empire.  At one end of Path of the Patriarchs, you can explore an ancient ritual bath and water cistern.
This easy to follow trail is about 2.5 km in length.  Walk as much or as little as you like.  It's great for all ages.
Bat Ayin Springs to Ancient JumJum
In the forests beyond the community of Bat Ayin, several freshwater springs pepper the hills. There are lots of ways to hike between the springs.
Recently, we discovered a fun trail that begins at Tzvika lookout. From the lookout, we followed the Tzvika path (marked by a deer on the signposts) down into the valley, towards Ein Hubela (Hubela Spring). My kids were really happy to find an awesome pool to jump into, along with a neat water cave to explore.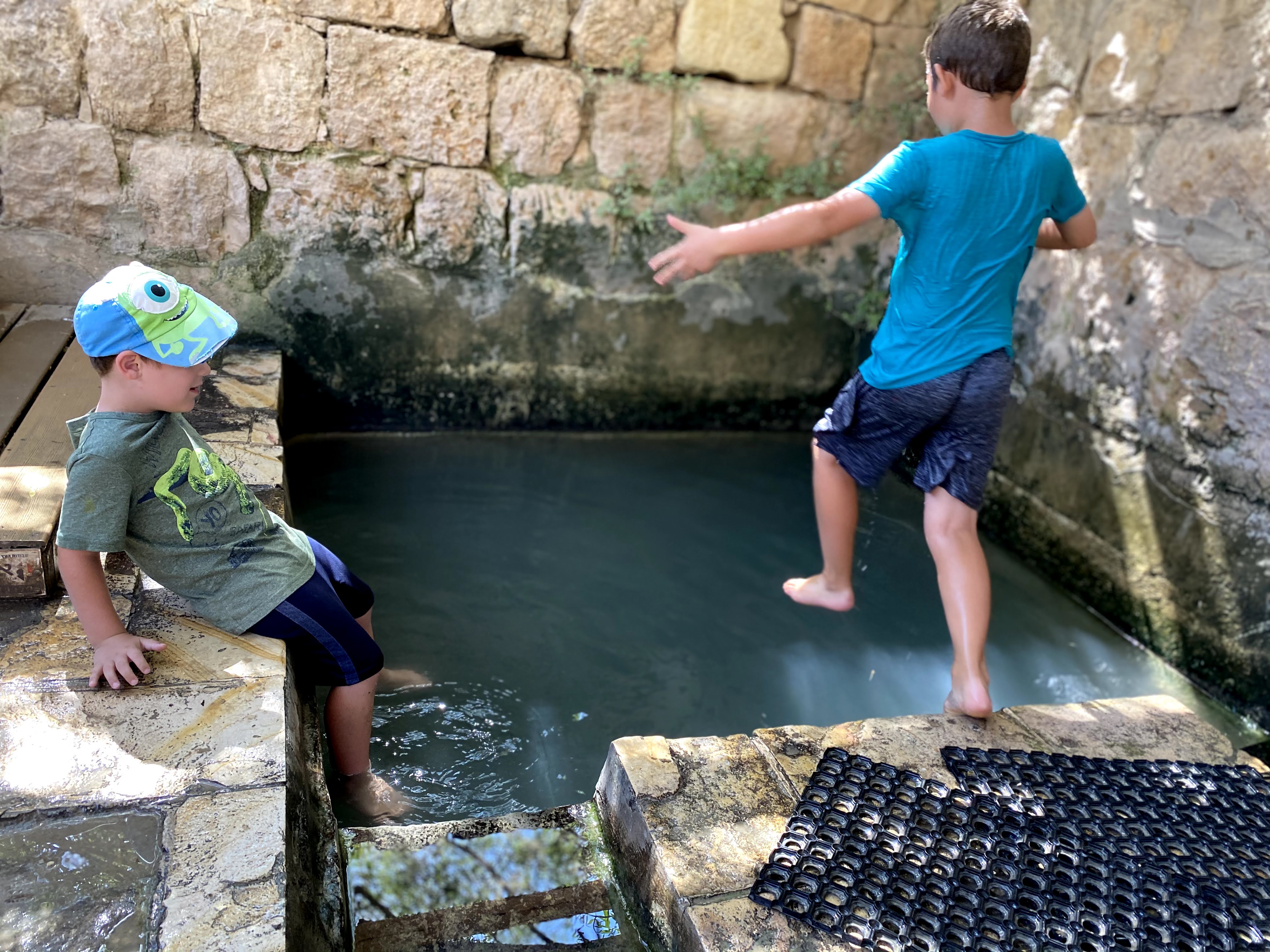 From here, the going got tough, as we followed a long descending blue trail into the valley towards Ancient Jumjum (cover photo). This old city looks more like a large rocky hill. But climb up the hill and explore all around to discover old pottery, ancient cisterns, the remains of walls, and more.
After Jumjum, we paused for lunch in a beautiful pine forest. Then, we followed the blue trail back up the hill through a pretty woodland. By the time we got to Ein Sejma (also called Ein Yitzchak), my kids were more than ready to cool down in the water once again. We played in the water for a while, then made our way up the hill and back to Tzvika lookout.
At 5 kilometers in length, this trail is great for cooler days and intrepid hikers. The difficult ascent and descent will leave you very ready for a dip in the spring at the end!
Bat Ayin Springs – Ein Livne
To access a different pool of the Bat Ayin Springs, take this relaxing walk to Ein Livne, along a quiet pathway into the forest.
The trail begins at Bat Ayin Bet, then follows a dirt road past olive trees and country scenery. At the end, you'll reach an awesome spring: it's large, full, and great for jumping into.
When we visited this spring, it was hard to tear my kids away at the end. Go prepared with a picnic lunch and plans to spend time relaxing. This easy trail is great for everyone.
Naha Tekoa and the Haritoun Cave
This is one of my favorite Gush Etzion hikes. The scenery is dramatic and intense: rolling desert hills and rocky cliffside above a lush valley.
Not surprisingly, this area is home to old monasteries. It's a place where people pursued the spiritual side of life, finding inspiration in an area that's well suited for quiet contemplation.
You can take this hike the easy way – just follow the trail out towards the cave. Peek inside, then continue on towards the spring (a great place for a picnic lunch).
If you're feeling much more adventurous, you can actually climb through the caves themselves, following white reflective arrows through dark tunnels for almost a kilometer.
Both of these hikes are easy to follow and good for families. Just make sure to read the full posts with instructions before you go.
Read the full posts of the short version here and the cave version here.
The Ice Cream Loop Trail
Yes, it's a strange name for a hike. I made it up myself. This hike begins at one side of Path of the Patriarchs, where the trail splits into two.
We followed the red Trail towards The Boys Lookout, then took a long loop out through the vineyards (along a very poorly marked trail). It was beautiful out there. After crossing through a raspberry field, we found ourselves on a well-marked black trail, heading through the Deer Land forests. At the end of the path, we crossed over into the community of Kfar Etzion and enjoyed ice cream at Katzefet (hence the name).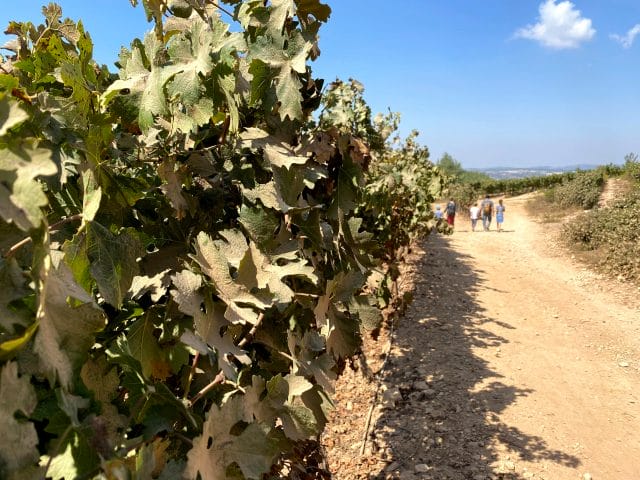 After a long, relaxing ice cream break, we crossed the road towards the Alon Haboded (Lone Oak) of Alon Shvut, then briefly explored the Boys Promenade before heading back to where we began.
This 5 kilometer trail was one of my favorites. It was hard to find the way, but the scenery was really varied and beautiful. I'd recommend it for anyone adventurous who is willing to explore!
Use the map attached at the end to locate the path.
The Neve Daniel Secret Bike Trail
Ok, here's where things get weird. I've lived in Neve Daniel for almost 15 years. I've run a hiking website for 2 of them. And I only just discovered that there's an awesome trail right in our own backyard.
We began this trail at Mitzpor Ha-Elef (The 1000 meter lookout). From here, we hiked along the road to Sde Boaz, with a brief stop at the natural spring, Ein El Kasis, to the right of the road. After picking some wild figs and dipping our feet into the water, we backtracked and followed the trail to the left along the blue trail.
Soon, we saw the dirt path we were destined to follow on the left. We followed it into an area of incredible natural beauty. A wide expanse of rolling hills spread out around us. We could see a cliff of impressive rock formations on one side, and a view of most of Gush Etzion on the other.
We continued along the trail through a pine forest where we saw a pair of prancing gazelle and a baby fox. After a serene walk, we reached a valley of vineyards, green and beautiful in the early autumn light. The trail ended at Path of the Patriarchs, and we made our way back home.
We took this trail once with our kids and once by ourselves. It's great for bigger kids and adults – there are parts of the trail that are steep and slippery. It's not that easy to follow – there are signposts marked with bicycles, but not enough of them.
Use Amud Anan along with the map at the end of this article to find your way.
Herodion
There are many more trails to choose from in Gush Etzion. But no guide would be complete without a mention of Herodion, the coolest castle mountain in the country.
Herodion was built by King Herod during the Second Temple Period. Tunnels underneath the structure were used by Jews as hiding spots at the time of the Bar Kochva revolt. Now, Herodion is a National Park that's super fun to explore.
As opposed to most other Gush Etzion trails, Herodion is paid entry, and only open during regular business hours. It's a great little trail for families and archeology buffs.
How Do I Hike These Trails?
Some of these trails are easy to follow. But for some, you'll need the Gush Etzion Trail Map and a smartphone with a mapping app (like Amud Anan or OSM). If you use these tools, you should be able to find your way.
The Beauty in Your Own Backyard
Hiking in Gush Etzion has taught me a lesson. Sometimes, there's incredible beauty hiding right in your own backyard. We tend to look towards far away places for something magical. But more often than not, we can find that magic right nearby.
Gush Etzion is a great place to explore for visitors and locals alike. It's a community full of rich history, picturesque agriculture, and great wild beauty.
Take a look at this Gush Etzion trail map which you can use to plan your hikes.
Or, see these trails as I've marked them on this map. Use both maps and an online mapping app for best results!
Contact the Kfar Etzion Field School to arrange a guided tour.