Click to go straight to hike notes.
I consider myself to be something of an adventurer. My husband and I always seem to be wandering into the unknown, throwing caution to the wind as we tackle just one more kilometer along an unknown desert trail. So, it always surprises me when I meet someone willing to go even further than I am.
A month or two ago, I got a text from some friends I met on the Heels of Love desert trek. They invited us to go exploring with them in the Haritoun Cave of Nahal Tekoa. Having been there several times before, they were going to show us the ropes (literally) and make sure that we didn't get lost as we explored the dark tunnels at Haritoun.
Last time we were at Nahal Tekoa, we had ventured ever so slightly into the caves with our kids. We had no idea how safe it was, so after a little exploration we turned around and went back the way we came. And even only a few meters in, my kids were scared and crying (shhh, don't tell anyone!)
But this time around, our friends took us on a totally unexpected adventure that every one of my kids loved. Turns out that all you need to get through this 90-minute underground trail is a little bit of confidence and a few safety precautions. (I'm not going to lie – it also helps to have a relatively slight build.)
The trail was pretty easy to follow and super cool. With its winding tunnels and complete darkness, this is one family hike that's only for the truly adventurous.
Here's how we slithered through Haritoun Cave:
Expect the Unexpected
We started off the trail just as we had before – walking down into Nahal Tekoa on a beautiful day. It was the beginning of spring, and flowers were starting to blossom along the sides of the trail.
Together, our two families made our way towards the cave. We were all familiar with this part of the hike. Up we climbed, over a rocky precipice towards the cave opening.
Right before going in, we strapped on our headlamps and consolidated our stuff. The tunnels would be tight –big backpacks and bulky water bottles had to be stowed away safely.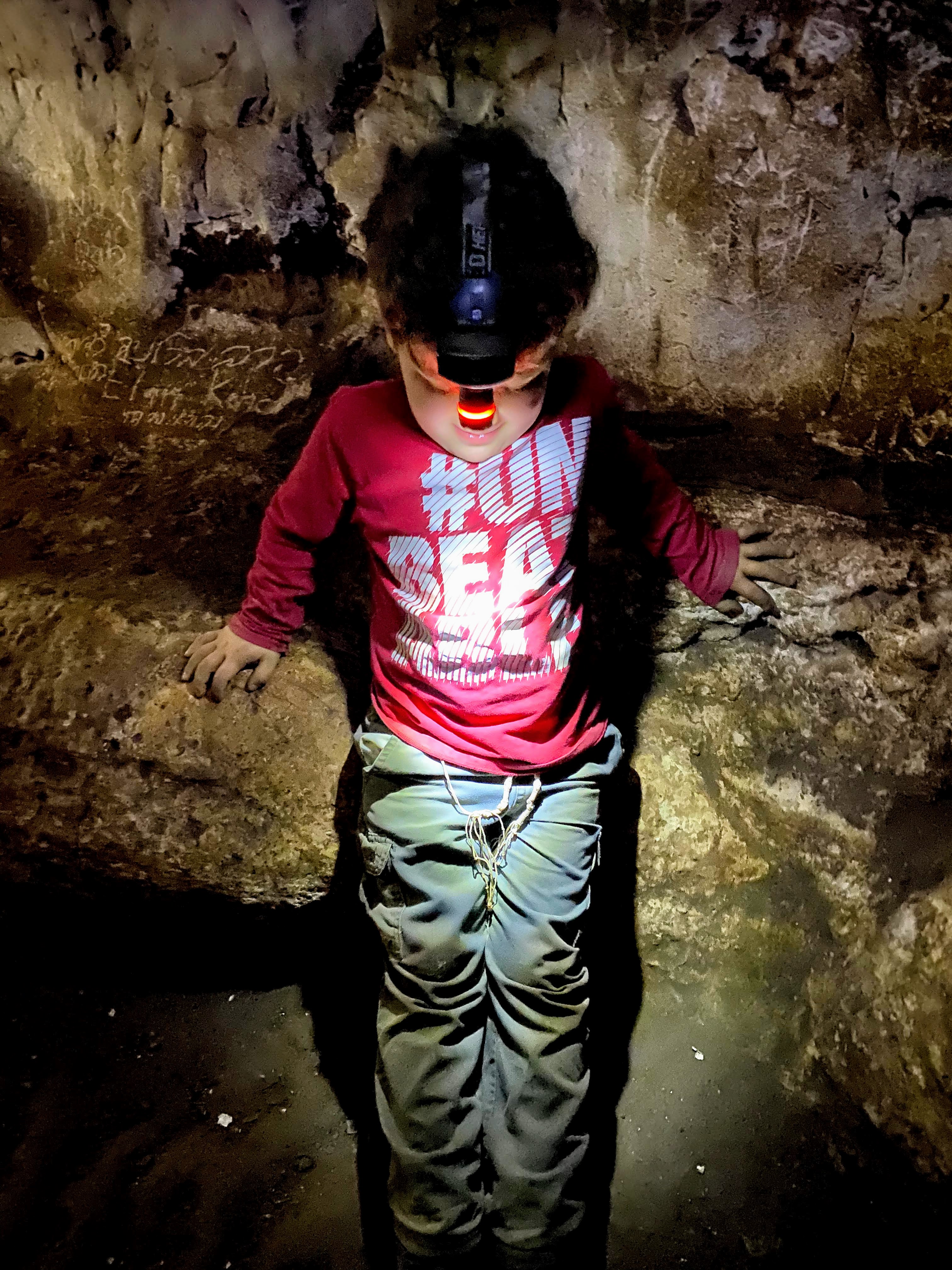 And then, onward! We followed our friends into the depths, our paths lit only by the light of our headlamps.
Learning Cave Man Talk
In the first main room of the cave, we got a brief lecture on cave safety. Our leader explained how to find your way in Haritoun.
There were reflective arrows posted on the walls at regular intervals. When the reflective arrows were white, they led forward, further along trail. And when the arrows shined yellow, they led you out of the tunnel maze.
I wasn't sure how much crawling to expect at Haritoun – the first part was upright walking friendly. But I was willing to embrace the unknown. And after a bit of coaxing, so were my kids. We followed our guide into a tunnel of darkness, one after the other.
Dirt and Dust
Pretty soon after that, we were down on the ground, crawling through a series of tunnels that left us covered in dust. Every so often, we progressed from tunnel to open chamber. I think these were even cooler than the rat maze hollows we climbed through.
In the chambers, our headlamps reflected off the walls to create a mysterious series of shadows. Several tunnels led off of every chamber – it was up to us to find the reflective arrows which would lead us in the right direction.
Our guide had hoped we would head off trail it for a little while and go exploring into the other parts of the cave. But my kids were happy to chill out in the caverns between tunnels. While our leader followed a rope to other hidden chambers with a couple of his kids, we explored our immediate surroundings, examining the Arabic and Hebrew lettering that had been etched into the walls.
Boot Camp
After a little rest, we were ready to push forward. We crawled through the tunnels, sometimes down on our bellies. Luckily for us, we were blissfully unaware of just how tight things would get.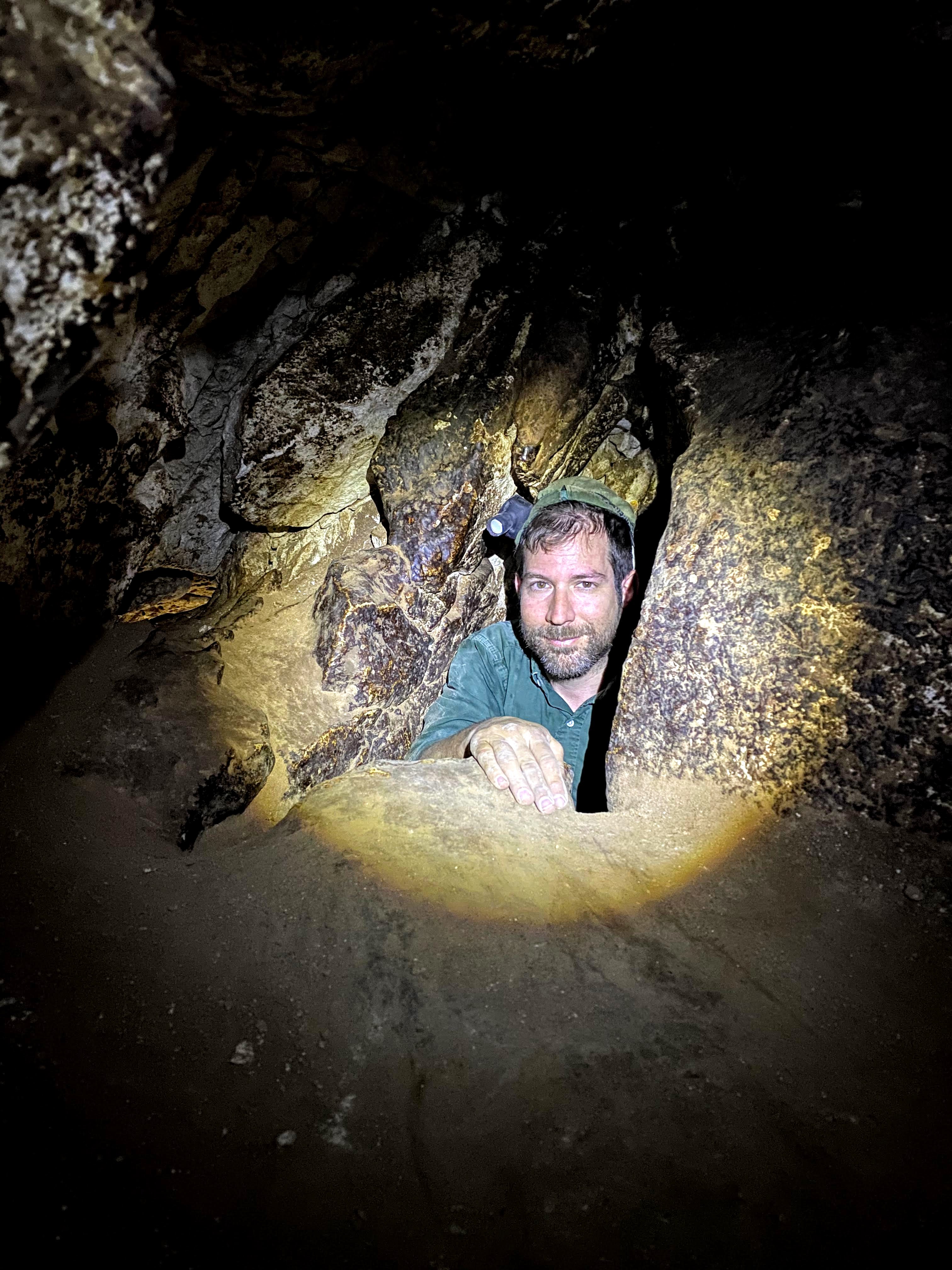 Soon, we were in the narrowest part of the whole trail – a section that required deft maneuvering and upper body strength to squirm our way upwards and through. The kids had no problem squeezing through. But my friend and I (another thirty-something mom), didn't find it to be quite as simple.
After a lot of pulling and squeezing, we were on to the next part of the tunnel, ready to tackle whatever dark and dusty tunnels lay ahead.
Where Are We Again?
As we neared the end of the long trek through darkness, we went over the history of this underground cave system. Haritoun is a 4 level karstic cave, which means that it was created by water seeping through limestone and dissolving layers to form the tunnels and caverns within. It's the longest cave tunnel in all of Israel.
According to our guide, King Herod actually had his army of slaves carve away even more of the cave, to create a hiding space in case of emergency. At one point, Bar Kochva's army inhabited the cave – an ideal hiding spot since the traditional Roman method of smoking out wouldn't have worked in a cave with so many vents.
A little bit further, and we emerged into the sunlight and out of the longest cave trek we had ever been on. Dusty and disheveled, we knew a great place to clean ourselves up and eat lunch. Just a few meters down the black path, Haritoun Spring rained in a shower over the side of the cliff.
All in a Day's Adventure
Although we knew that it might not make us any cleaner, we headed straight for the spring, the cool water droplets dappling our dirt stained faces. Beneath the little waterfall, a square pool of water was the perfect place to wash our hands.
After "cleaning up", we relaxed on the side of a mountain with our picnic lunch. The whole morning had been one awesome experience: from cave explorations to spring rain.
Haritoun Cave may be a messy, tricky, and claustrophobia inducing experience. But it's also one of the coolest adventures our family has ever been on.
Hikers' Notes:
There's a lot you need to know before taking this trail:
It's best to go with a trained guide or someone who's familiar with cave explorations.
This trail is in Judea/Samaria. Make sure you feel comfortable with the safety level of hikes over the Green Line before heading out on this trek.
Bring headlamps for every single person – it's dark in there and you'll all need the light you can get.
Bring backup batteries and light sources in case yours goes dead.
This trail is not for big people! It's narrow in some places. As mentioned above, there are also parts that require a bit of upper body strength to get through, even if you're a small adult.
Of course, this is not the trail for you if you're claustrophobic in any way.
No dogs. No babies.
Carry a small bag that fits close to your body. Leave behind bulky cameras, hiking poles, or anything like that.
Wear long pants and clothes that you don't mind getting dirty.
I haven't included a trail map because it won't really help you in here. 🙂 Follow the reflective arrows. Use your headlamp to find them. If you don't see a reflective arrow, don't wander! Search your immediate area until you find one.
The marked trail is only a small part of the entire cave system. It's best to stay out of the rest of the cave unless you are with a trained guide!
To get to the cave: follow the black trail from the parking lot. When you see a breakaway trail (marked clear), follow it to the cave. After following the reflective arrows through the whole cave, get back on the black trail and continue towards the spring. When you're finished, turn and go back the way you came.
Huge thank you to CB Berkovits of Navigating My Dreams (and her husband Eli) for guiding us on this incredible cave trek!!!
Questions about this trail? Have you been to Haritoun Caves? Let's hear about it in the comments below!
Hiking can be dangerous and is done entirely at your own risk. Information is provided free of charge; it is each hiker's responsibility to check it and navigate using a map and compass.