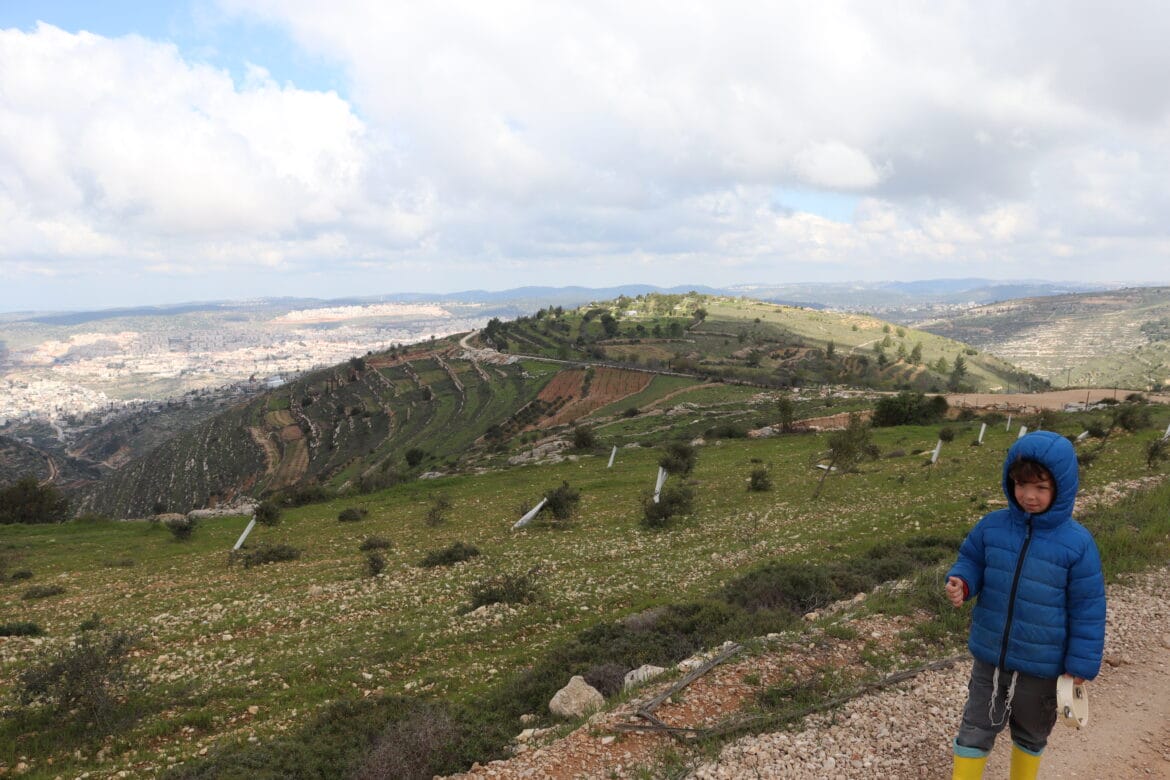 Click here to go straight to hike notes.
Israel is full of old stuff. Ancient gravesites, crumbling olive presses, and gaping cisterns turn up along many a nature walk. Archeological digs can be found throughout the cities and countryside from South to way up North. But is it possible to really experience thousands of years of history in one short walk?
On Path of the Patriarchs (Derech HaAvot) in Gush Etzion, it is.
This humble trail brings new meaning to the phrase "walking in the footsteps of our forefathers." That's because Path of the Patriarchs is the road that our forefathers likely walked upon – from Abraham, Isaac, and Jacob and beyond. This ancient road leads from the holy city of Hebron, past Bethlehem to Jerusalem. It was a well-traveled pathway in ancient times.
Walk along the Path of the Patriarchs today, and you might see an actual live donkey or two. But you'll also see other neat historical artifacts, leftover from thousands of years in the past. You'll also experience views of the rolling hills and mountain around Jeruslem just as our Biblical forefathers did.
Derech HaAvot is a neighborhood trail for me (it's a popular spot for jogging, walking, and cycling in Gush Etzion). The continuation of the trail leads through my hometown of Neve Daniel on its way toward Jerusalem. So, we walk the path often. Still, I'm impressed with gorgeous views and new discoveries every time we hike it.
Here's a glimpse into one walk down Path of the Patriarchs, an historical trail in Gush Etzion:
Step Outside and Into History
We began walking on Patriarchs Way right outside of Neve Daniel, near our children's school. After a stop at the nearby bakery for fresh bread and pastries (doesn't every good historical trail need some of those?), we found the trailhead.
Then, we were on our way, along a dirt pathway past beautiful views. First stop: a pretty lookout. In the springtime, this area is covered with an array of multicolored wildflowers. In the summertime, the panoramic views out to the surrounding area make up for any lack of lushness.
Right next to the lookout we stopped to check out the first of the Roman Milestones we would see along the way. These old columns are left over from Roman times, when Path of the Patriarchs was used as a main roadway.
A bit further along the trail, we spotted the breakaway path to a natural rock-climbing wall and headed in that direction.
Rock Formations and Picnic Spots
On Path of the Patriarchs, it's always worthwhile to get off of the beaten path. So, we followed the trail away from the main pathway to the rock-climbing wall. As we walked, we took in the views of sheer cliffs, grey stone that made up the side of the mountain. These cliffs bulged out in waves, an incredible backdrop to the green valley below.
Our kids loved seeing the rock climbers in action, using strength and skill to travel up and down the side of this geological wonder. We watched for a while, then returned to the main trail.
But as we walked along, the desire to explore won out once again. There were beautiful spots to walk through on the sides of the trail: groves of trees, plants and flowers that caught our eye. We headed down to see what we could discover.
After climbing around for a bit, our kids let us know that it was snack time. Luckily, this was the perfect place to stop for a picnic. We found a shady spot under an oak canopy, pulled out coffee and bread, and sat there to take in our surroundings.
Blast from the Past
After food, rest, and a little bit of guitar playing, we still weren't ready to get back on the main trail. My kids had noticed a lot of exciting looking trees out there – they wanted to go see what they could find.
Just like in ancient times, fruit trees grew along the trail. There were neatly planted rows of grape vines in the terraces down below – those were off limits. Olive trees had been planted in little clusters in some places. But there were also fruit trees that grew wild, popping up between well-tended pieces of land.
We located a couple of fig trees – full of ripe, purple fruit in early fall. And there were almond trees. These must be beautiful in winter when they flower in an explosion of white, but for now, they were hanging with perfectly ripe almonds.
We picked a couple of nuts, then tried to break them open with rocks. The first few attempts yielded crushed nuts. But by the third or fourth try, we were popping them open like pros, to taste the delicious fruit within.
This type of foraging brought Path of the Patriarchs to life – we could just imagine a time when ancient Israelites subsisted on fruits like these, native to the Land of Israel.
Every Good Trail Has One
After returning to the main path and walking for a while, we neared the end of the trail. Here, we came across the ancient ritual bath that sits on the left-hand side. After all, every good Israeli hiking trail must have a mikveh!
Down we traveled to explore its recesses, along with the gaping interior of an old cistern right next to it. As we descended, we climbed under grape vines, which wove their way around the opening. Lush purple fruit hung down from up above. We grabbed a few grapes, then made our way into the moss-covered cistern.
So Many Options
At this point, we were almost at the tail end of the trail. We explored another cute picnic area, grabbed some more figs, and finished our walk at the crossroads.
On another day, we might have continued to the right, to check out the Lone Oak at Alon Shvut, or the Three Boys Promenade. Or perhaps we would have gone even further, across the road to the popular ice cream chain Katzefet (this makes a great motivator for kids!). But that day, we turned around and headed back in the fading afternoon light, a cool breeze blowing in our faces as we returned to the trailhead.
There's nothing like discovering true beauty and fascinating history in your own backyard. Path of the Patriarchs is a perfect little walk along a well-traveled trail.
Hikers' Notes:
Here's what you need to know to hike Derech HaAvot, the Path of the Patriarchs:
This trail is suitable for all seasons. It is not shaded, so avoid walking in the heat of the day during summer time.
Great for kids.
Suitable for dogs.
This trail is stroller friendly. Bring your jogging stroller and enjoy nature!
This trail is located in Judea and Samaria. It is one of the more well traveled trails in the area. That said, make sure you take safety precautions and walk in a group.
Following the trail is easy – it's straight and flat and there's no place to get lost. Use Waze and the trail marker gallery to find the trailhead.
You can extend this trail in a number of ways. With kids, you may want to turn left at the crossroads and follow signs for the Lone Oak (Alon Haboded). There are interesting signs and a park by the famous tree. Then, you can cross the highway towards Kfar Etzion for ice cream at Katzefet.
Don't forget to read my guide to the navigational features in this post before you hit the trail.
Trail map from Amud Anan.
Questions? Tips for fellow hikers? Let's hear them in the comments!
Hiking can be dangerous and is done entirely at your own risk. Information is provided free of charge; it is each hiker's responsibility to check it and navigate using a map and compass.