Click here to go straight to hike notes.
Israel has a rich and varied history.  Throughout the country, one can find remains of almost every part of the past – from prehistoric times to the Ottoman Era.  But in some places, more than a remnant remains.
At Herodion National Park, visitors can follow a trail through time, as they explore the ancient Roman palace built by King Herod. King Herod, who lived during the 1st century BCE, raised and flattened a mountain to build his great palace, giving it an incredible view out to Jerusalem and the surrounding area. Herodion was also the largest palace in the Roman kingdom at its time.
Of course, the history of Herodion didn't stop with the death of Herod. After he was gone, the site was used by the local inhabitants, in one time period after another. That's why on a visit to Herodion, you can see Bar Kochba tunnels and ritual baths along with a synagogue.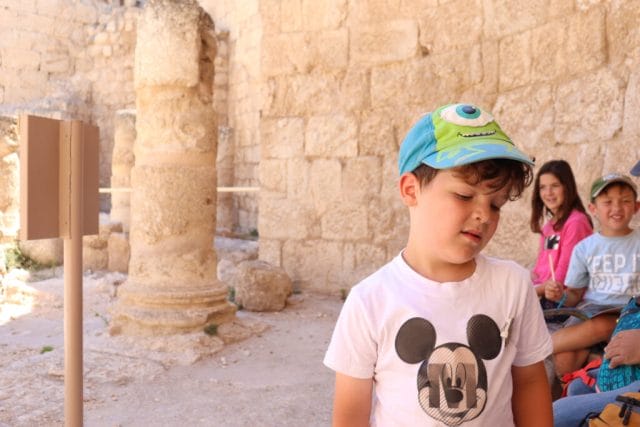 This past Friday we followed a trail through history at Herodion. Our mission: to become Junior Rangers at every National Park in the country (well, at least that's what my 8 year old son was hoping for).
We got our Junior Ranger badge, but we also had a great time exploring an incredible ancient palace. And we even got to see (the recently discovered) Herod's tomb at the end.
Here's how we followed the path at Herodion:
First, Break out the Popcorn!
We pulled into Herodion on a warm summer morning. The sun in the desert-like area was already very intense. We took a moment to take in the views out to our surroundings, then entered the office and shop.
First things first: we were there to become Junior Rangers. My kids got their booklet and pins and we hung around the shop for a few minutes,. Then we waited for the main event: a movie about King Herod and the finding at Herodion.
We didn't mind waiting, because there was a lot to look at. On one side, clear glass windows gave us an awesome view of Jerusalem and the surrounding area. And inside the shops, there were books, stuffed snakes, and all sorts of other interesting paraphernalia to browse through.
Luckily, the movie started before my kids could ask to buy anything. We made ourselves comfortable in the mini theatre and learned about the history of Herod, the great but controversial king.
We learned that Herod had been appointed by the Roman Emperor to rule over Judea. Some of Israel's people at the time were impressed by his wealth, and great passion for building. Others considered him to be an unwelcome foreigner.
When he died, he left behind a legacy of great accomplishment, but also great family strife. He was one of those kings who had several of his close relatives killed (including two sons).
Into the Sunshine
Now, we were ready to get started. We climbed a steep set of stairs up to the upper part of modern day Herodion. First, we walked in a half circle up top, identifying all the neighborhoods and landmarks we could see in the distance. The view really was spectacular. Amongst other sights, we saw Mount of Olives on one side and Darja on the other.
It was a hot day, and my kids were already hankering for a break (you know, stairs). So, we walked down into the archeological excavation part of Herodion and found a spot with wooden benches in the shade.
Iced coffee and shoko (chocolate milk) made everything right with the world again. And while we sat there, we were treated to a "performance." Two actors, dressed as Romans, were practicing their roles for the plays that take place on holidays.
Into the Shadows
When we were finished with breakfast, we took a tour of all of the sights at the top of the palace. We saw Roman pillars with inscriptions, a ritual bath, and a bathhouse.
Then, we descended into the cool, welcoming shadows of the underground palace.
Beneath the ground, we found ourselves walking through ancient tunnels, built in the time of the Bar Kochva revolt. After Herod was finished using his palace, it made the perfect hiding spot for rebels escaping the Roman authorities.
These tunnels looked very similar to those in other places, like Beit Guvrin. The only difference is that they were taller, allowing easy passage for us (and as we found out later, for armed warriors returning to their headquarters). The smooth carved out interior glowed in the soft light.
Afraid of the Dark
As we descended, one of our little kids expressed concern about the darkness (it wasn't even all that dark in there!). So, we strapped on our headlamps and proceeded through the tunnels, towards large cisterns and storage rooms.
We had fun wandering through that underground maze of tunnels, from one room to the next. The kids climbed under archways, past signs explaining each sight along the way. And then we emerged back into the sunshine.
Tomb Time
We still had one sight left to see: Herod's tomb. The last time we visited Herodion, the tomb was yet undiscovered. Archeologists on sight had a theory about where it was located: and they were right. A few years later, they uncovered his destroyed tomb, along with a staircase and a royal theatre.
Since the display isn't completely finished, we had to walk quite a bit out of our way to loop back to the tomb. Then, we ascended along a series of steep steps in the punishing heat. One of our kids wanted to give up and turn back!
We made it to the top. On the viewing platform, we saw a replica of the tomb along with the very bottom of the actual tomb itself.
Nearby, there was a brand-new building, still closed to the public. I'm assuming that at some point it will be a visitor's center, explaining the history, the tomb, and the other discoveries on site.
For now, we had seen all there was to see at Herodion. We headed back along the path to the entrance.
The End…or is it Just the Beginning?
My kids had so much fun that they were talking about it for days afterwards. We even planned a trip to Caesarea the following week to see Herod's other great palace!
At Herodion, beautiful views and an incredible ancient palace come together in one awesome National Park. This trail through time gave us a small glimpse into Israel's rich and fascinating history.
Hikers' Notes:
Here's what you need to know to follow this trail through Herodion:
Suitable for all seasons.
Great for kids.
No dogs allowed
Herodion is located in Judea and Samaria, over the green line. Make sure you feel comfortable with your personal security before traveling to the park.
It can be sunny out there. Prepare with a hat and sunscreen.
This is a National Park. You need to pay a fee or use your Parks card to get in. You'll get a map when you enter, and there are facilities on site.
Junior Ranger books cost 10 shekel. It's cute and fun for the kids, but not completely necessary at Herodion.
The map you receive when you enter will show you how to follow the path through all of the sights we saw.
Don't forget to read my guide to the navigational features in this post before you hit the trail!
Visit the National Parks website to learn more about Herodion.
Questions? Have you been to Herodion? Let's hear about it in the comments.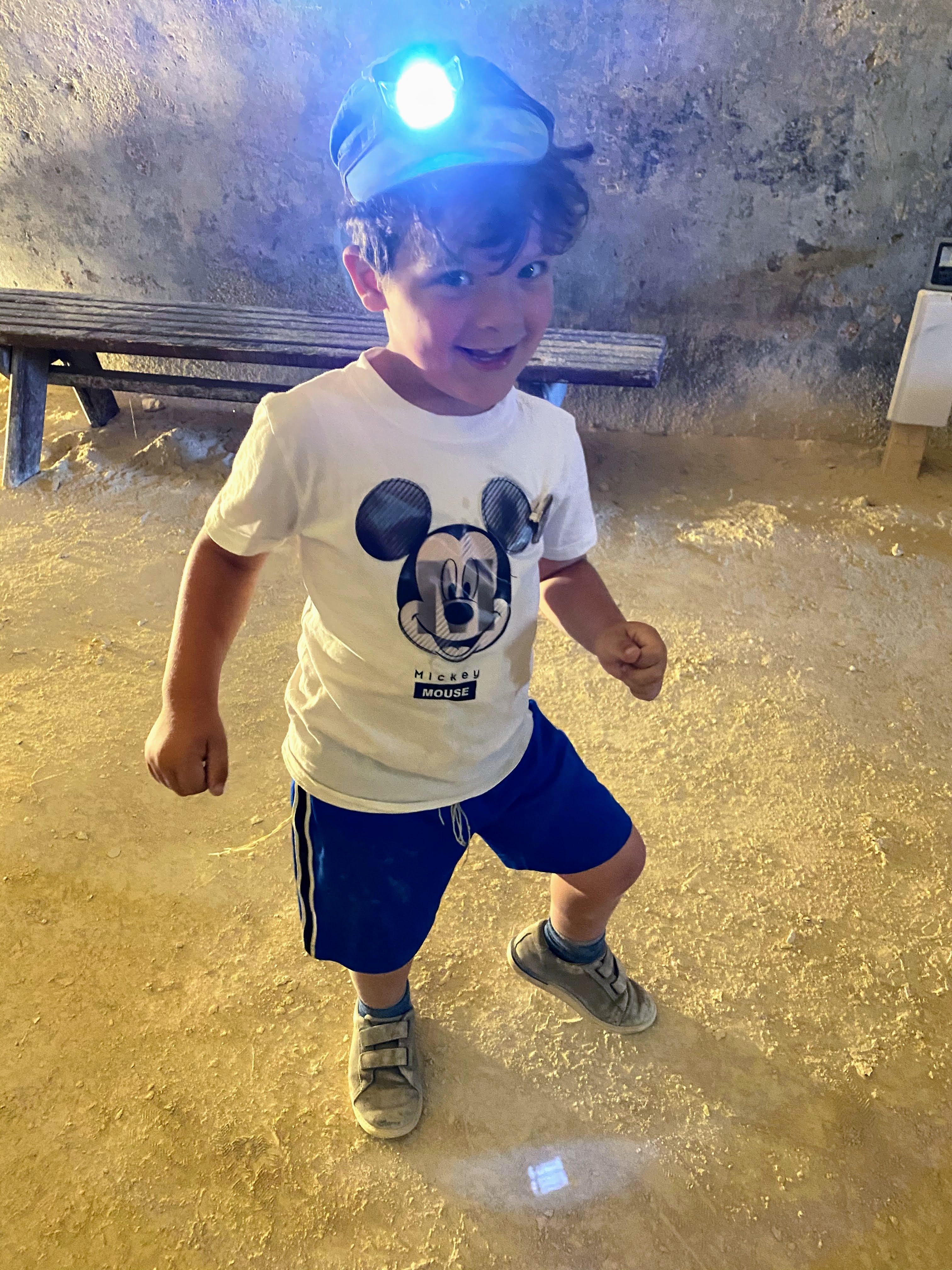 Hiking can be dangerous and is done entirely at your own risk. Information is provided free of charge; it is each hiker's responsibility to check it and navigate using a map and compass.