Good things do come in small packages.
At the Gamla Nature Reserve, the short, scenic trail to the Vulture Lookout is a perfect example. This little loop trail follows paved pathways past a gorgeous lookout towards ancient Gamla, a vulture observatory, and ruins dating from the Byzantine period.
On our trip to Gamla last week, we decided to mosey on down this trail to see the vultures at the observatory. But we were pleasantly surprised by how beautiful all 600 meters of the path actually were.
With popsicles in hand, my three youngest children walked along to one attraction after another. And each stop along the way had signs and information to explain all the things we saw.
Here's the lowdown on a short, sweet, stroller-friendly trail at Gamla:
First Things First
Our first stop along the path was the popsicle stand. My kids had already completed an arduous four kilometer hike at Gamla that morning, and they needed refreshments before even thinking about starting on another trail.
Then, ice cream dripping, we made our way towards the green path, only stopping to sidle up against a life-sized silhouette of a giant vulture. Even though the vultures don't look that big when they're high up in the sky, they are actually much larger than my three (almost four) year old son.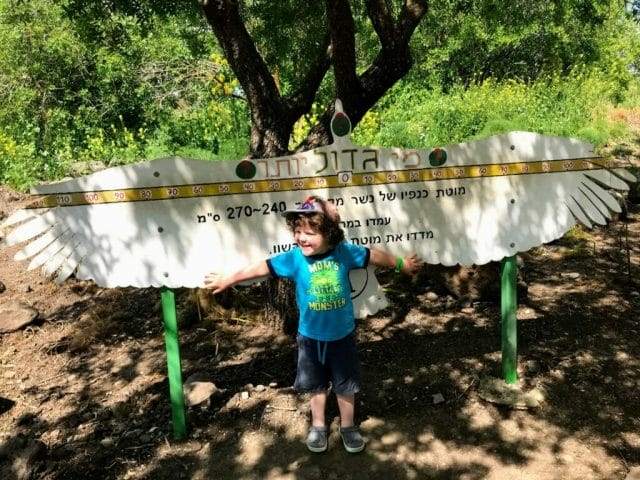 Next, we wandered down the green trail towards the first lookout point – ancient Gamla. The walk itself was super pleasant, down an easy, flat path with flowers all around.
When we reached the lookout towards ancient Gamla, we were kind of surprised – it was magnificent, lush and green. Gamla gets its name from the word Gamal, for camel. The hill where the ancient city once stood looks just like a camel's hump (well, one that's covered in a thick green layer of fur, at least).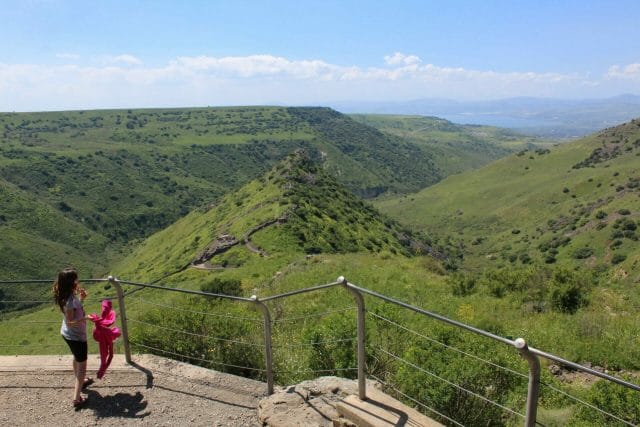 And the ruins of the ancient city down below are clearly visible, adding a storybook touch to an already picturesque scene. That day, the sky was deep blue and filled with puffy white clouds. The Kinneret gleamed aquamarine in the distance behind the mountains.
Towards the Vultures
Next stop – the Gamla vulture observatory. Another short walk along the path and we were there, in a little building full of all sorts of information about vultures. Three sides of the structure are open to the outside views. And supposedly, the spot looks out onto prime vulture nesting places.
My kids really enjoyed looking at a stuffed vulture and a model vulture. But we didn't see any live vultures from our vantage point. (Which is funny, because we had seen one at Gamla earlier on in the day.).
But even without the vultures themselves, the lookout was well worth the visit. The view from up top was astounding all over again. We could see Gamla waterfall and the stream down below. And it was fun reading up about vultures while we were there.
Onto Ruins and Beyond
After exiting the building, we were in archeology land. First up was an ancient olive press. Then we followed the green trail through the remains of an old village, with one structure dating back to the Byzantine period.
My kids wandered around the structures, overgrown with weeds and wildflowers. They peeked through the windows, but most of the crumbling houses were blocked from entry.
After that, the green trail hits red and in a minute or two, we were back at the trailhead.
For a walk that's only 600 meters, there was a lot to see at the Gamla Vulture Lookout Trail. My children were happy to explore at a slow pace, for a change.
And all of the popsicles were long gone by the time we finished our mini trek through the sights of Gamla.
Hikers' Notes:
This is a really cute trail – especially for people with strollers or wheelchairs. It's not long, but there's a lot to see. You can combine it with another one of Gamla's longer hikes for a full morning experience.
Take a pamphlet in English at the beginning of the hike for more information about all of the sights you'll see along the way.
This is a National Park, so there are great facilities on site. You'll also have to show your Parks card or pay an entrance fee to get in.
Trail map from Amud Anan.
Not that you really need it for this trail, but don't forget to use my guide to the navigational features in these posts before you go.
Questions about this trail? Have you been here? Let's hear all about it in the comments below!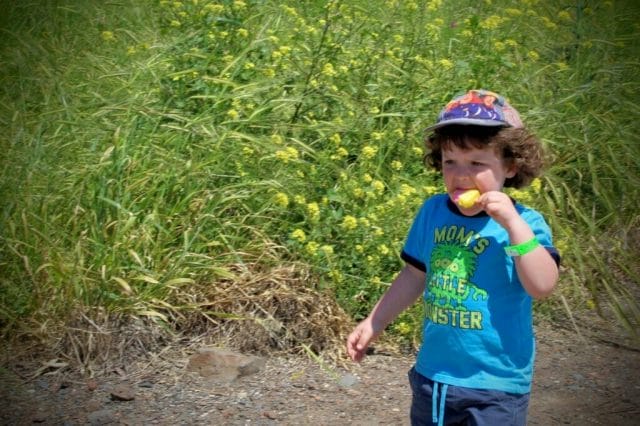 Hiking can be dangerous and is done entirely at your own risk. Information is provided free of charge; it is each hiker's responsibility to check it and navigate using a map and compass.