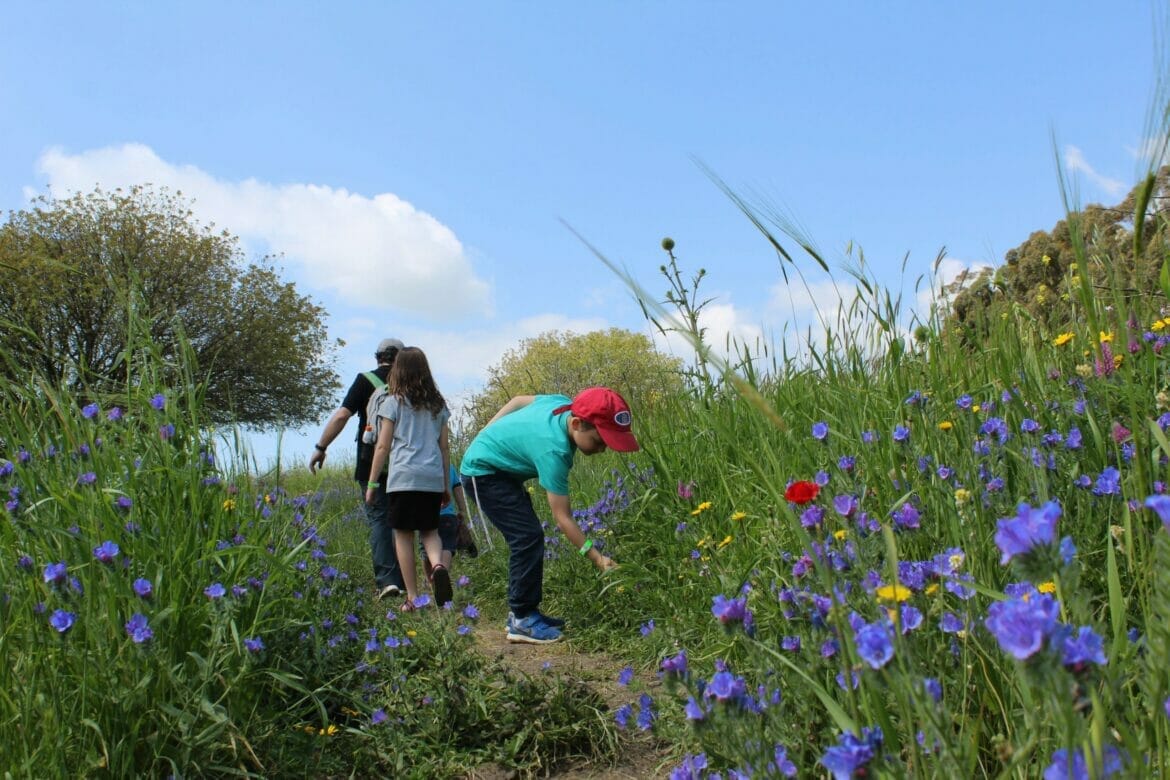 Gamla National Park in the Golan has something for everyone.
There's a mid-level hiking trail alongside a winding stream. And a beautiful short trek that ends in a fantastic waterfall view. You can climb up to see antiquities. Or you can take the fourth trail – a short walk to see giant vultures.
On our trip to Gamla last week, we were able to conquer two of the trails in the park. First up – a trek out to Gamla Falls.
This four-kilometer round trip trail takes hikers on an easy walk through incredible natural beauty – with picturesque views and lots of tall wildflowers in the springtime. It also passes by ancient Dolmens – old stone structures erected to mark gravesites. And the last stop on the trail is a majestic lookout to Gamla Falls – the highest waterfall in all of Israel.
Here's how we hiked this gorgeous little trail:
Spring, Stones, and Sunshine
The trail began on a little path through fields of wildflowers. Tall, wild grass blew in the wind. The sky was a perfect shade of blue with white puffy clouds.
The kids ran along, happy to be outdoors on a spring day. I think that springtime is the perfect time to walk this trail. It wasn't shady, but nobody was hot. And the aftereffect of the winter rains sprang forth in a burst of color all around.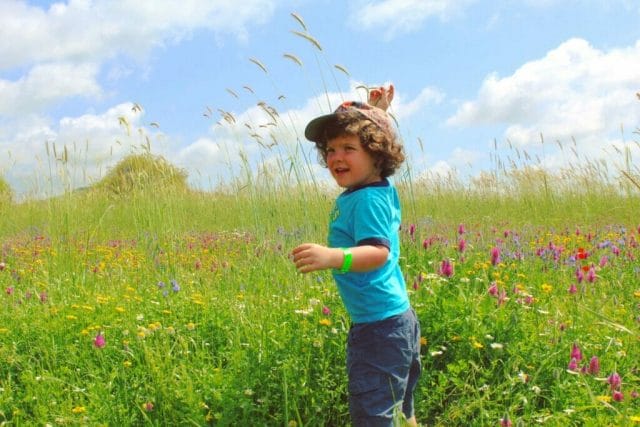 After walking for a little while in the sun, we reached a grove of trees and the first attraction of the trail – the Dolmens.
Actually, these ancient gravestones weren't much to look at as far as the kids were concerned. But I thought it was cool that we have our own mini version of standing stones here in Israel. These rough stone structures date back to five thousand years ago.
To the Waterfall
We continued past the Dolmens and through more fields of flowers. After walking for a while longer, we reached a wooden bridge. Beneath the bridge we could hear the crash of Gamla Falls down below.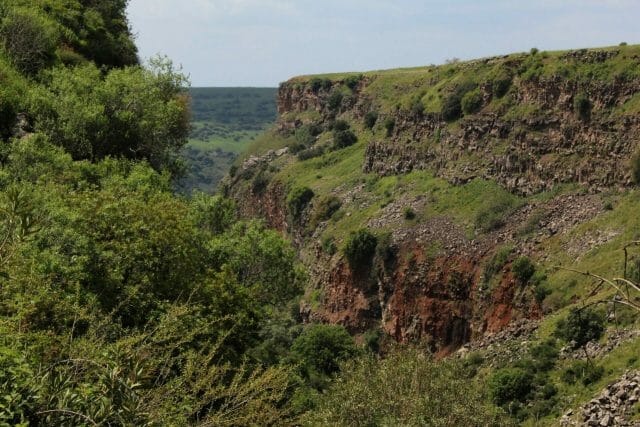 The view from the bridge was breathtaking. We saw the richly colored sides of the canyon and green rolling hills in the distance. But we couldn't see the waterfall itself – we were standing above it.
We continued along the path towards the Falls lookout point. Mustard blossoms grew taller than my children on both sides of the path. Next, we climbed up a hill through clusters of purple flowers.
And we were there.
At the Lookout
The viewpoint at Gamla Falls completely captures the beauty of the magnificent waterfall. As we stood there, we were far enough from the Falls that we could see it in its entirety – from top to bottom. Gamla is the highest waterfall in Israel, so it's a spectacular cascade down to the pool below.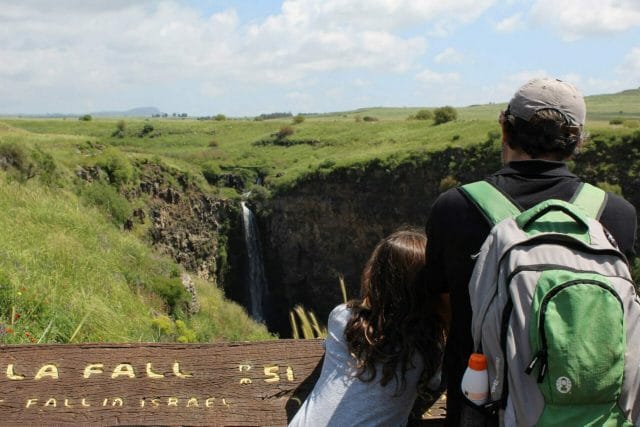 But it's not your typical visit to a waterfall in Israel. There's no spray in your face. No clambering over rocks to get wet. Gamla waterfall can only be viewed from a distance.
Aside from the waterfall, we had an amazing view out to the surrounding area and the canyon down below. Giant vultures circled in the sky. We took a seat on one of the wooden benches up top to relax for a while.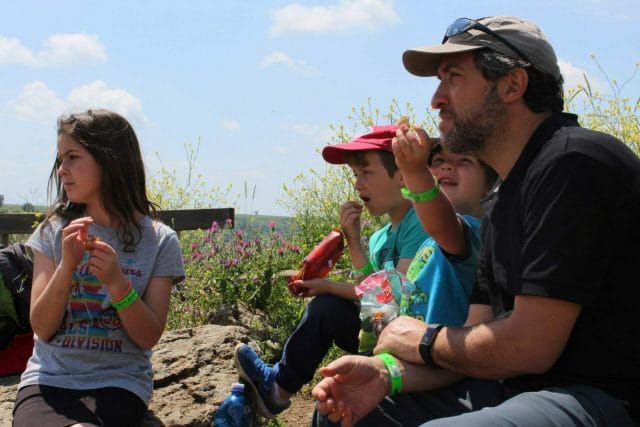 Simply Beautiful
After spending some time taking in the sights, we headed back the way we came – through the mustard blossoms and over the bridge.
A half an hour later, we were back at the trailhead. It wasn't a long hike – the whole walk only took about an hour and half – but it packed a punch as far as stunning sights on a short trail.
At Gamla National Park, there's a world of natural beauty waiting to be explored. From waterfalls to wildflowers, this hike to the Falls Lookout is an easy way to experience the perfect wilderness of the Golan Heights.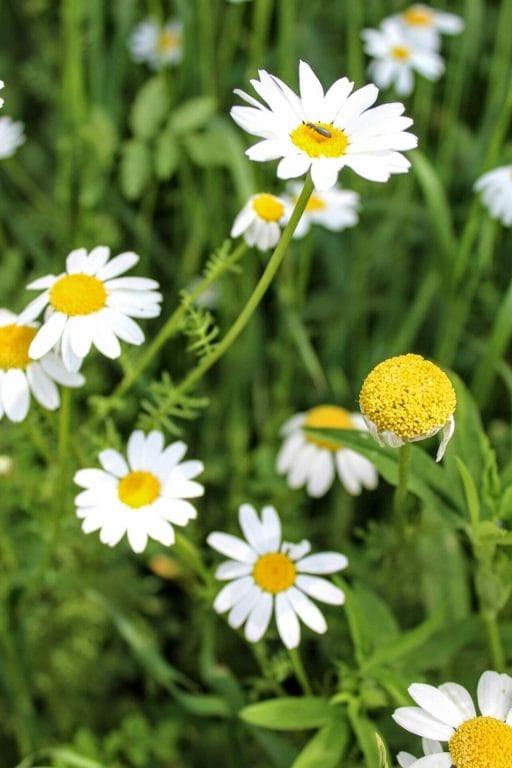 Hikers' Notes:
Stop at Gamla on your next trip to the Golan. This is an easy hike for everyone! The path is relatively even and there are no big rocks to climb. It's less than a four kilometer walk total.
You can walk this trail by itself or combine it with the Vulture Lookout Trail. That path is super short and wheelchair accessible.
There's not much shade on the path, so you may not want to hike it on a really hot day.
No dogs allowed at Gamla.
One more note: there were places on the path that were a bit muddy, even though it hadn't rained in a while. I'm guessing the path would be pretty muddy right after a rainstorm. So, if you go in the wintertime, wear boots!
Trail map from Amud Anan.
Questions? Tips for other hikers? Leave them in the comments below.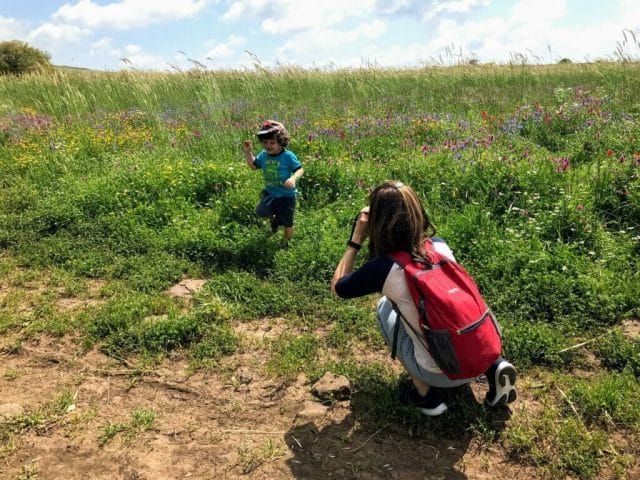 Hiking can be dangerous and is done entirely at your own risk. Information is provided free of charge; it is each hiker's responsibility to check it and navigate using a map and compass.